Né dans un ferme de Newport, Arkansas, à 60 miles de Memphis . Au début des années 1950, Sony Burgess joue du boogie woogie dans les salles de danse et les bars autour de Newport.Le groupe de boogie woogie appelé les Ramblers Rocky Road est composé de Kern Kennedy, Johnny Ray Hubbard et Gerold Jackson. En 1954, après un passage de trois ans (1951-1953) dans l'armée américaine, Sonny Burgess relance le groupe qu'il baptise The Moonlighters qui se produit régulièrement au Silver Moon Club de Newport. Il attire alors l'attention de Sam Phillips de Sun Records à Memphis, qui lui propose de l'auditionner et de lui faire enregistrer un disque. Son style, renforcé par l'emploi d'un trompettiste, est unique dans les annales du rock'n'roll blanc.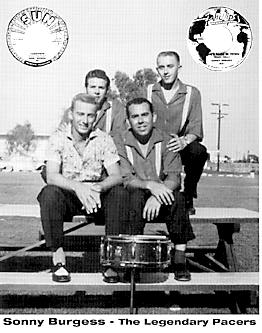 Après les conseils de son producteur de disques,Sam Phillips de Sun Records le groupe s'élargit pour former les Pacers. Le premier disque "We Wanna Boogie" sort le 2 mai 1956 chez Sun Records à Memphis avec le morceau "Red Headedd Woman" sur la face B qui sont de véritables chefs d'œuvre de rockabilly. Il est l'un des rares artistes Sun à se démarquer nettement de l'influence d'Elvis Presley, puisant son inspiration directement dans le Rhythm and Blues. En 1956, le trio Burgess, Smith et Kennedy est rejoint par Joe Lewis à la guitare, Jack Nance à la trompette, Johnny Hubbard à la basse et forme le groupe Les Pacers.

Il enregistre pour Sun Records jusqu'en 1960, puis se produira alors uniquement dans les différents bars de l'Arkansas.Sonny se sépare ensuite de son groupe Les Pacers et on n'entendra plus parler de lui jusqu'à la fin des années 1970 où il réapparaît avec la vague Rockabilly qui submerge alors l'Europe. Plusieurs de ses anciens disques de la période Sun sont alors réédités, ainsi que de nouvelles versions pour différents labels. En 1992 le chanteur du groupe des Blasters, Dave Alvin participera à l'album Tennessie Border en compagnie de Sonny Burgess pour le label High Tone Records, de même que plus tard pour le label Rounder Records. En 1999, il fait sensation avec son groupe fétiche Les Pacers , reformé pour l'occasion, au cours d'un concert Rockabilly à Las Vegas. Il enregistrera Still Rockin'and Rollin en 2000, qui sera classé comme le meilleur album country en Europe.

custom 56




Messages

: 2660


Date d'inscription

: 14/11/2012


Age

: 26


Localisation

: 77 seine et marne




custom 56




Messages

: 2660


Date d'inscription

: 14/11/2012


Age

: 26


Localisation

: 77 seine et marne



Sonny Burgess c'est de la bombe!!!!

_________________
We don't care the People Says , Rock 'n' roll is here to stay - Danny & the Juniors - 1958

Dj Eddie-Cesc




Messages

: 504


Date d'inscription

: 03/07/2015



---
Permission de ce forum:
Vous
ne pouvez pas
répondre aux sujets dans ce forum