Comme un de nos nouveaux membres n'a jamais utiliser Serving pour la mise en ligne de photos, j'ai trouvé ce petit mode d'emploi
http://forumkarmannghia.forum-actif.net/t5506-insertion-de-photo-avec-serving
Lorsque vous êtes sur le panneau pour poster cliquer en
N°1
sur l'icone "Herberger une image"
Une fenêtre va s'ouvrir.
Vérifier que le mode fichier est bien activé et non pas url.
Cliquer sur Parcourir en
N°2
est allez chercher votre image dans les répertoires de votre ordinateur
Vous allez obtenir cela
Vérifier avant de cliquer sur ENVOYER que le redimensionnement n'excède pas 800px de largeur. en
N°3
Maintenant appuyer sur ENVOYER en
N°4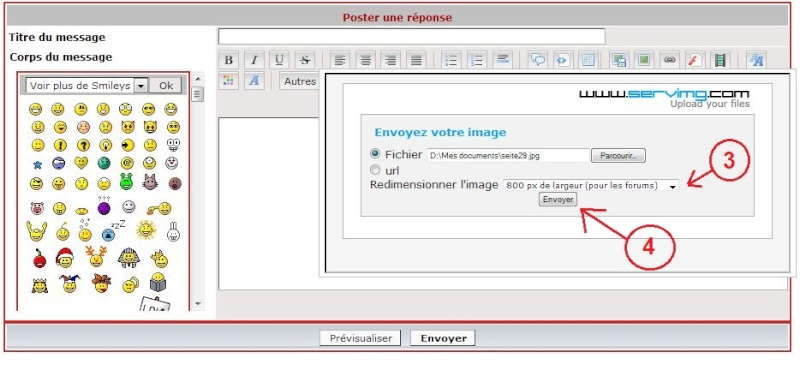 L'image va être uploader sur le serveur de serving et vous allez avoir l'écran ci dessous. Sélectionner le deuxième lien en
N°5
Cliquer sur copier (Attention celui du milieu la ou il y a le N°5), cela va surligner en bleu
le lien.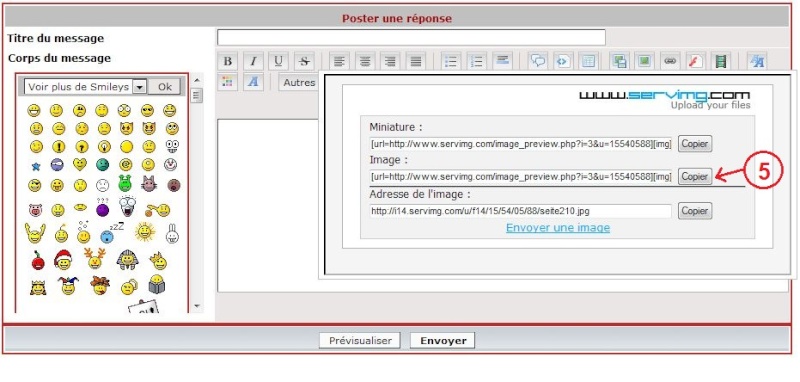 Positionner le curseur de la souris sur le lien surligné et
fait un clic droit et fait copier
Cliquer a nouveau sur l'icône 'héberger une image" pour refermer la fenêtre
Et maintenant coller le lien image que vous avez copié dans le panneau ou vous écrivez vos message

_________________
We don't care the People Says , Rock 'n' roll is here to stay - Danny & the Juniors - 1958
Je vais dire aussi chouette, merci.

The Red Baron




Messages

: 741


Date d'inscription

: 01/07/2014


Age

: 55


Localisation

: Bordeaux



Mouai faut etre technico sup en informatik.....il y a pas plus simple style leboncoin ,,,on klic direct nos photos on choisi et ok,,,,voila il y a pas plus simple..
_________________
:super:  : zen restez zen la vie est courte !! profiter......
Non, c'est pas difficile, moi je suis une buse en ordi et j'y arrive !

ChevyDave




Messages

: 3899


Date d'inscription

: 11/11/2012



Le seul truc, c'est que c'est servi
m
g et pas serving
_________________
---
le blog
---
Sujets similaires
---
Permission de ce forum:
Vous
ne pouvez pas
répondre aux sujets dans ce forum