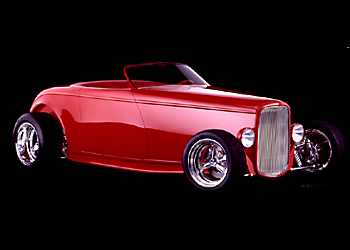 Boydster I
Based on a 1932 Ford Highboy, Boydster I was hand-built with the main body done in steel and the hood and deck lids formed in aluminum. Unlike the original '32, its wheelbase is 112 inches. The 1934 suicide-style doors flow with the laid-back windshield and full-length hood and side panels.
The body is channeled 2.5 inches over the custom-built chassis. The front and rear suspension are independent with the rear using a Corvette center section, and both front and rear incorporate the use of Wilwood disc brakes. Bolted to the front brakes are 15x7 Boyd Coddington wheels mounted on 205/50R15 BF Goodrich Euro T/A Radials, while the rear sports 17x9s on 255/50ZR17s.
The interior leather was dyed to match the exterior's paint, which is Dupont Boyd Red. Behind the Boyd Coddington steering wheel, mounted in an oval billet aluminum panel, is a set of Boyd's Classic Instruments. For music the Boydster I uses a Pioneer deck with Orion speakers and amps. Power is provided by a '96 Corvette LT1 with a 700R4 transmission.
In 1996 the Boydster I debuted at the Oakland Roadster Show, where — for the second year in a row — Boyd won the prestigious America's Most Beautiful Roadster award. In 2001 Boyd began re-creating the Boydster I in fiberglass, allowing any hot rodder to build his own "most beautiful roadster."

_________________
We don't care the People Says , Rock 'n' roll is here to stay - Danny & the Juniors - 1958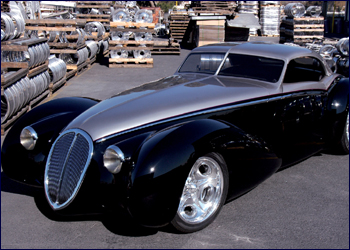 The Whatthehaye
Owners
: Scotty and Nancy Gray
The Whatthehaye has lines from the French-built 1936 Delahaye, considered one of the most beautiful car designs in automotive history. After the Whatthehaye's design was finalized, Boyd's crew began working on the chassis using Art Morrison frame rails, with an independent front suspension and a Boyd Coddington's Pro Ride independent rear suspension. Also bolted on were Boyd Coddington disc brakes and coil-over shocks. Once completed the chassis was sent to Marcel's to hand-fabricate the body using sheets of steel; the removable hard top and deck lid were shaped using aluminum. Once Marcel finished shaping the body it was delivered back to Boyd Coddington's Garage where it was pre-assembled, readying it for a DuPont silver-and-black paint scheme. Power is supplied by a Viper V-10 backed by a six-speed gearbox. A set of 18-inch one-off Boyd Coddington billet wheels were designed for the car using Goodyear tires.
After final assembly the Whatthehaye was shipped to Gabe's for upholstery. The theme of simple elegance was carried throughout the car's interior, with black leather on the seats and door panels and black carpet for the floor. To keep an eye on the V-10, Boyd Coddington gauges were installed in the steel dash. Another unusual aspect of this Coddington creation is the lack of any polished billet on the interior. Any billet, such as the Boyd Coddington steering wheel, shifter handle and foot pedals, were anodized black, making for a very clean yet striking interior.
The Whatthehaye made its debut at the 2004 Barrett-Jackson Auction Gala in Scottsdale, Ariz., and took the crowd by surprise. Pictures cannot do this automobile justice; it requires viewing in person to fully appreciate its beauty.

_________________
We don't care the People Says , Rock 'n' roll is here to stay - Danny & the Juniors - 1958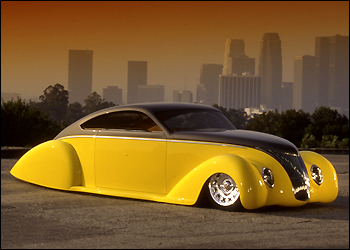 Lead Zephyr
Owner
: Tony Pisano
The Lincoln Zepher is regarded by many as one of the most beautiful automobiles ever produced. As usual, Boyd was able to make it even better. Things got rolling with a call to Art Morrison for one of his chassis. The chassis utilizes independent front and rear suspension. The front end features beefy control arms, coil-over shock absorbers and lots of polished billet aluminum, while a Corvette center section with coil-over shocks resides in the rear. At each corner, Wilwood disc brakes perform the stopping duties, with a set of 18-inch Boyd Coddington wheels wrapped in Goodyear rubber.
The hand-fabricated steel body is quite different from the original Lincoln. Some of the changes include a chopped top, sectioned and lengthened body and pancaked hood. Upon completion of the body sculpting Boyd chose Dupont Graphite Gray over Boyd Yellow to show it off. Under the hood is a Ford big-block pumping out 460hp with a C6 transmission.
The Lead Zephyr's interior is clad in yards of tan Connolly leather; other interior amenities include a Boyd Coddington steering wheel, tilt steering column, custom gauges and an Alpine sound system.

_________________
We don't care the People Says , Rock 'n' roll is here to stay - Danny & the Juniors - 1958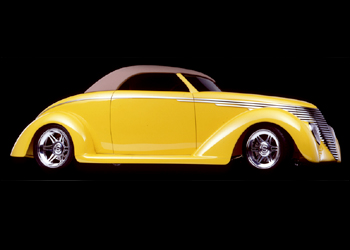 The Smoothster, which is based on a '37 Ford, began its two-year build with a custom-built frame using Corvette front and rear independent suspension, complete with brakes, springs, shocks and rack-and-pinion steering. The motor, also from a Corvette, is a '92 LT1 mated to a 700R4 transmission. The Smoothster rolls on a set of Boyd Coddington wheels — 16x7s with 205/45ZR16 BF Goodrich tires up front and 18x29s mounted on 295/35ZR18 T/As on the rear.
To fabricate the body a wooden buck was used as a dimensional base upon which the steel and aluminum panels were fitted. The unusual Art Deco-style grill is composed of 66 hand-contoured, beveled-edge 3/4- x 5/8-inch solid brass straps that were shaped, block-sanded smooth and chrome plated. After completion of the body smoothing, it was sprayed with Dupont Boyd Yellow.

_________________
We don't care the People Says , Rock 'n' roll is here to stay - Danny & the Juniors - 1958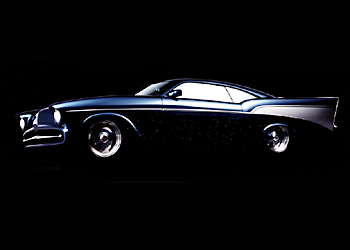 Owner
: Scotty Gray
Chezoom is a favorite of many Boyd Coddington fans, and it has even been replicated in miniature by Mattel and Testors. Based on a '57 Chevrolet Bel Air, the car took one year to complete and debuted at the 1992 SEMA show in Las Vegas.
Only 10 percent of Chezoom's body retains any of the metal from the original '57 Chevy. The front fenders and hood are handmade, while other parts were donated from numerous other makes and models of cars to complete the swoopy design. It is painted with a House of Kolors blue pearl.
The body sits atop a custom-built, mild steel, rectangular-tube chassis that features front and rear Corvette suspension. Chezoom rolls on a set of 17-inch Boyd Coddington wheels mounted on Goodyear Eagle SC tires.
Under the hood lies a '92 Corvette LT1 backed by a 700R4 transmission. The cockpit itself is covered in gray leather and wool with matching tweed carpet on the floor. Other amenities include a Kenwood sound system, VDO gauges and a Boyd Coddington steering wheel.

_________________
We don't care the People Says , Rock 'n' roll is here to stay - Danny & the Juniors - 1958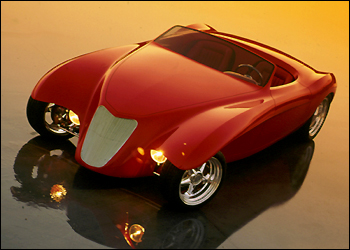 Sportstar
Owner
: Buz Di Vosta
The Sportstar is a two-year exercise in art and design. Work began by building a perimeter-type frame from box-section steel tubing. The independent front suspension consists of unequal length billet aluminum A-arms with in-board, cantilevered coil-over shocks. In the rear, it's a similar system; however, huge blanks of billet aluminum were hogged out on the mill to form the upper and lower H-section control arms.
In search of something totally different to ride between the frame rails, Boyd chose to drop in an entire drivetrain from a Lexus SC400. Getting power to the ground is a set of Boyd Coddington wheels using 205/40ZR17 BF Goodrich T/A Radials in front and 315/35ZR17s in the rear.
With the chassis complete it was time to install the hand-fabricated steel body. Once the hours of massaging the body were finished, everything was treated to numerous coats of Dupont Boyd Red. To keep things simple and clean, the seats and surrounding interior pieces were covered with leather dyed to match the exterior. Topping off the interior is a Boyd Coddington steering wheel and Lexus instrumentation.

_________________
We don't care the People Says , Rock 'n' roll is here to stay - Danny & the Juniors - 1958
---
Permission de ce forum:
Vous
ne pouvez pas
répondre aux sujets dans ce forum