C'est entre 1961 et 1962 que Dave Puhl et John Malik de Trend Custom Shop (Lyons - Illinois) fabriquent ce kustom radical à partir d'un Ford Ranchero 1957 du nom de Trendero.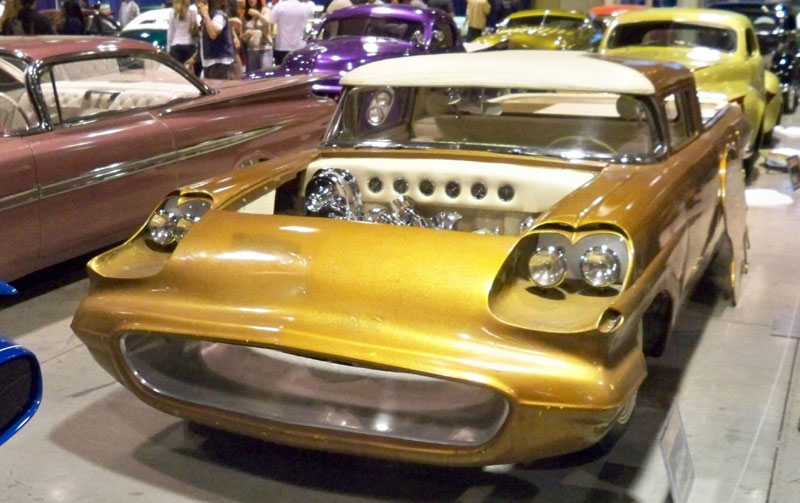 La face avant unique se compose en bas d'une cavité  empruntée à une Thunderbird 1959 et intégrés sur le devant de la carrosserie du pick up allongeant vers l'avant l'auto de 6 pouces.
Les 4 phares emprunté à des motos Harley Davidson sont en retraits de l'avancé de thunderbird, s'intégrant dans des cavités tubulaires particulièrement originales.
Sur les ailes avant au dessus des roues se placent des tubulures desquelles sortent des antennes horizontales qui rajoutent encore un côté spacial à la voiture.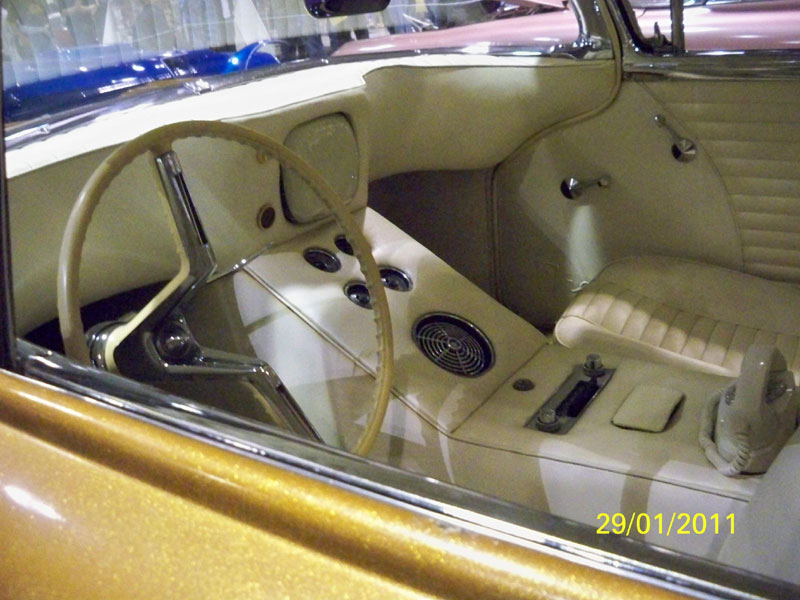 La face arrière est tout aussi extravaguante avec des doubles tubulures de chaque côté qui recoivent chacune cinq clignotants de Mercury 1959  dont l'extrémité se termine par des balles chromés sorte de feux semblables à des réacteurs de fusée spaciale.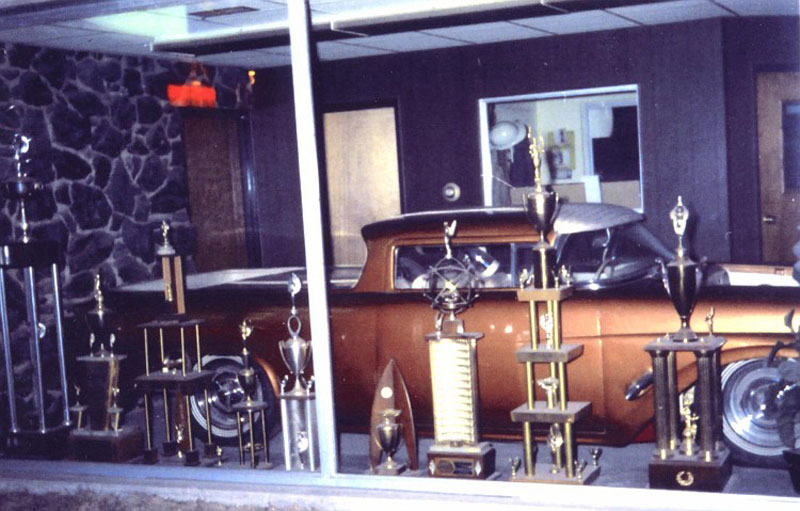 Le bas est entièrement moulé en un roll pan remplaçant le pare choc dans lequel la plaque d'immatriculation est intègré en retrait dans une cavitée rectangulaire et allonge la carrosserie de 4 pouces vers l'arrière.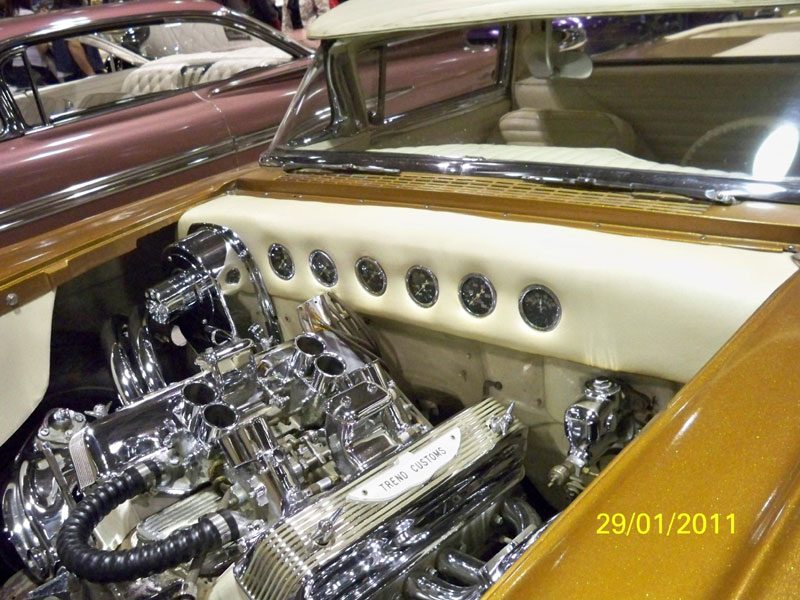 Dernière édition par Predicta le Lun 4 Mai - 20:44, édité 1 fois

_________________
We don't care the People Says , Rock 'n' roll is here to stay - Danny & the Juniors - 1958
Le moteur emprunté à une Thunderbird est entièrement chromé et préparé comme un moteur de dragster avec des pièces perfos, on peut noter la sortir des échappements chromés sur les côtés des ailes avant.
Le toit est top choppé de 4 pouces et demi, et tout ce qui est sigles, baguettes et poignées de portes sont enlevées.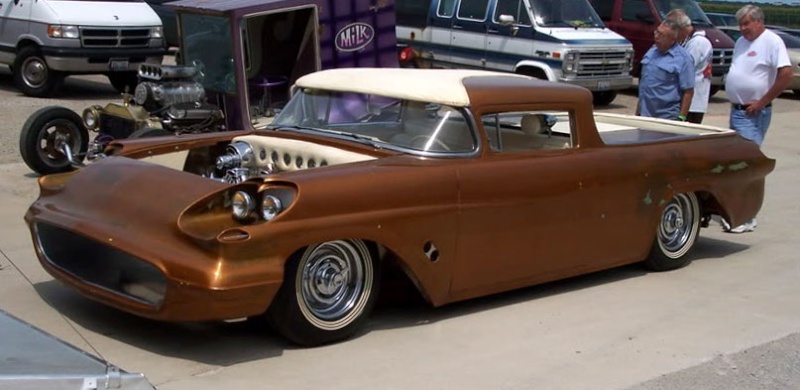 L'intèrieur se compose de sièges baquets entourant une console contenant les principaux instruments, une radio , un téléphone et une télévision, le volant provient d'une Oldsmobile 1960.
Au niveau des suspensions la voiture est rabaissée de 6 pouces à l'avant et de 5 pouces à l'arrière.
Les roues sont des Reverse Wheels chromées chaussées par des Pneux 8,50 x 14.
Le toit est recouvert en son centre de tuck n' roll blanc perle se continuant sur le roll pan de la benne et en correspondance avec l'intèrieur le tout est réalisé par Al Bocrate.
Comble du luxe et de l'humour le roll pan terminant la benne peut s'ouvrir indépendemmant afin de découvrir un bar et un tapis vert de jeux de casino.
Le Trendero est chroniqué et fait la couverture du Car Craft de Janvier 1962, mais aussi du Cars de Novembre 1962. La voiture fait son dernier show en 1965 lors du World Fair de New York, et disparait du circuit, elle est stockée alors de nombreuses années en intèrieur.
L'auto réapparait sur le hamb en Mars 2010 en annonce de vente, et se retrouve de nouveau exposée dans des car shows dans son état d'origine non restauré.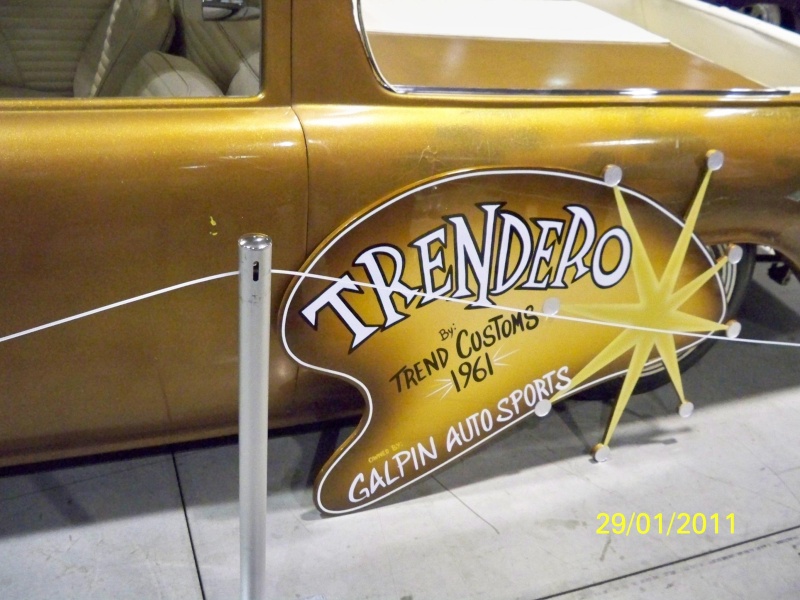 _________________
We don't care the People Says , Rock 'n' roll is here to stay - Danny & the Juniors - 1958

_________________
We don't care the People Says , Rock 'n' roll is here to stay - Danny & the Juniors - 1958

_________________
We don't care the People Says , Rock 'n' roll is here to stay - Danny & the Juniors - 1958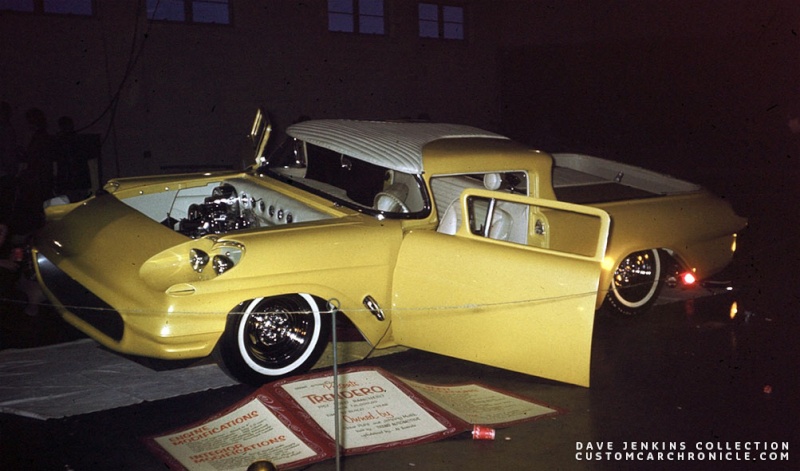 _________________
We don't care the People Says , Rock 'n' roll is here to stay - Danny & the Juniors - 1958

_________________
We don't care the People Says , Rock 'n' roll is here to stay - Danny & the Juniors - 1958

_________________
We don't care the People Says , Rock 'n' roll is here to stay - Danny & the Juniors - 1958
Sujets similaires
---
Permission de ce forum:
Vous
ne pouvez pas
répondre aux sujets dans ce forum