Jayne Mansfield (19 avril 1933 – 29 juin 1967) née Vera Jane Palmer, à Bryn Mawr en Pennsylvanie, est une actrice de cinéma, théâtre et télévision, américaine, ainsi qu'une artiste de club de nuit, une chanteuse et l'une des premières Playmate pour le magazine Playboy en février 1955. Elle est considérée comme l'un des plus célèbres sex-symbols des années 1950 et 1960.
En dépit de ce que pourraient laisser supposer ses rôles de blonde idiote, Jayne Mansfield était une femme cultivée, elle parlait cinq langues, était pianiste et violoniste classique et disait avoir un QI de 163.
La comédienne fut victime de sa somptueuse et généreuse plastique et valait certainement mieux que les rôles qui lui furent proposés. En effet, les réalisateurs la cantonnent, trop souvent, dans des personnages caricaturaux. En 1957, elle donne pourtant un aperçu de l'actrice qu'elle aurait pu être, dans le film de Paul Wendkos Le cambrioleur (The burglar), où elle s'avère excellente dans un rôle dramatique[1].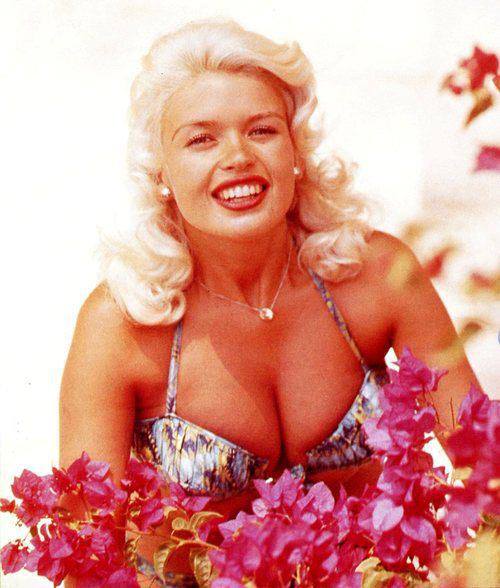 En 1950, elle donne naissance à une fille Jayne Marie Mansfield (en). Celle-ci apparut dans Playboy en 1976, marchant ainsi sur les traces de sa mère.
En 1964, elle donne naissance à une fille, Mariska Hargitay, qui est connue pour son rôle du lieutenant Olivia Benson de la série New York, unité spéciale.
En 1966, elle est présentée à Anton LaVey, leader de l'Église de Satan, qui fera d'elle une grande prêtresse honoraire.
Elle meurt le 29 juin 1967 près de Slidell (Louisiane) dans l'accident de la Buick Electra conduite par Ronnie Harrison, son chauffeur qui la transportait, elle, Sam Brody, son ami du moment et trois de ses enfants (Mariska, Miklós et Zoltán Hargitay, nés de son union avec Mickey Hargitay, acteur et ancien Mister Univers d'origine hongroise). Contrairement à une légende tenace, elle n'est pas morte décapitée mais d'un écrasement de la boîte crânienne.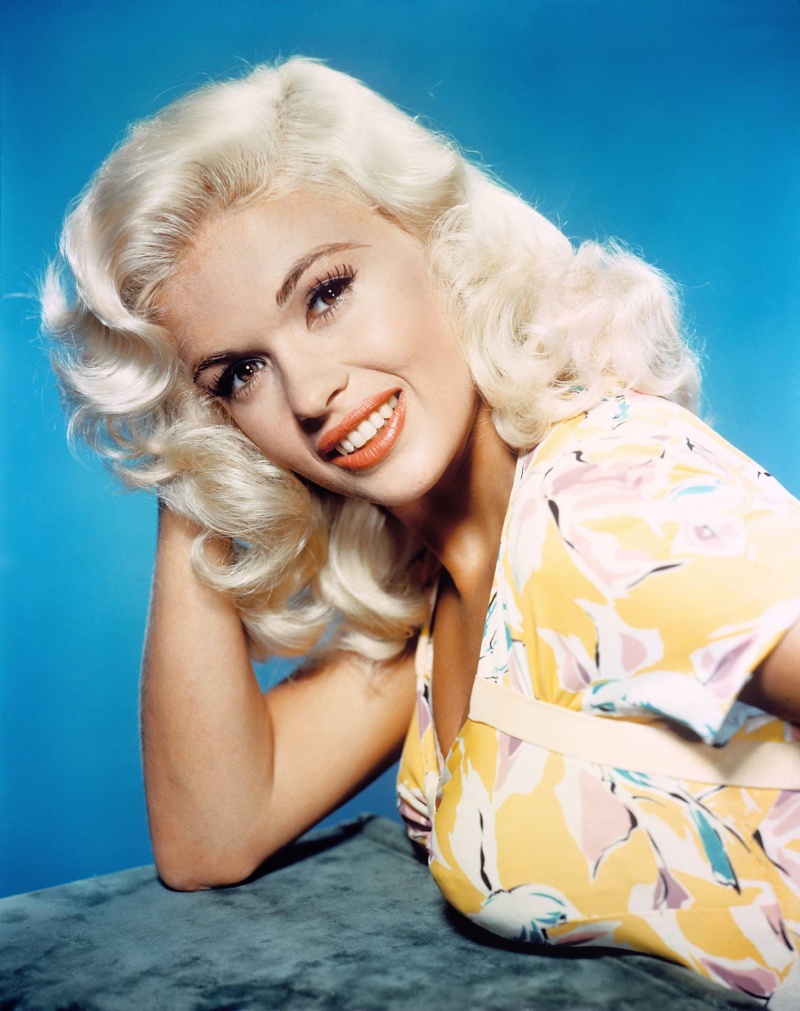 Elle était passionnée par les roses et les cœurs. Ses voitures étaient toutes roses.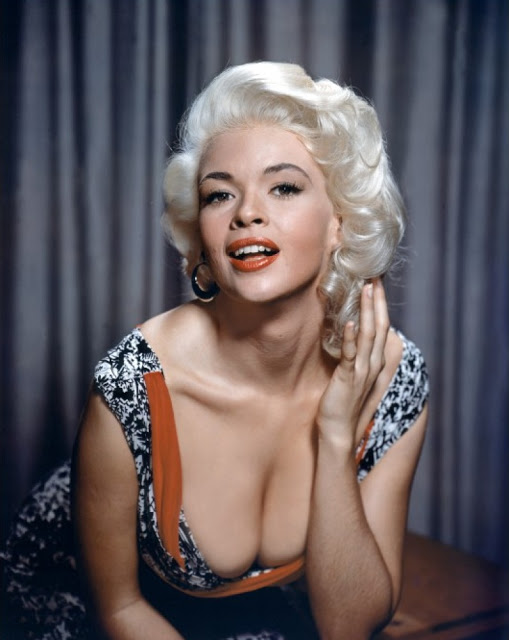 Filmographie
Tombe de Jayne Mansfield.1954 : Female Jungle (en) de Bruno VeSota avec Lawrence Tierney et John Carradine : Candy Price
1955 : Hell on Frisco Bay (en) de Frank Tuttle avec Alan Ladd : Blonde Who Dances with Mario
1955 : Le Gang du blues (Pete Kelly's Blues) : Cigarette Girl
1955 : Témoin à abattre (Illegal) de Lewis Allen avec Edward G. Robinson et Nina Foch : Angel O'Hara
1956 : Sunday Spectacular: The Bachelor (TV) : Robin
1956 : La Blonde et moi (The Girl Can't Help It) : Jerri Jordan
1957 : Les Naufragés de l'autocar (The Wayward Bus) : Camille Oaks
1957 : Le Cambrioleur (The Burglar) de Paul Wendkos d'après David Goodis, avec Dan Duryea : Gladden
1957 : La Blonde explosive (Will Success Spoil Rock Hunter?) : Rita Marlowe
1957 : Embrasse-la pour moi (Kiss Them for Me) : Alice Kratzner
1958 : La Blonde et le Shérif (The Sheriff of Fractured Jaw) : Kate
1960 : The Challenge de John Gilling avec Anthony Quayle : Billy
1960 : Les Amours d'Hercule (Gli Amori di Ercole), de Carlo Ludovico Bragaglia : Queen Dianira / Hippolyta
1960 : La Blonde et les Nus de Soho (Too Hot to Handle) de Terence Young avec Leo Genn, Karlheinz Böhm, Christopher Lee : Midnight Franklin
1961 : Monte-Carlo (TV)
1961 : The George Raft Story de Joseph M. Newman avec Ray Danton, Julie London : Lisa Lang
1962 : It Happened in Athens comédie d'Andrew Marton : Eleni Costa
1963 : Freddy et le nouveau monde (Heimweh nach St. Pauli, Danemark) de Werner Jacobs : Evelyne
1963 : Promises! Promises! (en) : Sandy Brooks
1964 : Panic Button de George Sherman et Giuliano Carnimeo, avec Maurice Chevalier, Eleanor Parker : Angela
1964 : La Môme aux dollars (Dog Eat Dog) : Darlene
1966 : The Fat Spy : Junior Wellington
1966 : The Las Vegas Hillbillys avec Mamie Van Doren : Tawny
1967 : A Guide for the Married Man de Gene Kelly avec Walter Matthau et Inger Stevens : Technical Adviser (Girl with Harold)
1967 : Mondo Balordo : Ethnologist
1968 : Single Room Furnished (en) : Johnnie / Mae / Eileen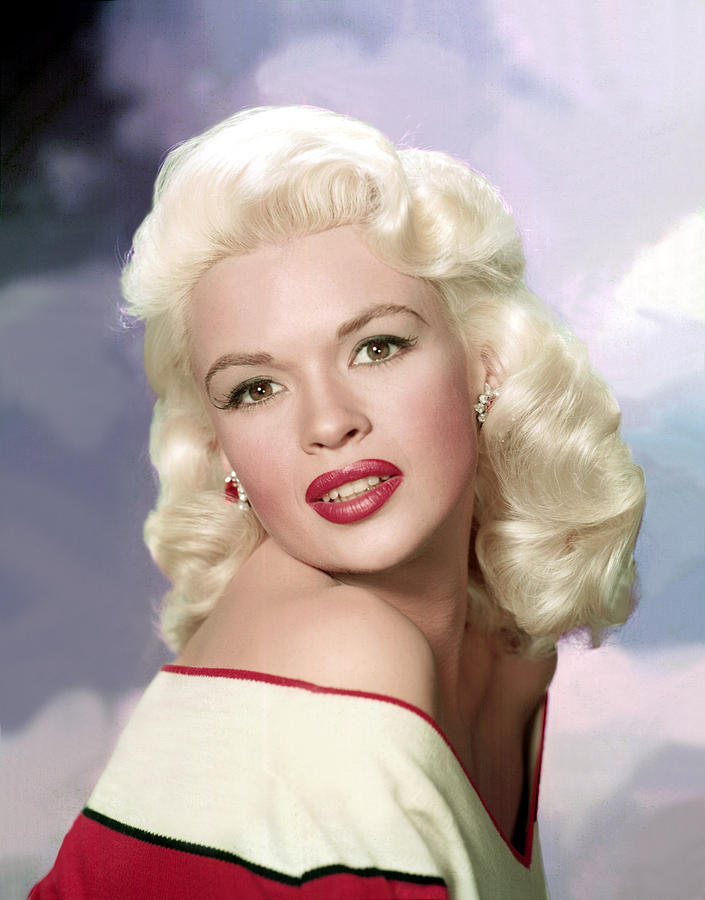 Télévision
Jayne Mansfield a fait de nombreuses apparitions à la télévision américaine soit en tant qu'actrice dans des fictions soit en tant qu'invité dans des shows comme The Bob Hope show (1966), The Milton Berne Show (1966) et What's My Line? où elle fut l'invité surprise quatre fois (1956, 1957, 1964, 1966). En mai 1958 pendant le Festival de Cannes elle est interviewée par François Chalais dans l'émission Reflets de Cannes où elle reproduit son petit gloussement sensuel qui a participé à la naissance de son mythe.

_________________
We don't care the People Says , Rock 'n' roll is here to stay - Danny & the Juniors - 1958
Une sacrée bombe ...

ChevyDave




Messages

: 3921


Date d'inscription

: 11/11/2012




_________________
We don't care the People Says , Rock 'n' roll is here to stay - Danny & the Juniors - 1958

_________________
We don't care the People Says , Rock 'n' roll is here to stay - Danny & the Juniors - 1958

_________________
We don't care the People Says , Rock 'n' roll is here to stay - Danny & the Juniors - 1958
Sujets similaires
---
Permission de ce forum:
Vous
ne pouvez pas
répondre aux sujets dans ce forum