Fif




Messages

: 1322


Date d'inscription

: 11/11/2012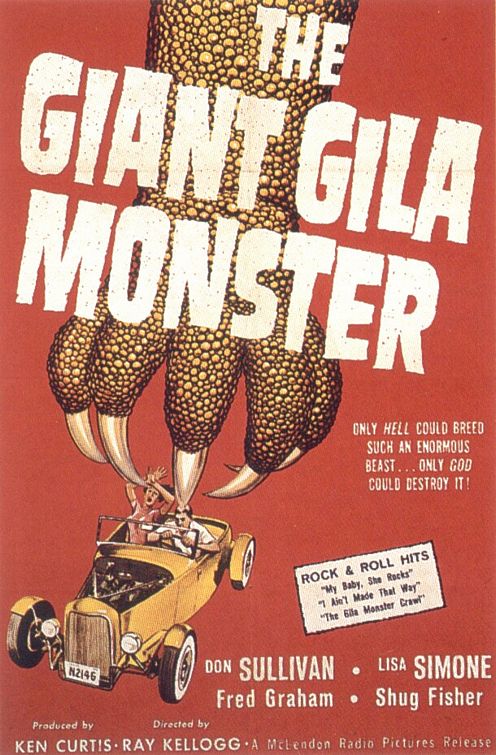 The Giant Gila Monster is a 1959 hot rod monster science fiction film directed by Ray Kellogg, and produced by Ken Curtis. It stars Don Sullivan, a veteran of several low budget monster and zombie films, Lisa Simone, the French contestant for Miss Universe of 1957, as well as Fred Graham, comedy relief Shug Fisher, KLIF disc jockey Ken Knox and Bob Thompson. This low-budget B-Movie featured a cast of unknown actors, and the effects included a live gila monster filmed on a scaled-down model landscape. The movie has been released on DVD and is considered a cult classic.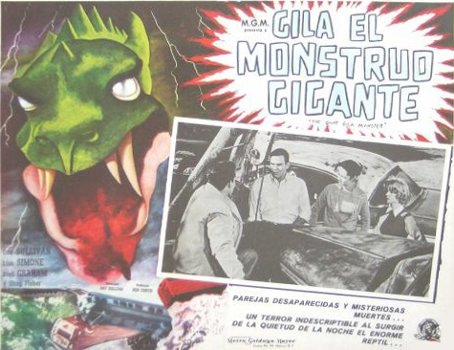 Synopsis
The movie opens with a young couple parked in a bleak, rural locale overlooking a ravine. A giant gila monster attacks the car, sending it into the ravine and killing the couple. Later, some friends of the couple decide to assist the local sheriff (Fred Graham) in his search for the missing teens. Chase Winstead (Don Sullivan), a young mechanic and hot rod racer, locates the crashed car in the ravine and finds evidence of the giant lizard. However, it is only when the hungry reptile attacks a train (a model train set substituted as a low-budget effect) that the authorities realize they are dealing with a (roughly) 70-foot poisonous lizard. By this time, emboldened by its attacks and hungry for prey, the creature attacks the town. It makes straight for the local dance hall where all the teenagers had gathered for a sock hop. However, Chase packs his prized hot rod with nitroglycerin and rigs it to speed straight into the monster, terminating the lizard in a fiery explosion and heroically saving the town.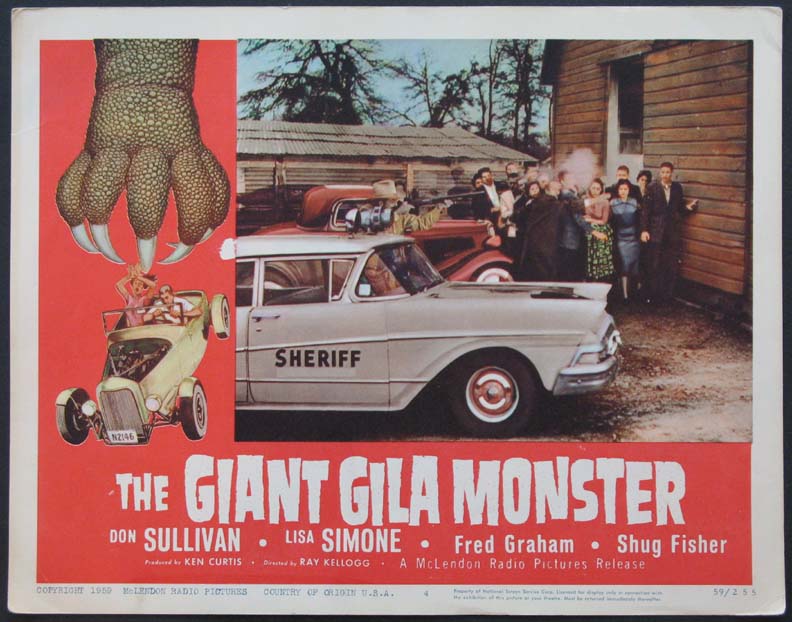 Production:
Filmed near Dallas, the film was budgeted at $175,000 and was produced by Dallas drive in theater chain owner Gordon McLendon who wished co-features for his main attractions. McLendon shot the film back to back with The Killer Shrews. Both films were feted as the first feature films shot in and produced in Dallas and the first movies to premiere as double features.
In exchange for doing the special effects, Ray Kellogg was allowed to direct the film. Ken Curtis allowed Sullivan to pick his songs that gave the film popularity with the teenage market
Directed by     Ray Kellogg
Produced by     Ken Curtis
B.R. McLendon
Gordon McLendon
Written by     Ray Kellogg (story)
Jay Simms (screenplay)
Starring     Don Sullivan
Fred Graham
Lisa Simone
Shug Fisher
Bob Thompson
Music by     Jack Marshall
Cinematography     Wilfred M. Cline
Editing by     Aaron Stell
Distributed by     McLendon-Radio Pictures Distributing Company
Release date(s)     25 June 1959
Running time     74 min
Country      United States
Language     English
Budget     $138,000 (estimated)
texte original:
http://en.wikipedia.org/wiki/The_Giant_Gila_Monster

_________________
We don't care the People Says , Rock 'n' roll is here to stay - Danny & the Juniors - 1958

_________________
We don't care the People Says , Rock 'n' roll is here to stay - Danny & the Juniors - 1958

Fif




Messages

: 1322


Date d'inscription

: 11/11/2012



---
Permission de ce forum:
Vous
ne pouvez pas
répondre aux sujets dans ce forum