Wanda Lavonne Jackson (born October 20, 1937) is an American singer, songwriter, pianist and guitarist who had success in the mid-1950s and 1960s as one of the first popular female rockabilly singers and a pioneering rock and roll artist. She is known to many as the Queen (or First Lady) of Rockabilly.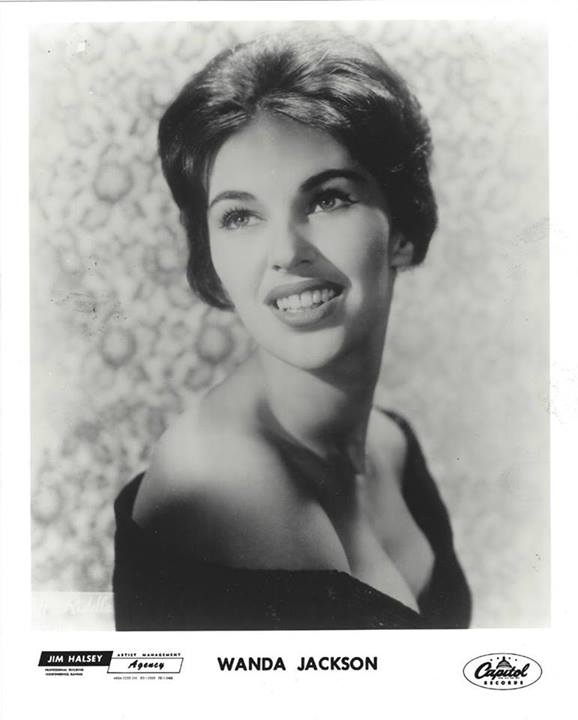 Jackson mixed country music with fast-moving rockabilly, often recording them on opposite sides of a record.[4] As rockabilly declined in popularity in the mid-1960s, she moved to a successful career in mainstream country music with a string of hits between 1966 and 1973, including "Tears Will Be the Chaser for Your Wine", "A Woman Lives for Love" and "Fancy Satin Pillows".
She has enjoyed a resurgence of popularity among rockabilly revivalists in Europe and younger Americana fans, and was inducted into the Rock and Roll Hall of Fame as an Early Influence in 2009.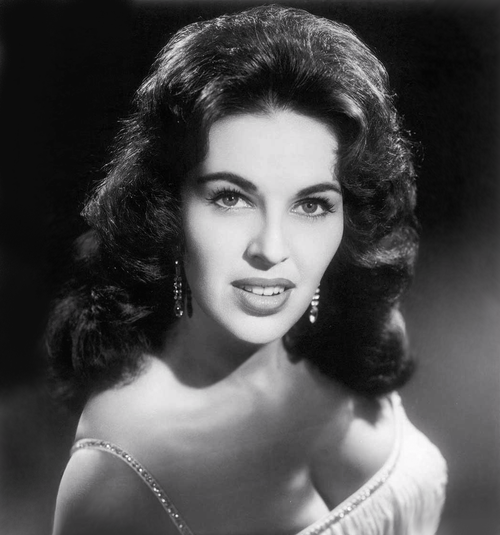 Early life
Wanda Jackson was born to Tom Robert Jackson and Nellie Vera Jackson (December 19, 1913 - January 14, 2011) in Maud, Oklahoma in 1937, but has lived much of her life in Oklahoma City. Her father, a musician, moved the family to Bakersfield, California during the 1940s in hopes of a better life. Two years later, he bought Jackson a guitar and encouraged her to play. He also took her to see performances by Spade Cooley, Tex Williams and Bob Wills, which left a lasting impression. In 1948, when she was 11, the family moved back to Oklahoma. In 1956, she won a talent contest which led to her own radio program, soon extended by 30 minutes.
Jackson began her professional career while still attending Capitol Hill High School in Oklahoma City after being discovered by Hank Thompson in 1954,[who heard her singing on local station KLPR-AM[7] and invited her to perform with his band, the Brazos Valley Boys. She recorded a few songs on their label, Capitol Records, including "You Can't Have My Love", a duet with Thompson's bandleader, Billy Gray. The song was released as a single in 1954 and reached No. 8 on the country chart. Jackson asked Capitol to sign her, but was turned down by producer Ken Nelson who told her, "Girls don't sell records." Instead, she signed with Decca Records.
1955–1959: Early career
After graduating from high school, Jackson began to tour with her father as manager and chaperon.[2] She often shared the bill with Elvis Presley, who encouraged Jackson to sing rockabilly. Jackson briefly dated Elvis, during which time Elvis sometimes would coach Jackson how to play Rock & Roll.[11] She was a cast member of ABC-TV's Ozark Jubilee in Springfield, Missouri from 1955–1960, and in 1956 she signed with Capitol, recording a number of singles mixing country with rock and roll. "I Gotta Know", released in 1956, peaked at No. 15.
During the 1950s, Jackson's stage outfits were often designed by her mother. Unlike traditional clothing worn by female country music singers of the time, she wore fringe dresses, high heels and long earrings; and has claimed she was the first female to put "glamor into country music."
She continued to record more rockabilly singles through the decade with producer Ken Nelson. Jackson insisted that Nelson make her records sound like those of label mates Gene Vincent and The Blue Caps. Nelson brought in many experienced and popular session players, including rock and roll pianist Merill Moore and the then unknown Buck Owens. With a unique vocal style and upbeat material, Jackson created some of the most influential rock and roll music of the time.
In the late 1950s, Jackson recorded and released a number of rockabilly songs, including "Hot Dog! That Made Him Mad," "Mean, Mean Man," "Fujiyama Mama" (which hit No. 1 in Japan) and "Honey Bop." The songs, however, were only regional hits. She toured Japan in February and March 1959.
1960–1964: The Queen of Rockabilly
In 1960, Jackson had a Top 40 pop hit with "Let's Have a Party", a song Presley had cut three years earlier. She was headlining concerts with her own band, which she dubbed The Party Timers. Prominently featured were pianist Big Al Downing and guitarist Roy Clark, virtually unknown at the time. Her country music career also began to take off with the self-penned "Right or Wrong", a No. 9 hit, and "In The Middle of a Heartache", which peaked at No. 6. Both songs also enjoyed top 40 pop success.
The unexpected success of her records led Capitol to release a number of albums composed of her 1950s material, including 1960's Rockin' with Wanda and There's a Party Goin' On, which included "Tongue Tied" and "Riot in the Cell Block No. 9". Her 1961 and 1962 albums, Right or Wrong and Wonderful Wanda, featured her two top ten country hits from 1961. In 1963, Jackson recorded a final album titled Two Sides of Wanda, which included both rock and roll and country music, including a cover of Jerry Lee Lewis' "Whole Lotta Shakin' Goin' On". The album earned Jackson her first Grammy nomination for Best Female Country Vocal Performance.
1965–1979: Country and gospel hits and foreign language recording
In 1965, Jackson made the move to country music as rockabilly declined in popularity, and had a string of Top 40 hits during the next ten years. In 1966, she released two singles that peaked in the country top 20, "Tears Will Be the Chaser For Your Wine" and "The Box it Came In".
In early 1965, Jackson was invited by Capitol Records's German distribution partner, Electrola, to record in German. Jackson's German language debut single, Santo Domingo (b/w Morgen, ja morgen), recorded at Electrola's studios in Cologne, peaked at No. 5 on the official German charts and at No. 1 on the charts of Germany's most influential teen magazine, Bravo. In the first months following the chart success of Santo Domingo, Jackson also re-recorded some of her German songs in Dutch and Japanese. The success of Santo Domingo prompted the recording of eight further German language singles until 1968, which were also released on an album, Made in Germany. A last German single was recorded in 1970.
In 1967, she recorded two albums, and released a string of singles during the next few years that often asserted a fiery and violent persona, including 1969's "My Big Iron Skillet", a top 20 hit which threatened death or assault for cheating on a spouse. In 1970 and 1971, she had her final top 20 country hits with "A Woman Lives For Love" (her second Grammy nomination) and "Fancy Satin Pillows". Jackson was a premier attraction in Las Vegas. She followed Kitty Wells' lead as only the second country female vocalist to have her own syndicated television show, Music Village, from 1967–68.
In the early 1970s, at her children's request, Jackson and her husband began to regularly attend church and discovered Christianity. She began recording gospel songs and albums, including 1972's Praise the Lord on Capitol. After Capitol dropped her, she recorded a number of albums for small religious labels and set up evangelical church tours across the country with her husband. Jackson wanted to record a mix of country and gospel music for her albums; however, religious labels were not interested
1980–1999: New beginnings
In the early 1980s, Jackson was invited to Europe to play and record rockabilly material when revivalists sought her out. She regularly toured Scandinavia, England, and Germany during the decade. Now embracing her rock n'roll history, Jackson released a 1984 album titled Rockabilly Fever (later issued by Rounder Records as Rock N' Roll Your Blues Away in 1986), her first secular album in a decade and her first recording of rock music in over twenty years.
Cyndi Lauper acknowledged Jackson's classic rockabilly records were a major influence and inspiration for her during this period and Jackson's fan following also included a new generation of country music female vocalists, among them Rosanne Cash, Pam Tillis, Jann Browne and Rosie Flores. Jackson recorded a duet with Browne on a 1987 album release by Browne and in 1995, she sang two duets with Flores on her 1995 album, Rockabilly Filly, and then embarked on a United States tour with her, her first American tour since the 1970s
2000–present: Rockin' in the 21st century
She played at the Rockabilly Festival in Jackson, Tennessee in 2001 with Narvel Felts and Billy Haley and His Comets.[16] Her backup band was The Cadillac Angels (Tony Balbinot, Micky Rae and Anders Stone). Despite her age, Jackson continued touring.
Jackson released her first studio album since 1987, Heart Trouble (2003) on CMH Records. The sixteen-track album included guest appearances by Elvis Costello, The Cramps and Rosie Flores.Singer Amy LaVere portrayed a young Jackson in the Johnny Cash biopic, Walk the Line (2005).
Jackson was interviewed about the origins of rockabilly music in the award-winning Canadian documentary entitled Rockabilly 514 (2008), directed by Patricia Chica and Mike Wafer.
She returned to England on October 28, 2008 for an appearance at the London Rock 'n' Roll Festival with Jerry Lee Lewis and Linda Gail Lewis at the London Forum.
In 2009, she teamed up with Jack White to record The Party Ain't Over (2011), which was well received by many critics but failed to come close to the success of "Van Lear Rose" that White produced for the legendary Loretta Lynn. Jackson enjoyed her first ever charting on the Billboard Hot 200 LP chart, peaking at number 58.The album also broke Mae West's long-standing record for being the oldest female vocalist to make the chart with her 1966 album Way Out West with Jackson at 73 being a year older than West at the time of her hit rock LP. Billboard inexplicably failed to include The Party Ain't Over on the Billboard Hot Country LPS chart, although several of the songs were blatantly country, and the genre in which Jackson was always most successful in the United States.
To promote The Party Ain't Over, she performed with Jack White on the Late Show with David Letterman and Conan.
In a 2010 episode of the HBO program Entourage, Wanda's song "Funnel of Love" was featured as the music to the ending credits.
Jackson appeared on the BBC's Hootenanny at the end of 2010, performing her version of "Let's Have a Party" and a cover of the Amy Winehouse song "You Know I'm No Good" with Jools Holland and his orchestra. The following year, after Winehouse's death, she took part in an Amy Winehouse tribute performance with Sharon Jones & The Dap-Kings at the VH1 Divas Live 2011.
Wanda released her thirty-first studio album Unfinished Business (2012) on Sugar Hill Records. The album goes back to her rockabilly and country roots and was produced by Americana singer-songwriter Justin Townes Earle.

_________________
We don't care the People Says , Rock 'n' roll is here to stay - Danny & the Juniors - 1958
Dernière édition par Predicta le Jeu 28 Aoû - 4:28, édité 1 fois

_________________
We don't care the People Says , Rock 'n' roll is here to stay - Danny & the Juniors - 1958
wanda jackson c'est du bon rockab' feminin
par contre en français sa aurait été mieux

custom 56




Messages

: 2660


Date d'inscription

: 14/11/2012


Age

: 26


Localisation

: 77 seine et marne



Et nos amis américains et anglais hein?
  Si tu le sent (ou moi aussi) pour faire un texte en français

_________________
We don't care the People Says , Rock 'n' roll is here to stay - Danny & the Juniors - 1958
non je blaguais je me doute bien que c'est pour les anglais et autres

custom 56




Messages

: 2660


Date d'inscription

: 14/11/2012


Age

: 26


Localisation

: 77 seine et marne




_________________
We don't care the People Says , Rock 'n' roll is here to stay - Danny & the Juniors - 1958
Wanda Jackson est la chanteuse de Rock 'n' roll et rockabilly la plus célèbre des fifties, comparer de son temps comme la Gene Vincent féminine (pourtant pas beaucoup de rapport stylistique entre les deux artistes si ce n'est le label Capitol records?).  Wanda est originaire de Maud dans l'Oklahoma, son père était musicien (piano, guitare et violon). Sa famille part lors de la récession en Californie à Los Angels puis Bakersfield (le fief de la musique country en Californie). Elle écoute trés jeune Spade Cooley, Tex  Williams ou les Maddox brothers.  La famille de retour en Oklahoma, Wanda remporte un radio crochet en 1953, et suite à cette prestation elle est engagée comme chanteuse par les Brazos Valley boys.  Grace à Hank Tompson, le 24 Mars 1954 elle enregistre à l'age de 16 ans pour Decca records, il s'agit de titres country
Lovin' country style
et
You can't have my love
accompagnée par Billy Gray le guitariste des Brazos Valley
B
oys.  Ce premier disque est un gros tube des charts country. Devant ce succès Decca la refait enregistrer en Aout 1954, puis en Mars 1955 mais cette fois ci dans le studios d'Owen Bradley à Nashville. En Mai à la fin de ses études qu'elle suit parallèlement à sa carrière musicale elle est engagé à
l'Ozark Jubilee tv show
de Red Foley à Springfield dans le Missouri. Début 1956 elle obtient grâce à sa Jim Hashley (manager de Hank Thompson) un contrat chez Capitol records.
Le 8 Juin 1956 se déroule la première séance d'enregistrement avec Skeets Mc Donald à la basse, joe Maphis à la guitare rythmique et Speedy West à la guitare solo. Il en ressort son premier simple Capitol
Half as good a girl
et le futur classique du rock 'n' roll
I gotta know
. Le 19 et 20 Septembre elle retourne en studio pour quatre morceaux dont l'incontournable Rock n'roll  
Honey bop
.  Le 28 Septembre 1957 elle repart en studio avec Merle Travis à la guitare solo et Billy Strange à la guitare rythmique pour le simple
Cool love / Did you miss me
?.
Le 29 Février elle enregistre  encore un nouveau simple
Let me explain / Don' a wanna
. Pour l'instant Wanda fait de très nombreux show tv mais n'a pas encore eut d'énorme tube chez Capitol. C'est le 11 Septembre 1958 lors de la séance avec Merle Travis, Billy Strange et Ralph Money que Wanda enregistre son premier méga tube
Fujiyama mama
qui fera un tabac incroyable au Japon. La session suivante du 7 Avril 1958 avec Skeets Mac Donald à la basse, Buck Owen à la guitare rythmique Vernon Sandusky des Poe kats (le groupe de Big All Downing)  et aux chœurs et au piano Big Al Downing lui même, verra l'enregistrement de son second méga tube
Let's have a party
mais qui attendra Septembre 1960 pour exploser au niveau national. Durant cette même séance sont enregistrés
I Wanna waltz, Money honey
et
Long Tall Sally
.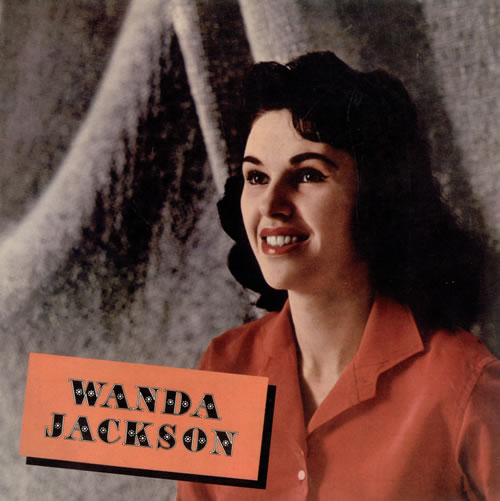 Parait ensuite son premier album intitulé simplement "
Wanda Jackson
" il contient les titres
Dreamin', Here we are again, I wanna waltz, Heartbreak ahead, Making believe, Let me go lover, Long tall Sally, I can't make my dreams understand, Just call me lonesome, Money honey, Happy happy birthday
et
Let's have a party
. Il compile intelligemment rock rapide et ballade country.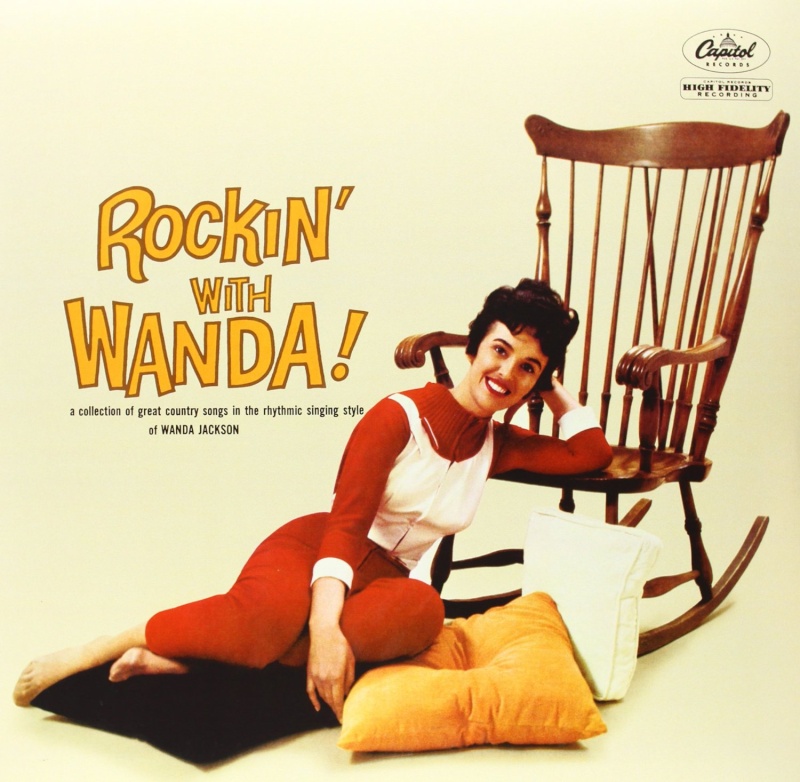 C'est en Décembre 1958 que Capitol sort le second album de Wanda
Rockin with Wanda !,
il contient comme son nom l'indique que des Rocks. "
I gotta know
" enregistré en 1956 rappelons le  (rien à voir avec le titre chanté par Elvis) il est un bon rock avec des inventifs changements de tempo qui va faire basculer la carrière de Wanda de la country et du hillbilly vers le Rock n'roll, "
Honey bop
" et "
Hot dog ! that made him mad
" » « 
Baby love him
 » (Tous 3 de Septembre 1956) sont également de bons rocks au tempo encore plus soutenu que le précédent, et « 
Did you miss you
 » ."
Cool love
" est enregistré en Février 1957, J.W.Marshall remplace Joe Maphis et Merrill Moore tient le piano le titre est un excellent rock, ils enregistrent aussi "
Don' a Wan'a
" rock humoristique proche du calypso (une perle de part sa singularité), et surtout son petit chef d'œuvre et méga tube  le détonnant "
Fujiyama Mama
", dont la version originale (pas du tout rock)est sortie chez Capitol en 1954. Les  titres détonants comme « 
Mean, mean man
 » et « 
Rock your baby
 », qui ne sont pas sans rappeler le style de Gene Vincent and Blue Caps, mais aussi le très bon rock blanc à la mélodie inventive « 
You're the one for me », « You've turned to a stranger
 » est de son côté une ballade country sympathique qui nous fait faire une pause au milieu de cet album survolté tous issu des séances d'avril 1958. De part son gros succès Wanda enregistre moins et fait beaucoup de tournées. En Octobre 1960, elle repasse en studio et enregistre un ensemble de très bon rock dont
There's a party going on
qui devient rapidement un gros tube, qui lui permet de signer un contrat de longue durée au Golden Nugget de Las Vegas.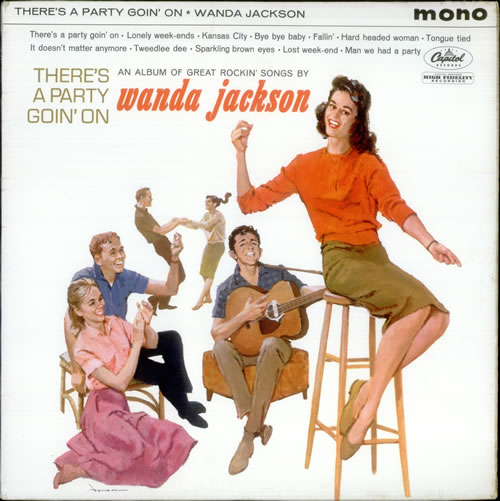 Les titres enregistrés durant les séances d'octobre 1960 se retrouve dans le formidable album rock 'n' roll de 1961
There's a party Going
on
avec la chanson homonyme et
Loneky weekends Kansas city, Bye bye baby, Fallin', Hard headed woman, Tongue tied, it doesn't anymore, tweedle dee, Sparkling brown eyes, Lost week end
et
Man we had a party.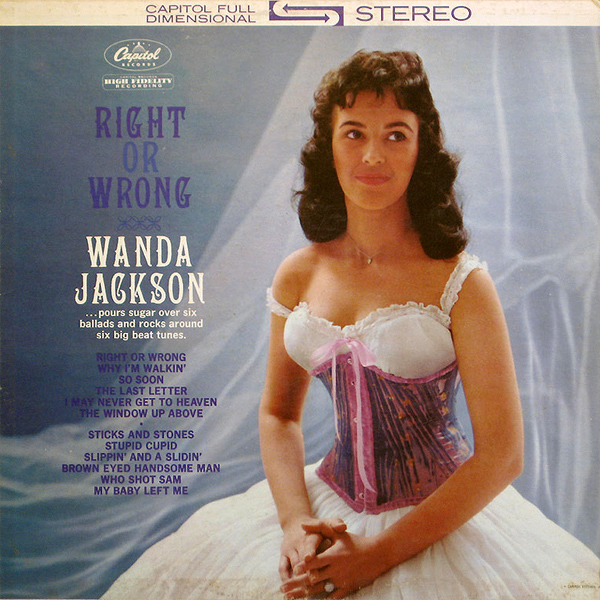 Right or Wrong
une ballade country qu'elle enregistre durant sa séance d'Octobre 1960 sera le dernier gros tube de Wanda. Du coup la chanson devient le titre leadeur de son 4 eme album de 1961 appelé évidemment
Right or wrong
qui comporte une face country et une face rock 'n' roll avec
Stupid cupid, brown eyes handsome man, Who shot sam, Slippin' and sliddin', My baby left me et sticks and stones.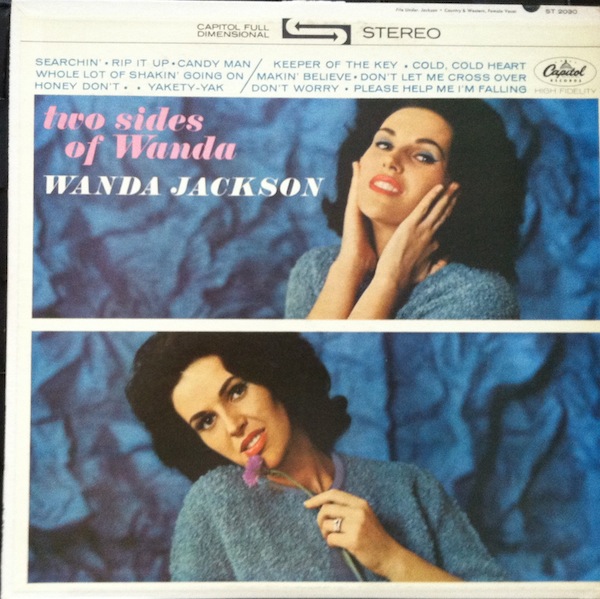 Malheureusement les deux albums suivant de 1962 et 1963 sont plutôt country, mais en 1964 elle enregistre l'album
Two sides of Wanda
qui contient des titres country mais surtout de très bon rock
Whole lotta shakin' goin' on, Honey don't, Yakety yak, Candy man
,
Searchin'
et
Rip it up
. Voila donc l'ensemble des albums rock 'n' roll fait par  Wanda Jackson pour Capitol records.

_________________
We don't care the People Says , Rock 'n' roll is here to stay - Danny & the Juniors - 1958

_________________
We don't care the People Says , Rock 'n' roll is here to stay - Danny & the Juniors - 1958
---
Permission de ce forum:
Vous
ne pouvez pas
répondre aux sujets dans ce forum