Dans l'histoire du rock et de la Pop musique les Mods sont le symbole d'un style de vie d'une partie de la jeunesse en Grande Bretagne dans les sixties, ils ne sont pas vraiment dans la culture "rock 'n' roll" de Custom Rodder car n'étant pas amateur de rock 'n' roll des fifties, mais de nothern Soul, mais comme ils sont l'opposition culturelle des Tone Up Rockers anglais (eux amateurs de Rock 'n' roll des 1950's) un post sur eux me parrait interressant.La définition (en anglais) de Wikipedia me parait pas mal:
Mod (from modernist) is a subculture that originated in London, England, in the late 1950s and peaked in the early to mid-1960s.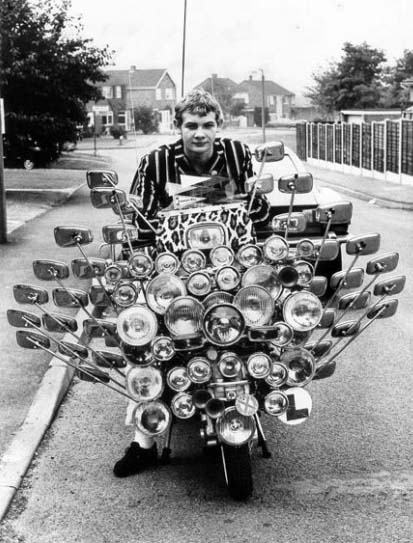 Significant elements of the mod subculture include fashion (often tailor-made suits); music, including African American soul, Jamaican ska, British beat music, and R&B; and motor scooters. The original mod scene was also associated with amphetamine-fuelled all-night dancing at clubs.From the mid-to-late 1960s and onwards, the mass media often used the term mod in a wider sense to describe anything that was believed to be popular, fashionable, or modern.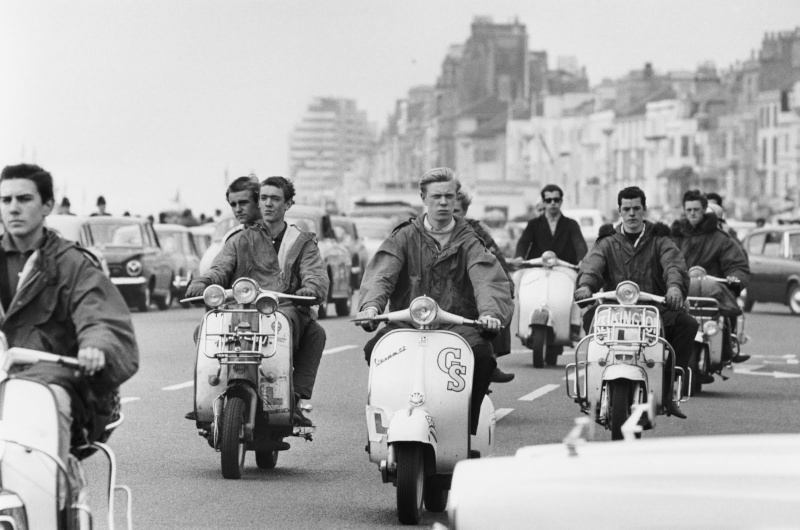 There was a mod revival in the United Kingdom in the late 1970s, which was followed by a mod revival in North America in the early 1980s, particularly in Southern California
Etymology

The term mod derives from modernist, which was a term used in the 1950s to describe modern jazz musicians and fans.[This usage contrasted with the term trad, which described traditional jazz players and fans. The 1959 novel Absolute Beginners by Colin MacInnes describes as a modernist, a young modern jazz fan who dresses in sharp modern Italian clothes. Absolute Beginners may be one of the earliest written examples of the term modernist being used to describe young British style-conscious modern jazz fans. The word modernist in this sense should not be confused with the wider use of the term modernism in the context of literature, art, design and architecture.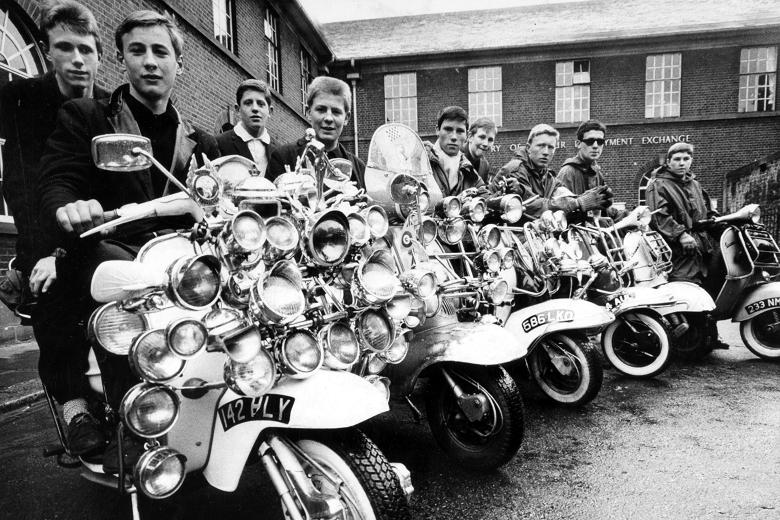 History

Dick Hebdige claims that the progenitors of the mod subculture "appear to have been a group of working-class dandies, possibly descended from the devotees of the Italianite [fashion] style." Mary Anne Long disagrees, stating that "first hand accounts and contemporary theorists point to the Jewish upper-working or middle-class of London's East End and suburbs." Sociologist Simon Frith asserts that the mod subculture had its roots in the 1950s beatnik coffee bar culture, which catered to art school students in the radical bohemian scene in London. Steve Sparks, who claims to be one of the original mods, agrees that before mod became commercialised, it was essentially an extension of the beatnik culture: "It comes from 'modernist', it was to do with modern jazz and to do with Sartre" and existentialism. Sparks argues that "Mod has been much misunderstood... as this working-class, scooter-riding precursor of skinheads."
Coffee bars were attractive to youths, because in contrast to typical British pubs, which closed at about 11 pm, they were open until the early hours of the morning. Coffee bars had jukeboxes, which in some cases reserved some of the space in the machines for the students' own records. In the late 1950s, coffee bars were associated with jazz and blues, but in the early 1960s, they began playing more R&B music. Frith notes that although coffee bars were originally aimed at middle-class art school students, they began to facilitate an intermixing of youths from different backgrounds and classes. At these venues, which Frith calls the "first sign of the youth movement", youths would meet collectors of R&B and blues records, who introduced them to new types of African-American music, which the teens were attracted to for its rawness and authenticity. They also watched French and Italian art films and read Italian magazines to look for style ideas. According to Hebdige, the mod subculture gradually accumulated the identifying symbols that later came to be associated with the scene, such as scooters, amphetamine pills, and music.
Decline and offshoots By the summer of 1966, the mod scene was in sharp decline. Dick Hebdige argues that the mod subculture lost its vitality when it became commercialised, artificial and stylised to the point that new mod clothing styles were being created "from above" by clothing companies and by TV shows like Ready Steady Go!, rather than being developed by young people customising their clothes and mixing different fashions together.
As psychedelic rock and the hippie subculture grew more popular in the United Kingdom, many people drifted away from the mod scene. Bands such as The Who and Small Faces had changed their musical styles and no longer considered themselves mods. Another factor was that the original mods of the early 1960s were getting into the age of marriage and child-rearing, which meant that they no longer had the time or money for their youthful pastimes of club-going, record-shopping and scooter rallies. The peacock or fashion wing of mod culture evolved into the swinging London scene.
The hard mods of the mid-to-late 1960s eventually transformed into the skinheads. Many of the hard mods lived in the same economically depressed areas of South London as West Indian immigrants, and those mods emulated the rude boy look of pork pie hats and too-short Levis jeans. These "aspiring 'white negros'" listened to Jamaican ska and mingled with black rude boys at West Indian nightclubs like Ram Jam, A-Train and Sloopy's.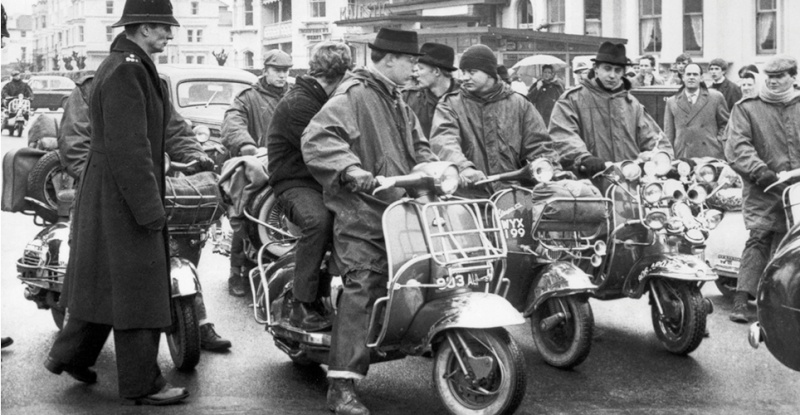 Dick Hebdige claims that the hard mods were drawn to black culture and ska music in part because the educated, middle-class hippie movement's drug-oriented and intellectual music did not have any relevance for them. He argues that the hard mods were also attracted to ska because it was a secret, underground, non-commercialised music that was disseminated through informal channels such as house parties and clubs. The early skinheads also liked soul, rocksteady and early reggae.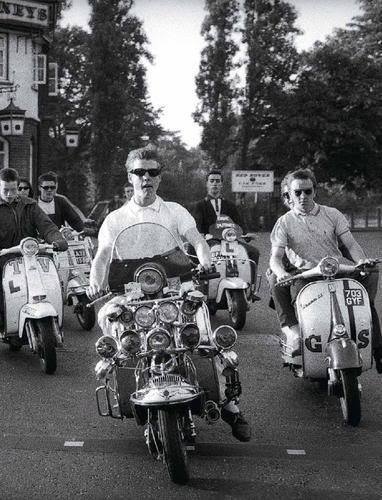 The early skinheads retained basic elements of mod fashion — such as Fred Perry and Ben Sherman shirts, Sta-Prest trousers and Levi's jeans — but mixed them with working class-oriented accessories such as braces and Dr. Martens work boots. Hebdige claims that as early as the Margate and Brighton brawls between mods and rockers, some mods were seen wearing boots and braces and sporting close cropped haircuts (for practical reasons, as long hair was a liability in industrial jobs and streetfights).
Mods and ex-mods were also part of the early northern soul scene, a subculture based on obscure 1960s and 1970s American soul records. Some mods evolved into, or merged with, subcultures such as individualists, stylists, and scooterboys.

_________________
We don't care the People Says , Rock 'n' roll is here to stay - Danny & the Juniors - 1958
Hum hum...bien éloigné de mes standards , mais intéressant !
Le texte dit : alors que les early -mods du début des sixties deviennent des gens respectables avec femmes et enfants , les purs et durs se tournent alors vers le mouvement Skinhead ..................................
Je savais pas ça ...

_________________
" Tu sais que dalle , mon p'tit ...."

Georges LeBay , 1983.

Metalshop16




Messages

: 940


Date d'inscription

: 12/11/2012



Oui c'est une réalité, mais le premiers Skinheads étaient fans de musique noire (des rapprochements musicaux avec les Mods) et n'étaient pas racistes bien au contraire, c'est une partie du mouvement je pense majoritaire aujourd'hui que l'on appelle boneheads qui peuvent être dans certains cas néo nazis (particulièrement aux USA et dans les pays de l'Est).

_________________
We don't care the People Says , Rock 'n' roll is here to stay - Danny & the Juniors - 1958
Je comprend mieux .
Pas de méprise .....

_________________
" Tu sais que dalle , mon p'tit ...."

Georges LeBay , 1983.

Metalshop16




Messages

: 940


Date d'inscription

: 12/11/2012



Tous dépend,je connait pas mal de Skins,ceux que je connait écoute comme musique: Calypso,Ska,Reggea....Pour se qui concerne les Mods eux a l´origine écoutais pas mal aussi de Rhythm and Blues de la fins des années 50s.
Dire que le mouvement Skinhead est un mouvement fasciste est faut,il y a des fasciste oui mais aussi des anti-fascistes.....C´est comme dire que tous les Teds sont pour l´histoire du White Power etc....
Juste une petite remarque,une des idoles de Cavan Grogan était cette homme:
https://www.youtube.com/watch?v=MAGoqMZRLB4
vous avez écouté les derniers disques de Crazy Cavan and the Rhythm Rockers,une preuve:
https://www.youtube.com/watch?v=fufBZ-PLhhc
C´est vraiment triste de voir et surtout d´écouté comme des personnes qui se dise d´un mouvement où d´un autre et ne rien savoir sur se mouvement,je peux comprendre qu´une personne qui commence a s´intéressé pour un mouvement puisse avoir pas mal de doute,surtout quand c´est un adolescent,mais passé les années et surtout de nos jours avec toutes les infos que ont peux trouvé a droite et a gauche continué a dire des grosse connerie c´est vraiment grave,c´est mon point de vue.
Beaucoup de Teds dise écouté que du Rockabilly et jamais de la Black musics,ceux qui dise sa devrais se demandé,c´est jeune Teds/Edwardians écoutais t´il eux du Rockabilly a la naissance du mouvement?
Allez a plus.
DeeJay EddieCesc

Dj Eddie-Cesc




Messages

: 493


Date d'inscription

: 03/07/2015



Sujets similaires
---
Permission de ce forum:
Vous
ne pouvez pas
répondre aux sujets dans ce forum