Hier je m'arrête dans une solderie, je trouve cette BD parlant plus ou moins d'Elvis Presley, j'ouvre je regarde et vu le prix modique j'achête, ce matin je lis et au final un trés bon bouquin, beau dessin, trés bon scénario plein de subtilité psychologique au niveau des personnages.
Pour résumer c'est un imitateur d'Elvis trés célèbre qui demande à un journaliste d'écrire un article sur lui, ce dernier fait une enquête en plein las Vegas sur ce dernier et les personnes qui l'entourent, il tire des portrait interressant de personnes aussi interressant qu'étrange et réfléchi sur les fonctionnement des mythes, et des religions c'est fin et distrayant le tout dans une ambiance polars.
Autrement voici une critique us du web de la bd:
"In the crowded and eclectic world of Elvis literature, once in a while, a breath of fresh air comes along to jolt our senses. Rich Koslowski's The King is one of those rare entries which offers us something different, something which stimulates our senses both narratively and visually. … The King well and truly takes care of business. Read, savour, and enjoy." -- Nigel, Elvis Information Network

"Impressive ... a story about faith and the power of music and legend, as well as a lesson in how one man can become something larger than life." -- Randy Lander, The Fourth Rail

"This is a remarkably human book, complete with laughter, sadness and a full range of emotions. Do yourself a favor and try this one." -- Scoop

From the award-winning creator of Three Fingers, comes an all-new, pop culture adventure/mystery. The King is an offbeat tale of one very enigmatic Elvis impersonator who's taking the Vegas strip, and the world, by storm. Shrouded in mystery with the shining gold helmet that covers his face, The King's performances are so mesmerizing that fans are starting to believe he really is Elvis Presley. Through investigative reporting and a series of thought-provoking interviews, a former tabloid journalist makes it his personal mission to find out The King's true identity. But in his race to debunk The King's latest comeback, he discovers much more than he bargained for. -- Diamond: MAY053049
http://www.topshelfcomix.com/catalog/the-king-softcover/433

_________________
We don't care the People Says , Rock 'n' roll is here to stay - Danny & the Juniors - 1958
«Le King» est un chanteur masqué qui se produit chaque soir depuis six mois dans un hôtel de Las Vegas. La rumeur prétend qu'il est Elvis Presley ressuscité. Il accepte pour la première fois d'être interviewé, par le prestigieux Time, mais il pose une condition : l'article doit être écrit par Paul Erfurt, un journaliste autrefois spécialisé dans les reportages de tabloïds consacrés aux apparitions d'Elvis Presley. Sans avoir rien demandé, le vieux journaliste reprend du service et mène consciencieusement son enquête. Le sujet a depuis longtemps cessé de le passionner.
Le personnage du King est troublant : derrière le casque métallique qui dissimule une partie de son visage, on devine qu'il ressemble à Elvis. Et puis il chante comme Elvis, il parle comme Elvis et il aime les femmes comme Elvis. Logé dans une suite de l'hôtel où il se produit gratuitement, le King est entouré d'une bande d'hommes au passé suspect. Peu à peu, le journaliste prend la mesure du culte religieux qui est rendu à cet homme qui se présente, en toute simplicité, comme une divinité («pas Dieu, un dieu[1] [...] je ne lis pas dans les pensées et je ne fais pas le déluge ») — le dieu de la musique.
Histoires d'argent, rapports avec la mafia et intimidations alternent avec de belles histoires morales, de grandes paroles métaphysiques et des coïncidences troublantes.
Le King est-il vraiment Elvis ? La question posée par le livre est celle de la foi et de l'espoir : si les gens ont besoin que «Le King» soit Elvis, pourquoi ne le serait-il pas ? La foi, c'est croire en ce en quoi l'on veut croire.[2]
Il était déjà arrivé qu'Elvis serve de prétexte à parler de la foi, et cela arrivera sans doute encore, c'est même tout un pan de la culture américaine.[3] Ce petit pavé (250 pages) constitue donc la énième exploitation d'un mythe de l'Amérique profonde et n'a donc rien de fondamentalement original. Le récit n'est pas malhabile sans être complètement surprenant et sans être totalement dénué de lourdeurs — le recours systématiques aux citations sur/de Elvis, en ouverture des chapitres, est un brin scolaire, par exemple.
Le dessin n'a rien de renversant — il a même quelque chose d'un peu vieillot, d'ennuyeux. Il faut dire que Rich Koslowski travaille depuis quinze ans pour Archie Comics, dont les productions n'ont rien d'avant-gardistes. Mais puisque Le King, publié originellement par Top Shelf, est vendu comme un «Graphic Novel», son auteur semble chercher à se démarquer de la niaiserie réjouissante des Archie Comics : détails «adultes» (des mafieux, des filles peu habillées qui vont par deux…), cadrages cinématographiques — plongées, contre-plongées — séquences d'images immobiles, grands effets théâtraux,… rien de tout cela ne prend véritablement. L'auteur a lu Daniel Clowes, Will Eisner, Frank Miller, et bien d'autres auteurs de talent dont il nous restitue juste quelques tics de mise-en-scène, sans trop sembler être capable de choisir quel genre de bande dessinée il produit. Le lecteur n'est pas transporté à Las Vegas et il n'a pas le sentiment d'écouter des chansons d'Elvis Presley.
Dans une interview, Rich Koslowski (qui a obtenu dans son pays un succès critique non négligeable avec ce livre[4] ) expliquait que le personnage d'Elvis Presley l'intéressait infiniment moins que les fans d'Elvis Presley. C'est peut-être là que cela coince : l'auteur se moque de la folie des fans d'Elvis Presley, mais il n'est pas capable, même par jeu, de l'éprouver lui-même, son regard reste extérieur et abstrait. Ses personnages — secondaires ou principaux — ne provoquent ni sympathie, ni empathie, ni même antipathie : aucun d'eux ne parvient véritablement à «vivre», à exister pour le lecteur.
Site officiel de Rich Koslowski
http://www.richkoslowski.com/
Chroniqué par Jean-Noël Lafargue en avril 2007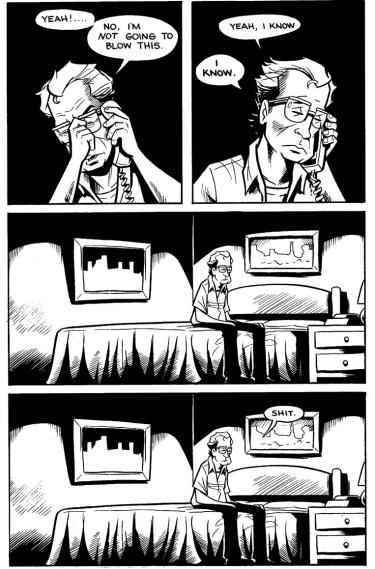 _________________
We don't care the People Says , Rock 'n' roll is here to stay - Danny & the Juniors - 1958

_________________
We don't care the People Says , Rock 'n' roll is here to stay - Danny & the Juniors - 1958
---
Permission de ce forum:
Vous
ne pouvez pas
répondre aux sujets dans ce forum