Page 2 sur 2 •

1, 2


_________________
We don't care the People Says , Rock 'n' roll is here to stay - Danny & the Juniors - 1958
  With "old school", "traditional", and "nostalgic" being some of the top buzzwords in the car scene this very nicely done 1951 Mercury M1 is sure to fit right in.  Formerly owned by the "Austin Speed Shop", not only is this truck unique by being an old Mercury Pickup, but it was done in that classic throwback hot rodder style that always grabs attention.  On first glance you may think it is coated in primer but that special color is Hot Rod Flatz "Copper Pearl".  Get it out in the sun and the paint really comes alive.  Nicely laid down scallops grace the fenders. Additionally, the truck has some of the coolest pinstriping out there that were laid down by "Scratch".  It accents the original style trim creating a very cool look.  The original style grill and headlights are in place but the grill has been done in a combination of chrome and Black which work well together.  the original front chrome bumper has also been left in place.  as for the rear, the bumper has been removed and a pair is 1950 mercury passenger car taillights  have been frenched into the back fenders.  The rear tailgate has been smoothed and rolled under to connected to the body giving it a seamless appearance.  The rear bed has been coated in Black and has a rear panel which is removable to give access to the remote battery and compressor for the air ride suspension.  Due to that suspension you can cruise down the road in comfort and drop it down at shows for the ultimate stance.  The truck wouldn't look right with anything other than wide white wall tires which are in place throughout wrapped around nice chrome steel wheels.
   If you thought the exterior pinstriping was nice just take a peak inside!  This custom has been done with some of the coolest upholstery work out there. Completed by Fat Lucky formerly of Austin Speed Shop, it just reeks of cool.  Pinstriping graphics have been custom stitched into the seat backs and headliner for a one of a kind look.  You are guaranteed to never pull up to another car with an interior that is even close to this one.  A tall custom floor shifter has been installed.  And the Roman God Mercury with his winged hat and wearing a sombrero is mounted as the shifter knob. Definitely a one of a kind. When you check out the dash you will find some of the original style trim but white faced Dolphin gauges. The ashtray opens to expose the air ride suspension controls.  And the steering wheel is removable with the pull of a pin.  Very old school, plus a cool security measure.
   The truck rolls down the road under the power of a Ford 302V8 that is attached to a 3 speed automatic transmission.  The engine is dressed out in cool finned Edelbrock valve covers and an old school air cleaner.  The the independent air ride suspension allows you to adjust your ride height to fit your purpose.  Whether driving down the freeway or just cruisin the local hangouts, you will have the truck sitting at just the right height.
Dernière édition par Predicta le Mar 14 Avr - 7:04, édité 1 fois

_________________
We don't care the People Says , Rock 'n' roll is here to stay - Danny & the Juniors - 1958

_________________
We don't care the People Says , Rock 'n' roll is here to stay - Danny & the Juniors - 1958

_________________
We don't care the People Says , Rock 'n' roll is here to stay - Danny & the Juniors - 1958

_________________
We don't care the People Says , Rock 'n' roll is here to stay - Danny & the Juniors - 1958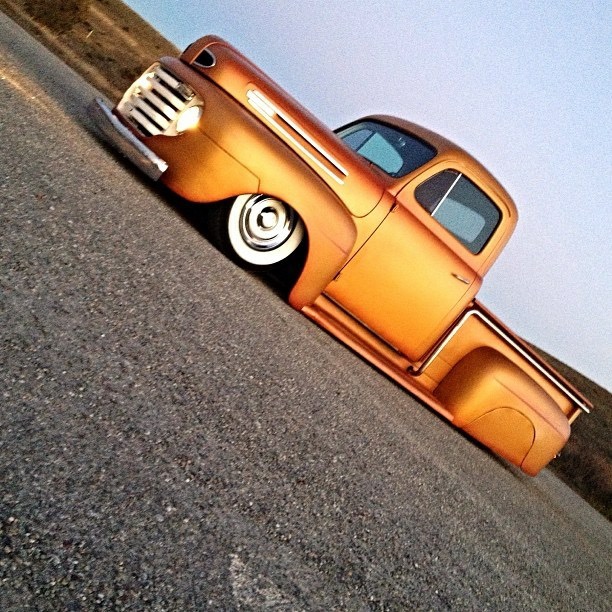 After much debate, I have decided its time to part with my beloved 1950 Ford F1 Suede Kustom truck. This truck has been nothing but good to me however, it is time for someone else to enjoy this beauty and time for me to move onto the next build.
All in all this is a great, reliable, beautiful looking truck. The work has been professionally done and has plenty to offer. It has never let me down and has taken me up and down the state of California. Literally this truck is reliable and has been driven from San Jose to Los Angeles, to Sacramento, to Jamestown to Santa Maria and just about anywhere in California. This for sure this is NOT A TRAILER QUEEN nor a show vehicle, it gets driven there for paint is not perfect due to road chips but shows amazing regardless of those little imperfections! There is too much to list on the truck and will do my best. If you have any questions in case I missed something, please contact me at 408-375-5618, text is best.
It is powered by a rebuilt 80's 302, with a rebuilt TCI Stage 2 kit AOD (overdrive) tranny, Lokar shifter with kustom microphone on shifter. Custom cut drive shaft and original rear end with 3.92 gears. Mustang 2 front end with frame boxed for IFS, Power disc brakes front, drums in rear. Air ride system with bags on all 4 corners, with ViAir compressor and 5 gallon tank which make it sit on the ground and ride as high or low as you choose. Runs on 15" Ford Steelies 5x5 1/2 pattern and wrapped in Cocker Classic G78's bias ply tires with plenty of tread left (80% tread left). Has been freshly rewired with an EZ wiring harness. HID Headlights and tail lights work along with kustom omega gauges. Has Kustom, suede paint job along with kustom pinstriping. Rhino lined bed with a kustom pinstriped, and painted Coca Cola kustom made gas tank. Interior is simple with a sarape as a cover, drive in speakers which work and are connected to an amp to power them which plugs to your ipod or cell. Painted and pinstriped dash, kustom side exhaust and kustom hand made rear fender skirts. All glass is there with no cracks. Windows roll up and down, no latches for wing windows.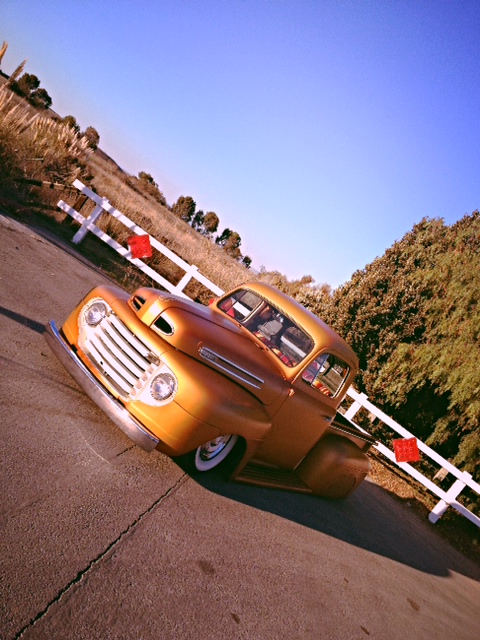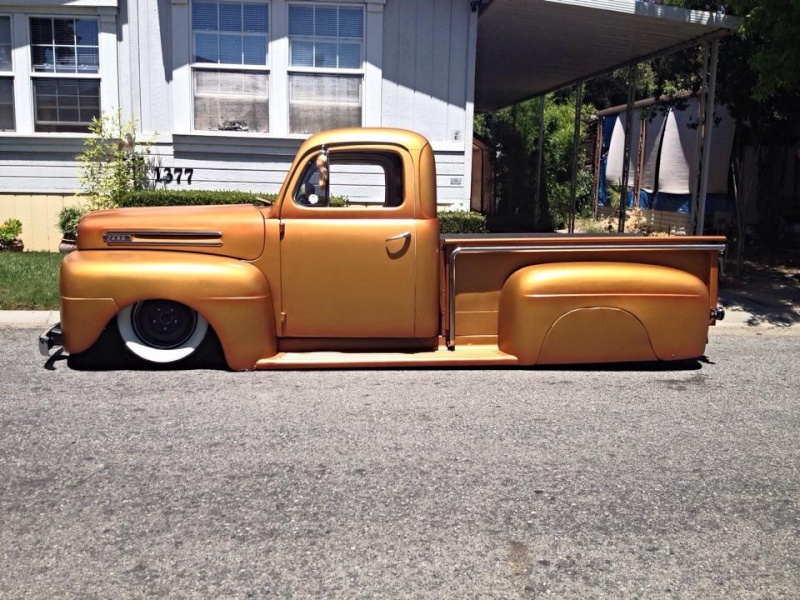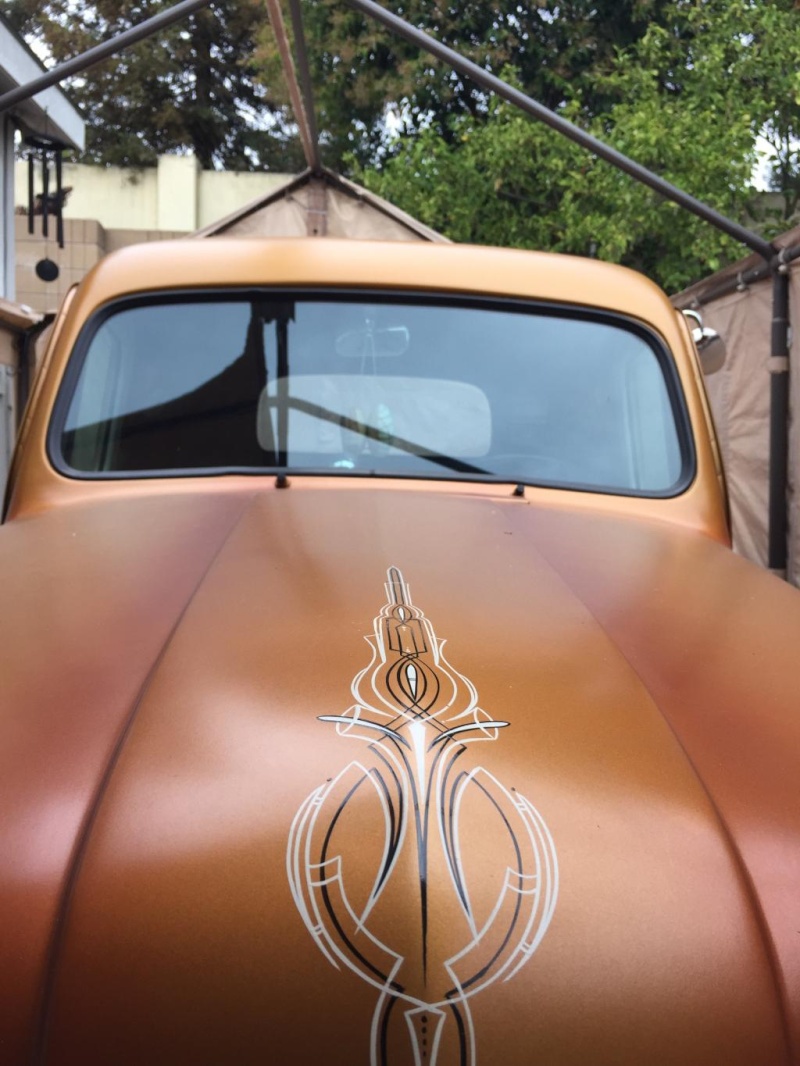 _________________
We don't care the People Says , Rock 'n' roll is here to stay - Danny & the Juniors - 1958

_________________
We don't care the People Says , Rock 'n' roll is here to stay - Danny & the Juniors - 1958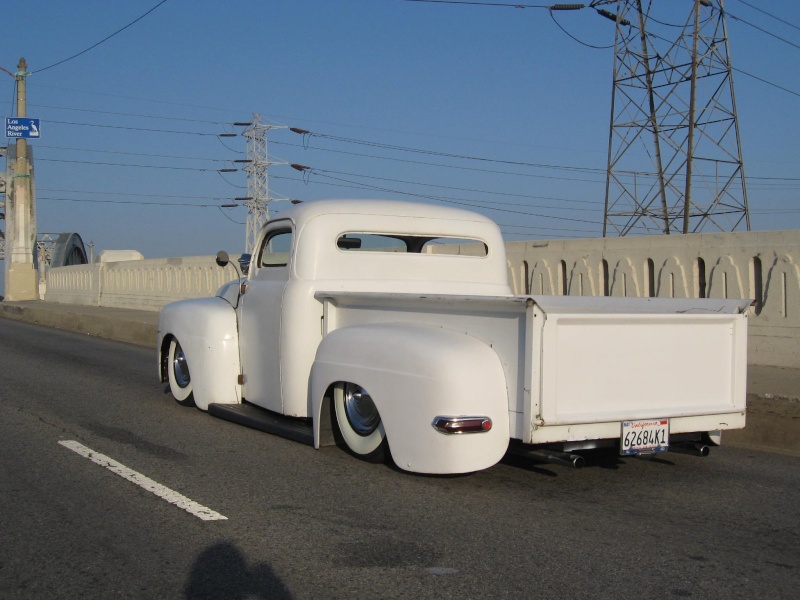 Moving on to other projects so if this sells it sells if not i really enjoy this truck.
Okay, so i found this truck up in the high desert by the advice of a co worker. It literally was in a barn among other goodies. The way you see it (body wise) is the way i found it. I thought it was crazy looking with the chop top, channeled cab, the hood took a pie cut to acheve the height of the cab. The owner claimed to have had the truck for some 20 years and never had the time to get it going and prior to that the truck was in another barn since the late 50's. The truck had no motor or trans. After striking a deal i towed it home, took it completely apart and began from the frame up. Here goes the list...Everything is either new or rebuild.
Up front a Jag xj6 clip was professionally installed with all new bushings. I had the rack & pinion overhauled, new rotors and calipers, slam specialties air springs. For power i chose the very reliable small block chevy. I had it overhauled, bored 30 over. Nothing to crazy for my intensions were to build a cruiser. The trans is a 700R. The diff is off a caprice Hoopers in Burbank geared it up for me. A 4 link set up with a Gambino Kustoms C-notch kit was installed. Slam specialties air bags, dual Vi Air compressors, 2 valves per corner. Mustang gas tank out back between the rails. Rebel wire harness, new 4 row radiator. I came up on some mustang bucket seats witch are in now. I had the frame blasted first. It's been boxed with a over kill 3/16 plate. The chassis, diff and under cab got sprayed with Por 15. Lots and lots of hours were spend on the detail. Even under the hood, it was stripped and painted glossy black. Under the fenders same treatment, but they were spayed with under coating. My goal was to start from the bottom and leaving the original patina that it came with on the outside. So it's been a couple of years now and not to many miles have been put in. I do drive it, but i also have a 30 coupe and a 29 roadster that i drive around. I'm sure I'm forgetting more about the truck, but....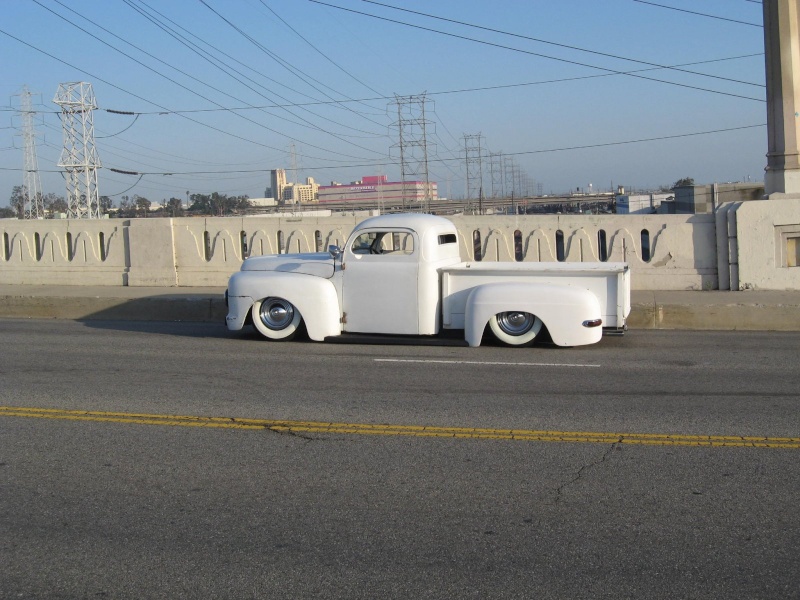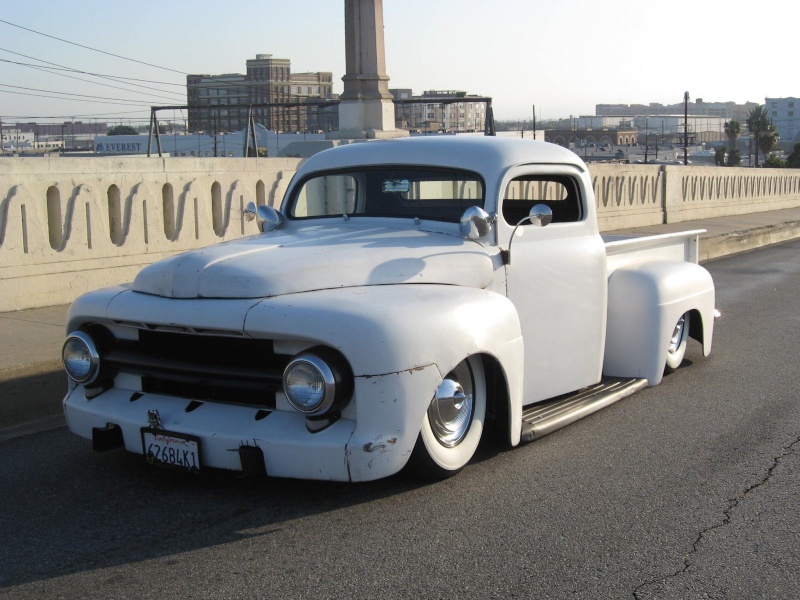 _________________
We don't care the People Says , Rock 'n' roll is here to stay - Danny & the Juniors - 1958

_________________
We don't care the People Says , Rock 'n' roll is here to stay - Danny & the Juniors - 1958

_________________
We don't care the People Says , Rock 'n' roll is here to stay - Danny & the Juniors - 1958
friend Brian Zuk's chopped , flamed and heavily louvred 52 Ford pickup. 365 Caddy with dual quads and a hydro

_________________
We don't care the People Says , Rock 'n' roll is here to stay - Danny & the Juniors - 1958
Page 2 sur 2 •

1, 2

---
Permission de ce forum:
Vous
ne pouvez pas
répondre aux sujets dans ce forum