FORD ANGLIA STREET ROD, BLOWN 392 CU IN HEMI
1952 Ford Two Door, no brands or issues. The Anglia was built 2 years ago and has less than approx 1500 miles on it, there is no odometer. I am relisting the Anglia and will reduce the reserve due to my error.
Motor:1957,392 Hemi prepped by P.A.W. out of California.
Block is bored .030 and Rustoleum painted inside.
New brass freeze plugs and cam bearings installed.
Heads were ported, new multi angle stainless valves,
new seats, guides, etc.
Competition Cam blower cam. Double roller timing chain
Blower Shop 6-71 blower polished.
Polished intake. 8mm belt and pulleys.
Two Edelbrock 600cfm carbs.
Custom made from Don Garlits blower hat fully functional linkage.
There is lot's more to this motor.To much to list. Everything from the heads up is polished aluminum
Body: Steel, the rear fenders have been widened 2"
roof filled in with steel and new steel bows installed.
Base coat/clear coat 2006 viper red. Custom polished
stainless steel halogen head lights/with turn signals
built in. Tear drop 40 ford/with blue dot L.E.D. tail
lights.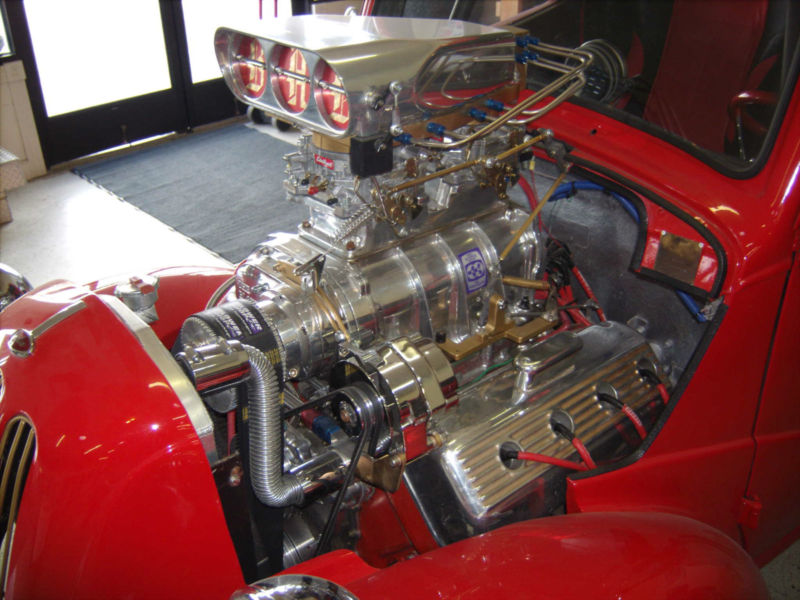 Interior: Galvanized steel sheet metal walls and floor.
Jeweled stainless steel dash/w auto meter pro comp
gauges.Flaming River stainless steel tilt steering\
column.New 18 circuit wiring harness.
S&W roll cage modified to accompany two custom seats.
Have complete brand new set of interior window garnesh
moldings. All new glass windshield and rear glass.
B&M ratchet shifter. 15 gallon aluminum fuel cell.
Stainless steel battery box with yellow top optima battery.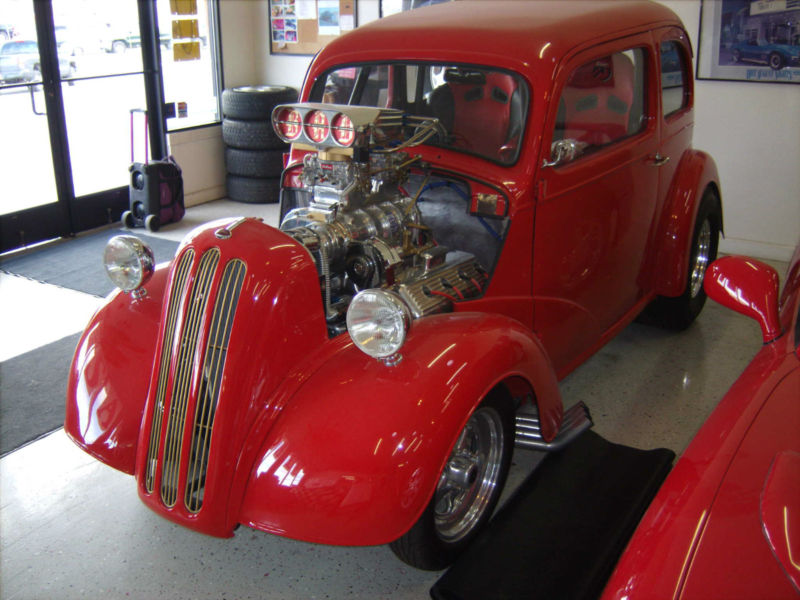 Chassis: 2"x3" box tube frame kit by Chris Alston.
Triangle ladder bars/with coil overs.
Big bearing 9" ford housing with Moser 31 spline alloy axles, 5.5 inch long wheel studs.
Richmond 4:11 gears.
Wilwood (4) piston caliper brakes with slotted gun drilled rotors.
Custom drive shaft with spicer u-joints and aluminum yolk caps.
Front end is all round tube upper and lower A-arms and coil overs.
Chrome Manual rack and pinion. Easy to turn.
Wheels and Tires: Weld Pro Star Aluminum Wheels
Rims rear: 15x14 Rims front: 15x3.5
Mickey Thompson Sportsman 31x18.50x15
Mickey Thompson Sportsman 22x3.5x15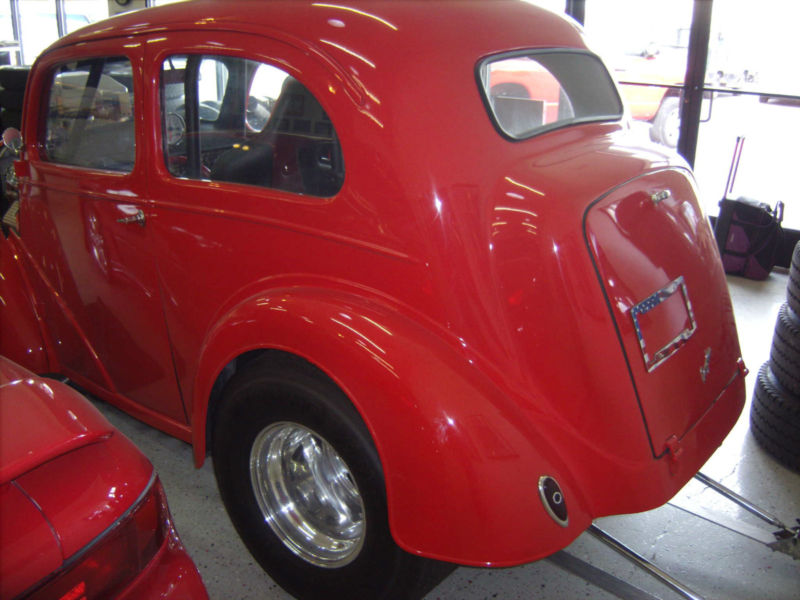 Transmission: 1973,904 chrysler torqueflight. Hughes full
Manual forward valve body. Hughes 3500rpm stall convertor. Trans cooler..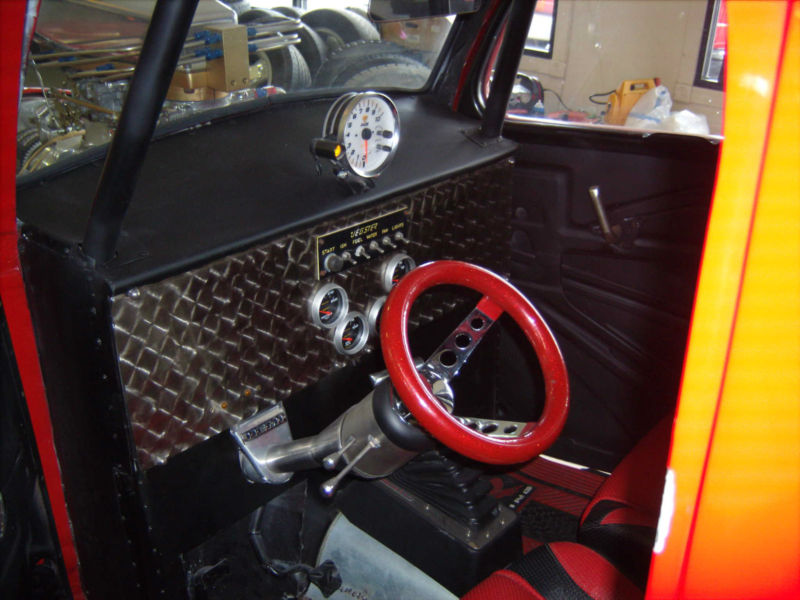 Exhaust: Custom ceramic coated inside and out zoomie headers
Have several extra parts
Hood, not used because of large motor.
Very few are still all steel, even fewer with a blown 392 cu in Hemi. This Anglia is a blast to drive and will get attention wherever you go

_________________
We don't care the People Says , Rock 'n' roll is here to stay - Danny & the Juniors - 1958

1951 ford Anglia. Below is a medium length run down on parts and details. E-mail with any questions at all. Car is located in Houston, Texas, if you can come and take a personal look. It has a clear Texas title and current registration. Was a rust bucket to start and most, but not all, has been fixed. Floors, rockers and bottom 6 or 8 inches of the car is new steel. While doing that I channeled it 5 inches over a completely new chassis made from 2x4 and 2x6 11 gauge rectangle tubing - you can see in the pictures. The kick up in the front is tapered, drilled and sleeved.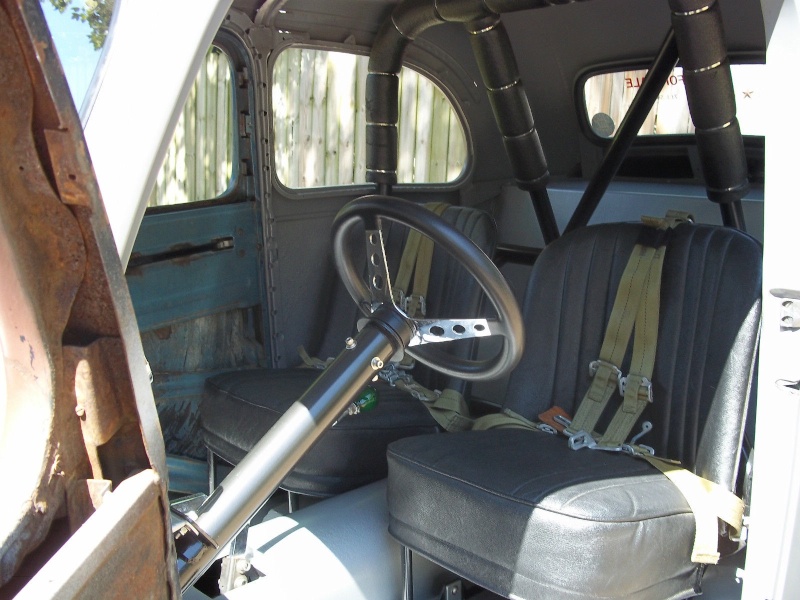 •Wheel base is stretched to 110 inches.
•Vega steering .
•wildwood pedal assembly for brake and clutch.
•hydraulic throw out bearing
•borg warner super t-10. 5.60-15 pro trac tires up front and 8.20-15 radir cheater slicks on the back. rubber has very little wear.
•wheels are from the wheel smiths with what they call show chrome....meaning the centers are as nice as the rest of the wheel and not painted.
•9 inch ford rear end with two sets of gears. 3.90 with an eaton locker for the street and 4.33 with a full spool for the track. car runs 11.60s @ 115 with wrinkle wall slicks. (those do not come with the car)
•MSD6AL control box and distributor
•Custom made Ron Davis 3 pass radiator
•Single wire power gen alternator.
•Four point cage, not NHRA certified, bolted to chassis with grade 8 bolts so that body can be removed from the frame
•Stainless Borgeson universal joints and steering shaft, cut down 1956 Mercury column
•Original Bakelite Anglia dash with Stewart Warner quad gauge for gas, oil PSI and temperature
•Original Anglia seats, recovered
•NOS 4 point harnesses from the 40's, tags still attached
•Engine is a 383 small block Chevy, making a little under 500 horsepower
•Patriot aluminum heads, Edelbrock carburetors, handmade headers 1 inch 7/8ths id Stalh bolt pattern
•All front end parts (axle, leaf spring, hairpins, spindles, draglink, batwings) are polished stainless or chrome from So Cal Speed Shop
•Brakes and drums are '47 Ford converted to self-energizing
•Back brakes are 11' Ford.
•Art Morrison fully adjustable ladder bars and brackets with So-Cal coil overs make up the back end
•Front and rear glass is new; have door and quarter glass for patterns; Have window cranks and all new rubber for the doors, windows and window tracks
•As far as rust goes, back 2/3rds of the drip rails need to be replaced; have donor rails that go with the car; Rear apron and parts of rear fender wells have some rust that needs fixed as well.
•Also have all new fiberglass reproduction garnish moldings for the inside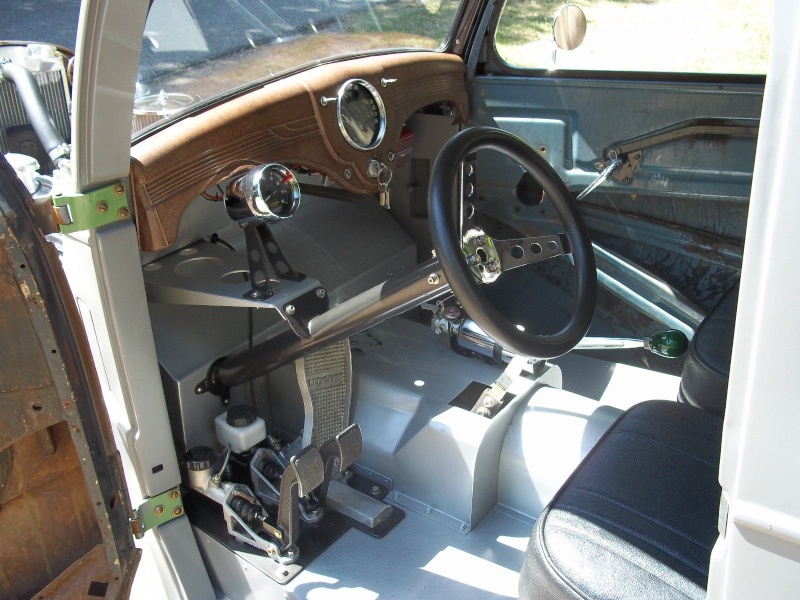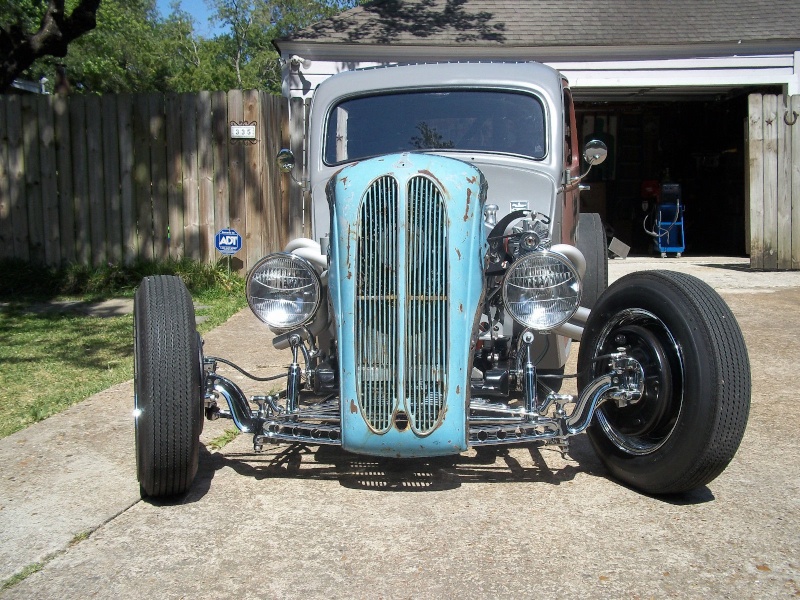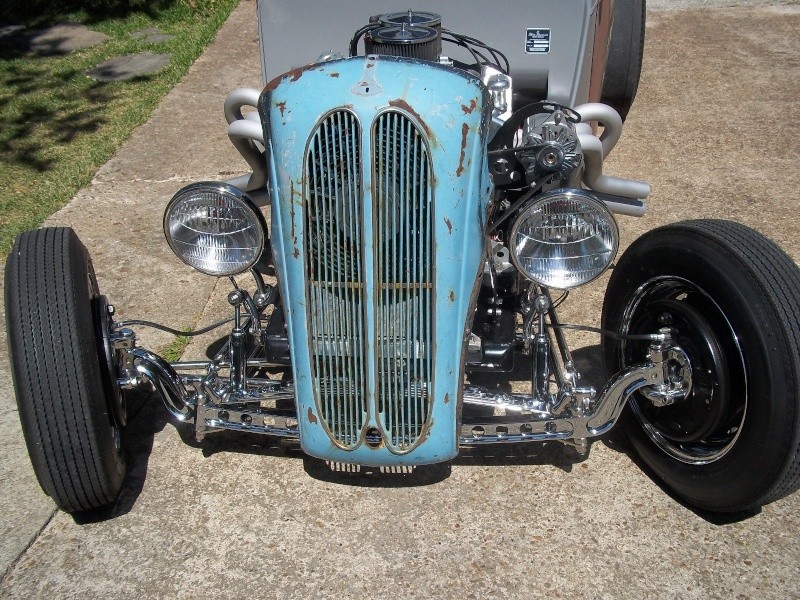 _________________
We don't care the People Says , Rock 'n' roll is here to stay - Danny & the Juniors - 1958

_________________
We don't care the People Says , Rock 'n' roll is here to stay - Danny & the Juniors - 1958
---
Permission de ce forum:
Vous
ne pouvez pas
répondre aux sujets dans ce forum