Howlin' Wolf, de son vrai nom Chester Arthur Burnett, né le 10 juin 1910 à White Station, près de West Point dans le Mississippi et mort le 10 janvier 1976 à Hines dans l'Illinois, est un musicien de blues américain.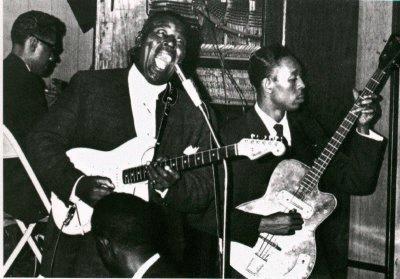 Son prénom lui vient de Chester Alan Arthur, 21e président des États-Unis, mais il a connu différents sobriquets dans sa jeunesse, dus à sa taille et son corps massif (1,98 m pour 136 kg), comme Big Foot ou encore Bull Cow. Il explique ceci sur les origines de son nom de scène, qui veut dire Loup Hurlant : Ce nom est inspiré par mon grand-père, qui me racontait souvent des histoires de loups dans cette partie du pays. Il le prévenait que les loups l'attraperaient s'il n'était pas sage.
Initié à la guitare par Charley Patton à la fin des années 1920 et à l'harmonica par Sonny Boy Williamson II au cours des années 1930, ce n'est qu'en 1945, après une jeunesse passée dans les champs de coton et quatre années de guerre sous les drapeaux, que Chester Arthur Burnett décide de se consacrer à la musique.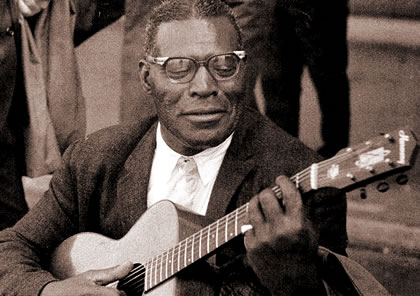 L'un des premiers guitaristes à utiliser une guitare électrique, il forme un groupe à Memphis en 1948 et prend le nom de Howlin' Wolf. Il enregistre ses premiers titres en 1950-1951, parmi lesquels How many more years, Dog me around et Crying at daybreak. En 1952, il décide de se consacrer uniquement au chant, et part pour Chicago, où il est l'un des fondateurs du Chicago blues. À partir de cette date, il enregistre de nombreux titres pour la maison de disques Chess Records, dont Evil, I'm the wolf, Smokestack lightnin et Sittin' on top of the world. Willie Dixon, le compositeur et arrangeur attitré de Chess, lui écrit également plusieurs titres qui seront des succès et restent des classiques du blues : Wang dang doodle, You'll be mine. Il devient son contrebassiste pour Howlin' Wolf, aux côtés de James Cotton. Sa carrière décline progressivement dans la fin des années 1950 en raison du changement des goûts musicaux du public noir. Il est revenu au devant de la scène grâce au support des groupes anglais de rhythm and blues du début des années 1960, notamment les Rolling Stones qui reprirent entre autres son titre Little Red Rooster.
Il continue sa carrière jusqu'à sa mort, apprécié du public blanc et reconnu comme l'une des grandes figures du Blues contemporain. Eric Clapton, qui lui a notamment repris Spoonful

custom 56




Messages

: 2660


Date d'inscription

: 14/11/2012


Age

: 26


Localisation

: 77 seine et marne




custom 56




Messages

: 2660


Date d'inscription

: 14/11/2012


Age

: 26


Localisation

: 77 seine et marne



C'est bien de passer en revue les bluesman de l'age d'or

_________________
We don't care the People Says , Rock 'n' roll is here to stay - Danny & the Juniors - 1958

_________________
We don't care the People Says , Rock 'n' roll is here to stay - Danny & the Juniors - 1958
---
Permission de ce forum:
Vous
ne pouvez pas
répondre aux sujets dans ce forum