Lawrencine est née le 7 mai 1942 à Talloqua et Lawrence le 4 octobre 1944 Tulsa dans l'état de l'Ocklahoma. Larry obtient sa première guitare à l'âge de 8 ans, il apprît très vite cet instrument et devient après quelques années un virtuose. Il a comme maître le guitariste, le merveilleux Joe Maphis. Lorrie, commence à chanter vers 10 ans et s'accompagne à la guitare.
A partir de 1953, ils fréquentent le Town Hall party de Compton en Californie, le show est diffusé à la radio et à la télévision. Ce show est l'équivalent de Grand Ole Opry de Nashville. De grand noms de la country et du Hillybilly se sont produit dans ce show comme : Johnny Bond, Skeets Mc Donald, Merle Travis, Marty Robbins... A partir de 1958 la scène Country laisse de plus en plus la place au Rock'n'Roll et des chanteurs comme Gene Vincent, Eddie Cochran, Bob Luman pour ne citer qu'eux apparaissent dans ce show. Pour les Collins kids la transition est vite trouvé : ils ont commencé en 1953 avec de la Country puis après ils se sont mis à faire de Rock'n'Roll. Leur expérience au Town Hall Party a durée jusqu'en 1959. Ils ont aussi fréquenté le Grand Ole Opry à plusieurs reprises au milieu des années 50 et divers show télé comme le Steve Allen Show...
En 1955, les Collins Kids ont 11 et 13 ans, leurs voix et n'a pas encore muet. Lorrie & Larry signent pour le label Columbia. Ils enregistrent 14 singles entre 1955 et 1962. Leurs répertoire oscille entre Country, Hillbilly Boogie ou Rockabilly en passant par des ballades Country comme "You Are My Sunshine" avec les amis du Town Hall : Gene Autry - Don Cherry - Rosemary Clooney - Carl Smith. Lorrie & Larry ont enregistré du Rockabilly comme "Hop ship and jump" ou "Whistle Bait" un rockabilly de folie de 1958 composé par ces petits prodiges : Larry au vocal et guitare voix aigue, morceau très rapide, un régal pour les amateurs du genre.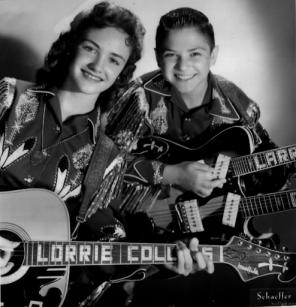 Notons aussi quelques reprises d'Elvis : comme "Just Because" ou "Party". Il ont gravé aussi une reprise de Ed Bruce "Rock Boppin' baby" ou bien "Home of blues" du grand Johnny Cash. Pendant les séances d'enregistrements, ils retrouvent des vedettes du Town Hall comme Skeets Mc Donald à la basse, Johnny Bond à la guitare et bien évidement le Joe Maphis.
"My first Love" est une balade composée par Lorrie & Larry, un titre avec une émotion qui se dégage de ce duo qui nous hérissent les poils lorsque nous l'écoutons.
Larry a fait un EP avec Joe en 1957. Ils jouent tout les deux sur leurs légendaires double neck MOSRITE : Columbia B-2141, quatre instrumentaux deux composés par Joe "Early Amercan" - "Rockin' Gipsy" et deux de Larry "Hurricane" - "Bye-Bye", prouvant une fois de plus son talent en tant que compositeur et qu'interprête pour la guitare.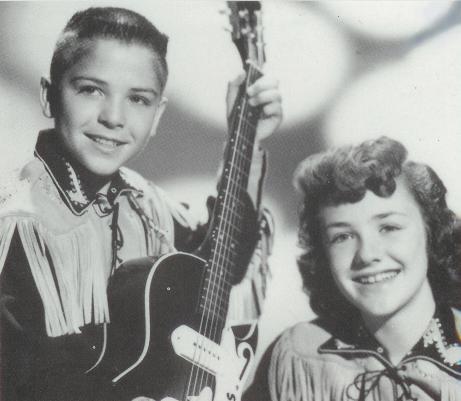 En 1961, nous retrouvons Larry dans un autre répertoire, plus dans le style Johnny Burnette ou Bob Luman. Notons que la petite voix aigue de larry a bien évolué sur le grave. Il signe 5 singles chez Columbia entre autre "Get Along Home Cindy" ou traditionnel instrumental "The Rebel - Johnny Yuma".
Larry, durant les années suivantes se mis à écrire pour les autres : Willie Nelson, Waylon Jennings, Mac Davis, Sonny James...

custom 56




Messages

: 2660


Date d'inscription

: 14/11/2012


Age

: 26


Localisation

: 77 seine et marne




custom 56




Messages

: 2660


Date d'inscription

: 14/11/2012


Age

: 26


Localisation

: 77 seine et marne



Le duo formé par Larry et Lorrie Collins (frère et soeur dans la vie) sera une des grandes attractions musicales de  la scène hillbilly et rockabilly des fifties (1950's). Le nombre de prestations tv filmées à l'époque au Grand ole Opry ou au Town hall Party est impressionnant. Et le plus incroyable c'est qu'ils sortirent durant les années cinquantes des 45 tours, single et eps  mais jamais d'album, pourtant leur popularité était énorme.
Il faudra attendre les années 80 pour que Bear Family édite deux superbes albums regroupant leurs titres incontournables de l'époque. Albums publiés sous les titres évocateurs et complètement en accord avec le contenu "
Rockin Rollin' Collins kids vol 1 et Vol 2
soit 32 titres du pure Rockabilly à deux voix.
Il ne s'agit pas de hillbilly un petit peu accéléré, mais réellement de titres de rockabilly bien sauvages et rapides, et ces deux albums sont deux véritables merveilles dans le genre:
The Cuckoo rock, Beetle bug bop, The Rockaway rock, Rock and Roll Polka, shortin bread rock, just because, Hoy hoy, Hot rod, Mercy, Whistle Bait, Party, Rock Boppin' baby, Hop skip and jump, Soda boppin' around,
sont des  pépites de rockabilly rapide avec une qualité vocale et musicale incontestable.
Le jeu de guitare de Larry (qu'il doit à Joe Maphis) et la qualité vocale des deux voix (sauvages et maitrisé à la fois) donne des titres détonnant et parfait à la fois.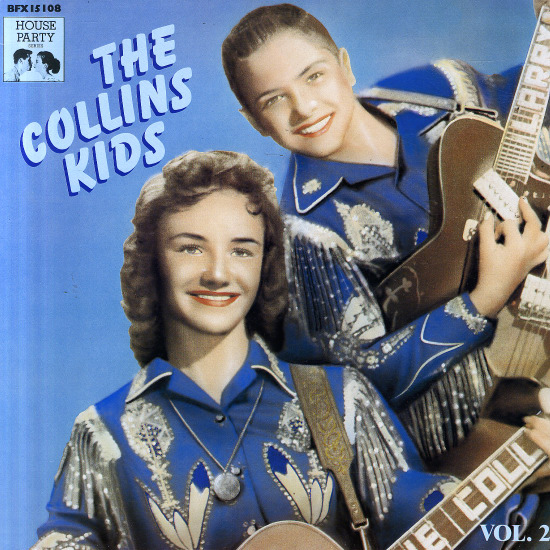 La totalité des chansons présentes sur ces deux albums sont bonnes voir très bonnes, furent enregistrées pour la plus grande partie entre 1955 et 1958 pour le label Columbia.

_________________
We don't care the People Says , Rock 'n' roll is here to stay - Danny & the Juniors - 1958
---
Permission de ce forum:
Vous
ne pouvez pas
répondre aux sujets dans ce forum