A mon goût, The Go Getters est l'une des formations les plus marquantes de la scène Rock n'roll européenne des années 1990's. Il s'agit d'un trio de rockabilly et rockin' blues suédois formé par Peter Sanders leadeur chant, batterie et Harmonica, Robin Johnson chant et guitare et Tommy Ledjdström à la contrebasse. Le groupe se forme en Janvier 1988, ils apparaissent dans des compilations à la fin des années 1980's mais c'est en 1992 que sort leur premier simple
You don't love me
qui leur permet de se faire connaître dans le monde du rock n'roll, de faire des concerts partout en europe et d'ebnregistrer leur premier album
Real Gone
, qui a son tour est une grosse vente qui leur permet d'assoir leur popularité.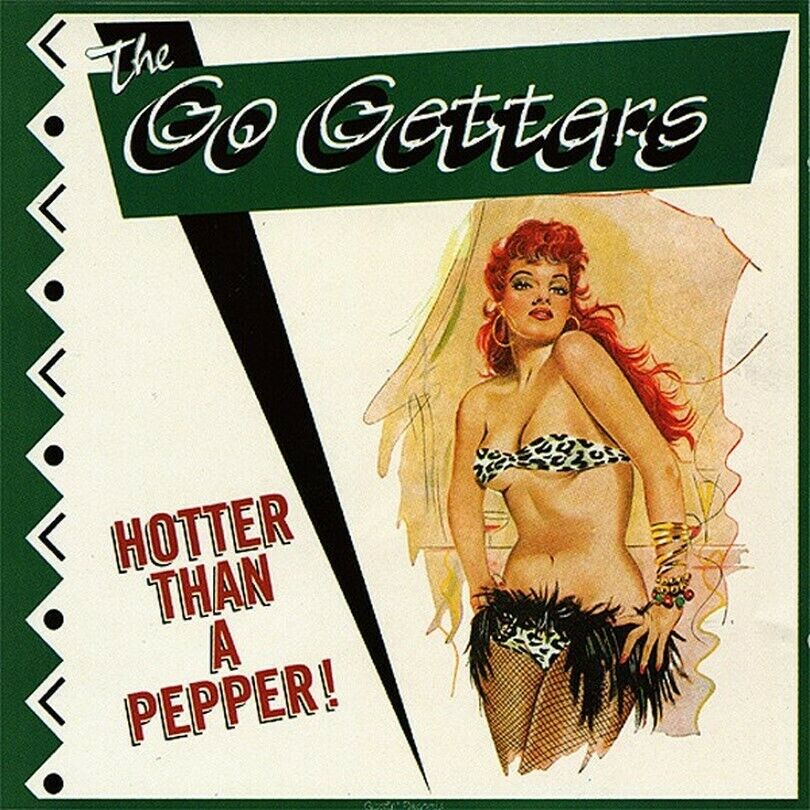 Ils accompagnent quelques stars des fifties comme Sleepy La beef, Ray Sharp, Larry Donn, Johnny Powers et Ronnie Dawson.
Leur talent traversse l'atlantique et font en 1995 une tournée aux USA (jouant à Détroit, Chicago et Minneapolis) et  participe au Rebel Weekender à Fairmont (Indiana).
Cette même année ils enregistrent deux simples
Gang war / Hobo baby
et
Loud pipes 'n' Lead feet
qui sera un tube dans le milieu hot rod traditionnel.
En 1996 ils sortent un nouveau simple
Mexigo !
/
Madman blues
suivi d'un second lp
Hotter than a pepper! 
et sont à l'affiche du 16 eme Hemsby Rock n'roll weekender. Devant le nouveau succés de ce second album, ils repartent pour une seconde tournée aux USA ou ils se produiosent à New York, Philadelphie, Pittsburg, Portland et Boston.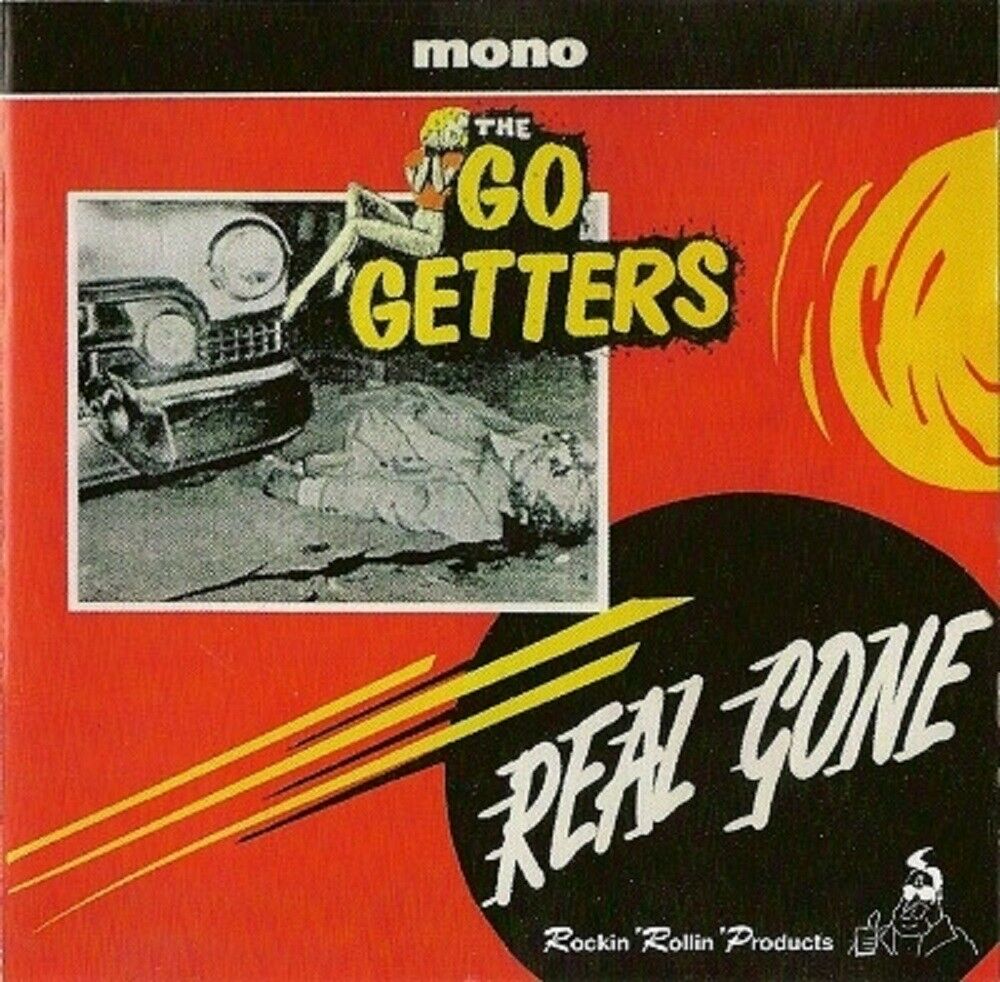 En 1998 sort leur troisième lp Rock & roll is everywhere!  qui est suivit de leur troisième tournée US ou ils se produise à Los Angeles, San Diego, San Fransisco et San José et la termine à Las Vegas en partisipant au premier Viva Las Vegas Rockabilly Weekender. De retour en europe ils reviennent se produire au Hemsby Rock n'roll Festival N° 20.
En 1999 ils repartent en tournée aux USA pour la quatrième fois et aux USA ou ils enregistre au Preston studio un Ep 4 titres
Australian tour 99
. Il commencent la décennie suivante par  un 4 eme album en 2002
Welcome to the Sin City
. On peut également citer les albums cd suivant
Hot Rod Roadeo
et un live  enregistré aux USA
Live in Los Angeles
.
Etant fan de ce groupe je possède une grande partie de leurs enregistrements (tous trés bons se caractérisant par un style personnel mixant rockabilly, rock n'roll et blues).  
Le premier album
Real Gone
(que j'ai en cd et lp) sur Rockin' Rollin' Product (Part records - Voodoo records PART-CD 610.001) contient les titres
Real gone daddy!, Whenever you are ready, Thirty days
(cover de Chuck Berry)
, Icecold baby, Sugar sweet
(cover de Muddy Waters),
Who's baby are you baby?
(cover de Little Billy Earl),
You don't love me
(cover de Bo Diddley),
Dancin' doll
(cover de Art Adams),
You're gonna miss me
(cover de Muddy Waters)
, Flatfoot Sam
(cover de Tommy Blake),
Flame of love
(cover de Ronnie Self),
Wildcat tamer, My baby's gone away
(cover de Eddie Riff),
hurricane
(Cover de Steve Bloomfield),
House of blue lights
(Cover de Chuck Miller),
Slow down
(Cover de Jack Earls),
Got to go
(Cover de Little Walter)
  et The woman i need
(Cover de Johnny Horton) avec en bonus tracks sur le cd les titres
Somebody's been rockin' my boat
(Cover de Norman Whitcher)
, In the shade, That don't move me
(cover de carl Perkins) et
Harpin', drinkin, harpin'
.  
Le second album
Hotter than a pepper!
(que j'ai aussi en cd et lp) Goofin' records (GRCD 6065) avec les titres
Jump!, High School Ceasar
,
Hanging out my tears to dry
,
All the time
(cover de Sleepy La Beef),
No brakes
,
Bo bo ska diddle daddle
(Cover de Wayne Walker),
You'll be mine
(Cover de Howlin' Wolf),
Am i blue
(Cover de Eddie Cochran),
Don't hang around me any moore
,
Mexigo!, Do you know?, Cotton pickin ' rocker
(Cover des Sparkletones),
Pink Thunderbird
(Cover de Gene Vincent & the Blue Caps) et
Everybody's rockin'
(Cover de Whitey Pullen).  
Le troisième album Rock & Roll is everywhere! (que j'ai en cd et 25 cm 33 tours) Goofin' records (GRCD 6086) contient les titres
Lady luck
,
I wonder if you wonder?
(cover de Jimmy Kirkland),
Rocket!
(cover de The Sparkletones),
Honky tonk man
(cover de Johnny Horton),
Hip shakin' baby
(cover de Roy Brown / Dorsey Burnette) ,
Tired & sleepy
(cover d'Eddie Cochran),
The love is gone
,
Down that road
(Cover d'Ersel Hickey),
Fallin'
, avec 8 chansons bonus sur le cd
I just keep lovin her
(cover de Little Walter),
Speed limit'
(cover de Tommy Lam),
Blue moon baby
(cover de Dave "Diddlie" Day) ,
Loud pipes & lead feet
,
Gang war
(cover de Gene Maltais) ,
Hobo baby
(cover de Joe & Ray Shannon)  et
Madman blues
.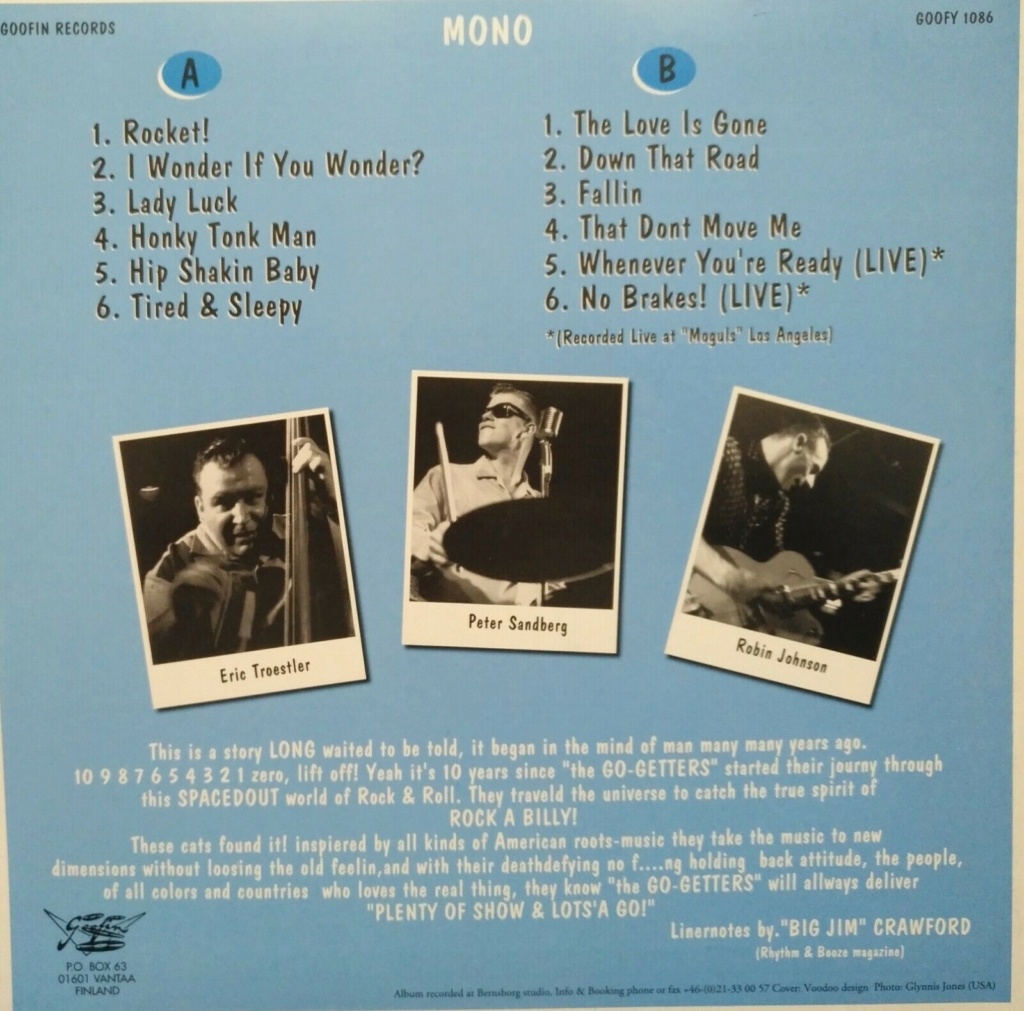 Le quatrième album
Welcome to Sin city
Goofin records (GRCD 6106) l'album contenant le plus de compositions originals mais aussi ayant le style le plus aboutie, il contient les titres
No heart to spare
,
Like a wolf, Hold on tigh
(cover de The Javalins),
I'm a road zombie
,
Desert rose
,
Sin city
,
Bourbon trai
n,
Cars, bars & guitars
,
Forever
,
Red house boogie
,
Pinstripper
et 
Roadkill
.

_________________
We don't care the People Says , Rock 'n' roll is here to stay - Danny & the Juniors - 1958

_________________
We don't care the People Says , Rock 'n' roll is here to stay - Danny & the Juniors - 1958

_________________
We don't care the People Says , Rock 'n' roll is here to stay - Danny & the Juniors - 1958

_________________
We don't care the People Says , Rock 'n' roll is here to stay - Danny & the Juniors - 1958

_________________
We don't care the People Says , Rock 'n' roll is here to stay - Danny & the Juniors - 1958

_________________
We don't care the People Says , Rock 'n' roll is here to stay - Danny & the Juniors - 1958

_________________
We don't care the People Says , Rock 'n' roll is here to stay - Danny & the Juniors - 1958

_________________
We don't care the People Says , Rock 'n' roll is here to stay - Danny & the Juniors - 1958

_________________
We don't care the People Says , Rock 'n' roll is here to stay - Danny & the Juniors - 1958
---
Permission de ce forum:
Vous
ne pouvez pas
répondre aux sujets dans ce forum