The Crestlers est une formation finlandaise de néo rockabilly teinté de blues mais aussi de punk , L'histoire commence en 1983 avec Harri Caine Haapanen (Contrebasse et voix) et Kim Kylèn (Guitare et voix) qui forme The Driving Wheels, et c'est en 1986-87 qu'ils changent de nom pour The Cresters. Aujourd'hui le groupe estr formé de  Max Koldenius (Chant et guitare), Harri Caine Haapanen (Contrebasse et chant), Anders Henriksson( batterie  et choeurs) et Håkan Jonsson (chanty et guitare).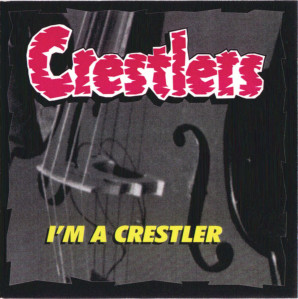 Ils paraissent sur de nombreuses compilations Fury records comme
Best Of Fury Rockabilly
, Taken by Force,
Something to Remember
et
Gypsy girl
, je possède leur premier album
I'm a Crestlers
de 1995 qui sort sur Count Orlok Music (C.OC.K.XXVI). Il débute par justement
I'm a crestlers
(titre qui met l'auditeur directement dans le bain, une introduction plutôt punk suivi d'un verset plutôt rockabilly, et ainsi de suite jusqu'à  un solo de guitare rockab teinté de blues, le style est personnel et la qualité de composition est indéniable, le reste est une question de goût le côté punk peu effectivement dérouté voir repousser certains amateurs de rock n'roll),
Bullriding Babe
(même style général avec une belle mélodie dans le style de Creedence Clearwater Revival),
Wild Jungle Night
(un titre néo rockabilly frisant  un peu avec le psychobilly),
I've Been Trying To Get To You
(une ballade blues classique parfaitement maîtrisé),
Slavin' In The Mine
(un rockin blues dans le style des Hot boogie Chillum),
Big Fat Mama
(un country rock teinté de psycho),
She's dynamite
(un psychobilly),
Hillbilly Daddy
(un rockin blues accoustique de toute beauté),
What A Nightmare
(un punk rock), Mean Lookin' Bitch (un autre punk rock),
Living In Sin
(un rockin' blues teinté de punk),
I Walk On By
(ballade country pop),
Get Your Feet Back Home
(un punk rock), 
Gambler On The Run
(un psychobilly country influence Meteors),
Deep Down South
(un titre plutôt Cajun) et
Rockin' Robin
une cover psychobilly du classique de Bobby Day (assez réussie).
Au final je dirais que j'ai trouvé le disque inégal n'ayant pas accroché avec les Punk rock, le country punk, le blues punk et la ballade country pop en gros la moitier de l'album. A vous de voir je vous met à l'écoute certains des titres que j'ai trouvé plutôt réussis.

_________________
We don't care the People Says , Rock 'n' roll is here to stay - Danny & the Juniors - 1958

_________________
We don't care the People Says , Rock 'n' roll is here to stay - Danny & the Juniors - 1958

_________________
We don't care the People Says , Rock 'n' roll is here to stay - Danny & the Juniors - 1958

_________________
We don't care the People Says , Rock 'n' roll is here to stay - Danny & the Juniors - 1958

_________________
We don't care the People Says , Rock 'n' roll is here to stay - Danny & the Juniors - 1958
---
Permission de ce forum:
Vous
ne pouvez pas
répondre aux sujets dans ce forum