The Zantees est un des groupes de néo rockabilly new yorkais du début des 1980's ils sont contemporains et amis des Cramps, Stray Cats et Ramones.
2 album sur Rockhouse parfait au début des 1980's, a découvrir ou redécouvrir, le leader du groupe formera ensuite the A Bones.
English rockabilly may be fun, but one says that the real thing comes from the States. The difference is fundamental: real rockabilly is more than just style or even attitude, it's a matter of substance. Unless he grew up in the USA, no musician can ever truly have the essence of America's complex musical heritage in his blood. The subtle blend of teenage rebellion and back-mountain conservatism, the nuances with which country tradition and black influences are merged, is a deeply-woven cultural matter, not just a textbook style to be mastered. Europe may be full of rockabilly fans, experts and scholars, but few of them have been lucky enough to experience the real thing. The Zantees are the real thing. They grew upon the sounds of Memphis coming over the radio of an old Chevy, driving down to the South to see the likes of Jerry Lee Lewis or Charlie Feathers in their natural setting, some nameless roadhouse miles from town, where the music is usually drowned out by the screams and occasional gunshots of the local farm boys out to have some fun before another day's work begins. The Zantees came together in New York but their roots run as deep as the Mississippi. They're a real American band in the fullest sense. --Greg Shaw--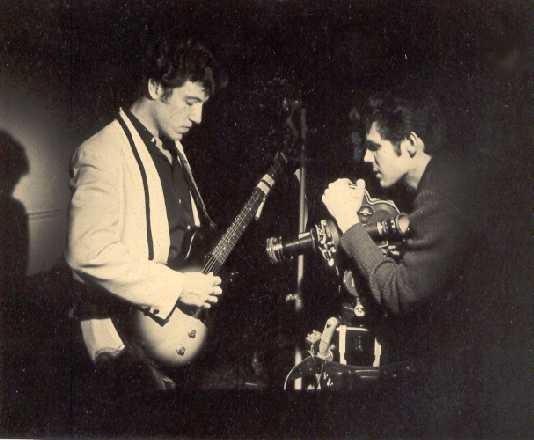 Like Creedence and early Flamin' Groovies, the Zantees have molded their influences and pieced together a sound that's both unique and classic.
--East Village Eye--
They're simply doing a music they love, adore, go crazy for - you can tell - because their sound is great. When I heard them, I imagined I was in a rocketship bound for some rockin' long lost place that is reckless, restless, and forever gone, gone, GONE! --Goldmine--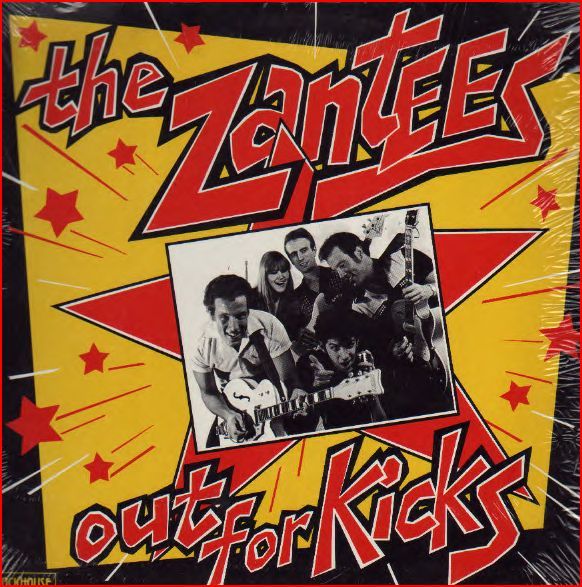 1er album
A fuel-injected, five star, wild rock 'n' roll outfit. If you love rockin' then the Zantees are for you! --Next Big Thing--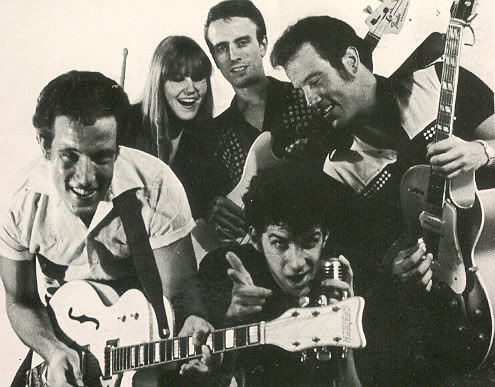 Rockers don't come much truer than the Zantees. This stuff is the quintessence of rock 'n' roll. --Prairie Sun--
The only ones in the whole batch of so-called rockabilly revivalists that have captured the spirit of the original genre. --Talk Talk--
Second album

What good rock 'n' roll is all about. If only our rockabilly bands could get the hang of it... It's a real pity British rockabilly isn't up to their American compatriots standard. --Zig Zag--
Time to blast off with some high flyin' sounds from one of the craziest combos in bopdom. They're the zantees and they're out for kicks.
--Wild Dog Lewis--
The Zantees 1980 line-up:
Billy Miller - Vocals
Bill Statile - Guitar
Paul Statile - Guitar
Rob Norris - Bass
Miriam Linna - Drums
The Zantees' 12" album "Out For Kicks" was issued in 1980 on Bomp Records (USA) and Rockhouse Records (Europe) and it is a must for all rockabilly fans, especially those with a love for 80s revival music. Their covers of some awesome classics like Bill Allen's "Please Give Me Something", Jimmy Carrol's "Big Green Car", Gene Vincent's "Cruisin" and Leon Payne's "Lost Higway" remain, even today, among the best covers ever recorded, while the many Zantees' self-penned songs are a work of art. Many hard-to-get LP's from this period are being re-issued on CD today and my hope is to see this great vinyl being re-released one of these days.
Compiled by the BlackCat, 2001
aricle original:
http://www.rockabilly.nl/artists/zantees.htm

_________________
We don't care the People Says , Rock 'n' roll is here to stay - Danny & the Juniors - 1958

_________________
We don't care the People Says , Rock 'n' roll is here to stay - Danny & the Juniors - 1958
---
Permission de ce forum:
Vous
ne pouvez pas
répondre aux sujets dans ce forum