https://kustomrama.com/wiki/Mandy_Holder%27s_1951_Mercury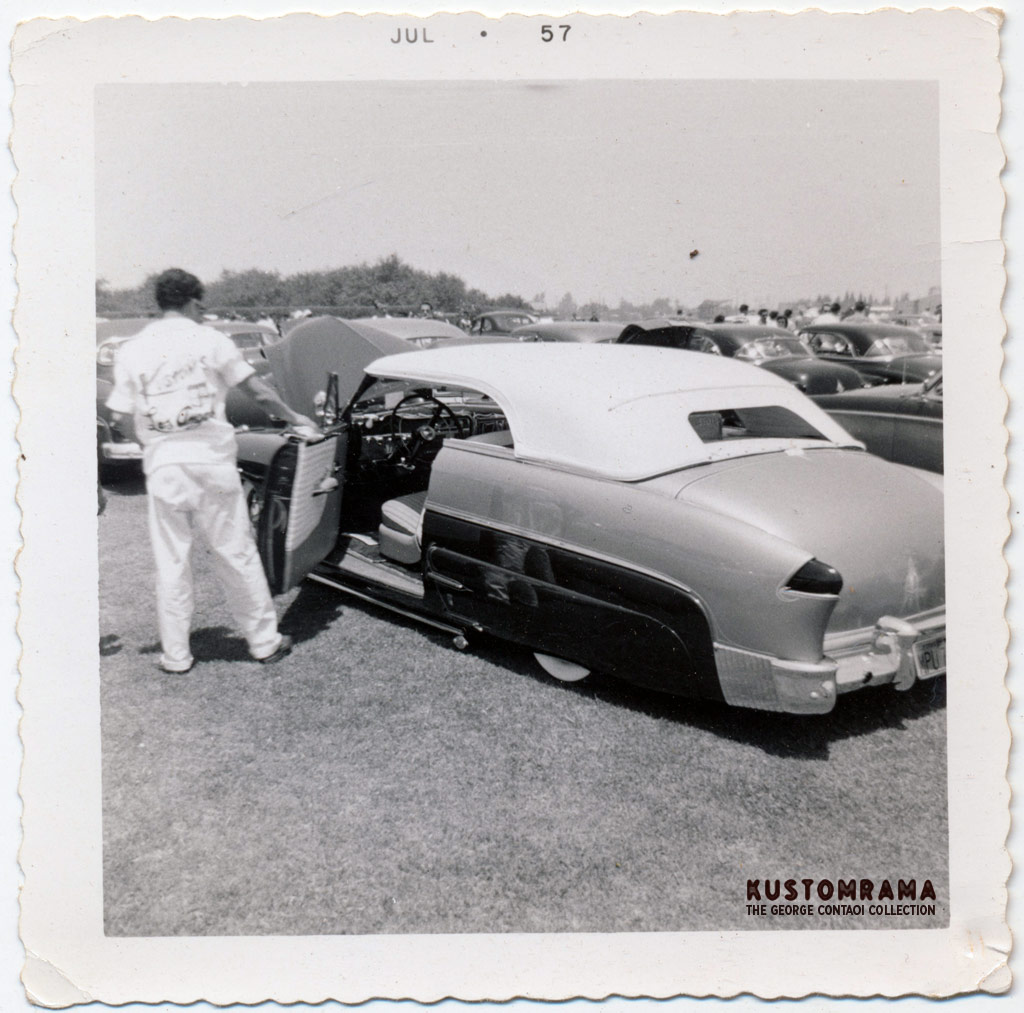 1951 Mercury convertible owned by Knucklebusters of Springfield member Mandy Holder of Springfield, Illinois. Mandy's Mercury was restyled by Bob Maisenbacher and Barris Kustoms. According to Car Craft March 1958 the Merc was the 13th car that Mandy had restyled. Bob Maisenbacher ran a traditional body shop called Park Avenue Body Shop in Springfield. He used to do custom body work in his own garage at night.[1] When the Merc was featured in Car Craft March 1958, Bob's garage was listed as Mize Custom Shop.
The Merc was worked on by Bob Maisenbacher before it arrived at Barris Kustoms. Up front Mandy's Mercury featured a split 1955 Pontiac bumper and a multi-bar grille made from 3/4 inch round rods and 3 inch tubing. Expanded metal was installed behind the bars. The hood, deck lid and door corners were rounded. The headlights were frenched and tunneled using 1953 Mercury headlight rims. The taillights featured 1954 Packard lenses frenched into the 7 inch extended rear fenders. 1955 Pontiac side trim followed the body lines and covered the quarter panel seams. Functional airscoops were cut in the side skirts. The fender skirts were made by 1953 Ford quarter panels fit with 1954 Mercury teeth. The edges were finished with round rods. Exhaust tips were integrated into the bumpers. Mize Custom Shop did a major share of the metal work. The grille and paint job was done by Barris Kustoms. The 3 inch chopped and padded top was done by Gaylord. The Dukes & Duchess Trim Shop of Compton, California did the piped interior in Orchid and White Naugahyde. The car was painted in dark and light shades of purple, and featured pinstriping applied by Dean Jeffries. Dual Appleton spotlights, lakes pipes and hubcaps that Mandy made himself were installed. The hubcaps were made by by mounting accessory blades and gold spinners on 1953 Cadillac hubcaps. Mandy won four trophies in five shows before driving the car home to Illinois. The worn out Mercury flathead was replaced by an Oldsmobile OHV engine. In 1958 Mandy's Mercury was nominated as one of 28 "Top Customs of the Year" by Motor Life magazine.[2]
Sold & Stolen
In March of 2016 Bud DeLay told Kustomrama that Mandy sold the car to a fellow from Indiana. Bud was a friend of Mandy, and Mandy told him that he almost cried as the Merc drove away; "It was in the winter, and he said the guy banged it up pretty bad getting it home."[3] Ernie Ball, who worked for Mandy, has been looking for the Merc for years. According to Ernie, Mandy sold the car sometime during 1963-1964, while he was still at his Spruce street shop. After Mandy sold it, it made the show circuit, and it was stolen off the street where it was parked, waiting to be taken into the show.[4]
Magazine Features
Custom Cars September 1957
Rod & Custom November 1957
Custom Cars December 1957
Car Craft March 1958
Motor Life July 1958
Custom Cars September 1959

_________________
We don't care the People Says , Rock 'n' roll is here to stay - Danny & the Juniors - 1958

_________________
We don't care the People Says , Rock 'n' roll is here to stay - Danny & the Juniors - 1958

_________________
We don't care the People Says , Rock 'n' roll is here to stay - Danny & the Juniors - 1958

_________________
We don't care the People Says , Rock 'n' roll is here to stay - Danny & the Juniors - 1958

_________________
We don't care the People Says , Rock 'n' roll is here to stay - Danny & the Juniors - 1958

_________________
We don't care the People Says , Rock 'n' roll is here to stay - Danny & the Juniors - 1958

_________________
We don't care the People Says , Rock 'n' roll is here to stay - Danny & the Juniors - 1958
Sujets similaires
---
Permission de ce forum:
Vous
ne pouvez pas
répondre aux sujets dans ce forum