Le groupe Chevy and the Travelers viens de m´envoyez une maquette, le groupe promet, je pense que avec un peux plus de rodage celui si peux avoir un bon future, je vous dis par qui et que ont fait au long de c´est dernière année les membres du groupe.
Francesc Xavier commence a jouer de la guitare aux milieux des années 80s, il rentre a former part du groupe, Gary y los Daltons, se groupe a un répertoire très classique, peux de temps après le chanteur Gary abandonne le groupe et prend sa place Francesc Xavier « Xavi », le groupe s´appellera a partir de se moment Los Daltons, après quelques concerts et maquette maison le groupe finira par se dissoudre, quelques temps après il forme avec d´autres Rockers/Teds le groupe Crazy Shoes, groupe a la sauce très British revival, se groupe partage affiche avec Crazy Cavan and the Rhythm Rockers, Freddy Finger Lee et Breatless, pendant que en Europe le Jumpin´Jive, le Rockin´Blues et le Western Swing se met a la mode dans la péninsule Ibérique très peux de personne écoute, voir même connaisse c´est style, la plus part des Rockers et Teds des début des années 80s sont très branché pionniers et revival, ont peux dire que c´est styles commenceront a s´écouter et être apprécier dans le milieux R&R, 10 ans après le reste d´Europe, les Crazy Shoes se dissous et trois de leurs membres, musiciens, forme Big Frank Jamboree´s, le premier groupe de Jumpin´Jive en Catalogne, celui si partagera affiche avec Hayden Thompson, Dale Hawkins et Carl Perkins entre autres, sens oublier les Jets et les Rapiers, actuellement Xavi est le guitariste et chanteurs des Chevy and the Travelers.
Photo des Crazy Shoes au milieux des années 80s.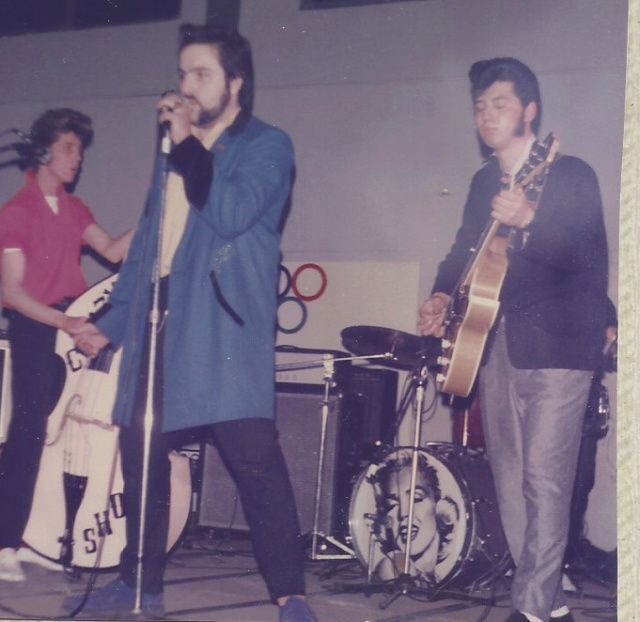 [/url

Vidéo et Photo des Chevy and the Hot Wheels au début des années 90s.

[url=https://servimg.com/view/16498970/3665]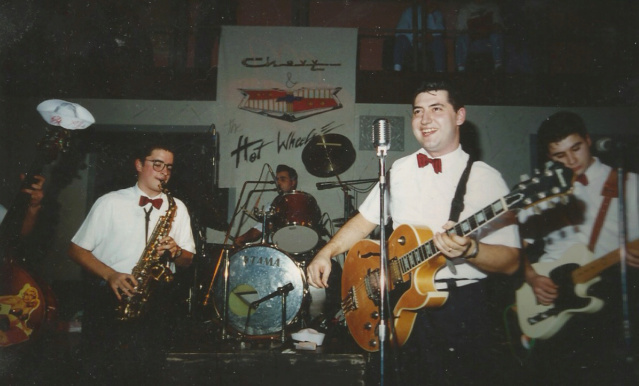 Photo de Big Frank Jamboree´s a las fin des années 90s avec Xavi au chant.
Vidéo des Cherrywines avec Xavi au chant.
Maria joue la contrebass depuis pas mal d´année déjà, très bien en plus, elle a joué avec le groupe de Country, Folsom Prison Band, pour se qui concerne le Rock and Roll/Rockabilly elle a joué avec Versatiles, Rocket Pockets et Gwen & the Boppin´Rhythms, elle a accompagné aussi entre autre a Tony Luz des Silvertones, ainsi que Peter King Band, elle a partagé scène avec Robert Gordon et a joué dans des festivals d´Allemagne et Autriche.
A la batterie nous avons a Juan Pablo, lui commence a joué en 1998, il a joué avec les groupes suivants : Los Sanglas, Versatiles, Rocket Pockets, Roni´s Hot Aces et
Gwen and the Boppin´Rhythms, de temps en temps il accompagne aussi a Marcos Sendarrubias et a Charlie Hightone, mais aussi a Del Prince et a Silver Dollar Band.
Rafa lui est le dernier venu, c´est le pianiste de Chevy and the Travelers, il avait déjà joué avec Xavi dans le groupe Cherrywines, Rafa a fait c´est étude de pianiste au conservatoire de Barcelona, il joue aussi de la guitare classique, il a fait des arrangements musicale au saxophoniste Catalan, Dani Pérez, il a accompagné a Sheila Weaver, celle si membre de la dernière formation des Supremes, mais bon sa c´est une autre histoire, Rafa est un très bon pianiste sincèrement.
En quelques lignes vois y l´histoire des membres des Chevy & the Travelers, si vous écouter le Dixie Rebel Bop du mois de Février 2019 vous pourrez écouter une des chansons de leurs première maquette
http://rockabilly-radio.net/djs/eddie-cesc/
Dj Eddie-Cesc

Dj Eddie-Cesc




Messages

: 493


Date d'inscription

: 03/07/2015




Dj Eddie-Cesc




Messages

: 493


Date d'inscription

: 03/07/2015



---
Permission de ce forum:
Vous
ne pouvez pas
répondre aux sujets dans ce forum