http://www.kustomrama.com/index.php?title=Bob_Hagerty%27s_1931_Ford
1931 Ford Model A tudor sedan owned and built by Bob Hagerty of Wheaton, Maryland. Bob was a member of the Coach Masters of Wheaton, and he began building the tudor in 1963, when he was in high school. At the time he worked for Calfax Motors of Maryland as a helper.[1]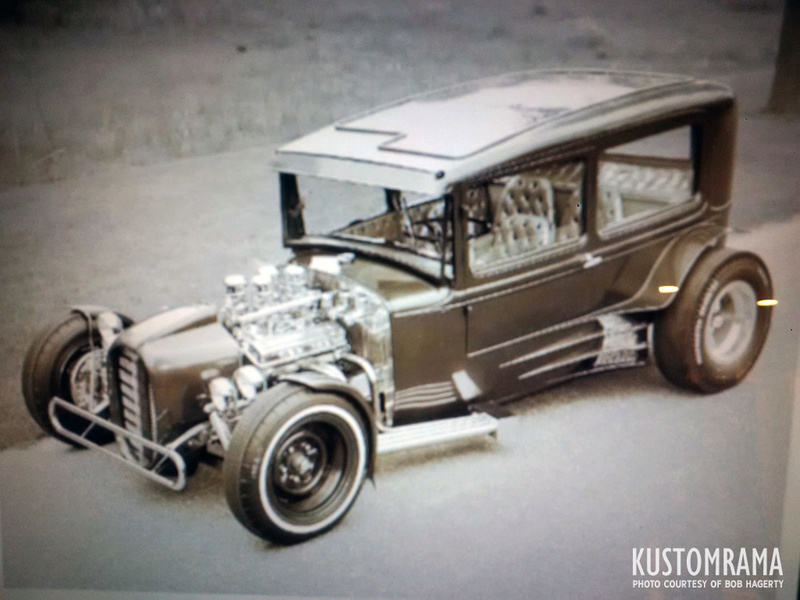 The Bet
Bob, who had been interested in cars for 6 years, had to learn how to weld, paint, be a body and fender man, and do mechanical work in order to pull off the build. In 2016 he told Kustomrama that he started building it on a $60.00 bet that he would never finish a car; "Well I won the money!" The body was lowered by channeling it 13 inches over the original frame. Flat sheet metal stock was used to form rear fenders fairing from the front of the doors. Horizontal fins carried them over air scoop screens. 1961 Pontiac taillights and a license plate were tunneled above a small tubing nerf bar in the rear. The roof featured a Plexiglas insert. Up front it ran a custom made grille, dual headlights and custom made nerf bar.[2]
Chevy Power
Power came from a hopped up 327 Chevrolet engine that ran a dual quad Weiand intake-manifold. Chromed outdoor headers and a collector box scavenged gases for hidden mufflers. The engine compartment featured plenty of chrome, and even the A frames were dipped. A 1954 Ford rear end was connected to a stock 1963 Chevrolet transmission through an open driveline. In the rear it ran M&H Slicks on American mag wheels.[2]
Upholstery by Dave's Trim
Dave's trim of Baltimore installed an interior of Metalflake Gold Naugahyde in the car. The stock dash was redesigned to accept Stewart-Warner gauges. A 1954 Chevrolet steering column was mounted in a vertical position with an Oldsmobile steering wheel.[2] It received a Cadillac Fire Mist Green paint job.[1]
Jade East
The build took two years, and it was showed on the East Coast as the "Jade East."[2] "I remember the first ride because it scared the hell out of me!" Bob told Kustomrama. "I did a wheelie the first time I drove it. I did not drive it much. Just to shows. I was scared that someone would hit me."[1]
The 1964 Ram Rods Rod and Custom Car Show
The Jade East was shown at the 1964 Ram Rods Rod and Custom Car Show at the DC Armory where it won an award for Most Popular car in the show. The car was in about 4 or 5 shows, and it won every one of them. Two or three times in the Ram Rods show.[1]
Car Craft October 1965
The Jade East landed a featured story in Car Craft October 1965. According to the story it was one of the wildest sedans ever built.[2]
Sold
Bob sold the car about 1969. He lost track of it after he sold it, and in 2016 he couldn't remember who he sold it to, but he believed it went to Norfork, Virginia.

_________________
We don't care the People Says , Rock 'n' roll is here to stay - Danny & the Juniors - 1958

_________________
We don't care the People Says , Rock 'n' roll is here to stay - Danny & the Juniors - 1958

_________________
We don't care the People Says , Rock 'n' roll is here to stay - Danny & the Juniors - 1958
Sujets similaires
---
Permission de ce forum:
Vous
ne pouvez pas
répondre aux sujets dans ce forum