Vois y le premier Cd de Marc Ferrer Trio, publié par et chez Marccato Edicions (Barcelona), les titres de celui si fur enregistrée et mixé par Lluís Mola les jours 2,3 et 4 septembre 2015 à Sentir Estudis (Barcelona), les photographies qui figure sur la pochette du Cd son de Kiku Piñol et le désignateur graphique est Pep Rius, les quelques lignes écrite son de Jordi Tomàs Elias.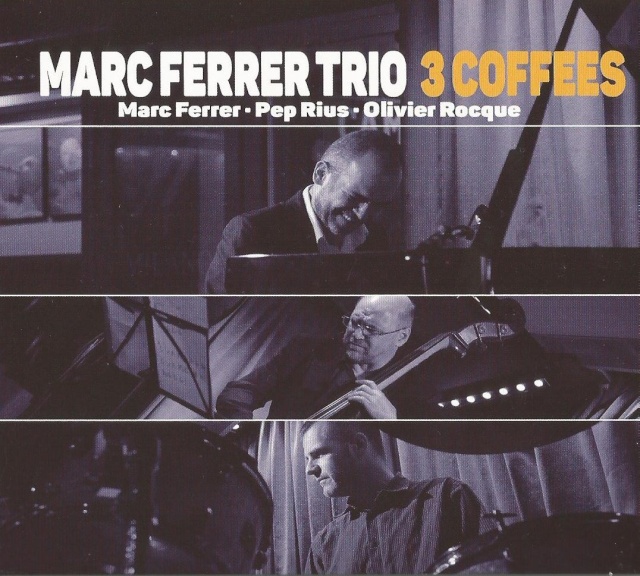 Mais parlons surtout de se qui nous intéresse le plus, la musique. Dans se Cd nous pouvons écouter un total de 13 titres, des compositions mais aussi des versions, Marc Ferrer signe sept compos, Pep Ruis deux et une par Agustí Burriel et Marc Ferrer, Agusti est chanteur de différent groupes, entre eux Big Jamboree. Dans les versions nous avons « Down By The Riverside » (traditionnel), «Nigth Train » (J.Forrest, L.Simpkins et O.Washington), pour ceux qui ne le savent pas, dans le dernier Cd des Big Jamboree se titre sort aussi, Marc Ferrer est le pianiste de se formidable groupe de Rhythm and Blues, « Watergate Blues » (P.Heath) :
https://www.youtube.com/watch?v=vcnH-VKepJ0
Se Cd n´est pas un disque de Rock and Roll, mais très agréable a écouter, du très bon Jazz & Boogie Blues.
Dans la chanson « 3 Coffees » participe au chant Agusti Burriell et Laia Porta, dans « Night Train » et « Barcelona In Blues » nous avons a Big Dani Pérez au Saxophone, Lluís Molas participe aussi sur « Night Train » au percutions. L´autre musicien a avoir participé sur se travaille est Pau Ruiz et sa guitare, les titres « Fat Morning » et « Shot », m´a préféré de se Cd.
En définitif, les musiciens a avoir travaillé sur se travaille sont :
Marc Ferrer: piano
Pep Rius : contrebass
Olivier Rocque: batterie
Dani Pérez : saxophone
Luís Molas: percusión
Pau Ruiz: guitare
Agusti Burriell: voie
Laia Porta : voie
Marc Ferrer Trio:
https://www.youtube.com/watch?v=pmAV1O97Zjw
Pour en savoir un peux plus :
www.marcferrer.cat
Dj EddieCesc

Dj Eddie-Cesc




Messages

: 479


Date d'inscription

: 03/07/2015



---
Permission de ce forum:
Vous
ne pouvez pas
répondre aux sujets dans ce forum