The Hoffmann Auto-Kabine is very wide when compared to other micro-cars. This is due to its unique rear-wheel steering feature. The engine which drives the single rear wheel is mounted on a cradle which pivots on a kingpin in the centre of the vehicle's triangular frame. A complicated lever mechanism operates the steering and takes up so much room that the originally intended bench seat had to be replaced with two small individual seats for the driver and single passenger.
The combination of a wide front track, a very short wheelbase and the rear-wheel steering was a recipe for disaster for having any sort of control and stability other than at low speeds. Perhaps it is just as well that the top speed was a mere 45 km/h.
If you've ever driven a forklift truck at high speed, you will understand the Hoffmann's handling characteristics.

_________________
We don't care the People Says , Rock 'n' roll is here to stay - Danny & the Juniors - 1958
1951 Hoffmann
In the period immediately after the Second World War, many talented people wanted to "have a go" at producing their own vehicle.
One such was a certain M. Hoffmann from Munich who, from 1949 to 1951 came up with this extraordinary vehicle.
Its enormous width derives from its most interesting mechanical feature: its rear-wheel steering. A large triangular frame structure supporting the entire motor (ex Goliath Pionier) is pivoted at its forward end on a massive kingpin. A complex system of levers provides the steering, which moves the entire cradle from side to side in a wide arc.
The result is a lethal cocktail of automotive engineering "don't's"- extreme front track width combined with an ultra-short wheelbase giving major straight line instability, and rear-wheel steering which can easily bring loss of control at any except very slow speeds, to which any fork-truck driver can attest.
The central position of the steering kingpin in the car means there is little room for the driver and passenger up front, and the original bench seat has been substituted for two smaller separate ones, allowing slightly better access to the cramped cabin over the wide sills.
According to the restorer, a German panel-beater, the car's original asymmetric roof/windshield line was original and kept that way deliberately.
Perhaps this interesting and eccentric vehicle can be used to illustrate the reason why in this modern day one has a myriad of rules to contend with when building a vehicle.
Manufacturer: Hoffmann, Munich, Germany

| | | |
| --- | --- | --- |
| Model: Hoffmann | Motor: Ilo | Body:Aluminum |
| Years Built: 1951 | No. Cylinders: 1 | Chassis:Steel |
| No. Produced: 1 | Displacement: 200cc | Suspension Fr. Leaf |
| No. Surviving: 1 | Horsepower: 6.5 | Suspension R. Coil |
| Length: 3302 mm | Gearbox: 3 +rev | Steering:Rear Whl |
| Width: 1828 mm | Starter: Electric | Brakes: Cable |
| Weight: 340 kg | Electrics: 6v | 3 Wheels: 3.00x16 |
| Interior: Bench | Ignition: Coil | Top Speed: 45 kph |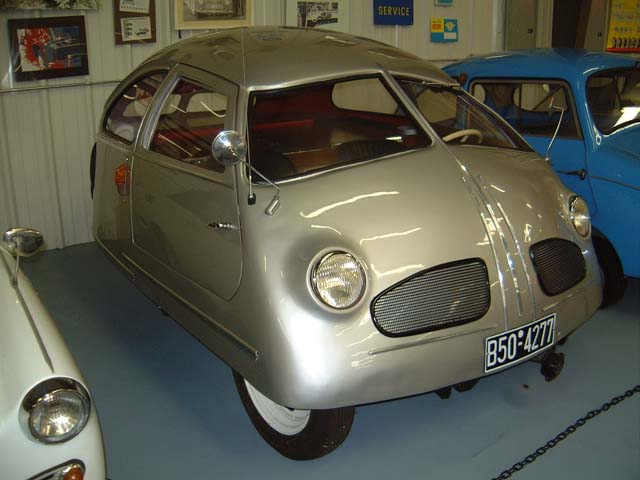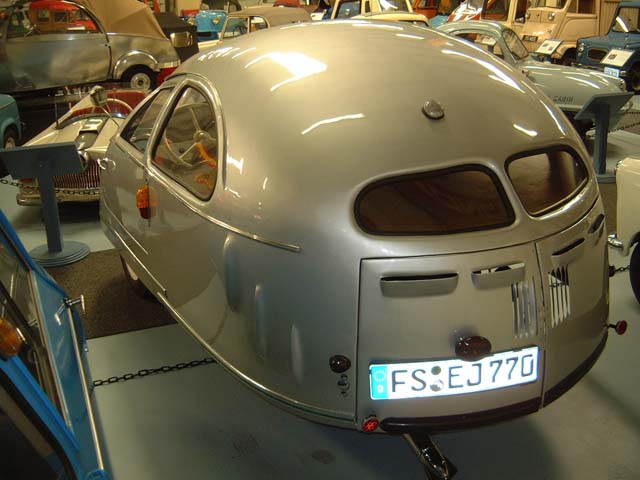 _________________
We don't care the People Says , Rock 'n' roll is here to stay - Danny & the Juniors - 1958

_________________
We don't care the People Says , Rock 'n' roll is here to stay - Danny & the Juniors - 1958
Sujets similaires
---
Permission de ce forum:
Vous
ne pouvez pas
répondre aux sujets dans ce forum