1957 Chevrolet Bel-Air owned by Ann Arbor Timing Association member Dave Jenkins of Ypsilanti, Michigan. October 19, 1956 Dave drove his mildly customized 1955 Chevrolet Bel-Air 2 door post down to the local Chevrolet dealer to check out the long awaited showing of the brand new 1957 Chevrolet. Dave took one look and fell in love with the new Chevy. This was a Friday, and it took him all weekend to convince his dad about buying the car. Monday morning Dave returned to the dealer, and a car was ordered. December 6, 1956 Dave's dream car arrived. It was black with a black and silver interior, complete with a 270 HP engine with dual quads. His dad didn't know that part though. Dave already had a lot of plans for the car, and the first thing he did was to install a set of genuine "Jimmy Jones Bubble Skirts", made by Jimmy Jones himself. At the time, Dave made $46.50 a week, and a pair of bubble skirts costed $120.00. A local body man at the Buick dealer convinced Dave that a 1957 Buick grille would be a great enhancement to his car, so in january of 1958 a 1957 Buick grille was installed along with dual lake pipes and Oldsmobile Fiesta hubcaps. At the same time the gun sights on the hood were removed, and the car was nosed, decked and shaved for door handles. Along the way, Dave met Paul Hatton, a guy known for crazy paint, pin striping, flames and the like. Paul scalloped the factory black paint with an overlay of silver with white striping. After receiving the Hatton-touch, Dave continued to tweak the design of his car by swapping the Fiesta hubcaps for a set of Dodge Lancer hubcaps and by installing dual dummy spotlights. Paul was friends with Mike and Larry Alexander of the Alexander Brothers, and as Dave was not totally satisfied with the first scallop job, he had Mike and Larry redo the bodywork on the hood, deck and door handles. The car was repainted in black lacquer, and Paul Hatton applied another scallop design in silver. Later on, Dave went back to the Alexander Brothers, and had them mold in the lake pipes and add dual sunken antenna, two Alexander Brothers signature items at the time. Inside, the interior was modified by replacing the stock cloth with black pleats. The custom hubcaps were also scrapped after a while, and they were replaced by more modern chromed and reversed wheels from Appliance Plating. Dave remembers that the wheels costed $25 bucks each. The lake pipes were also dressed up by installing trim made from polished aluminum window channels that were rounded, buffed and pop riveted. In september of 1961 Dave pulled out the stock 283 engine. The old engine was installed in Dick Bailey's Model T hot rod.[1]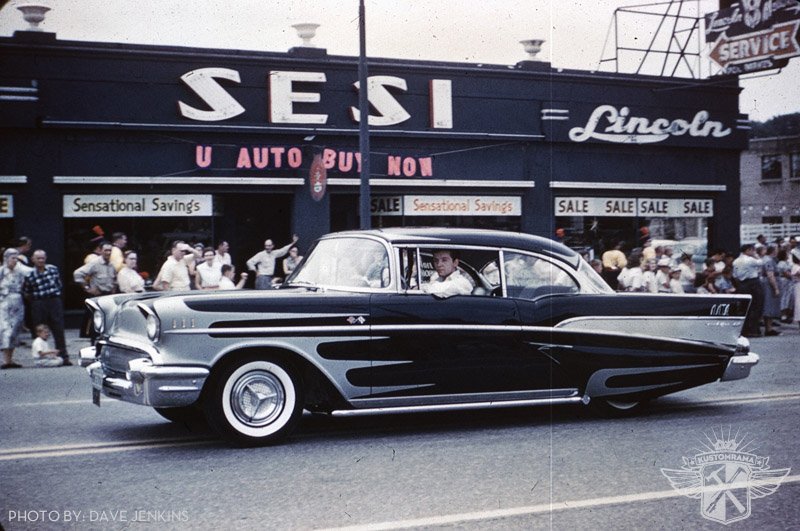 Dave's Chevrolet as it appeared in 1958. This version was nosed, decked, shaved for door handles, and featured dual lake pipes, Oldsmobile Fiesta hubcaps, Jimmy Jones Bubble Skirts and silver scallops by Paul Hatton. The scallops were applied over the stock factory paint. Photo by Dave Jenkins.
After a while California did it, they invented Kandy Apple paint. Dave knew he was in trouble, and he just had to have a candy paint job on his Chevy. He went back to the Alexander Brothers, and Mike and Larry shot a lot of panels till they came up with just what Dave wanted. The car was repainted in 1962. It was gorgeous, and everyone was really crazy about the color. At the time, Ray Kulakowski had an area at the Alexander Brothers shop where he was doing interiors, so Dave had Ray stitch him a white leather interior. From 1962 to 1990, the car was red, and went thru a few different changes, raked, flamed, traction bars and different wheels and tires were tried. In 1990, the 32 years old candy paint was falling off on the garage floor, and Dave decided it was about time to bring it back to its 1959 version. Paul Hatton's son, Brian Hatton, accepted the job of completely redoing the car. He spent a year lining everything up, preparing it for another black paint job. Again, after all the years, Paul Hatton scalloped the car in silver with white striping again. Dave, now a member of Midwest Customs and Kustoms of America still owns the car, and he still enjoys it every time he take it out for a spin or cruise.
This photo from 1958 shows Dave's Chevrolet with another scallop design on the fenderskirts. By now he has also installed dual spotlights and Dodge Lancer hubcaps with extra bars added. Photo by Dave Jenkins.
Dave's Chevrolet as it looked in 1959. Photo by Dave Jenkins.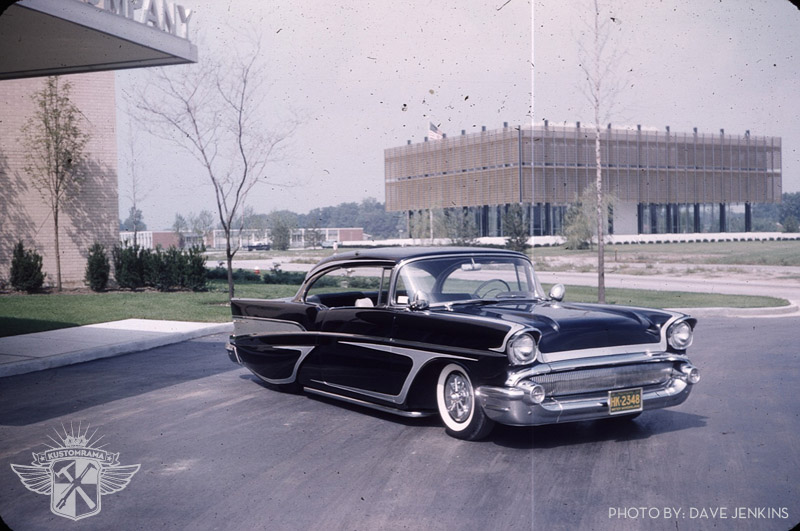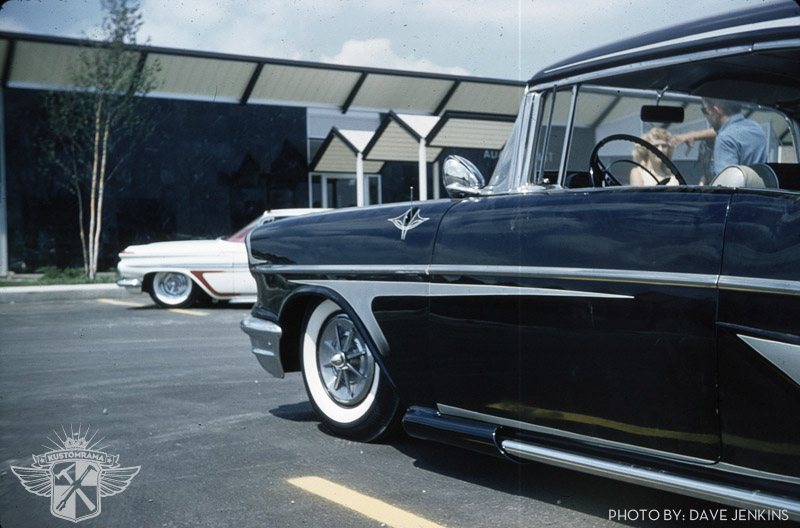 _________________
We don't care the People Says , Rock 'n' roll is here to stay - Danny & the Juniors - 1958

_________________
We don't care the People Says , Rock 'n' roll is here to stay - Danny & the Juniors - 1958

_________________
We don't care the People Says , Rock 'n' roll is here to stay - Danny & the Juniors - 1958
The car as it looked in 1976. After removing the molded pipes Dave wasn't able to match the original paint, so he had Paul Shedlick paint flames over the candy red paint. Photo by Dave Jenkins.
Lien web:
http://www.kustomrama.com/index.php?title=Dave_Jenkins%27_1957_Chevrolet

_________________
We don't care the People Says , Rock 'n' roll is here to stay - Danny & the Juniors - 1958

_________________
We don't care the People Says , Rock 'n' roll is here to stay - Danny & the Juniors - 1958

_________________
We don't care the People Says , Rock 'n' roll is here to stay - Danny & the Juniors - 1958

_________________
We don't care the People Says , Rock 'n' roll is here to stay - Danny & the Juniors - 1958

_________________
We don't care the People Says , Rock 'n' roll is here to stay - Danny & the Juniors - 1958
---
Permission de ce forum:
Vous
ne pouvez pas
répondre aux sujets dans ce forum