This Full Kustom Chevy started as a Belair, Its had every Kustom body mod done. I have owned the car for just over a year and I am looking to trade for a 49-51 Kustom Merc or equivalent. I don't want another convertible it rains too much here in Nashvegas to enjoy it and that's the Only reason Ive decide to sell/trade.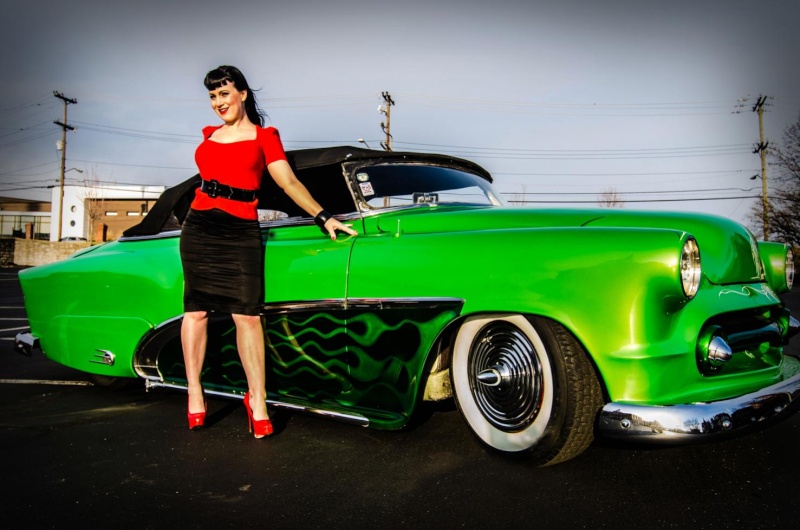 The car was originally built in Bowling Green KY by Butch Whitaker and took 2 years to do all the body work. Its has been in Grease Monkey Magazine, Grease Mag and has interest from a couple more well known mags whom I will pass along the info to the next buyer. this car is immaculate and im not in the mood for tire kickers or looky loos. if your a serious car guy you'll know whats what. It runs perfect, never gets hot, starts and stops on a dime. It has a brand new windshield still in the box. All the chrome is perfect and there is NO RUST on this car! I dont recall the miles but since Ive been thru it I have maybe put 500 on it in a year. it is garage kept and is never out in the rain.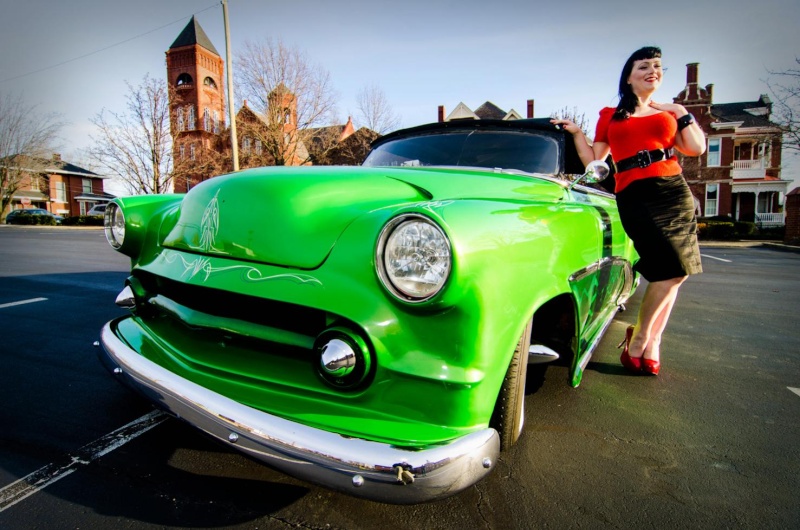 Body
the car obviously got convertiblized It has a brand new removable Carson top
Windshield Chopped about 5 "
Channeled 4"
56' Packard Rear Quarters/taillights Extended 2" and Chopped
Shaved door trunk
Decked
Scooped hood (which actually works as an air flow to the carb)
Hood was also Pancaked 2" in the front and tapered to the back
Front fender wells are 52 Buick
52 Buick side-trim molded into the kustom built fender skirts
Grill Molded with a Shaved 53 Chevy grill
Molded in lake pipes
Dash is a 54 Olds W power steering
52 Chevy Steering wheel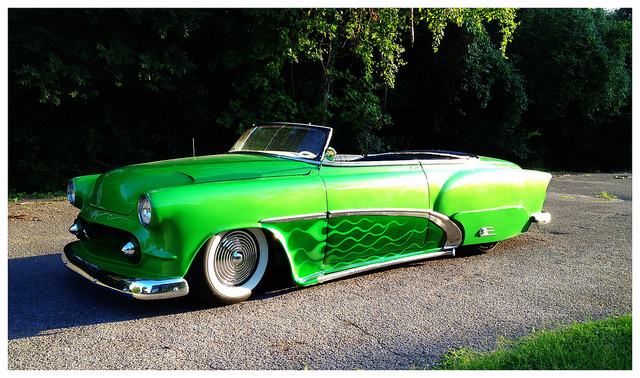 Brakes
power front disk
drum rear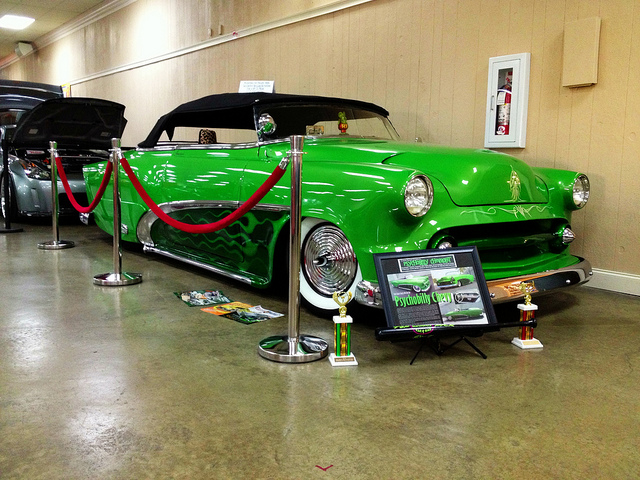 Wheels
oem steelies w/Coker 215/75 Moon disks w/4"dagmars
Frame
Sits on a late model Buick Skylark frame extended 4 inches (Whole Car)
Paint
PPG Frankenstein Green with a Gold Base, metal flake dark green with ghosted flames with a silver base
Pinstriping by Hot Rod Walt (from the Psycho-Devilles) Gator (poorboys CC TN president)
Engine
late 60's 305 w/ Auto Transmission
HEI Ignition
Manifold Exhaust
Edlebrock street performer carb.
Interior
Black Leather Tuck n Roll

_________________
We don't care the People Says , Rock 'n' roll is here to stay - Danny & the Juniors - 1958

_________________
We don't care the People Says , Rock 'n' roll is here to stay - Danny & the Juniors - 1958
---
Permission de ce forum:
Vous
ne pouvez pas
répondre aux sujets dans ce forum