je ne savais pas trop ou classer cette caisse comme je la trouve sympas et sur une base originale dans un style retro mais indéterminé je lui fait un post spécifique.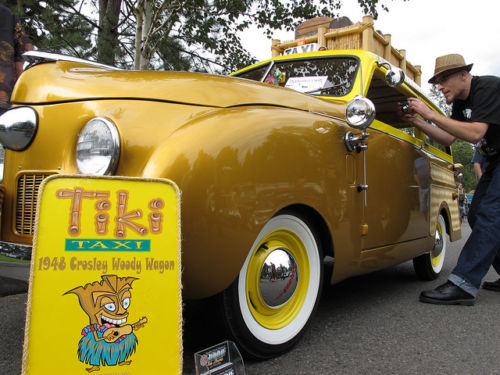 This is a fun 1948 Crosley "Tiki Taxi" themed woody style wagon. Built in 2009 with the total "island" feel !!! Has won many Northwest car show awards including Goodguys "Dare to be Different". Always a crowd gathered around smiling and taking pictures. Perfect advertisement vehicle for a : Restaurant - Bar - Casino - Mall - Brewery - Resort - Theme Park - Museum - Collector ( just add your company logo on doors ). Would make the ultimate Facebook photo stop !!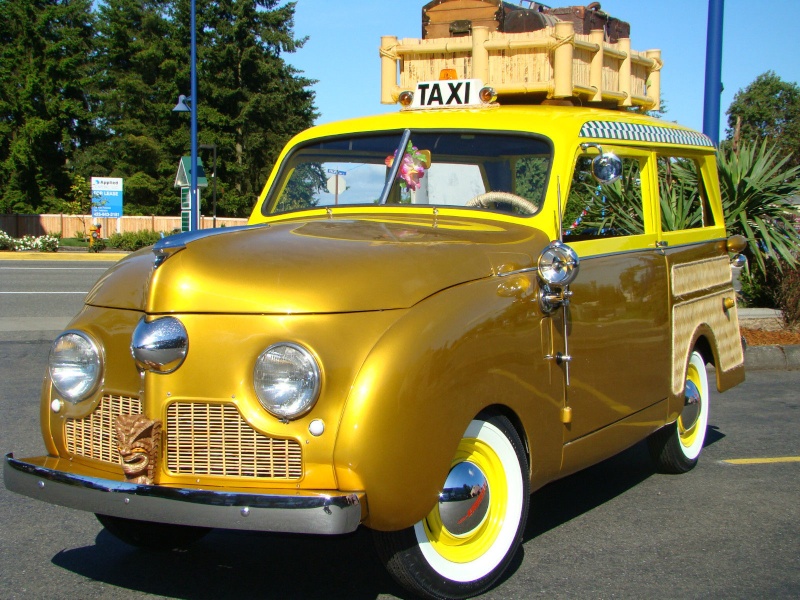 Unique features include:
* Beautiful gold & yellow pearl paint - candy green / white taxi checkers with rainbow sparkle flakes - Clear Coat.
* Real bamboo weaved "woody" body panels - trimmed with natural "fuzzy" rope.
* Stunning real banana leaf weaved seats - everyone has to feel them !! Front seats hinge forward, rear is a wrap-around chair.
* Interior has a rope wrapped steering wheel - cool vintage taxi meter - and a "Rare" original Crosley radio.
* Bamboo front grill with a "Tiki" head & dragon fly - custom "Hula Girl" beer tap shifter knob.
* Custom made bamboo roof rack with vintage style luggage & cooler.
* Working Taxi roof light & neat vintage NOS boat spot-light.
* Air-brushed small original tailpipe to look like bamboo , complete with silk leaves.
* All new glass & rubber seals - no front door glass to keep with the "island" feel. Easy to buy & install ( they are sliders !! ).
* New bumpers - New original chrome hubcaps with painted Crosley lettering.
* New Coker 12" radial wide- whitewall tires - powder coated wheels with "hand-painted" gold factory style pinstripes.
* Includes a open trailer built for this car with new tires. Car weighs about 1400 lbs. Trailer about 600 lbs.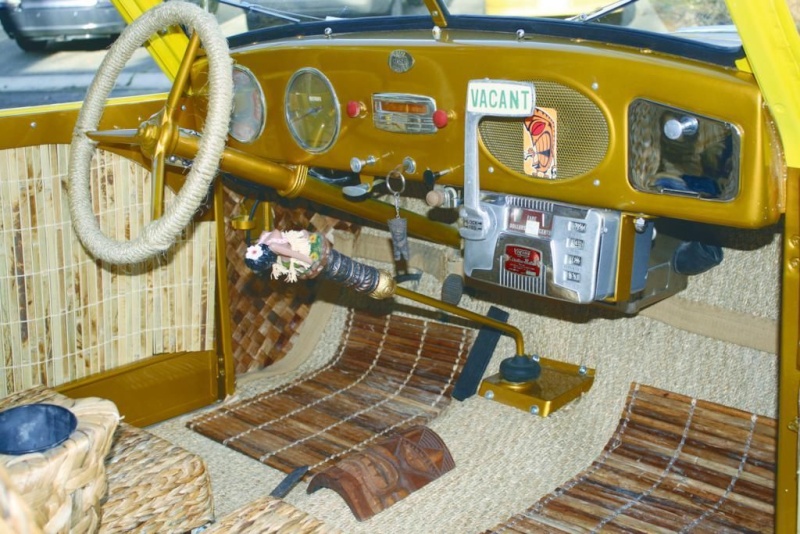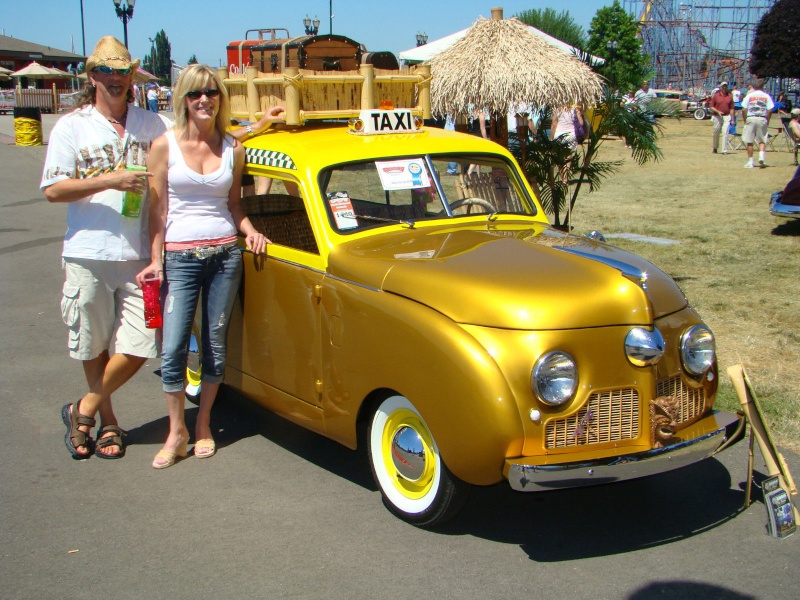 _________________
We don't care the People Says , Rock 'n' roll is here to stay - Danny & the Juniors - 1958

_________________
We don't care the People Says , Rock 'n' roll is here to stay - Danny & the Juniors - 1958

_________________
We don't care the People Says , Rock 'n' roll is here to stay - Danny & the Juniors - 1958

_________________
We don't care the People Says , Rock 'n' roll is here to stay - Danny & the Juniors - 1958
Downsizing is a familiar trend these days, with a somewhat negative, austere connotation. Downsizing can also be very positive, as well-known Seattle pinstriper/auto graphics designer Roy Dunn proved with his fun-sized 1948 Crosley station wagon. Roy wanted to promote his business – Dunn Auto Graphics (
www.dunnautographics.com)
– have fun, and spread smiles at local car shows on a frugal budget.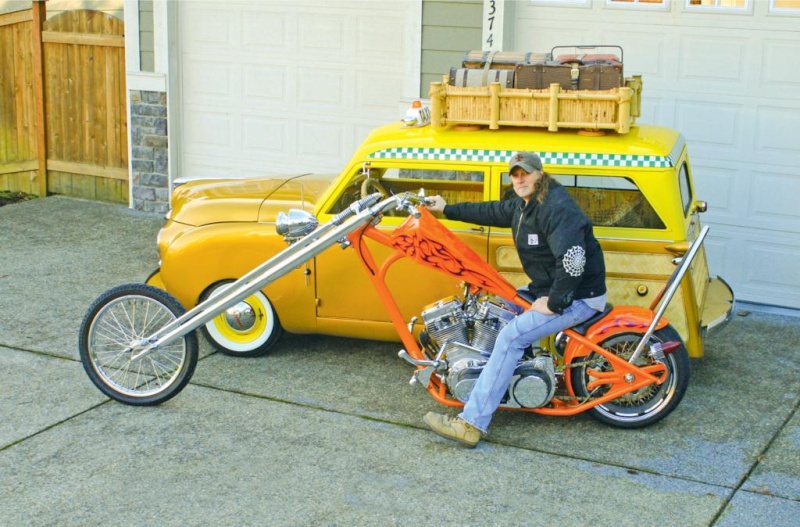 Custom paint, leather upholstery, huge billet wheels, monster motors and other street rod "necessities" are all very expensive, so Roy reasoned a smaller, more basic car would use less and cost less. Roy is no stranger to big street rods, though. He currently owns a 1939 Cadillac LaSalle Superior hearse that occupies a massive 22 feet of pavement and requires a 502-cubic-inch Chevy big-block to push it down the highway.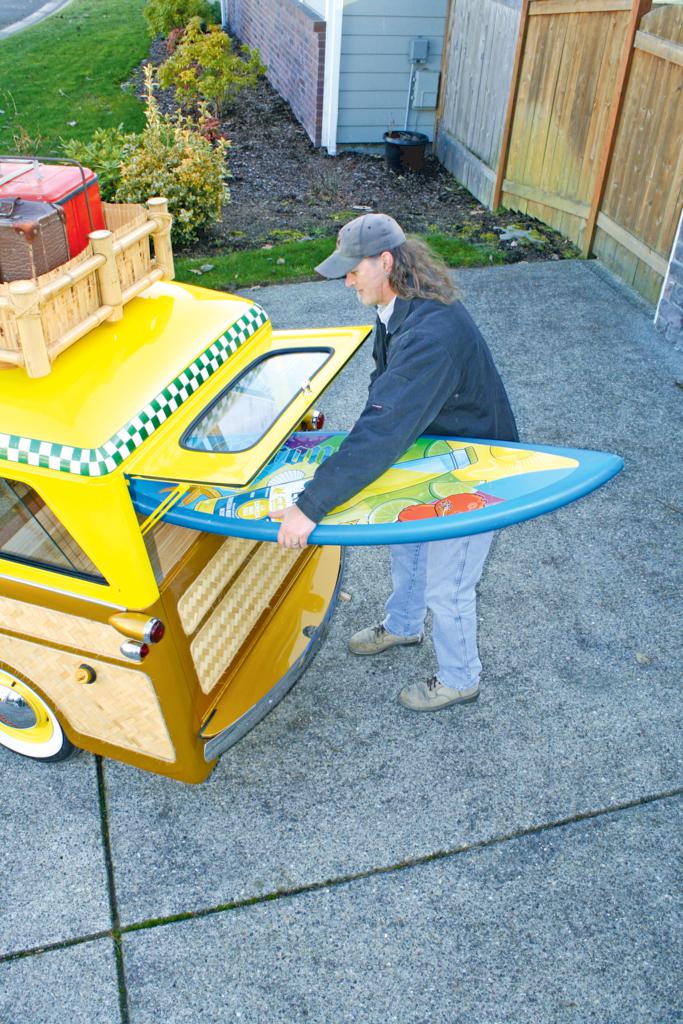 In his quest for something small and special, Roy contacted the West Coast Crosley Club, where he found a very reasonably priced, good running, California "driver" Crosley station wagon. It is a petite 145 inches long with an 80-inch wheelbase. Width is a very narrow 49 inches, and it is 59 inches tall. The 1948 station wagon was the most popular Crosley ever with a production total of 23,489 units.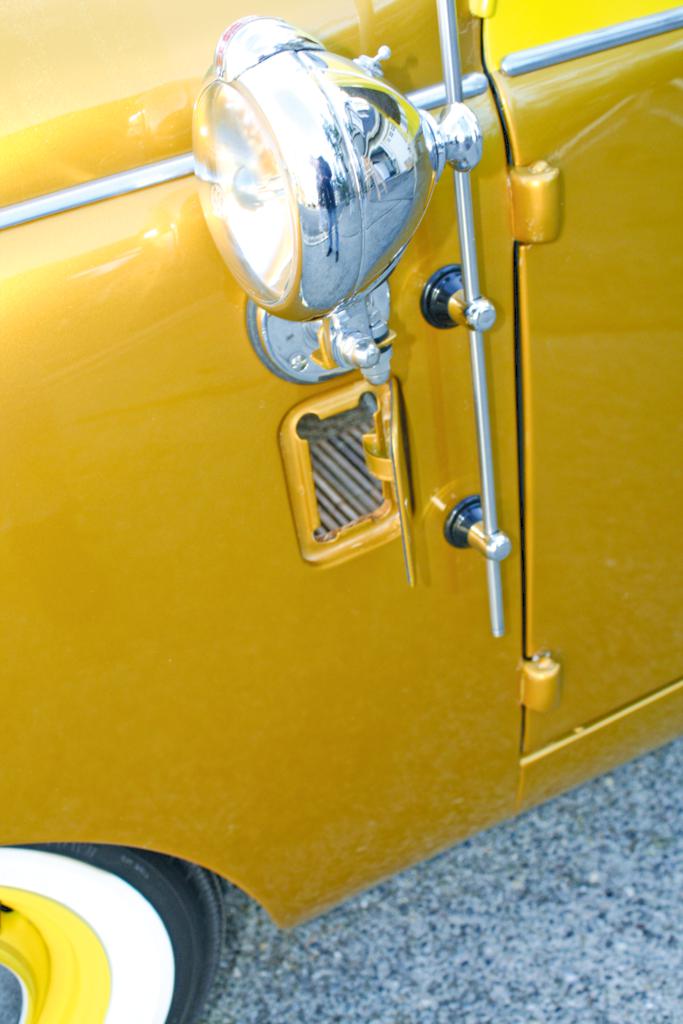 Roy had the tiny wagon shipped to his shop in Des Moines, Washington. The tropical island theme "Tiki Taxi" was chosen for its hip, whimsical nature and because Roy and his wife, Rita, were married in Maui, Hawaii. The extensive use of bamboo products fits the theme and was very cost effective.
Roy media blasted the body to make paint and bodywork easier. Xtreme Bodyworks applied the 2001 PT Cruiser PPG gold pearl and custom mix candy yellow two-tone paint. Roy added ghost tribal graphics in flip-flop pearl to the cowl and candy green/white pearl (with rainbow mini flakes) checkers to the roof.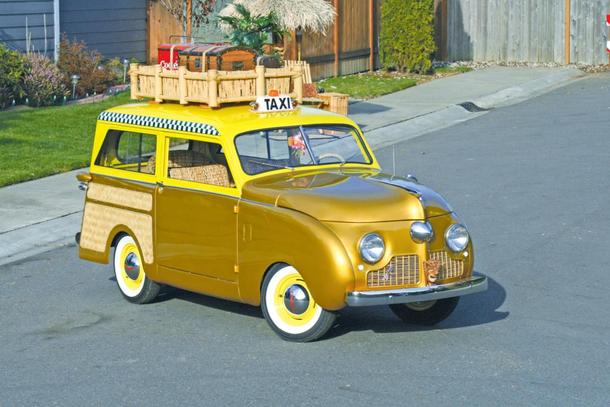 Roy became a regular customer at import furnishing/accessory stores, where he sourced most of the bamboo products. He also shopped bar supply stores for various Tiki-related items.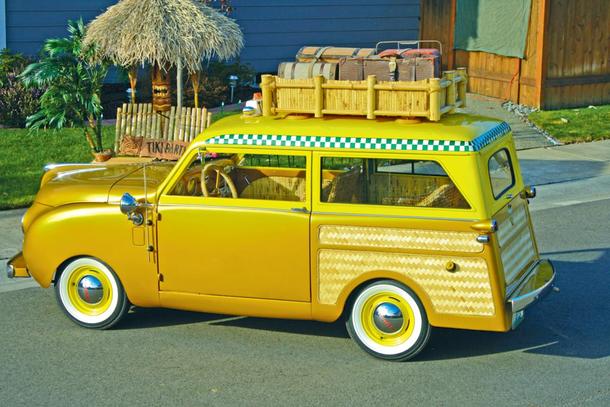 The seats are patio furniture made out of banana leaf wicker. Roy cut down the seats and made custom hinged mounting brackets. The single rear seat is a curved armchair, which adds to the "Tiki Lounge" look. The door and side panels were made out of bamboo window shades. A bamboo weave mat was used for the headliner. Braided banana leaf material was used to cover the aluminum flat bar headliner bows. The rear cargo area is real bamboo flooring.

_________________
We don't care the People Says , Rock 'n' roll is here to stay - Danny & the Juniors - 1958
The carpet is a light colored natural rope twine with a large loop pattern. Darker wooden place mats serve as floor mats and add contrast. A store-bought banana leaf plant stand was fashioned into a center console/cup holder. A Tiki mask occupies the transmission tunnel, and a hula girl beer tap handle serves as the shifter knob. The steering wheel was wrapped in sisal rope. The stock dashboard has a working original Crosley radio (the company was in the radio and refrigerator business before becoming an auto manufacturer) and a vintage taxi meter that was found online. The lighted rooftop taxi sign was another online find.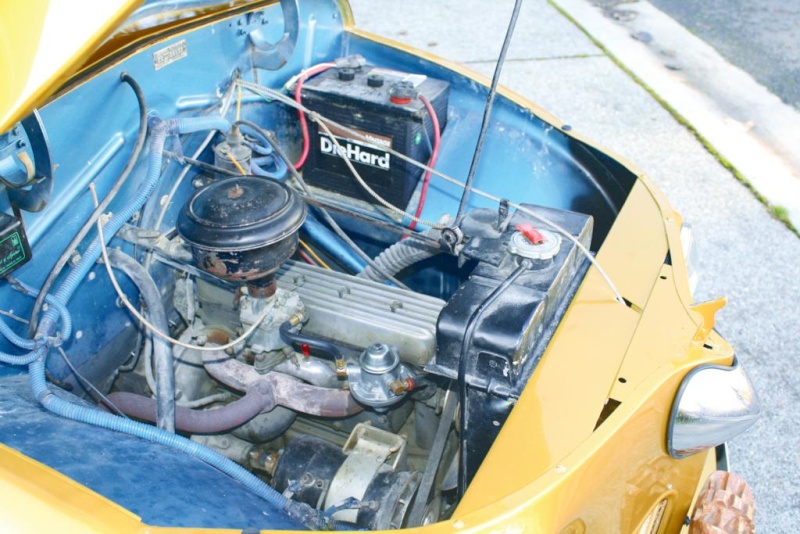 Bamboo was used for the grille inserts. The Tiki head statue was airbrushed for added detail. The chrome nose bullet is a rare Crosley accessory. Bamboo basket weave paneling was used on the quarter panels and tailgate. The panels were trimmed with "hairy" rope. Roy airbrushed the stock ¾-inch diameter tailpipe to look like a bamboo pole. Green silk "leaves" were attached for added realism. Crosleys only came with a single, left side taillight, so a pair of 1939 Chevy taillights was added, along with small motorcycle turn indicators. The front fender mounted spotlight is a 6-volt vintage boat unit also found online.
The Crosley is mechanically original, which is to say very rudimentary. Roy hurried to make the spring/summer car show season, so he postponed drivetrain detailing/upgrades. The 44ci overhead cam four-cylinder engine produces 26 ½ horsepower (every ½ hp helps). The 3-speed transmission isn't synchronized. The 12x4-inch wheels use mechanical (cables, no hydraulics) brakes for limited stopping power. The BF Goodrich whitewall tires are size 5.20 x 12. The gas tank holds 6.6 gallons, and fuel economy is 30 to 40 mpg. Top speed isn't much more than 50 mph, so Roy avoids freeways. The Crosley weighs 1305 pounds, which is a mere fraction of what his LaSalle weighs.
Roy topped his Crosley with a bamboo luggage rack and filled it with vintage suitcases, a wooden chest, and an ice cooler. He also made a two-seat bamboo "Tiki Party" display with a thatched canopy and faux palm tree. The display adds to the island ambiance and provides a comfortable, shaded retreat during hot summer car shows.
The little Crosley wagon is a huge crowd pleaser and has won numerous awards including "Dare to be Different" accolades at the 2010 Goodguys Pacific Northwest Nationals. Many things about Roy's Crosley wagon are downsized, except the fun factor, which is supersized.
http://www.autotraderclassics.com/car-article/Big+Fun+in+a+Tiny+Package-81342.xhtml?conversationId=1544536

_________________
We don't care the People Says , Rock 'n' roll is here to stay - Danny & the Juniors - 1958
Sujets similaires
---
Permission de ce forum:
Vous
ne pouvez pas
répondre aux sujets dans ce forum