The Poorboys est une formation de néo rockabilly Folder-copie-27.jpganglaise formé de Andy (chant et guitare), John (contrebasse), Steve (guitare solo) et Robin (batterie) qui en 1982 enregistre pour le label Ace records un ep particulièrement réussi contenant 4 titres
Move, Baby, Move
(magnifique cover sauvage du rockabilly 1950 de Dick Penner pour Sun records) ,  
Wild Girl
(tout aussi réussie cette cover du rockabilly peu connu de Orville Couch),
My Baby Dont Agree
(est une composition originale assez moderne mais trés convainquante) et
Dancin' With The Rebels
(une autre composition originale trop moderne qui à à mon goût est inférieure au reste du disque). Cela dit les 3 premiers titres sont tellement bon que ce ep est probablement un disque absolument incontournable du rockabilly du début des 1980's.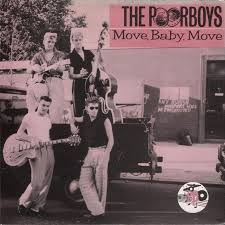 J'étais assez décu de ne connaitre aucun autres titres de cette formation éphémère, puis bien plus tard le label On the hill édite un cd
The Poorboys Early masters
contenant 6 titres nouveau du groupe soit
Long Blond Hair
(cover du white rock de Johnny Powers),
Mad man
(cover du rockabilly explosif sun records de Jimmy Wayges), The only girl (cover du medium rock de Johnny Jano), Please don't touch (Cover du rock anglais classique de Johnny Kidd),
Linda lou
(Cover du  black rock de Ray Sharpe) et
Hollywood East
(une composition originale medium à la mélodie moderne). Un disque assez réussi au son moderne mais à l'efficacité indéniable qui ravira tout amateur de bon rock 'n'roll.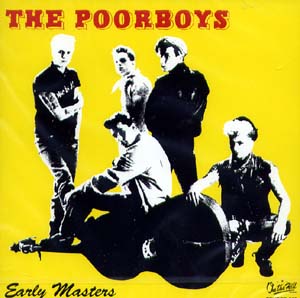 _________________
We don't care the People Says , Rock 'n' roll is here to stay - Danny & the Juniors - 1958

_________________
We don't care the People Says , Rock 'n' roll is here to stay - Danny & the Juniors - 1958

_________________
We don't care the People Says , Rock 'n' roll is here to stay - Danny & the Juniors - 1958

_________________
We don't care the People Says , Rock 'n' roll is here to stay - Danny & the Juniors - 1958
---
Permission de ce forum:
Vous
ne pouvez pas
répondre aux sujets dans ce forum