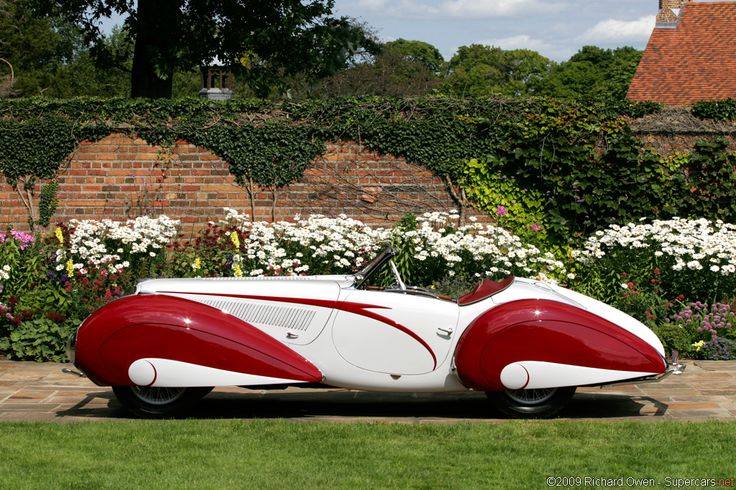 DELAHAYE est l'une des premières entreprises au monde à se lancer dans la construction d'automobiles. Si la marque automobile a vue le jour en 1894 à Tours, dans la ville natale de son créateur, la société du même nom existe depuis 1879.
Emile Delahaye, le créateur de la marque, est né en 1843. Ingénieur des Arts et Métiers, il est très inventif et d'un naturel curieux. Dès 1888, il entreprend la construction d'un moteur à combustion interne pour les bateaux. Deux ans plus tard il décide de l'appliquer à l'automobile. Et c'est au salon de l'Automobile de Paris de 1894 que Delahaye dévoile sa première voiture. Avec un moteur arrière et un entrainement par courroie le véhicule affiche une puissance voisine de 1 cv.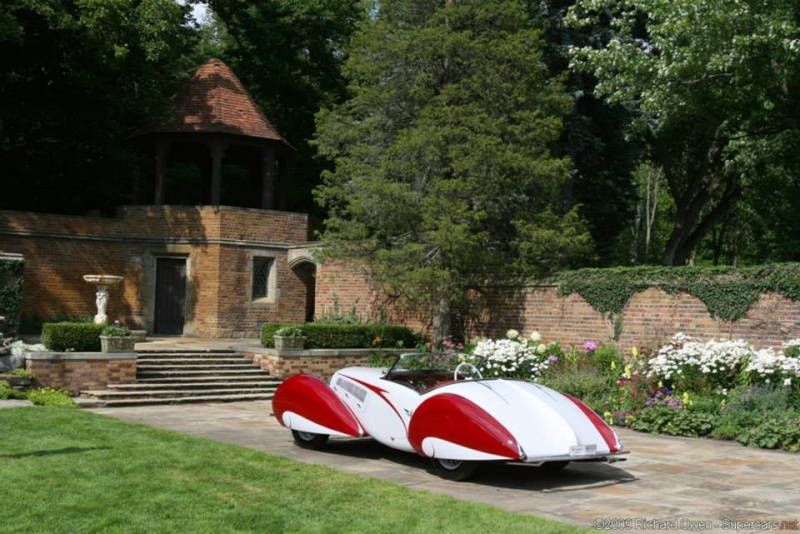 Passionné par l'automobile qui est en plein essor, Emile Delahaye se lance dans la compétition, comme presque tous les constructeurs de l'époque. Il va même jusqu'à piloter ses propres voitures. Mais, sa santé précaire l'oblige à s'associer avec MM Morane et Desmarais pour diriger l'entreprise qui, du coup, se déplace à Paris. Une véritable « gamme » se développe : en 1898 Delahaye propose à ses clients un moteur monocylindre de 1,4 cv et des bicylindres de 4,5 et 6 cv. Et les acheteurs sont de plus en plus nombreux.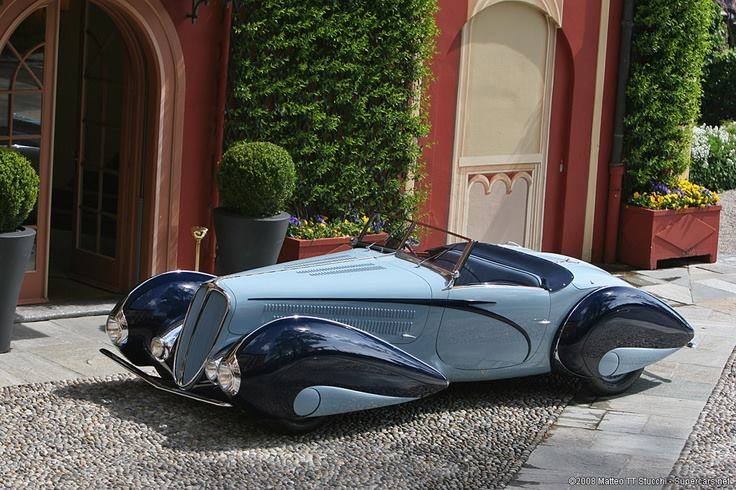 Malheureusement, Emile Delahaye doit quitter, en 1901, les rênes de l'entreprise qu'il a créée. Il mourra quatre années plus tard mais la marque continue et prospère même : les moteurs à 4 cylindres apparaissent. La 10B dispose d'un moteur de 2.2 litres de 9 ou 12 cv, mais le haut de gamme aura droit à un 4,9 litres de 28 cv. Les ventes à l'exportation s'organisent.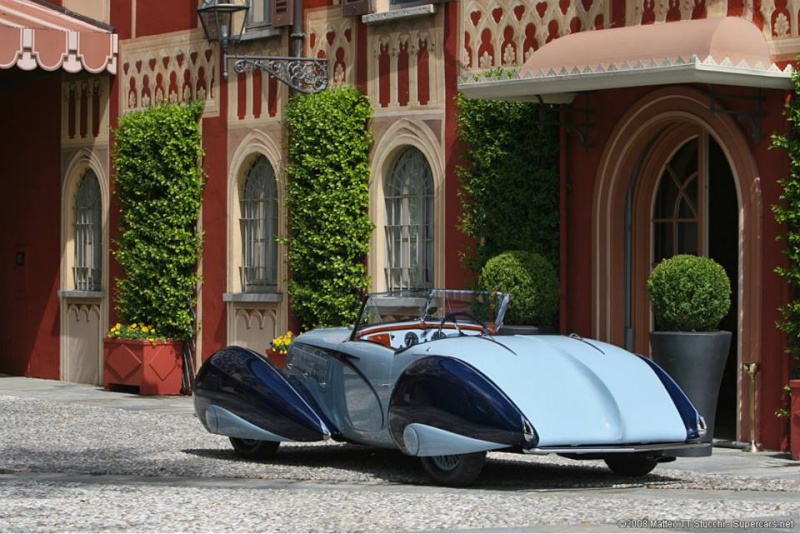 La Première guerre mondiale va interrompre cette croissance. L'entreprise se consacre à la fabrication de camions, de matériels incendie et de moteurs pour l'industrie lourde. Le retour à la construction automobile va être long et difficile. Grâce à des contrats d'association Delahaye sort, en 1928, un moteur 6 cylindres en deux versions 2,5 et 2,9 litres. Ce n'est qu'en 1930 que le lancement de plusieurs nouveaux véhicules, dont le modèle 126, annoncent le renouveau de la marque.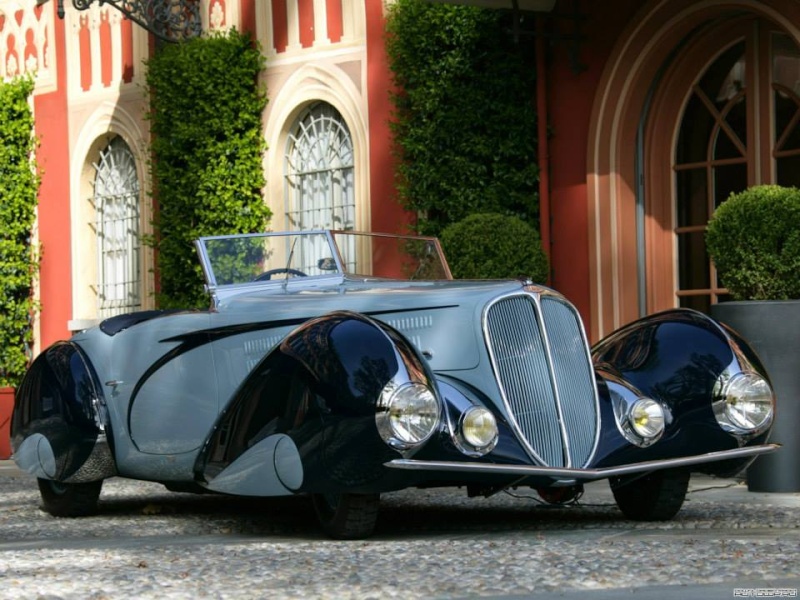 _________________
We don't care the People Says , Rock 'n' roll is here to stay - Danny & the Juniors - 1958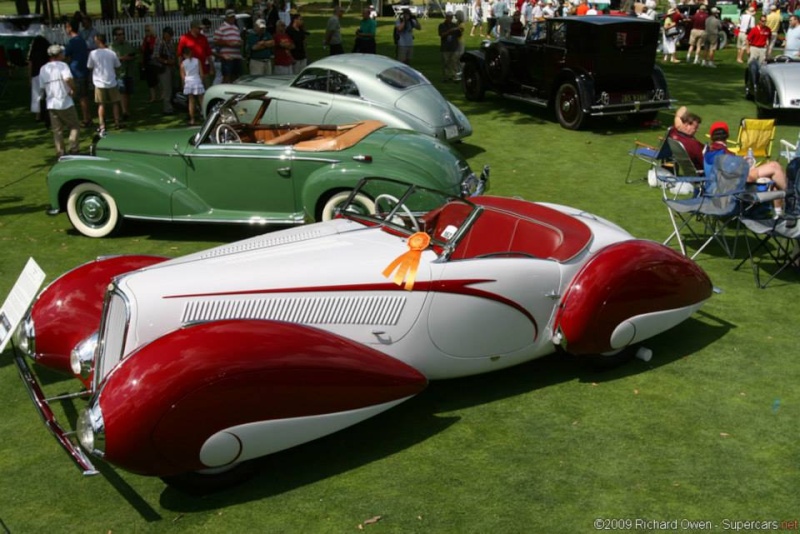 Delahaye rachète alors, en 1933, le constructeur Chaigneau-Brasier et s'oriente définitivement vers une production de luxe et de prestige. La participation de la marque aux grandes courses automobiles est alors incontournable. C'est la mythique 135 (le chiffre indique l'empattement de 1,350 m) qui va donner à Delahaye son image : en 1934 une version équipée d'un moteur de 120 chevaux remporte, entre autre, les « 24 Heures du Mans » et le « Rallye de Monte-Carlo ». La renommée de Delahaye est maintenant faite. Le rachat en 1935 de son concurrent Delage, ne fera que confirmer.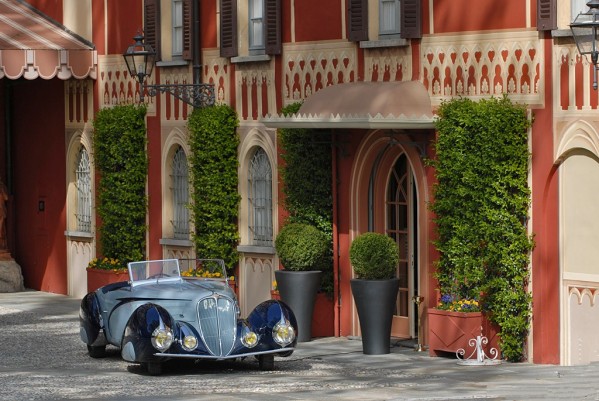 C'est à cette période que Delahaye choisit le carrossier Joseph Figoni à qui il confie 11 châssis « sport » pour réaliser un cabriolet de luxe. Figoni est quasiment au sommet de son art (l'année suivante il sortira le Talbot T150 "teardrop" qui, au dire des spécialistes est son chef d'œuvre). Innovation, élégance, originalité, tous les détails du cabriolet 135 ont été réalisés avec soin depuis le carénage des roues jusqu'à la forme des feux arrière.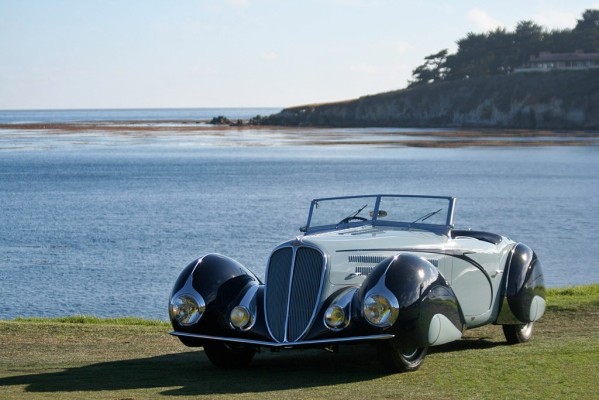 Présenté à Paris en 1936, le 135 Torpédo cabriolet obtient, tout de suite, un vif succès. Les performances sont également hors normes : le six cylindres en ligne de 3 557cc de cylindrée, alimenté par trois carburateurs Solex, développe 120 cv à 4 000 t/mn et permet au véhicule d'atteindre une vitesse de pointe de 160 km/h.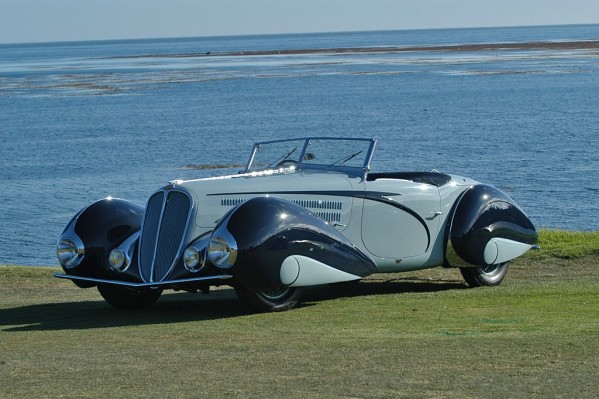 http://www.montesquieuvolvestre.com/article-voitures-de-legende-455-delahaye-135-m-figoni-falaschi-torpedo-cabriolet-1937-124709487.html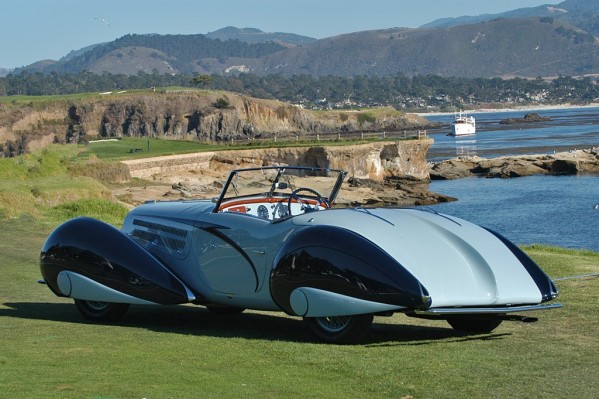 _________________
We don't care the People Says , Rock 'n' roll is here to stay - Danny & the Juniors - 1958
1937 Delahaye 135 Competition Court Torpedo Roadster by Figoni et Falaschi
By: Jeremy McMullen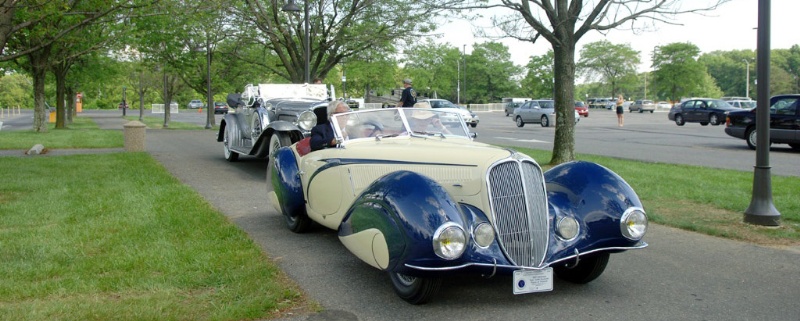 Even by the 1930s, the performance capabilities of the automobile had progressed to such an extent that many manufacturers would shy away from offering chassis that tested those limits for fear their customers would not be able to handle what was available to them. A few, however, would throw caution to the wind and would make such performance available to their customers. Delahaye was just such a manufacturer.
Delahaye's offering of track performance for the street would come in the form of the Type 135 S chassis. Delahaye's means of protecting itself and its clients was bound in the fact the Type 135 Competition Court, the model chassis actually intended for competition but that could be made into a road car, would not be found in any official listing from the company. This particular chassis had to be requested, and not just anyone would get one.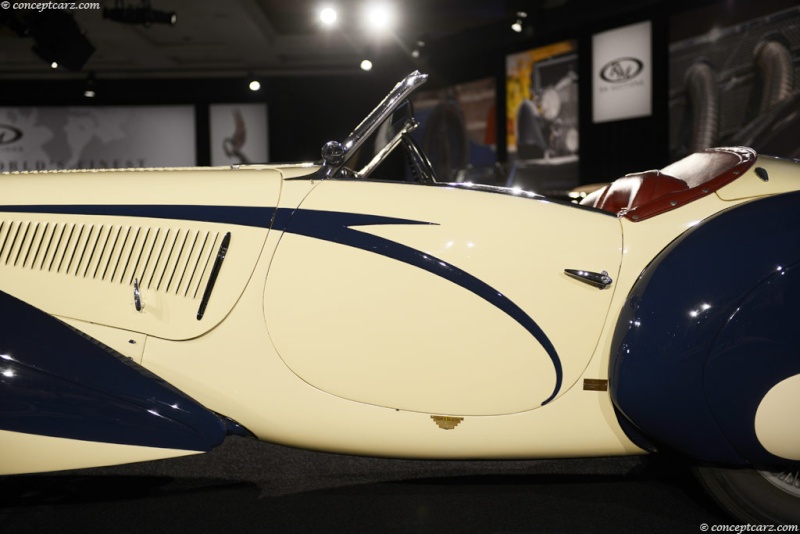 One particular example of the Competition Court chassis is 48667. Its number would suggest the chassis was actually assembled in 1936. The custom-built body adorning the chassis would be exceptional in its own right.
Coachbuilders of the period would be particularly drawn to the design of teardrop and the torpedo as both similar represented for aerodynamic shapes, even though the science wasn't very well appreciated at the time. Based upon the show car that could have been seen at the Paris Auto Show in 1936, 48667 would be graced with a Torpedo Roadster body designed by the illustrator Georges Hamel. Hamel's fame as an illustrator would grow from his racing posters featuring aircraft and automobiles. He would work closely with Figoni at Falaschi to design the body that would sit atop the very special chassis. When completed, 48667 would become one of just 13 streamlined bodies that were a part of series based upon the Paris show car.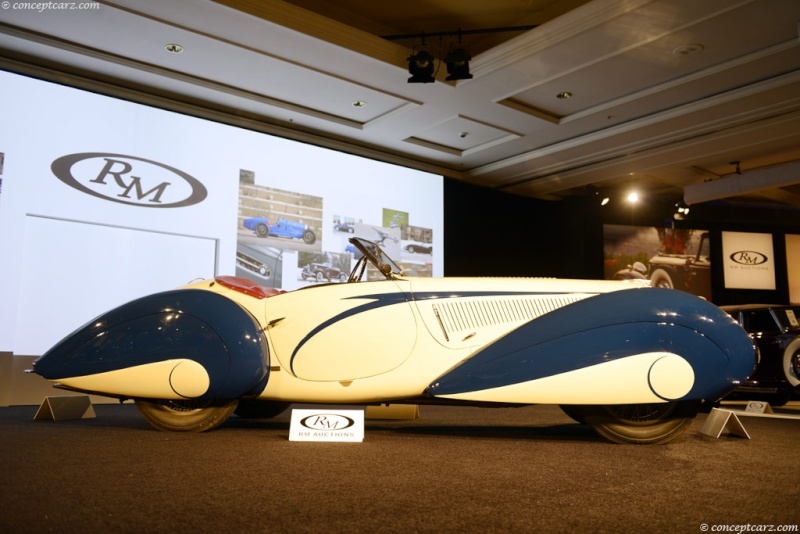 _________________
We don't care the People Says , Rock 'n' roll is here to stay - Danny & the Juniors - 1958
But, while the brass tag would give the impression of a close association between Figoni and Hamel, the illustrator would have to threaten a lawsuit before his name would be included as a collaborator in the project. An agreement would be struck and Hamel's name would be added to the bronze plate of just three examples. Such intrigue only adds to the story of this very special Delahaye.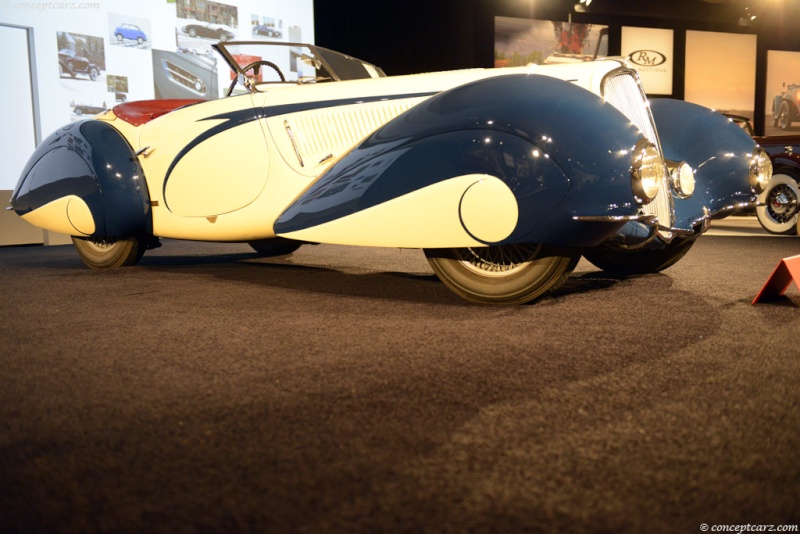 Chassis 48667 would be one of those bearing Hamel's name. Completed in Blue Monaco and Straw Yellow, the car would be delivered in August of 1937. Immediately after being delivered it would take part in its first concours event, the Gardenia Concours d'Elegance at Saint-Cloud. Even from the very beginning this Delahaye would be recognized as a priceless collectible. Though presented at the concours by Emilienne d'Avray, it seems clear 48667 would be without an owner for a couple of years.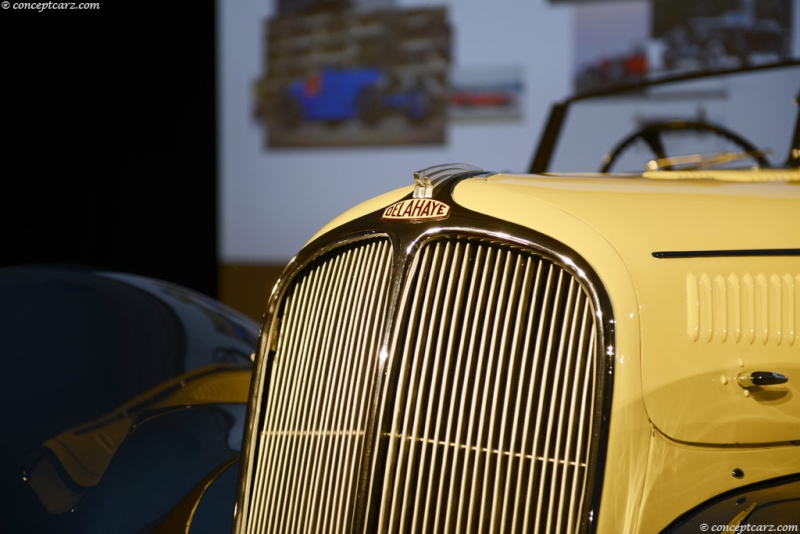 Apparently given a new engine, just carrying the original number, the Delahaye would set off across the Atlantic in 1939 for North America. There is some suggestion that this particular chassis made an appearance at the World's Fair and that Bob Grier, the photographer and motoring enthusiast, would purchase the car about the same time. Unfortunately, the war would hinder Grier from being able to enjoy the car. When the war came to an end though, Grier would take to the wheel and would use the performance of the 3.5-liter six-cylinder engine to take part in a number of hillclimbs. Apparently, the car would be seen with its color scheme reversed.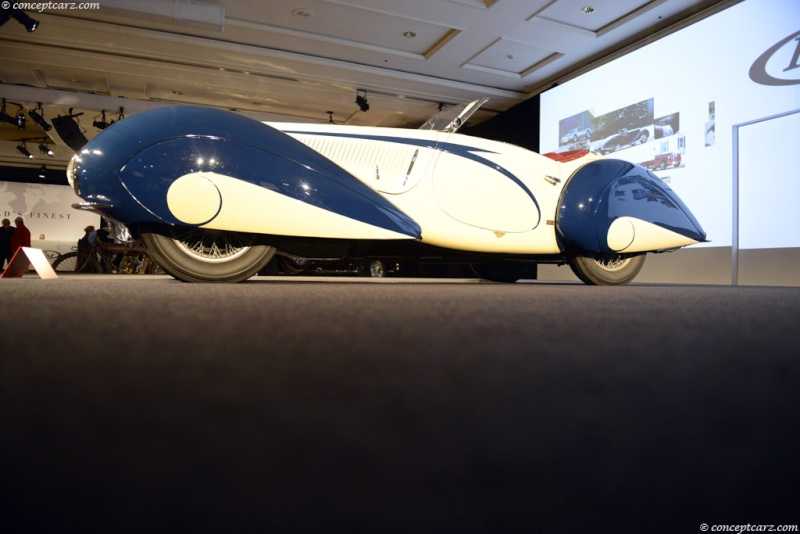 In 1954, the Delahaye would take part in Herb Shriner's World Motor Sports Show held at Madison Square Garden. Approaching the 1960s, the Delahaye had spent some twenty years in Grier's possession. It was time to pass the car along. So, in November of 1963, just a couple of weeks before the assassination of Kennedy, Hugh J. Weidinger's Long Island's Hemostead Auto Company would become the new owner of the Delahaye. While the property of Weidinger's company the Torpedo Roadster would again be refinished. This time the scheme would turn to red and black.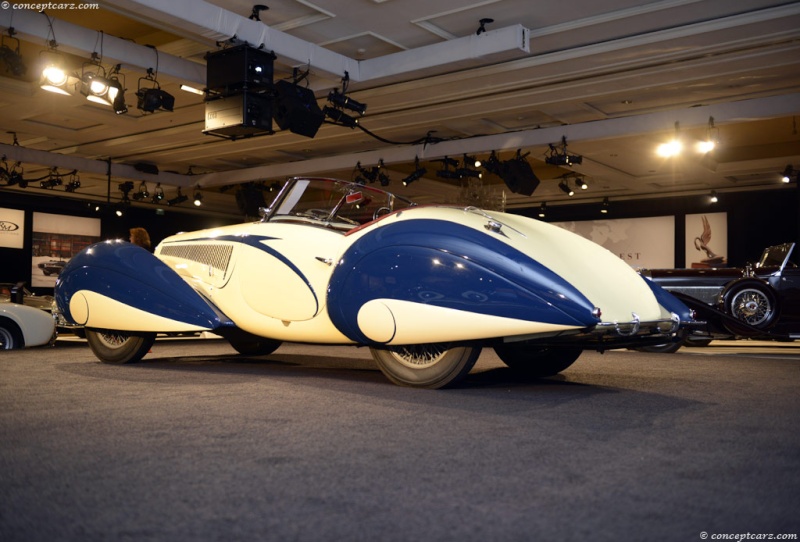 Malcolm S. Pray, Jr. had also been at the World's Fair in 1939. He was just 11 years old at the time but would be absolutely taken back by the Delahaye on display. Right there in that very moment he desired to own what he saw. In time, Mr. Pray would become an influential businessman and an avid car collector. Though he collected the very best, there was one, if he allowed himself to dream, he absolutely wanted more than any other.

_________________
We don't care the People Says , Rock 'n' roll is here to stay - Danny & the Juniors - 1958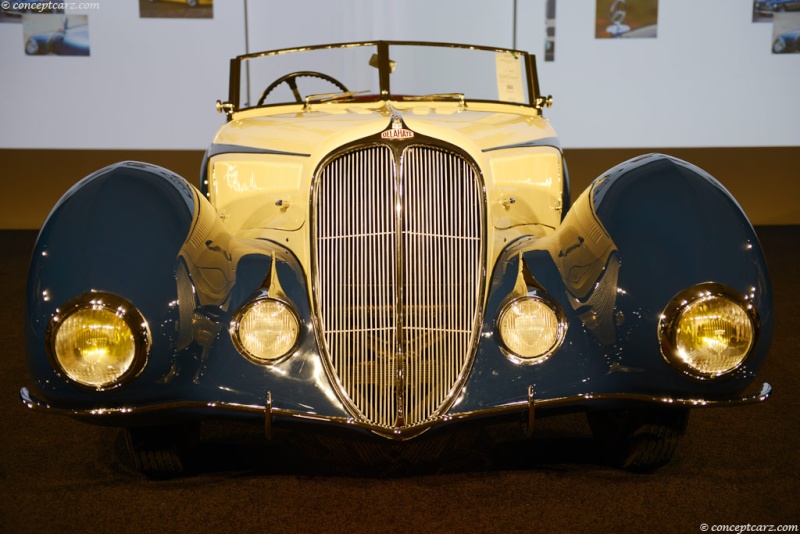 About 25 years after that first encounter, Pray would find himself in the position of being able to purchase the very same car he had seen when just a boy. Pray would need no convincing and needed little incentive. He would jump at the chance of owning his fantasy car, a car that he would consider greater than any other in his collection. The best part of it all was that it would really be a chance encounter; two separated lovers meeting again after years apart. And such was the relationship.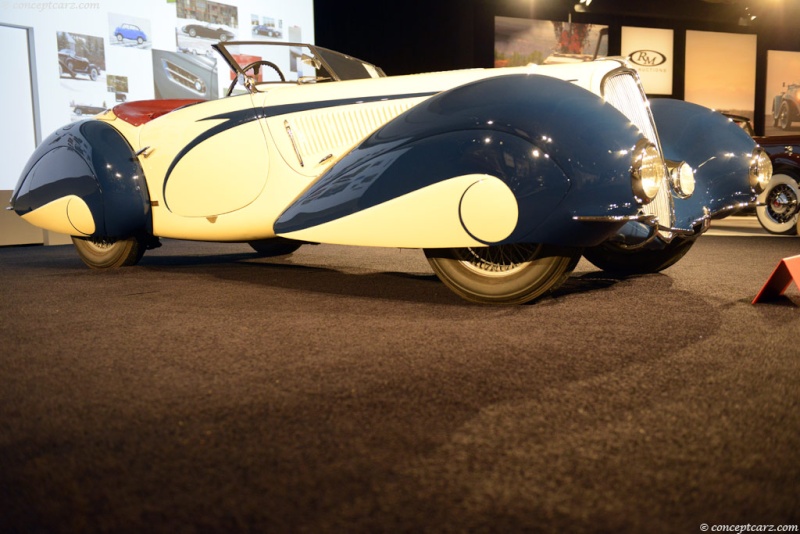 In 1969 and '70 the car would be refurbished. Wanting to remember it as it was, Pray would have the car refinished in its original colors. Though refurbished and return to its original livery, the car would be seldom seen for the next 45 years. Then, amazingly, the car would make an appearance at the Meadow Brook Concours d'Elegance in 1994. It had been 40 years before the car made its last appearance in a show and it would prove to be a truly moving moment. Then, one year later, Malcolm and his new wife, Natalie, would tour the car in Europe. Such was the affection Pray had for the car that Natalie would consider the car the 'French Mistress'.
Mr. Pray's pride would get the better of him. After that debut in 1994, the Delahaye would be a participant in more than 50 events. This active lifestyle would certainly seem to give credence to the affectionate nickname 'French Mistress'. Unfortunately, Mr. Pray can no longer enjoy such rendezvous. The arousing Delahaye will have to use its looks and performance to find a new amour.
Sources:
'Lot No. 167: 1937 Delahaye 135 Competition Court Torpedo Roadster', (http://www.rmauctions.com/lots/lot.cfm?lot_id=1064908). RM Auctions.
http://www.rmauctions.com/lots/lot.cfm?lot_id=1064908.
Retrieved 6 February 2014.
Mellana, Tom. 'Malcolm S. Pray Jr., Greenwich Businessman and Benefactor, has Died', (http://www.greenwichtime.com/local/article/Malcolm-S-Pray-Jr-Greenwich-businessman-and-4759990.php). Greenwich Time.com.
http://www.greenwichtime.com/local/article/Malcolm-S-Pray-Jr-Greenwich-businessman-and-4759990.php.
Retrieved 6 February 2014.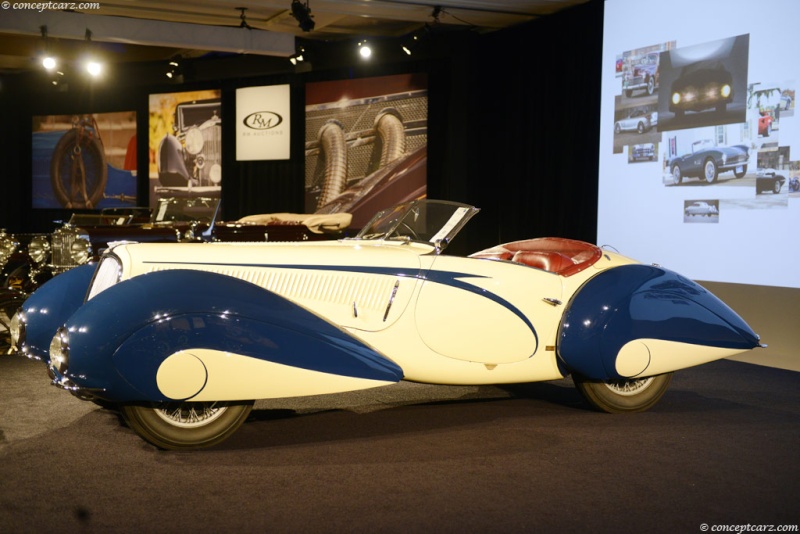 http://www.conceptcarz.com/a6035/1937-Delahaye-135-Competition-Court-Torpedo-Roadster-by-Figoni-et-Falaschi.aspx

_________________
We don't care the People Says , Rock 'n' roll is here to stay - Danny & the Juniors - 1958

_________________
We don't care the People Says , Rock 'n' roll is here to stay - Danny & the Juniors - 1958

_________________
We don't care the People Says , Rock 'n' roll is here to stay - Danny & the Juniors - 1958
Magnifiques carrosseries ces 135

Zed




Messages

: 149


Date d'inscription

: 10/11/2012


Age

: 51


Localisation

: Oraison (04 )



---
Permission de ce forum:
Vous
ne pouvez pas
répondre aux sujets dans ce forum