The 1948 Gatso 4000 Sports Roadster: Holland's First Post-War Car
In 1948, a car called the Gatso 400 Sport came out of Holland, a lightweight speedster that used Ford's flathead V8 engine of the time. The engine was chosen because it was simple and parts were available worldwide. From a 3.9-liter block, the Gatso produced 120 hp at 400 rpm and 250 Nm (184 lb-ft) at 2000 rpm. This was sent to the rear wheels via an unsynchronized 3-speed manual. A strict two-seater open-top car, the Gatso had a number of distinctive features. It was born from the world of motorsport. It had an additional headlight in the middle that was designed for endurance racing series like Le Mans.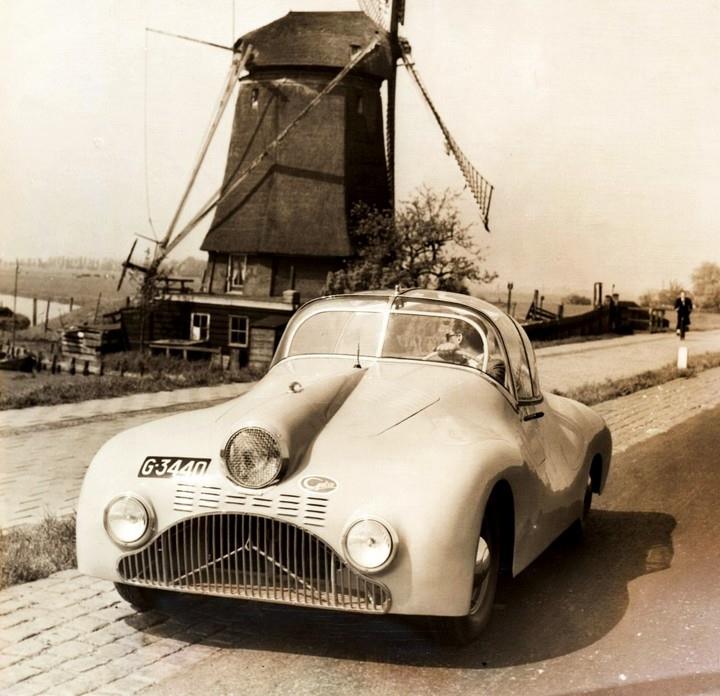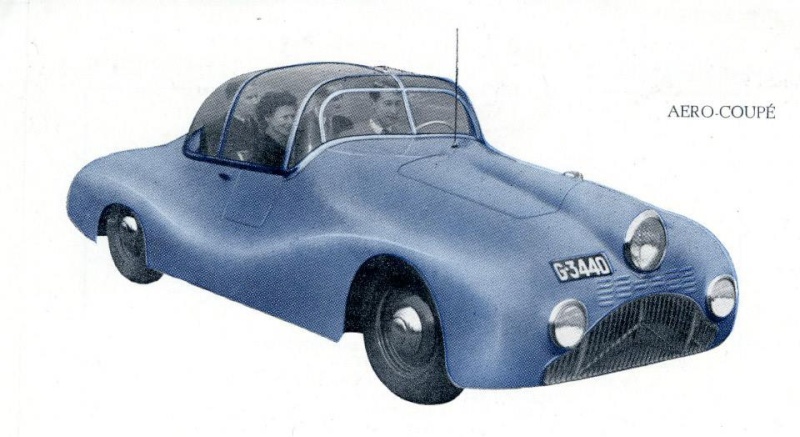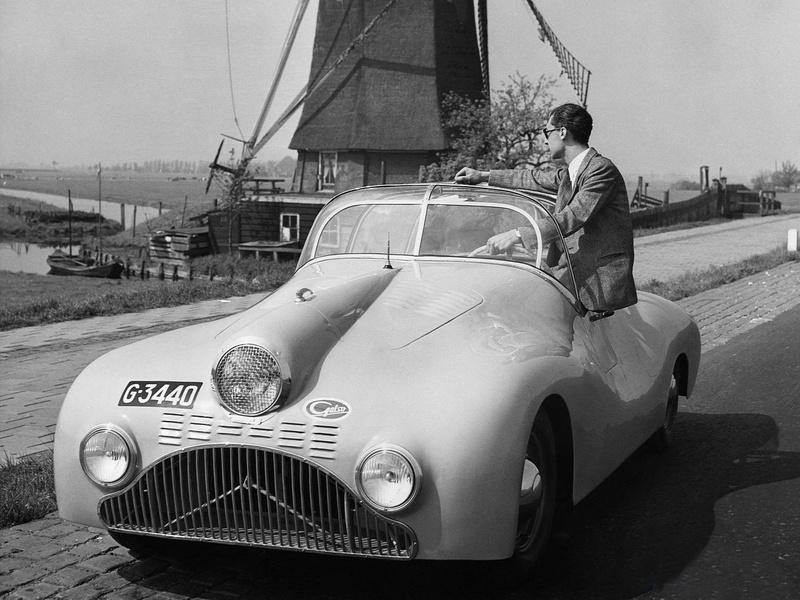 Dernière édition par Predicta le Dim 28 Déc - 21:47, édité 1 fois

_________________
We don't care the People Says , Rock 'n' roll is here to stay - Danny & the Juniors - 1958
http://hooniverse.com/2012/09/02/hooniverse-weekend-of-discovery-the-1948-gatso-4000-sports-roadster/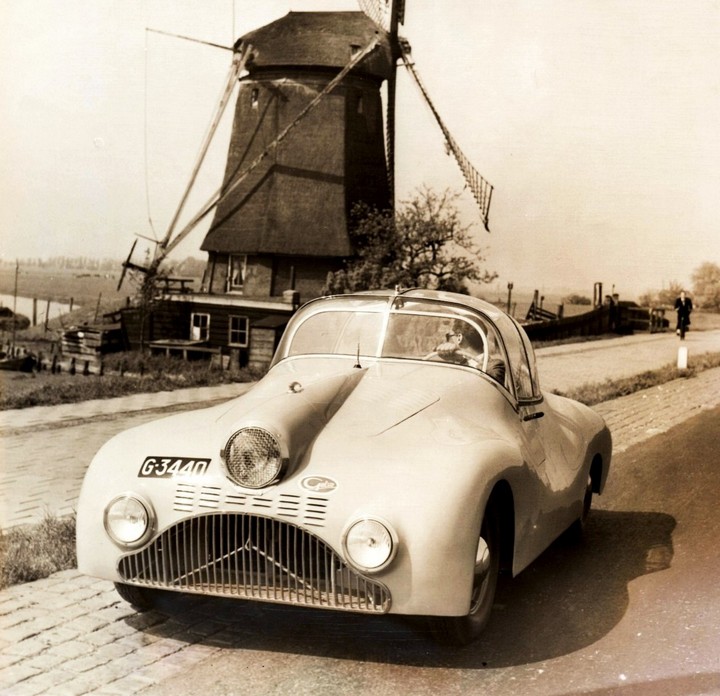 Welcome to the Sunday Edition of the Hooniverse Weekend of Discovery II. This time, I thought I would introduce you to Holland's First Post-War Car, the 1948 Gatso 4000 Sports Roadster. According to Alden Jewell's Flickr Photostream, the Gatso was "a streamlined roadster with plastic top, it was claimed to be capable of 105 miles per hour with its 4 liter Ford V-8 engine". Make the jump to read more…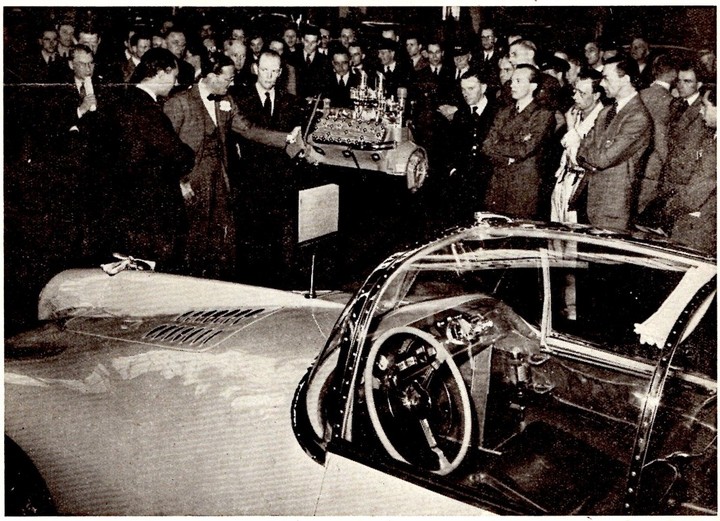 GATSO 4000 SPORTS ROADSTER, manufactured or sold in 1948, version for Europe with 2-door roadster body type, RWD (rear-wheel drive) and manual 3-speed gearbox. Petrol (gasoline) engine of 3923 cm3 / 239.4 cui displacement with advertised power 89.5 kW / 120 hp / 122 PS ( SAE ) / 4000 and 250 Nm / 184 lb-ft / 2000 of torque. Dimensions: this model outside length is 4350 mm / 171.3 in, it's 1700 mm / 66.9 in wide and has wheelbase of 2750 mm / 108.3 in. The value of a drag coefficient, estimated by a-c, is Cd = 0.55. Performance: top speed 159 km/h (99 mph) (theoretical); accelerations 0-60 mph 11.9 s; 0- 100 km/h 12.7 s (a-c simulation); 1/4 mile drag time (402 m) 18.4 s (a-c simulation). Fuel consumption and mileage: official: , average estimated by a-c: 17 l/100km / 16.7 mpg (imp.) / 13.9 mpg (U.S.) / 5.9 km/l, average estimated combined driving range of this car is 532 km / 330 miles.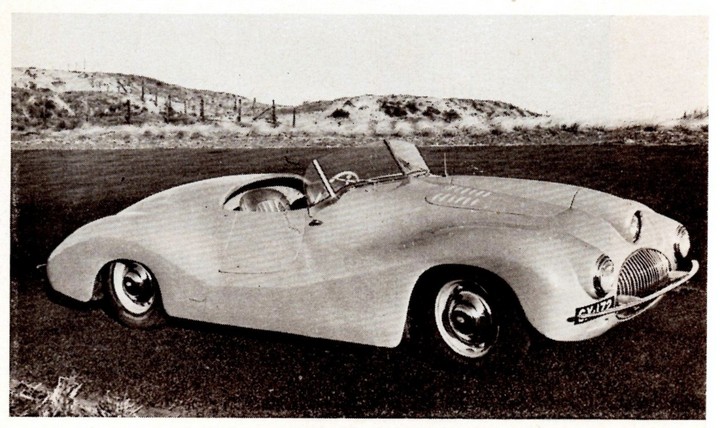 An interesting thing about the body; It is welded as a single piece, with the exception of the doors and the hood. The third headlamp doubles as a fairing to conceal the dual carburetors, which would have otherwise been exposed because of such a low hood. So what do you think of this relatively unknown Dutch Sports Car?

_________________
We don't care the People Says , Rock 'n' roll is here to stay - Danny & the Juniors - 1958
Gatso 1948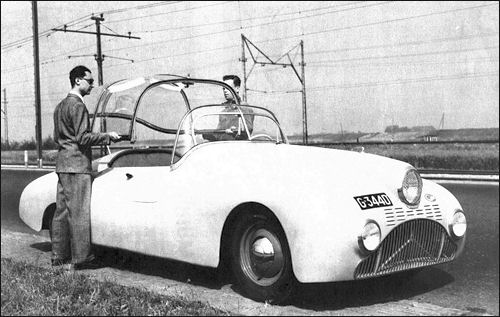 This Dutch brand was created by an engineer aerospace, Maurice Gatsonides, born on 14 February 1911. In 1939 he addressed Schutter & Bakel beater to achieve a car on the chassis of the Ford Mercury first imported in the Netherlands. Maurice Gatsonides participated has some competitions with this surnomée "Kwik" car. The second world war the amene has transforming power of different vehicles engines. In 1946, is a Ford V8 Roadster chassis that is used for the achievement of the single constructed Gatford instance. FoMoCo (Ford Motor Company) sees a bad eye the resemblance between Gatford and Matford brands. The company is then renamed Gatso. In March 1948, Gatso presents for the first time the Aero-Coupé 4000 at Geneva. For the anecdote is a Matford chassis that is chosen! Aviation experience of Mr. Gatsonides is used to achieve at Fokker (aircraft manufacturer) particular very roof. This model was also presented at the first exhibition of war after Amsterdam. 200 commands from the USA have been saved but a single car was built. Always in 1948, 4 other Gatso 4000 (2 Roadster and 2 Coupé) leave Heemstede workshops. In 1949, Gatso unveils a 4000 2 + 2 Coupé (1 single copy constructed) version and a vehicle sent a competition called "Platje", carried out on a Fiat chassis and powered by a 6 cylinder 1, 5 l. The Gatso last, a luxury 4000 carrossée at Boonakker is manufactured in 1950. Maurice Gatsonides will therefore constructs only a dozen of cars.
http://www.classiccarcatalogue.com/GATSO%201948.html

_________________
We don't care the People Says , Rock 'n' roll is here to stay - Danny & the Juniors - 1958
The forerunner of the postwar Gatford and Gatso sports cars was built in 1938 and called Kwik (Mercury). Two-seater, with luxurious red Connolly leather interior. Detachable fabric top. Bodywork custom-built to Maurice Gatsonides' requirements by Schutter & Van Bakel, Amsterdam*.
Built on the first Ford Mercury chassis imported into Holland, and therefore featured the enlarged, 3.9 litre 95 b.h.p. V8 engine fitted with high-compression aluminium cylinderheads and two double barrel carburettors.
The engine was exclusive to the Mercury line, rather than the regular 3.6 litre 85 b.h.p. Ford V8. With only the "Kwik" (the Dutch word for "mercury") legend on the body being visible here it is the typical Ford-pattern road wheels which give a clue to the car's mechanical specification.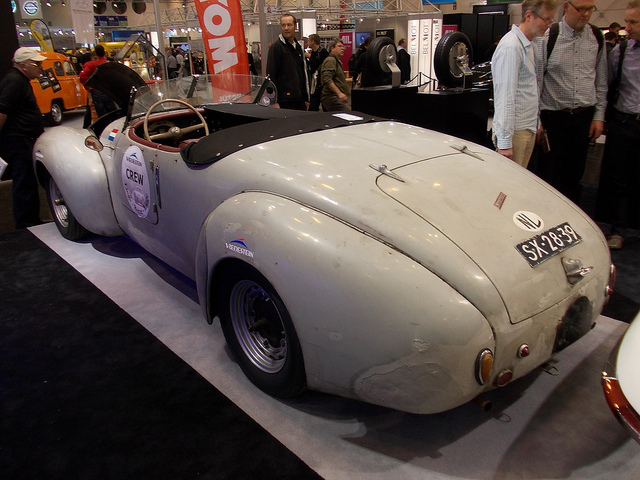 Making its debut in the Prize of Zandvoort 1939 with number 38, a cylinderhead-gasket problem and engine damage from the resultant overheating caused Gatsonides to pull out of the race before the end. Contested the Liège-Rome- Liège Rally in 1939 with number 28. Team : Maurice Gatsonides - Lex Beels. Finished in 14th place.
Early 1940 Kwik collided with a truck and a streetcar in the Dutch village of Lisse. Repaired, it was sold soon afterwards, and has subsequently disappeared.At the end of 2003 Tom Gatsonides, the son of Maurice, became the new proud owner of "Kwik". The car was a present from the staff of Gatsometer BV the company Maurice started in the late 50's.
Gatford (Gatsonides-Ford), Year: 1946, Built: 1 piece
Built on the chassis of the Ford V8 Roadster in which Maurice Gatsonides and Klaas Barendregt had completed the 1938 Liège-Rome- Liège Rally in 2nd position overall and winner of the unmodified category. The chassis was suitably modified to reduce height.
The standard Roadster's 3.6 litre V8 S.V. engine was retained at first, but replaced by the larger Ford Mercury 4 litre V8 soon after completion. The same type used in subsequent Gatsonides-built cars. For the Gatford the Mercury engine's power output was raised from the normal 95 b.h.p. to a figure of 124. This was achieved principally by using a pair of American tuning expert Eddy Edmunds' dual carburettors manifold and ribbed aluminium cylinder heads. Of more efficient design, these raised the compression ratio from the normal 6.8 : 1 to 7.5 : 1.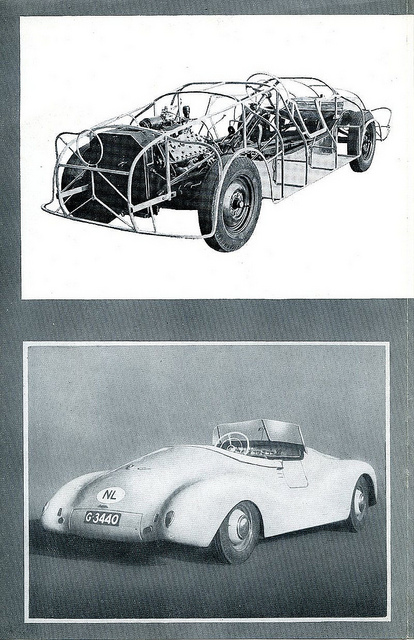 Transmitting the power to the rear wheels was the old Ford Roadster's normal three-speed gearbox and a Columbia two-speed rear-axle assembly. Thus, the Gatford had the benefit of six forward speeds. Overall the Gatford could be considered as a Gatso modified Ford.
Perhaps the most striking feature however was the third head-light placed centrally above the radiator grille. This had come about due to the need for an extremely low bonnet line at the front of the car, whilst further back needing to clear the carburettors mounted in the V of the V8 engine.
Finished in second place overall on the first postwar staging of the Alpine Rally, July 1946. Team : Maurice Gatsonides - Henk Blijdenstein.
Finished in third place in the Lisbon Rally 1947. Team : Maurice Gatsonides - Theo van Ellinkhuizen.
Finished first on the first, postwar, Dutch sportscar race at the Leeuwarden air force base, July 1947. Driver : Maurice Gatsonides.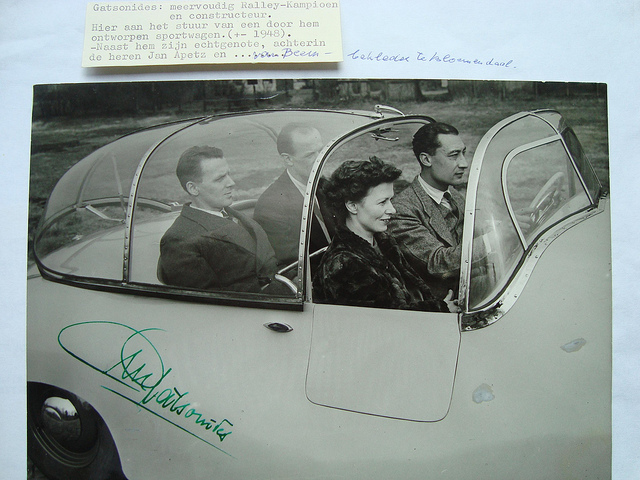 This car was the only one to carry the "Gatford" name script, as the Ford Motor Company felt it sounded too much like "Matford" (the abbreviation of Mathis-Ford), which was Ford's brandname in France. Consequently the remainder of the Heemstede-produced cars bore the name "Gatso" which was of course every bit as appropriate, although, ironically, those later cars were actually built on genuine but lowered Matford "13" (Ford France) chassis with 4" shorter wheelbase than the American one.
Gatso 4000 Aero Coupé, Year: 1948, Built: 1 piece
Built on the Matford "13" chassis, lowered by five inches. 2+2 seater. A tuned 4 litre Mercury V8 engine providing the power. The general styling echoed the original Gatford, but additionally the Aero Coupé featured a sliding clear-plastic canopy reminiscent of a fighter aeroplane and in fact manufactured for Gatsonides by the Fokker aircraft company.

_________________
We don't care the People Says , Rock 'n' roll is here to stay - Danny & the Juniors - 1958
Introduced at the Geneva "Salon de l'Auto" in march 1948 and also showed at Holland's own first postwar RAI Motor Show in Amsterdam. From the United States came orders for no less than 200 cars. But this was impossible for Gatsonides, who hadn't really even the financial means with which to continue his business at its modest level.
Gatso 4000 Roadster, Year: 1948, Built: 2 pieces
Open two-seater, using the similar chassis and mechanical components as the Aero Coupé (Matford "13" chassis, Mercury V8). A detachable cloth top with side screens was provided for weather protection.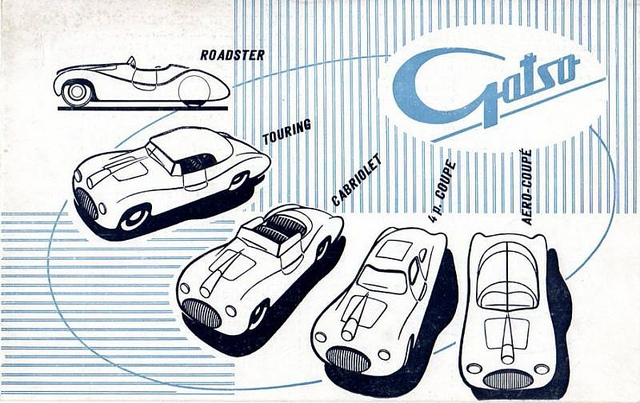 1 sold (detail : righthand-side steering wheel) to Félix Endrich of Switzerland, Olympic champion two-men bobsleigh, 1948 Sankt Moritz. With this car Endrich became Switzerland's mountain-climb champion. Later in 1948 he was killed in a bob-sleigh accident.
What happened to the car? 1 sold to Dutchman Aad Tops who emigrated to South-Africa. Tops drove this car to victory in the Lorenzo Marquez Rally. Last known owner (1990) : a doctor in Graaf-Reinet, South-Africa.
Gatso 4000 Coupé, Year: 1948, Built: 2 pieces
Fixed-head coupé, using the similar chassis and mechanical components as the Aero Coupé (Matford "13" chassis, Mercury V8). Almost identical to the previous Roadsters. Fixed steel hardtops however rather than the removable cloth tops of the earlier twoseaters resulted in these being closed Coupés.
Of these one was for Dr. Roberts, a doctor in Sneek (Friesland), whilst the other car belonged to a Mrs. Jochems, a well-known personality in The Hague's high society. Dr Roberts sold his car.
Gatso 4000 2+2 Coupé, Year: 1949 ?, Built: 1 piece ?
A low-built 2+2 fixed-head coupé, using the similar chassis and mechanical components as the Aero Coupé (Matford "13" chassis, Mercury V8). This car was nicknamed "Molehill" due to the curvature of the protruding top, was intended to win the tough 1950 Liège-Rome-Liège rally. Co-driver : Ginet Trasenster (Belgium).
Type: Platje, Year: 1949, Built: 1 piece
Fiat 1500 chassis (shortened), Fiat 1.5 litre six-cylinder in-line OHV engine, Dubonnet independent front suspension, finned alloy brake drums. This car didn't require the bonnet bulge of the Ford based Gatso's, and so the central lamp was omited. The car was nicknamed "Platje" = "Flatty".
Leading at the National Sportscar Races held at Zandvoort in 1950, a rear wheelrim centre gave away, putting the car and its driver/constructor out of the race.
Flatty was equipped with ultra-lightweight wheels specially made in France, which aided the performance of the car whilst also providing better brake cooling. Unfortunately, the one on the left rear failed to stand up to the high cornering forces generated on the Zandvoort circuit.
Gatso 4000 Luxe, Year: 1950, Built: 1 piece
The last and most luxurious Gatso. Built for a Dr. Polano, a well known personality in the The Hague society scene, and was specially designed according to the doctor's wishes. On a modified and longer Ford Mercury chassis and running gear, and with a normal Mercury V8 engine this car was however of more conventional height, being built as a luxury six-seat convertible with a fully-retractable electrically operated soft top.
The bodywork in this case was being manufactured by the coachbuilders Boonakker.
When bankruptcy was declared, Dr Polano reached an independent agreement, so enabling the car's completion.

_________________
We don't care the People Says , Rock 'n' roll is here to stay - Danny & the Juniors - 1958

_________________
We don't care the People Says , Rock 'n' roll is here to stay - Danny & the Juniors - 1958
Sujets similaires
---
Permission de ce forum:
Vous
ne pouvez pas
répondre aux sujets dans ce forum