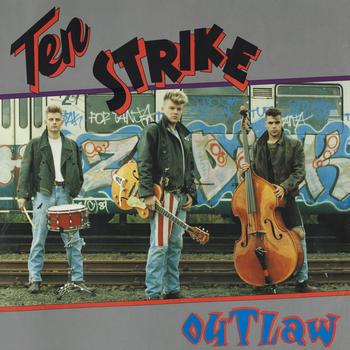 The Ten Strike est un trio de néo rockabilly allemand  formé par Hennes Insane à la contrebasse, Dr jay chant et guitare et Yves Dévil à la batterie. L'histoire de ce trio commence fin 1988 avec des concerts au côtés des Scamps (France) et Keytones (Grande Bretagne).Le label Tombstone records convaincu par les prestations scéniques du groupe leur propose d'enregistrer un album en Juillet 1989 du nom de
Outlaw
. Ils font ensuite des tournées en Europe au côté de Ronnie Dawson, Guana Batz, Boz and the Bozman, ils obtiennent la consécration lors de leur participation à la tournée 1990 des Stray Cats.
Je vais ici détaillé l'album
Outlaw
réalisé pour Tombstone records (TOMB-DISC 68) qui contient 13 compositions originales comme
No more reason to cry
qui est un néo rockabilly sauvage qui donne envie de bopper avec un trés bon solo de guitare et un rfrain rentre dedans se rapprochant du teddy boy rockabilly, 
Long legs
est un rockabilly rapide au style classique également trés réussi,
Under vultures
est un néo rockabilly à la mélodie trés réussie a deux partie distincte dont l'instrumentation ne pourra que ravir l'amateur de contrebasse slappée
,  Wide open land
ce titre est un médium country rockabilly,
That's right
est un néo rockabilly bien speed à la mélodie moderne,
  Country playin' women
est un country rock avec de beaux breaks de contrebasse,
Outlaw man
est un néo rockabilly trés moderne frisant avec le psychobilly avec guitare saturée efficace mais avec une mélodie plutôt rock que rock n'roll j'ai pas trop accroché avec ce titre,
Bound to die
est un néo rockabilly lent dont la mélodie et le chant sont assez proche de certaines formations psychobilly de l'époque on peut noter la qualité de la partie solo,      
She ain't no good
est un titre de rockin' blues à sonorités rockabilly bien plus interressant que les deux précédent et qui n'est pas sans rappeller le futur style de groupe comme The Hot Boogie Chillum , 
Wheels of steel
est un rockabilly country plus accoustique à deux voix trés réussi 
,  Don't look now
est un rockabilly classique qui  à mon goût est le plus réussi de l'album, 
Merc 13
est un rock n'roll inspiré par les Stray Cats et
So many times
un médium rockabilly au banjo avec une mélodie moderne.   . 
En résumé un album au son moderne mais aux mélodies recherchées qui est plutôt à conseiller à un amateur de néo rockabilly ou de psychobilly que de sonorités authentiques.    
http://www.tenstrike.de/

_________________
We don't care the People Says , Rock 'n' roll is here to stay - Danny & the Juniors - 1958

_________________
We don't care the People Says , Rock 'n' roll is here to stay - Danny & the Juniors - 1958

_________________
We don't care the People Says , Rock 'n' roll is here to stay - Danny & the Juniors - 1958

_________________
We don't care the People Says , Rock 'n' roll is here to stay - Danny & the Juniors - 1958

_________________
We don't care the People Says , Rock 'n' roll is here to stay - Danny & the Juniors - 1958
---
Permission de ce forum:
Vous
ne pouvez pas
répondre aux sujets dans ce forum