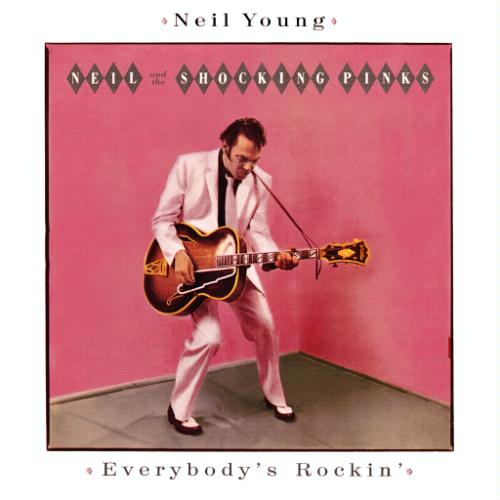 Neil Young est un chanteur guitariste de folk rock et country canadien originaire de Toronto. Il commence avec la formation folk rock Buffalo Springfield entre 1966 et 1968 au côté de Steven Stills, Richie Furay, Dewey Martin et Bruce Palmer.
En 1968 parait son premier album solo
Neil Young
, suivi de deux autres
Everybody Knows This Is Nowhere,
puis
After the Gold Rush
en 1970 ou il est accompagné des Crazy Horse soit Danny Whitten, Ralph Molina et Billy Talbot. C'est en 1972 qu'il obtient son plus gros succés avec son album
Harvest
ou il est accompagné par des musiciens de Nashville The Stray Gators. Aprés une série d'album plutôt sombreet pessimiste jusqu'en 1974, il sort ensuite des albums plus acoustiques jusqu'au début des années 1980's. Il quitte reprise et retrouve sa liberté artistique et c'est durant cette pèriode en plein revival rockabilly qu'il sort en 1983 l'album qui nous intéresse
Everybody's rockin'
sur Geffen records (LC 7266). Ce lp est un album de Rock rock'n'roll et rockabilly au style, à la production vraiment unique et originale. Il est accompagné lors des sessions aux Fantasy Studios par Ben "king" Keith au sax alto et à la guitare solo, Tim Drummond à la contrebasse, Larry Byrom au piano et Anthony Crawford et Rick Palombi aux choeurs. Nous trouvons quelques covers complétement remanié avec talent
Bright light, Big city
du Bluesman Jimmy Reed,
Mystery train
de Junior Parker popularisé par Elvis Presley chez Sun,
Betty lou's got a new pair shoes
de Bobby Freeman, et
Rainin' in my heart
de Buddy Holly. Au niveau des compositions nous trouvons
Payola blues
un rock rock'n'roll rapide avec  vocaux type Jordanaires et sonorités blues,
Wonderin'
est un medium rock dans le style des rock avec vocaux doo wop qui apparaissent vers 1958,
Kinda fonda wanda
est un magnifique rock rapide dans le style des morceaux de Little Richard chez Speciality  sans le côté sauvage
Jerryroll man
est un rock rock'n'roll dans l'esprit des meilleurs rockers noirs des fifties,
Cry cry cry
est un hommage au niveau musical et stylistique aux meilleurs titres d'Elvis Presley et
Everybody's rockin'
un autre rock rock'n'roll rapide. 
Un disque que J'adore et qui est  souvent plus connu par les fans de Neil Young que les fans de Rock rock'n'roll, il mérite pourtant largement sa place dans toute sérieuse discothèque de rock'n'roll.

_________________
We don't care the People Says , Rock 'n' roll is here to stay - Danny & the Juniors - 1958

_________________
We don't care the People Says , Rock 'n' roll is here to stay - Danny & the Juniors - 1958

_________________
We don't care the People Says , Rock 'n' roll is here to stay - Danny & the Juniors - 1958

_________________
We don't care the People Says , Rock 'n' roll is here to stay - Danny & the Juniors - 1958

_________________
We don't care the People Says , Rock 'n' roll is here to stay - Danny & the Juniors - 1958

_________________
We don't care the People Says , Rock 'n' roll is here to stay - Danny & the Juniors - 1958

_________________
We don't care the People Says , Rock 'n' roll is here to stay - Danny & the Juniors - 1958

_________________
We don't care the People Says , Rock 'n' roll is here to stay - Danny & the Juniors - 1958
---
Permission de ce forum:
Vous
ne pouvez pas
répondre aux sujets dans ce forum