Rockin' Lord Lee and the Outlaws est u  ne formation de Grande Bretagne qui se fera une grosse réputation dans le monde du rock n'roll durant la seconde moitier des années 1980's, Ils se font dans un premier temps remarquer lorsqu'ils font la première partie des Blue caps (le groupe de Gene Vincent) à Brean en Mai 1987.  Ils tourneront ensuite avec d'autres légendes des fifties comme Carl Perkins, Wanda Jackson, Sleepy La Beef et Gene Simmons.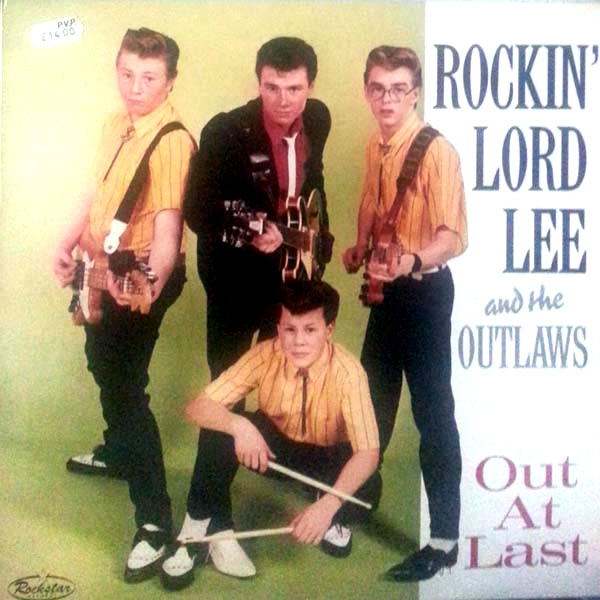 En Octobre 1987 Rockstar records leur fait enregistrer sous la direction de Jim Sullivan (ancien membre des Wildcats de Marty Wilde au début des sixties) dans les studios Sonoptic de Billinghurst le lp 33 tours
Out at Last
Rockstar RSR-lp 1018. Ce dernier est composé exclusivement de reprises si ce n'est l'excellent instrumental
Lord Lee's guitar boogie
et le splendide rock
Susannah
, Le jeune age des membres du groupe à l'époque (entre 14 et 18 ans) nous permet de découvrir une interprétation pleine de fraicheur et d'authenticité de titres classiques des fifties comme
Dance in the Street
(Gene Vincent),
Your true love
(Carl Perkins),
Sweet little sixteen
(Chuck Berry),
Blue moon of kentucky
(Bill Monroe, Elvis),
Teenage boogie
(Web pierce),
Yes tonight josephine
(Johnny Ray),
Lotta lovin'
(Gene vincent),
Donna
(Ritchie Valens),
Pink and black
(Sonny Fisher),
Matchbox
(Carl Perkins),
Diggin' the boogie
(Roy Hall),
Flyin' saucers rock n'roll
(Billy Lee riley),
Honey don't
(Carl Perkins)et
Alabama shake
(Gene Summers).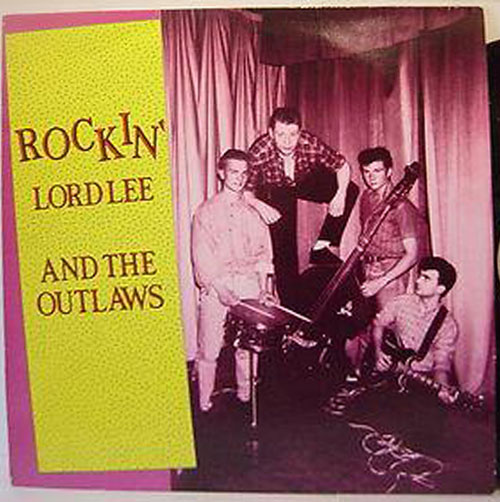 Comme on peut le remarquer  ils passent avec brio du Rockabilly au Rock n'roll de la ballade au morceaux plus wild, ce qui fait au final un album particulièrement agréable à écouter.
Susannah
une des deux compos du groupe est une véritable réussite qui aurait sans aucun doute pu devenir un tube si il y a avait eut ne serait ce qu'une petite promotion, et la reprise de
Yes tonight Josephine
est tellement rock et personnelle qu'il devient une troisième composition du groupe. On peut noter aussi que Rockstar sortira un single contenant les deux compos du groupe. Le groupe se compose alors de Matthew Chennells à la batterie (15 ans), Doug Loveridge au Chant et à la guitare rythmique qui sera le compositeur de
Susannah
(18 ans),  Mark loveridge à la basse (14 ans) et Julian Pugh à la guitare solo (15 ans).
Rockhouse sort en 1989 un second et dernier Lp 33 tours (lpl 8902) du groupe ou nous retrouvons Doug et Mark Loveridge respectivement au chant et à la contrebasse, mais Danny Haines à la batterie et Dave Latham à la guitare solo. Ce second album nous permet de réentendre le splendide rock
Susannah
,  mais aussi d'autres très bonnes compositions comme
Get it on, Let the good time roll, Rattlin' shakin daddy, Movin' movin'
on et
Be mine
.
On peut aussi citer les reprises
Baby blue
(Gene Vincent),
Teenage Cutie
(Eddie Cochran),
Suntan tatoo
(The Valiants),
Long blond hair
(Johnny Powers), 
Blues stay away for me
(Johnny burnette & r n'roll trio ),
Tennesse rock n'roll
(Bobby Helms), Dan
ce to the bop
(Gene vincent ) et
I'm ready
(Eddie Cochran).

_________________
We don't care the People Says , Rock 'n' roll is here to stay - Danny & the Juniors - 1958

_________________
We don't care the People Says , Rock 'n' roll is here to stay - Danny & the Juniors - 1958

_________________
We don't care the People Says , Rock 'n' roll is here to stay - Danny & the Juniors - 1958

_________________
We don't care the People Says , Rock 'n' roll is here to stay - Danny & the Juniors - 1958

_________________
We don't care the People Says , Rock 'n' roll is here to stay - Danny & the Juniors - 1958
---
Permission de ce forum:
Vous
ne pouvez pas
répondre aux sujets dans ce forum