Dernière édition par Predicta le Ven 1 Mai - 7:38, édité 2 fois

_________________
We don't care the People Says , Rock 'n' roll is here to stay - Danny & the Juniors - 1958

_________________
We don't care the People Says , Rock 'n' roll is here to stay - Danny & the Juniors - 1958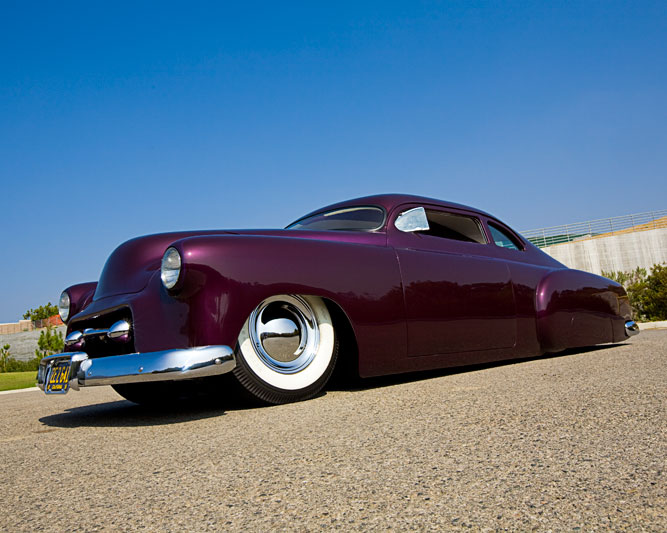 I'm a firm believer that you're a product of your environment. Growing up, learning, and deciphering the street-code is truly part of the hot rodding spirit. Born and raised in Los Angeles, California, I've had the opportunity to chop it up with a truly eclectic band of folks from all different walks of life. Be it old, young, rich, poor…arrogant or stuck up, I've met them all. In this game, it's all about street smarts and the hot rodders have it, no doubt.
As a student to the street it becomes your teacher. Although, I doubt anyone truly becomes a Scholar of them. There's always something new to learn, something new to develop. It's almost never ending. It's no wonder growing up, I found myself hanging out at local speed shops, elbow-deep in grease. It's probably the reason I got into cars and hot rodding to begin with.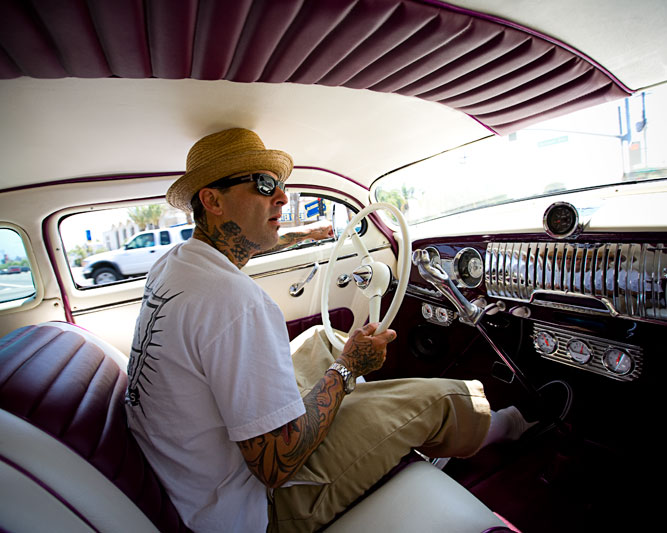 Hot rodding is more than just driving a fresh whip. It's style, too. Unfortunately, there's no book to refer to. You just suck it up, and spin the wheel; hope for the best. The great thing about hot rodding? It's completely what you make of it. Los Angeles is rich with custom builders who don't own a ton of the newest equipment, nor do they excel in any one trade. Most builds, albeit unseen or featured, come from the hands of builders in their own garages.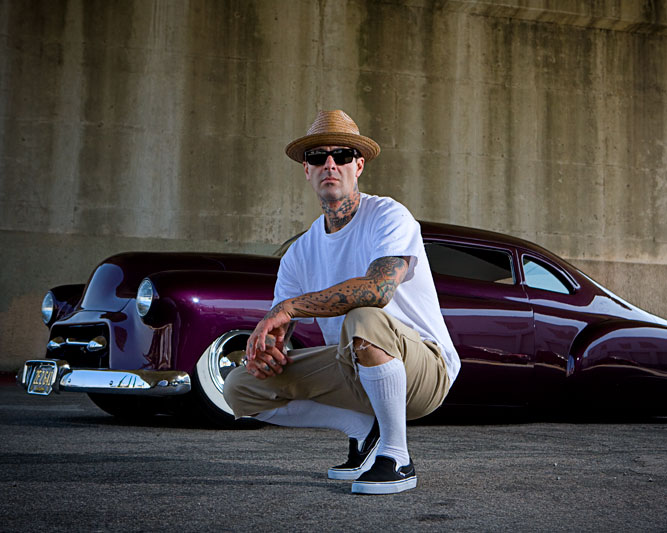 _________________
We don't care the People Says , Rock 'n' roll is here to stay - Danny & the Juniors - 1958
Two staples of Southern California are its top notch custom car scene and its abundance of sun-drenched females with golden hair. So what better way to showcase one of SoCal's most recognizable custom Chevys, Ian Berky's Minor Threat, than with quintessential SoCal Beauty Tara Studinger.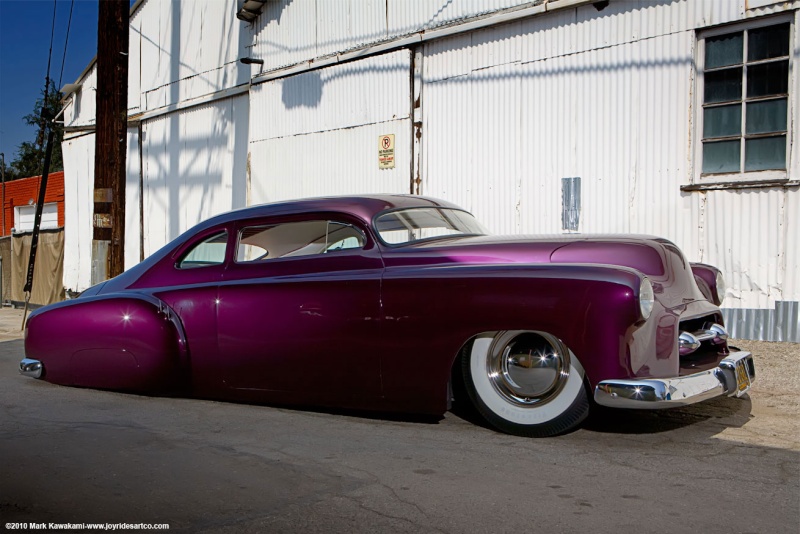 With several famous early 50′s Chevys produced in SoCal where the culture's roots spawned, owner/builder Ian Berky has managed to redefine what was possible and raise the bar for any post-war era Chevys that follow. Even more impressive, this was Ian's first crack at it! Imagine what any future builds may have in store…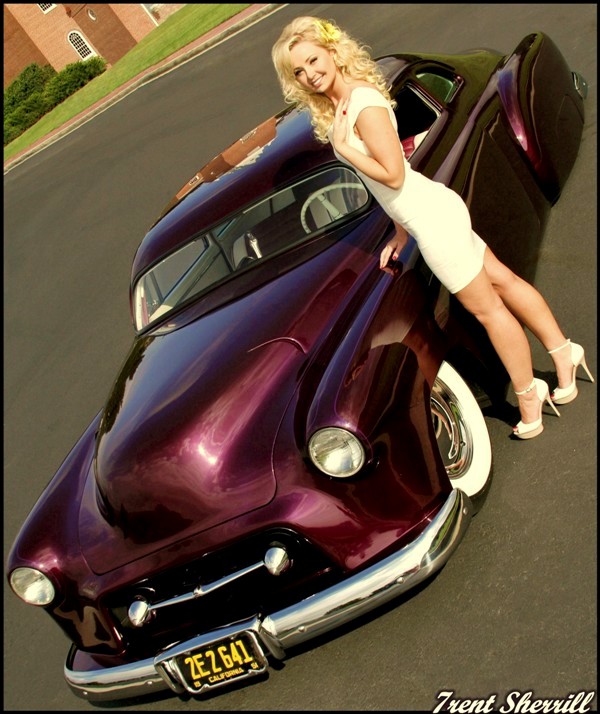 The Chevy was a Christmas gift from Ian's wife, proof that yes, there are still good ones out there to help fill the garage, not complain about whats in it. When she bought the car the roof had already been chopped, but Ian would soon learn the chop was a hack job and the work that lay ahead would have caused most to throw in the towel. Eventually coming to the realization the top just was not replaceable, Ian tracked down a few parts cars in Whittier and bought a complete '49 Chevy top to replace the mangled iron on his '51.
With no shortage of metal work on his hands to put a new twist on an old classic, Ian enrolled in a metal working class hosted by none other than custom car legend Gene Winfield. Not only would the knowledge prove vital on molding in the fenders, rounding the edges of the grill opening and fabricating a custom grille, but along the way he established a friendship with one of the culture's originators. Since this was a radical build plan in the making, Ian made sure all the traditional modifications had been addressed; shaved handles, nosed front, decked rear, and frenched headlights before he would send the car half way across the country for some beauty tips.
Eighteen months went by before the metal and bodywork was complete. Then Ian sent the rolling metal canvas to Premier Body & Paint in Arkansas City, Kansas. The plum color was mixed and shot by shop owner and Beatnik C.C. member Jeff Myers. If the name sounds familiar it's because Jeff's work has adorned some of the most award-winning customs of today. Look closely and you'll catch a glimpse of the subtle, purple metal flake scallops running the length of the top of the front fenders. Then, you'll truly recognize Jeff's talent .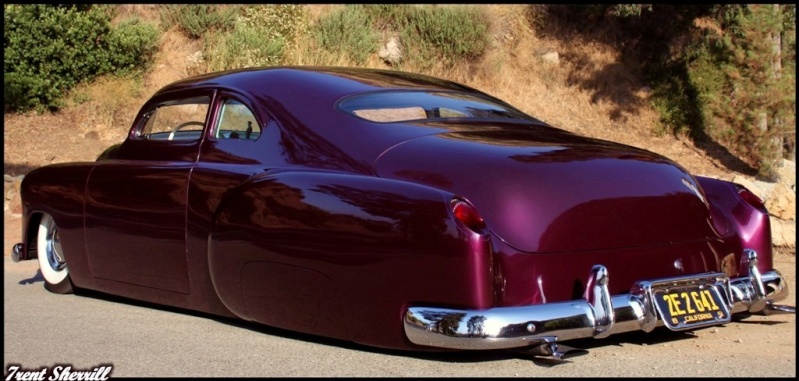 If you can take your eyes off Tara long enough… in the interior you'll notice white and paint matched tuck and roll across the front bench and custom rear bucket seats. The theme carries across the headliner as well with purple piping trimming the seats and roofline.
Under the hood a SBC dressed with finned valve covers, finned breather and chrome alternator keep the engine as aesthetically pleasing as the shapely exterior. Performance enhancements such as an Edelbrock intake manifold and 4bbl carb dismiss any misconceptions that the 51 may be all show and no go. No shortcuts were taken with this build so why start in the engine bay?

_________________
We don't care the People Says , Rock 'n' roll is here to stay - Danny & the Juniors - 1958
Since Ian's plans for the Chevy never called for long trips strapped to a trailer, the suspension was upgraded with a Mustang II kit up front and Gambino taildraggers for the rear. A shortened 9 inch Ford rearend offers additional reliability for cruises or road trips and the wide whites (at least what you can see of them) tuck nicely into the front fender wells and are completely hidden out back when the skirts are on and the Chevy's laid out.
Since building the '51, Ian's had no shortage of requests from friends and new customers to apply his touch to their rides. After taking one look at Ian's Chevy, can you blame them? I was fortunate enough to see Ian's '51 first hand at Texas' increasingly popular custom show the Lone Star Round Up back and April. It looked right at home next to several already famous customs from various Beatniks C.C. chapters; quite an accomplishment for a customizer that truly honed his skills during the build.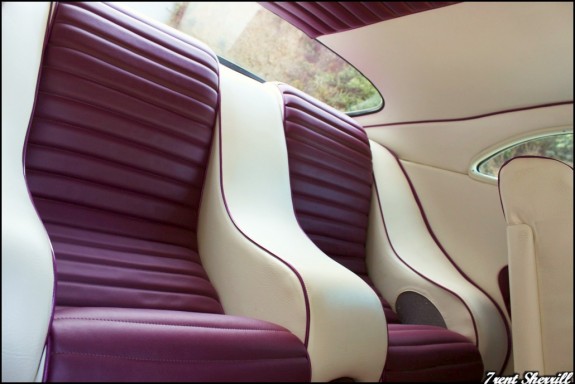 Ian hails from Burbank, a city most famous for its movie studio lots where some of today's most popular young stars can often be spotted. However, there's an older one running the streets of Burbank now, 60 years old to be exact, that's sure to steal the spotlight from any of them without ever saying a word.
Photos by
Trent Sherrill
Model Tara Studinger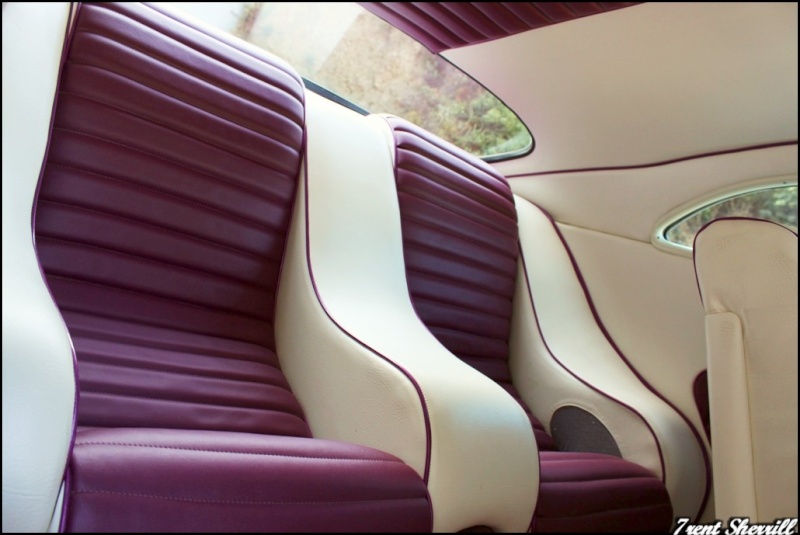 http://www.myrideisme.com/Blog/1951-chevy-custom/

_________________
We don't care the People Says , Rock 'n' roll is here to stay - Danny & the Juniors - 1958
---
Permission de ce forum:
Vous
ne pouvez pas
répondre aux sujets dans ce forum