Radical But Practical Revisited
The Decline And Renaissance Of Jay Everett'sPart 2
Last month we began the tale of Jay Everett's sports rod. For a recap, the car was unique by literal definition. Whereas a custom car is an existing vehicle modified to distinguish it from others, Jay's car was entirely a fabrication of his vision built from raw sheet and tubing and a few essential parts of existing vehicles. Even by the standards of the 1950s, considered by many the Golden Age of the custom car, it stood out.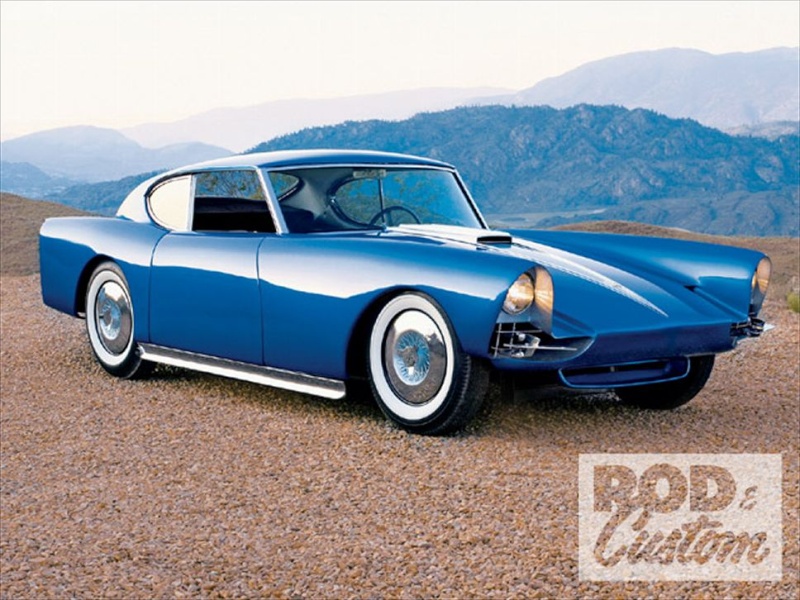 So too was the car's story unique. Upon its rebirth as the Astra Coupe in 1956, Jay's car enjoyed another few years in the limelight. Jay sold the car in the late 1950s, and while nobody recalls exactly when it happened, there's a good chance they parted ways in 1959, the year he founded Scale Design with partner Jerry Williamson (incidentally, Jerry said he met Jay at Fred Karo's shop, Fibercraft, the shop responsible for the body of Jim Lytle's Allison-powered Big Al, the first flopper-bodied dragster according to many).
This much we do know of the transaction: a guy named Dick Hoy bought the Astra Coupe. Though we can't find him, "Dick was another gearhead guy, part of the gang that hung around the shop...we did some shows together," George Barris remembered. He wrote in Barris Kustoms of the 1950s that Dick, "bought the car unfinished from Jay and we then finished the paint and interior." While the car did in fact acquire a "richly vibrant blue" finish according to a magazine article in Fawcett Publications' Hot Rod Ideas (1961), it's likely that all the Astra got at Barris' shop was paint. The interior that was in the Astra upon its restoration was the same as when Jay owned it and photos of the car in Jay's stewardship show the Astra as a completed car.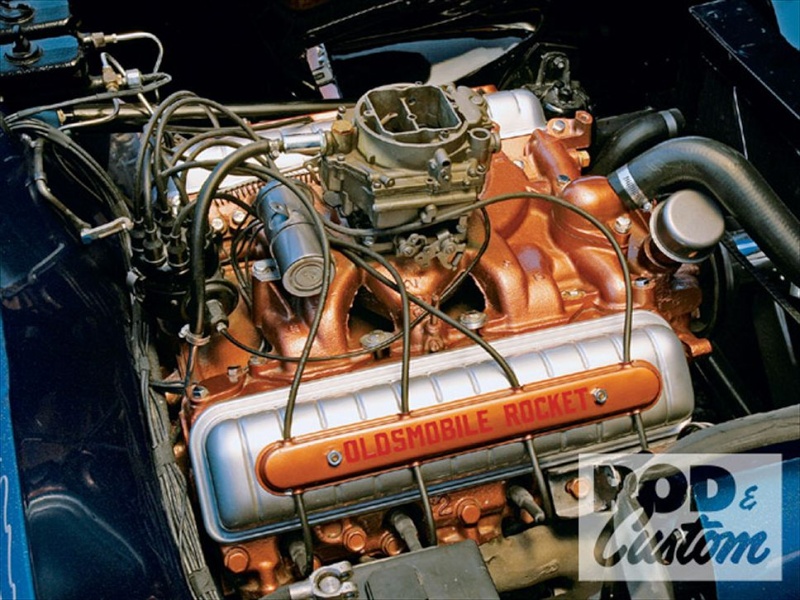 While we don't know exactly when Dick bought or sold the car, we know to whom he sold it: Johnny Morris. "Johnny was a machinist around the corner from us," Jim Gordon recalled. Jim's story is that he runs Antique Auto Parts, the wood-faced shop founded by Gene Scott (the righteous Ford guy, not the evangelist) in Rosemead, CA.
"He (Johnny) had a little yard on Rosemead in south El Monte. He moved all his cars in, and when they built up all around him there was no way to get the cars back out," Jim added, chuckling. "He had all kinds of interesting cars and a few people did seem to get some of the cars out of there, but it wasn't an easy job."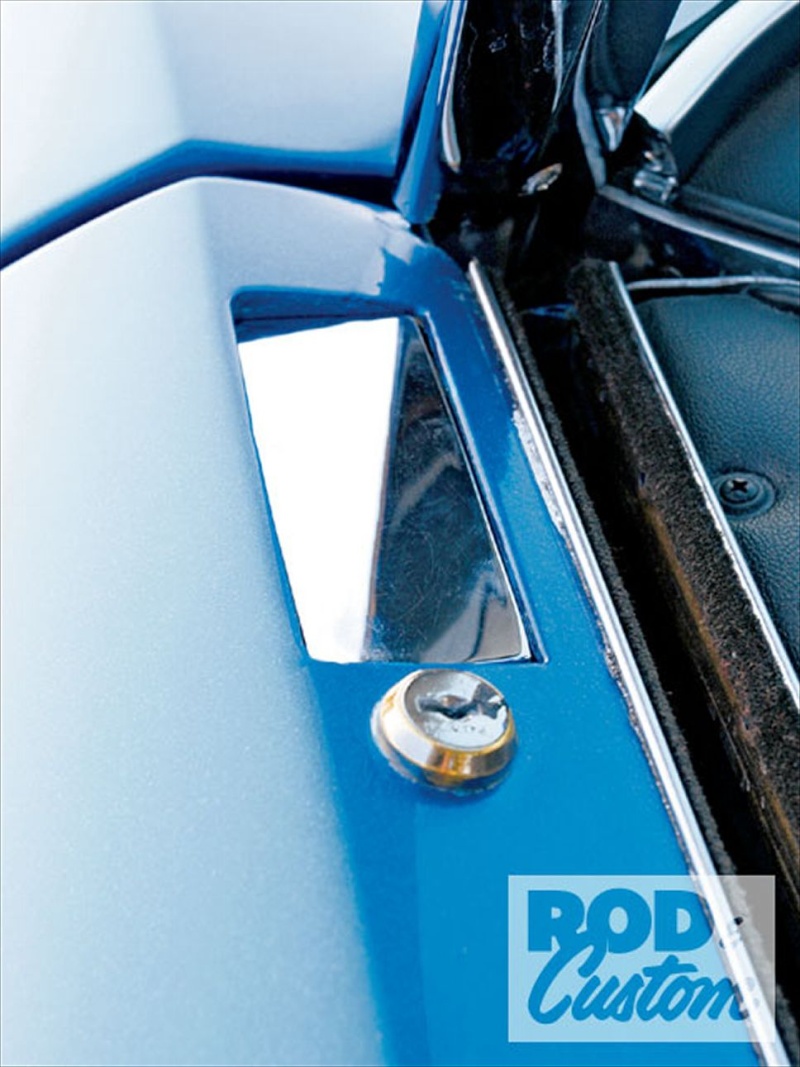 One of those who succeeded in wrangling cars from Johnny's boxed-in yard was Fred Torrisi, who bought the Astra in 1979. "He ran our wrecking yard in Irwindale for a while," Jim recalled. "That was Antique Auto Acres for want of a better name. He wanted someplace to store his cars, so Gene made a deal with him where he would run the yard so he could store his stuff." Ostensibly the Astra Coupe was one of them.
According to Brandy Torrisi, Fred's daughter, "It took my dad two weeks to dig the car out from under a collapsed carport." Actually, Brandy's being generous; the "carport" was more like a tin-topped lean-to. "There were weeds growing through the floor," she added. By the tags on the '63-to-69-era plates on the car when it surfaced, the Astra's last registration expired in 1969.
When Fred died in 1990, he left Brandy with several cars too many to manage. She eventually brought them up to her new home in the Pacific Northwest, but reluctantly decided to part ways with the Astra when storage bills started racking up. She sold the Astra to Spokane artist Jeff Allison in the summer of 2004. "It was heartbreaking" she admitted, "but financially it wasn't viable for me to restore it."
Though Jeff said he initially toyed with the idea of resurrecting the car in brushed-aluminum, he too admitted that the amount of work required to make the Astra roadworthy was far beyond his skills, much less his budget.

_________________
We don't care the People Says , Rock 'n' roll is here to stay - Danny & the Juniors - 1958
It was when Jeff had the Astra at Russ Freund's Spokane shop, Extreme Customs, that JF Launier first saw the car. "I wanted it, but I couldn't pay a lot of bucks," he admitted. Recalling that Barry Blomme, one of his customers at his Osoyoos, BC shop, JF Customs, was looking for an early Corvette, JF rolled the dice so to speak.
"So I said to Barry, 'do you really want a Corvette or do you want something more exciting?'" he started. "'I found this old custom, and I really like it; it's more futuristic than the 'Vette and it's ahead of its time,' I told him." One look, according to JF, and Barry was sold. Over the next few weeks, they worked up an arrangement whereupon Barry would buy the car and JF would restore it.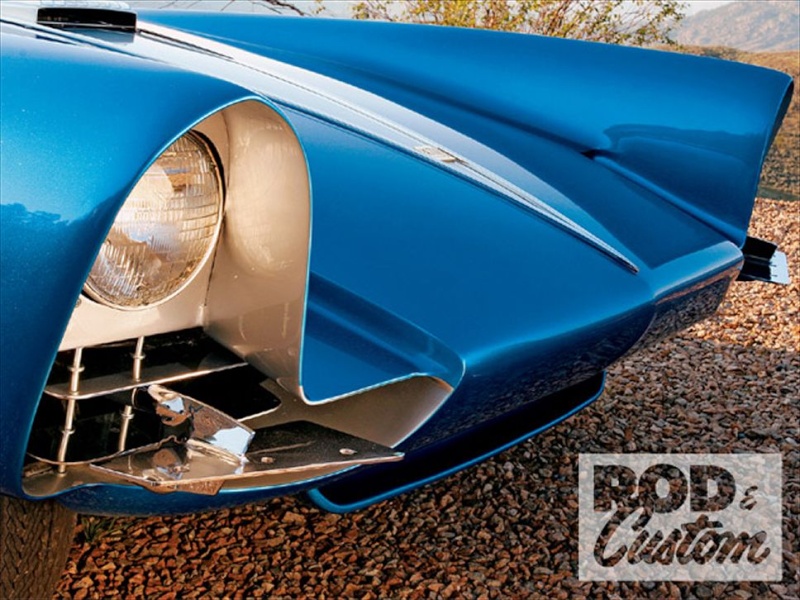 While the extent of damage that the Astra endured prevents us from giving a step-by-step account, we can say that the JF Kustoms crew, including Jerry Billups and Sean Calverly, stripped the car bare and restored it rotisserie-style.
The body is freaking amazing," JF observed. "It's built like an aircraft; the aluminum panels are [countersunk] and screwed or riveted to the steel. Some are bent over the steel. The doors are basically steel boxes that the aluminum skin is wrapped around. The quarter panels are aluminum skin that is screwed to the steel structure-the door opening. It's nothing we could take apart. It's like the panels were run through the English wheel, screwed in place, and then stitch-welded together. The hood is made of maybe 16 pieces of aluminum-seamless, gas-welded aluminum."
The Astra Coupe Hood Scoop Part of the car's restyle included a hood spear bordered by aluminum trim and a name, the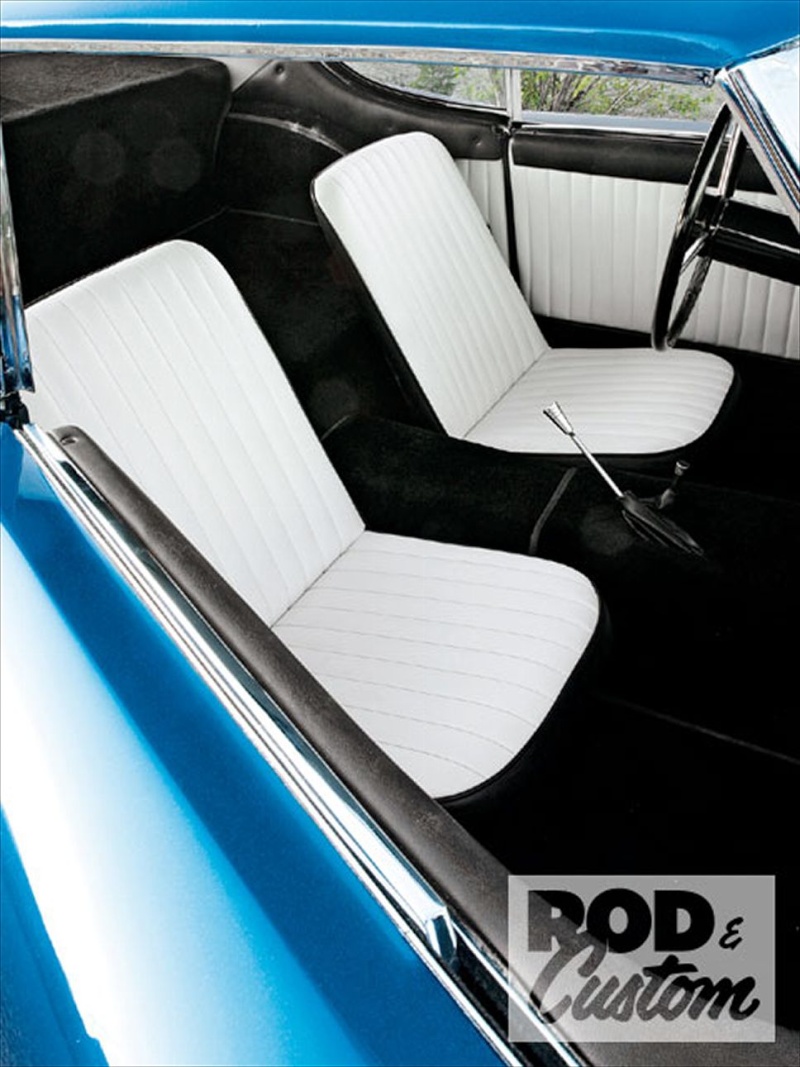 The things that made the Astra the masterpiece it is were intact, but components like the lacy steel floor panels required outright replacement. The aluminum skin was largely straight, but the passenger door had suffered a hard hit at one point in its life. Neglect, not wear, required that JF strip, repair, and refinish every part of the car. While obsolescence required JF to make some concessions (urethane paint mixed to resemble the car's last paint job in lieu of lacquer to reflect Jay's darker blue, for example), he said he tried to remain as faithful to the car's original construction as possible.
Most remarkably, the timeline to finish the car to a level of detail probably higher than it ever enjoyed was a mind-boggling 10 months. As though inspired by fate, his goal was the West Coast Customs' annual (and last) event in Paso Robles, California-the location where it crossed paths with its own history.
According to John Everett, Jay's brother, "My girlfriend [now his wife] and I were talking that day about what we were going to do." On a whim, they decided to drop by the show, "We had no idea the car was there," he admitted. "I'm really not a custom guy, but I rounded the corner and saw it."
Somewhat taken aback by this apparition, John called Jay's older daughter Kim Everett-Enriquez, who happens to live in nearby Cayucos. "I couldn't believe it," she said, reeling. "I just burst out, 'that's my dad's car!'"
The Astra Coupe Door Handle When Chevrolet introduced press-flap door handles on its Corvette in '68, Jay probably was
Without a doubt, Jay Everett's Astra is one of the underappreciated icons of its time. Whereas custom cars defined the era, the Astra was far beyond custom in the sense that it wasn't a manipulation of an existing design-or someone else's dream, as Ed Roth would say. It was, on the other hand, a unique expression of its owner, who merely used a few parts from production cars.
The Astra is also important for what it represents to the design world. Whether or not he sold it to start his business, Jay embarked upon a career as a prototype and model-maker for some of the most influential designers of the 20th Century. He made fiberglass World's Fair exhibits and furniture prototypes for Charles and Ray Eames and Polaroid camera bodies for Henry Dreyfuss and Associates. Next time you hoist a Michelob, toast Jay; he prototyped the iconic curvy bottle for designer Gerome Gould.
The car also represents Jay's earliest expressions as an advanced thinker. The IBM exhibit his shop created for the '64 World's Fair in New York employed animatronics reportedly more sophisticated than those in Disney's Lincoln Speaks, an exhibit that debuted at that same year and fair. It's only if you understand that Disney is considered the inventor of animatronics because of its display at that same World's Fair that you realize how advanced Jay really was.
Sadly, Jay Everett died in 1996, more than a decade before we rediscovered how innovative he really was. In a sense, that car that became the Astra was his first of a long and illustrious line of progressive designs
Read more:
http://www.rodandcustommagazine.com/featuredvehicles/0907rc_the_astra_coupe/

_________________
We don't care the People Says , Rock 'n' roll is here to stay - Danny & the Juniors - 1958

_________________
We don't care the People Says , Rock 'n' roll is here to stay - Danny & the Juniors - 1958
---
Permission de ce forum:
Vous
ne pouvez pas
répondre aux sujets dans ce forum