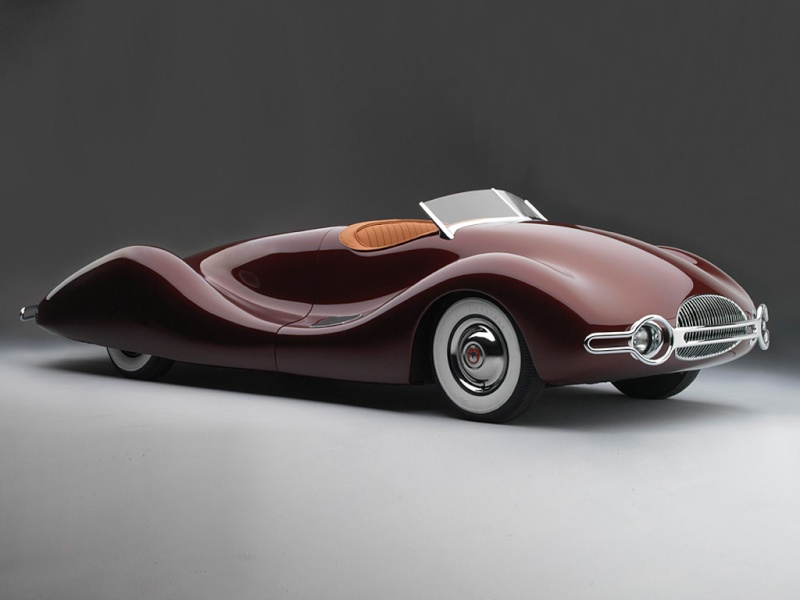 The Norman Timbs' Buick Special is a homebuilt Sport Custom built by Norman Timbs over a span of three years. Norman's streamlined custom was supposed to be a prototype for a limited series of cars reflecting advanced concepts in performance and aesthetics. Being an automotive engineer working with Preston Tucker on his Tucker Automobiles and on several Indy cars, Norman made comprehensive chassis drawings that led to 1/4 scale clay models of several body ideas. The models led to a wooden model incorporating the favored elements.[2] Norman handmade an aluminum body for the car by forming panels on the wooden pattern. The panels were then welded together.[3] The chassis was made of welded aircraft tubing. The car was 17 1/2 feet long with a 117 inch wheelbase, 56-inch thread, and a weight of 2 500 pounds. It was powered by a 1948 Buick Straight 8 engine located just behind the driver's seat. Steering, brakes and other equipment were standard Mercury.[3] The rear body on the car was hinged to raise hydraulically for access to the engine compartment, fuel tank and spare tire. The fuel tank was placed between the wheels. The front hood covered a luggage compartment. In the rear, taillights from a 1939 Ford were installed.[4] Without the windshield the car stood 39 inches tall. Total height with the windshield was 47 inches[3] Total cost of the build was $10,000 according to Mechanix Illustrated September 1949.[5] Once completed, Norman's Buick Special was featured on the cover of Motor Trend October 1949, the second issue of Motor Trend.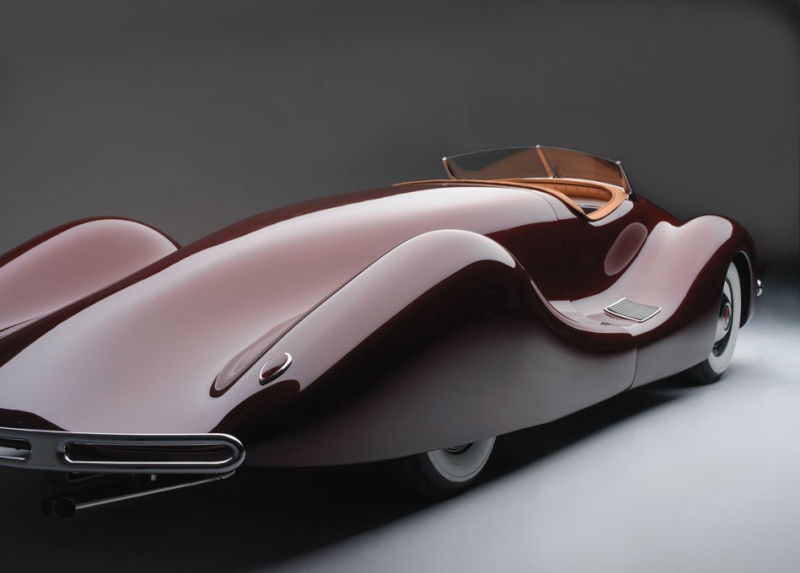 In 1954 the Norman's Buick Special was featured in Motor Life February 1954. By then the car had been painted white. it was currently owned by Air Force Officer Jim Davis of Manhattan Beach, California. The article stated that the car was the brain-child of former aircraft manufacturer Larry Timm. According to the story Larry designed and built the car over a three year period ending in 1948. Davis bought the car in 1952 and was, according to the story, the first person to have the car registered for road use.[6] Norman's Buick Special was featured in an episode of Buck Rogers.[7]
For several years the car was parked away in the hot California desert. In 2000 it was featured briefly in the Nicholas Cage movie Gone in 60 Seconds.[7] 2 years later, In 2002 it was auctioned away by Barret Jackson at the Petersen Museum Classic Car Auction. The sales price was $17,600.00 USD.[8] Collector Gary Cerveny was the lucky bidder. Gary began to restore the car himself, before he decided to hand it over to Custom Auto of Loveland, Colorado, and let them complete it. Before Gary handed the car over to Custom Auto he repaired the wheel wells, grille opening and drive train.[9] The car was about 90% original when Gary acquired the car. The body halves had been bolted together, and access holes had been cut in for the rear wheels and the engine bay.[10] In March of 2012 the restored version of the car made its debut at the Amelia Island Concours d'Elegance in Florida. At the show it won "The RM Auctions Trophy For the Best Open Car".[11] Later on in 2010 Norman Timbs' Buick Special was hand picked to be part of the prestigious Customs Then and Now exhibit at the 2011 Grand National Roadster Show in Pomona, California, an elite gathering of the most historically significant customs in the world. In August of 2012 the car will also be competing in the Pebble Beach Concours d'Elegance, the world's premier celebration of the automobile. In 1997 the Pebble Beach Hot Rod Class was started. The Hot Rod Class has been featuring roadsters, coupes and pre-war customs in the past. The 2012 Hot Rod Class will be dedicated to Sport Customs and one offs such as the Arthur Bentas' Raven, the 1950 Saturn, the 1947 Kurtis Omohundro, the Maverick sportster, the Coachcraft Special and Vince Gardner's 1947 Studebaker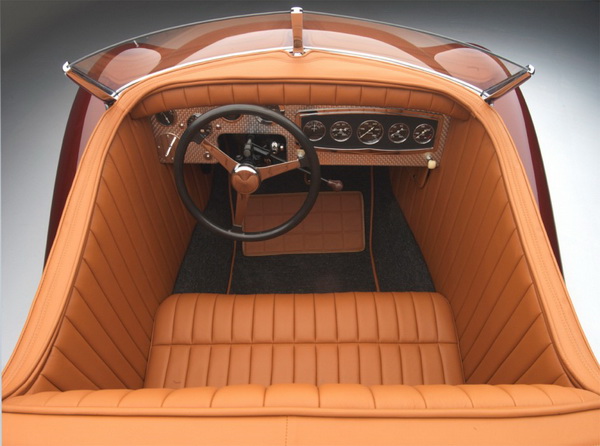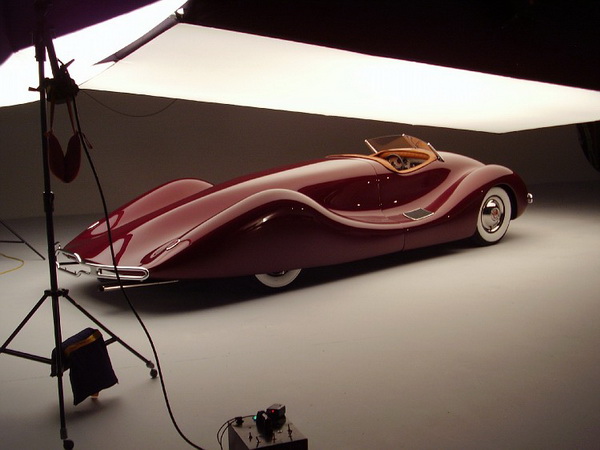 _________________
We don't care the People Says , Rock 'n' roll is here to stay - Danny & the Juniors - 1958
lien de référence:
http://www.kustomrama.com/index.php?title=Norman_Timbs%27_Buick_Special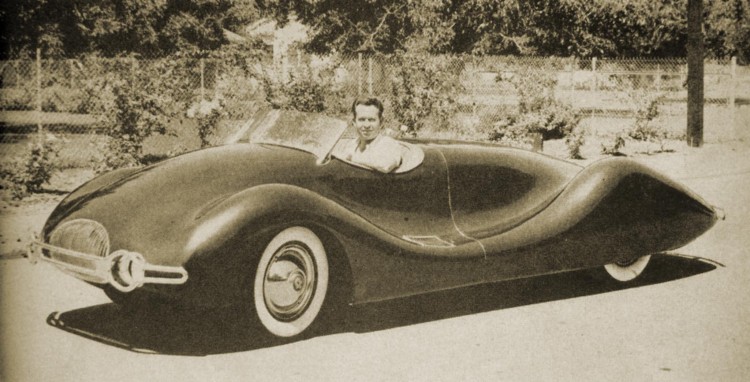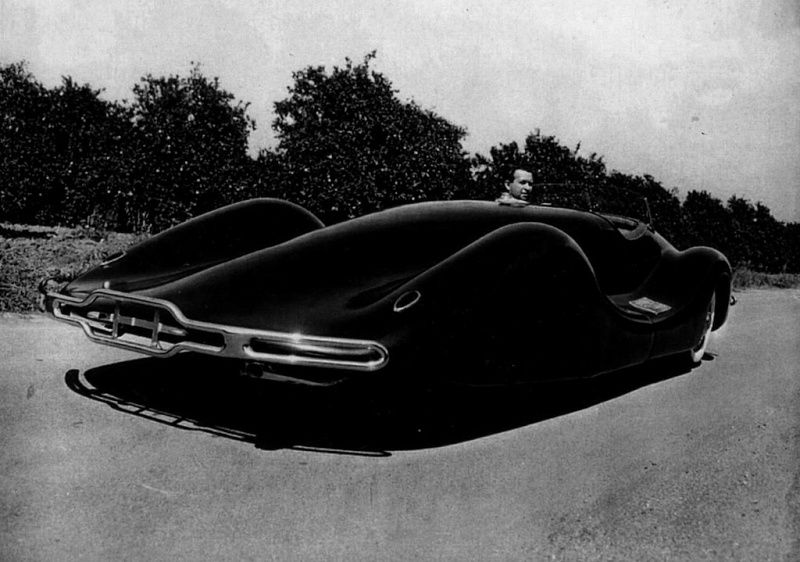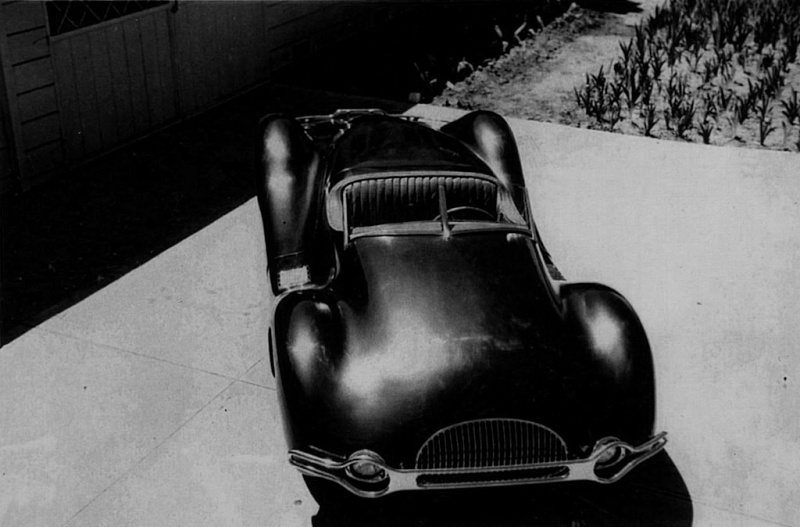 _________________
We don't care the People Says , Rock 'n' roll is here to stay - Danny & the Juniors - 1958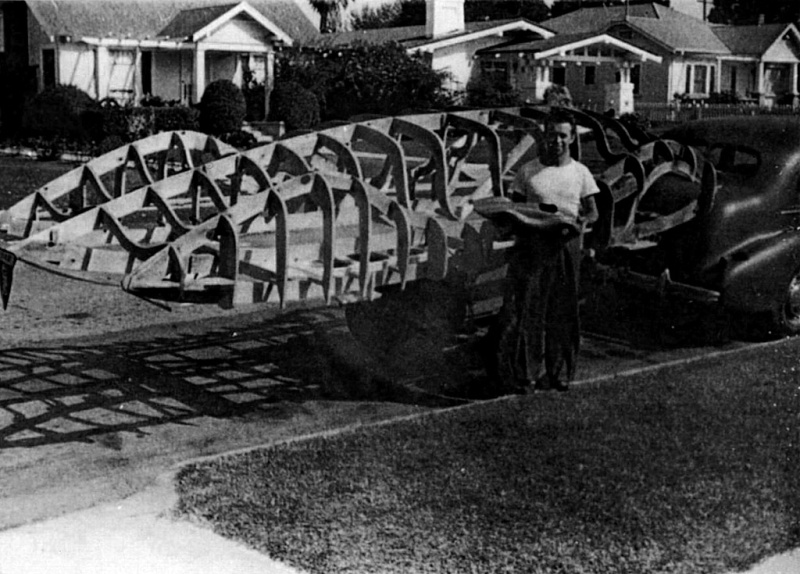 This amazing car, created by an American engineer - mechanic Norman E. Timbs in the forties respectively, called the Buick Streamliner 1949. The old model was found in the desert in 2002 and completely restored by David Crouse for 2010 Amelia Island Concours d'Elegance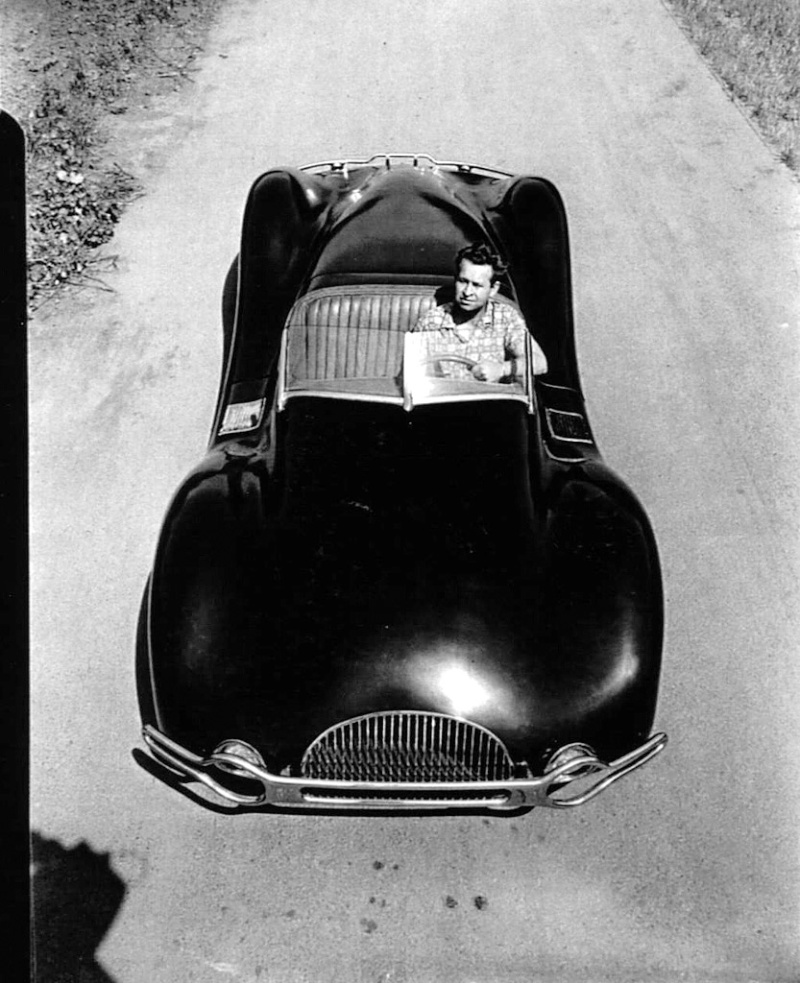 Mechanical engineer Norman E. Timbs created this dramatic streamliner in the 1940s which in many ways was the ultimate American hot rod. He designed and fabricated much of the project himself which included a custom aluminum body and steel chassis. It took him over two years to finish and the resulting chic roadster was good enough for cover of Motor Trend as well as features in Mechanix Illustrated, Popular Mechanics and Motor Life.
Leading up to this design, Mr. Timbs had worked as an Indy 500 designer on cars such as the Blue Crown Specials which won Indy several times. Mr. Timbs was no doubt influenced by the 1937 Auto Union Typ C Stromlinie and 1937 Mercedes-Benz W25 Avus Stromlinie which ran the 1937 Avus GP. His sensational shape was a very close approximation to these cars which ran the fastest GP race of all time nearing speeds of 248.40 mph (400 kph).
The body was nod to the German GP cars which at the time mimicked aeronautical practice. Norm's design was free of the over indulgences such as huge chrome bumpers and large tail fins that eventually dominated American design. The streamliner's chic elegance was a rarity in America, even if was outdated by post-war standards.
Today, the cars's smooth shape is still as pleasing to the eye as it was in 1948. The boy is is long and low with a complete underbelly panel. With the engine occupying the rear of the chassis, the cockpit is pushed forward much like the Auto Union Typ D. In keeping with the aerofoil shape, no doors are cut out of the body. A large one-piece rear panel opens hydraulically to reveal the entire rear end of the chassis.
The car was based around a 1947 Buick "Super 8" engine which powered the 2200 lb car to 120 mph. The main chassis was built up from five-inch steel tubes which kicked up over the rear axle. To offer a smooth ride, a modified 1947 Ford suspension was utilized.
Road & Track reported that it took Mr Timbs 2 1/2 years to create the car at a cost of $10,000 USD. The body was created entirely in aluminum by Emil Diedt for $8,000 alone. The shape was formed by hand over a traditional wooden buck.
At first the Streamliner was only used on the show circuit until Jim Davis of California bought it in 1952. He used it in and around Manhattan Beach, California and let Motor Life photograph it for a feature article.
The car was discovered in the desert pretty much intact in 2002. It was bought at auction and restored by Dave Crouse at Custom Auto, Inc. in Loveland, Colorado for owners Gary & Diane Cerveny of Malibu, California. After its "complete and exacting" restoration, it debuted at the 2010 Amelia Island Concours d'Elegance in a class reserved for Motor Trend Cover Cars.
Source: Richard Owen -
www.supercars.net
site web:
http://www.carstyling.ru/en/entry/Norman_E_Timbs_Buick_Streamliner_1948/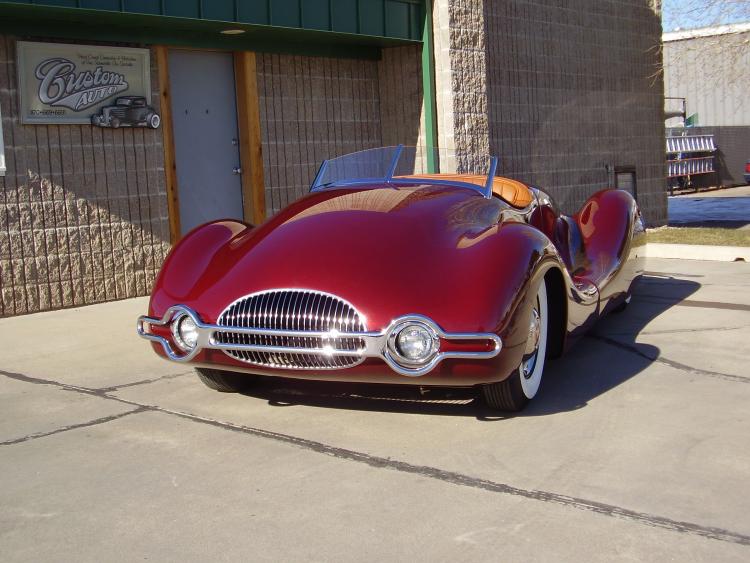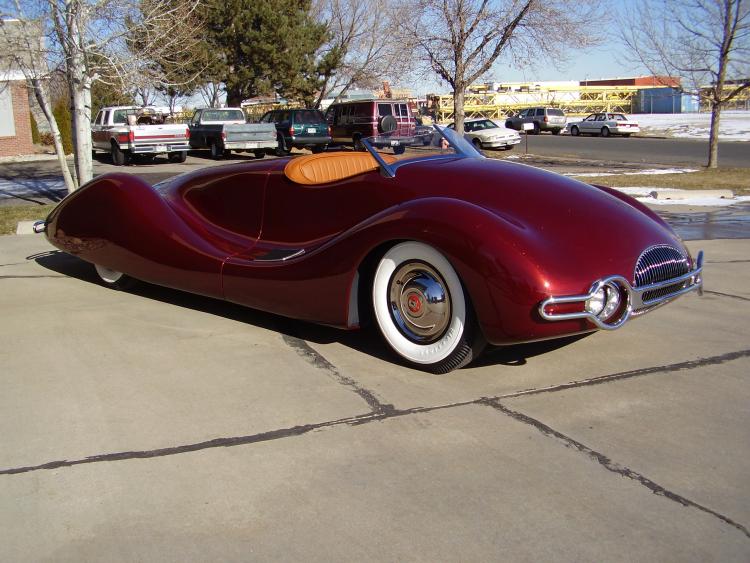 _________________
We don't care the People Says , Rock 'n' roll is here to stay - Danny & the Juniors - 1958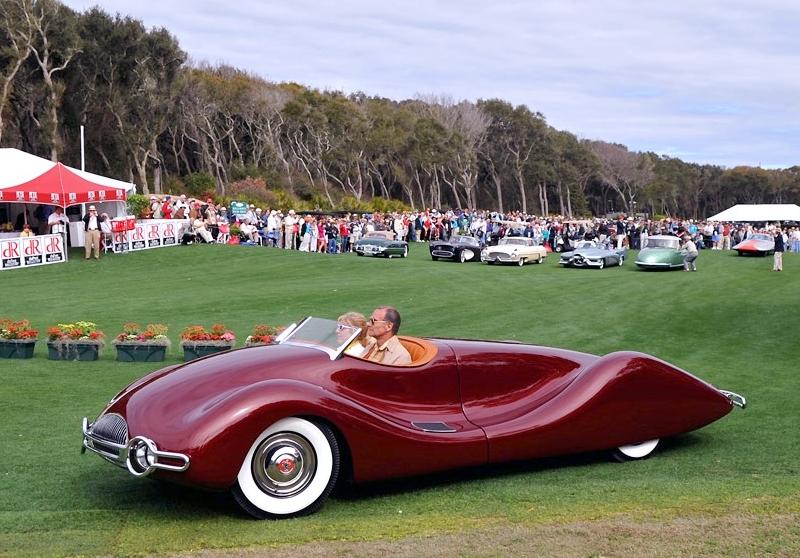 1948 Norman Timbs Spécial...
La Norman Timbs spécial apparue en 1948, est l'une des plus bizarre, étrange mais élégante voiture personnalisée jamais créée, un projet déjanté qui a pris plus de trois ans.
Norman E. Timbs, Ingénieur en mécanique, avait la trempe d'un designer d'exception.
Il avait travaillé avec Preston Tucker.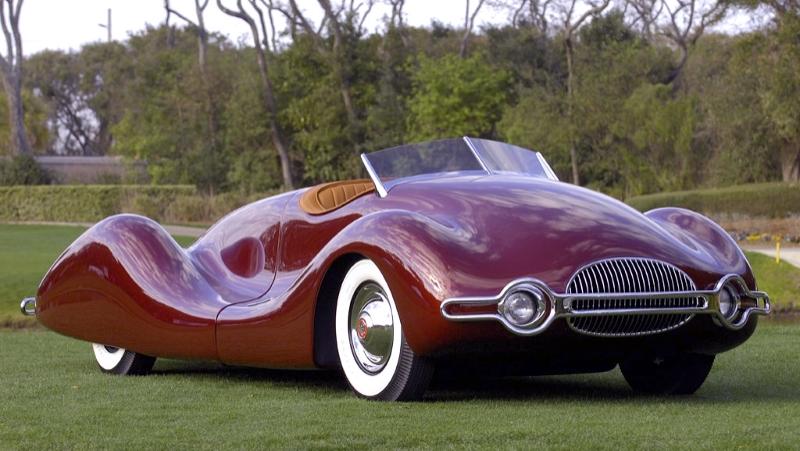 Lorsque le grand projet de Tucker a été stoppé dans les circonstances narrées dans cet article XXX, un peu plus tard, il a construit plusieurs Indy Racing Specials, des automobiles de course, avant de se lancer dans la réalisation de ce Streamliner dramatique.
Il lui a fallu plus de deux ans pour le terminer avec l'aide d'Emil Diedt qui lui a demandé 8.000 dollars pour façonner la carrosserie en aluminium.
Objet roulant parfaitement indescriptible, cet engin rappelle la ligne de certaines voitures de course qui battaient des records sur la piste allemande de l'Avus dans les années 30 ...
Mais de vitesse de pointe il n'est pas ici question, puisqu'elle ne dépasse pas les 190 km/h !
Elle se savoure d'avantage dans ses glissements à basse vitesse...
Timbs a été influencé par l'Auto Union Type C et la Mercedes-Benz W25 Avus des années 1930.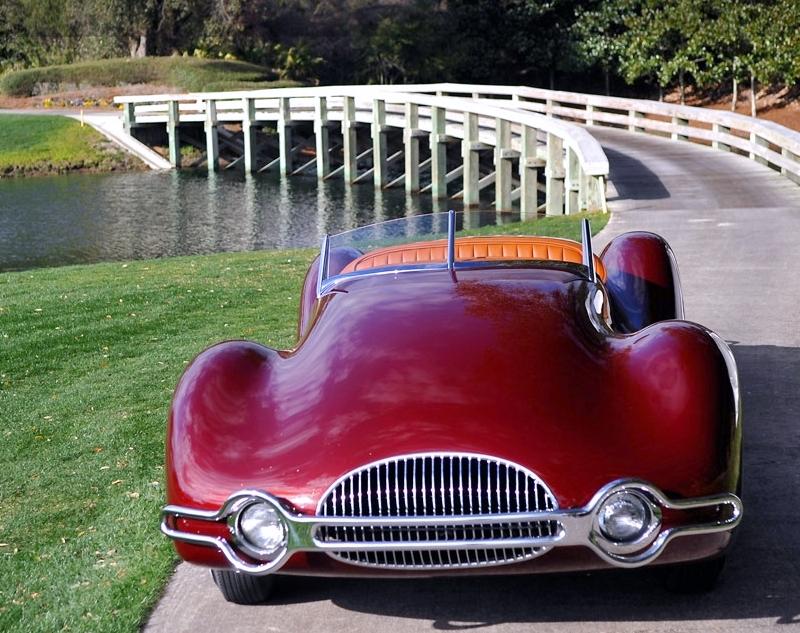 La Norman Timbs spécial utilise le moteur d'une Buick 1948 avec son moteur 8 cylindres en ligne monté au milieu de ce "navire" de la route.
Ce bloc tout en fonte est équipé de deux carburateurs et d'un échappement double.
Le châssis est une structure tubulaire de type "aviation", dans laquelle le moteur et la boîte de vitesse sont reculés au maximum vers l'arrière, la boîte étant accouplée directement sur le pont AR..., certains des autres éléments mécaniques ont été récupérés d'une Mercury !
L'arrière de la carrosserie se soulève en une seule pièce avec des vérins hydrauliques commandés électriquement depuis le tableau de bord..., pour révéler un grand vide dans lequel la roue de secours et le réservoir de carburant sont comme exposés et accessibles..., tandis que le moteur n'est pas pour autant d'un accès facile...

_________________
We don't care the People Says , Rock 'n' roll is here to stay - Danny & the Juniors - 1958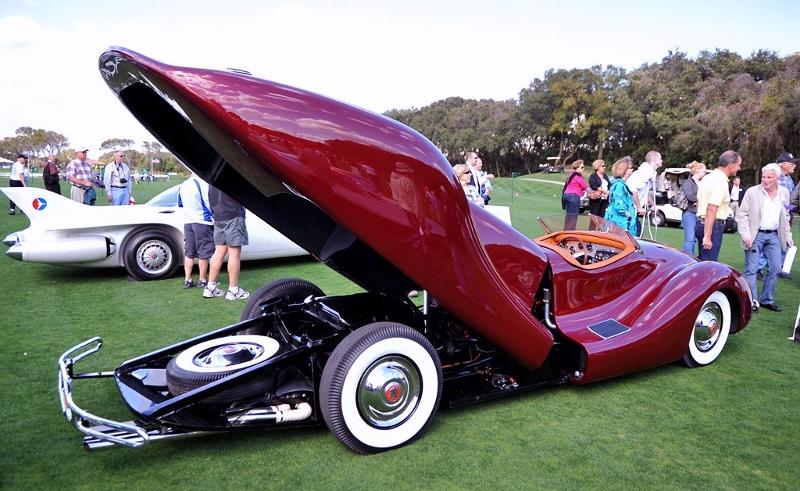 Vers le milieu des années 1950, la voiture avait été peinte en blanc et était sous la garde de la Force aérienne via le sergent Jim Davis de Manhattan Beach, en Californie..., son propriétaire d'alors... Cette voiture a passé une grande partie de sa vie à l'extérieur, et en finale, elle a terminé abandonnée à coté d'un hangar au milieu du désert, où elle s'est détériorée au fil des ans.
La voiture a été découverte à peu près intacte, en 2002.
Elle a été hâtivement restaurée par Dave Crouse pour la mettre en vente aux enchères quelques mois plus tard via Barrett-Jackson, au Petersen Museum Classic Car Auction ou elle a été vendue pour la somme de 17.600 $.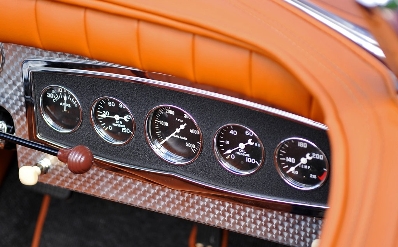 Le nouveau propriétaire a ensuite commencé une vraie restauration, la voiture restant à 90% d'origine.
En 2010, la voiture a fait ses débuts dans le monde de la voiture de collection "haut de gamme" au Concours 2010 d'Amelia Island où elle a remporté le trophée de la plus belle voiture décapotable.
Quelle ligne !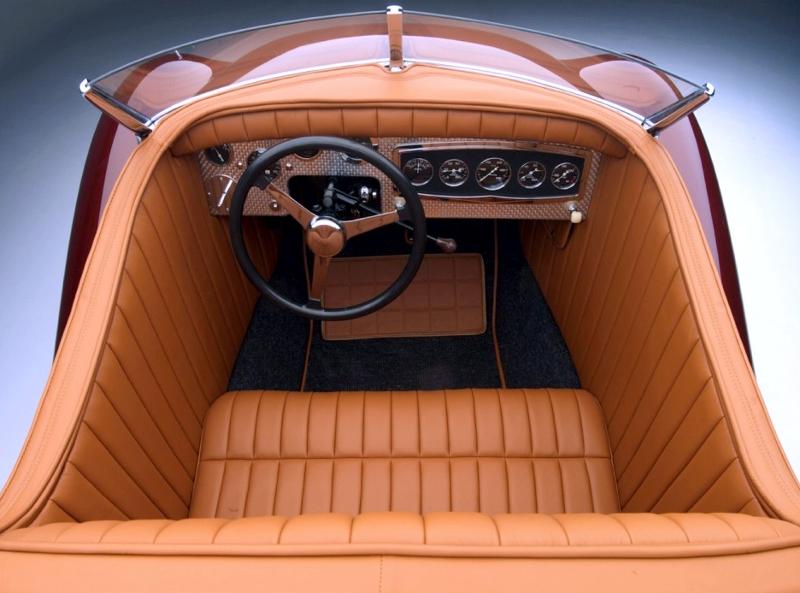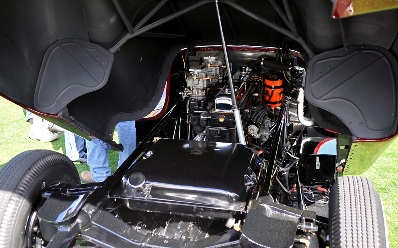 _________________
We don't care the People Says , Rock 'n' roll is here to stay - Danny & the Juniors - 1958

_________________
We don't care the People Says , Rock 'n' roll is here to stay - Danny & the Juniors - 1958

_________________
We don't care the People Says , Rock 'n' roll is here to stay - Danny & the Juniors - 1958
---
Permission de ce forum:
Vous
ne pouvez pas
répondre aux sujets dans ce forum