A couple years ago, I stumbled across this slide of an amazing 1950s space age show car. Much to my frustration, I couldn't quite read the name plate on the hood and had no idea what it was. In all the car books and mags I've read through the years, this is one dream car of the future I had never seen. But I knew that some way, someday the mystery would be solved.
Finally, last February at Palm Springs Modernism Week I attended Jim Cherry's slide show lecture about mid-century cars. Half way into the presentation, it appeared on the screen — pictured on the September 3, 1956 cover of Newsweek no less. I recognized it instantly and was beyond delighted to finally find out that the striking bubble-topped, quad-head lamped space age show car extraordinaire is the Astra Gnome. Mystery solved. Yay!
And fun name too, huh? The adorable Astra Gnome was built on a Metropolitan chassis and displayed one time only at the 1956 New York Auto Show.
Knowing the vast majority of mid-century era dream cars were made only for show and then destroyed for insurance purposes, I almost fell out of my chair when I heard that it's on display right in my own backyard at the Metropolitan Pit Stop in North Hollywood, CA.
Half not believing what I was hearing and half wanting to savor the anticipation of actually standing before what I thought was a long lost artifact from the space age, I waited until last week to see if it Astra Gnome really existed.
Crazed with curiosity, I walked in the door and there it was gleaming in all its out-of-this-world glory and spellbinding me into an out-of-body retro-religious experience of the highest order.
Mark Lane, the nice man that runs the Metropolitan Pit Stop told me the Astra Gnome was discovered in 1980 sealed up in a New York high-rise office then faithfully restored to perfection. It's fully functional but deemed far too precious to roll on the reckless streets of Los Angeles.
So the Astra Gnome stays indoors, virtually undiscovered except by those who trek from all over the world to the Metropolitan Pit Stop to seek parts or restoration for their Metropolitans.
Perhaps if you ask very nicely, Mr. Lane will turn on all four headlights and raise and lower the bubble top with the push of a button. But fair warning … you might pass out!
To see what the Astra Gnome looks like today
http://www.charlesphoenix.com/2012/05/space-age-dream-car-lost-n-found-ny-auto-show-1956/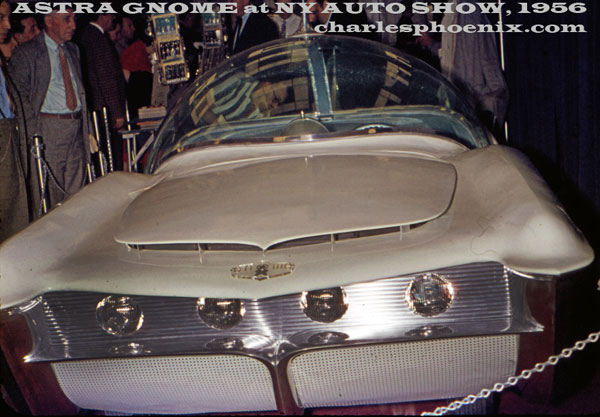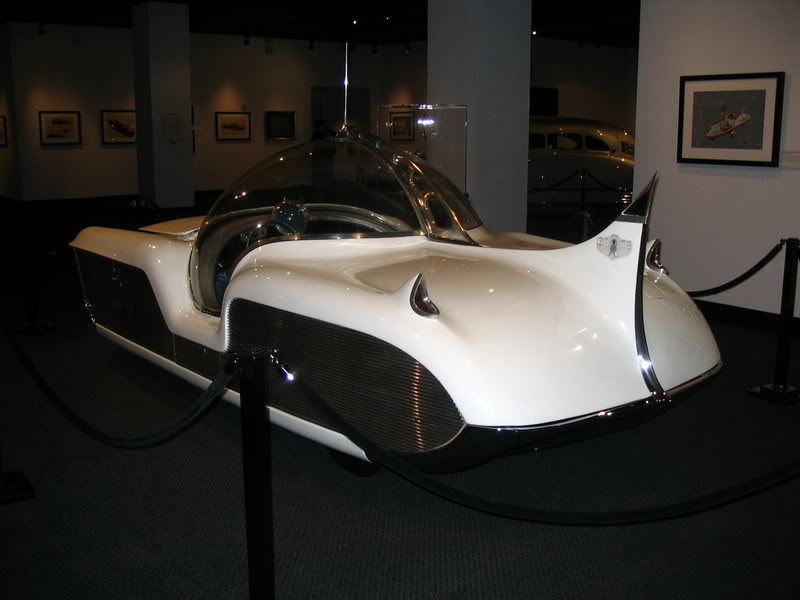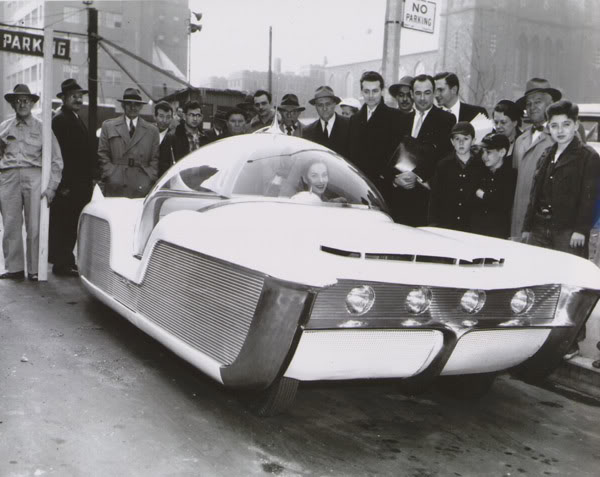 _________________
We don't care the People Says , Rock 'n' roll is here to stay - Danny & the Juniors - 1958
Hi Gang…
It's not fiberglass – but it should be.  
As you know, fiberglass was the "wonder" material that made prototypes a reality.  Fantastic shapes, contours, and designs that could only be expressed two-dimensionally in terms of cost were now more easily achieved using 'glass and a talented designer/fabricator.  So it's interesting that Richard Arbib's concept car, the Astra-Gnome, was built of aluminum.  Why?  Perhaps the world will never know.
But it's one cool car.
Built in a breath-taking four months time, the "Astra-Gnome" made its debut at the International Automobile Show in New York on April 28
th
, 1956.  It made headlines world-wide and was featured on the cover of Newsweek Magazine on September 3
rd
, 1956.  Luckily, the car still exists and a great history can be found via the following 7 minute video: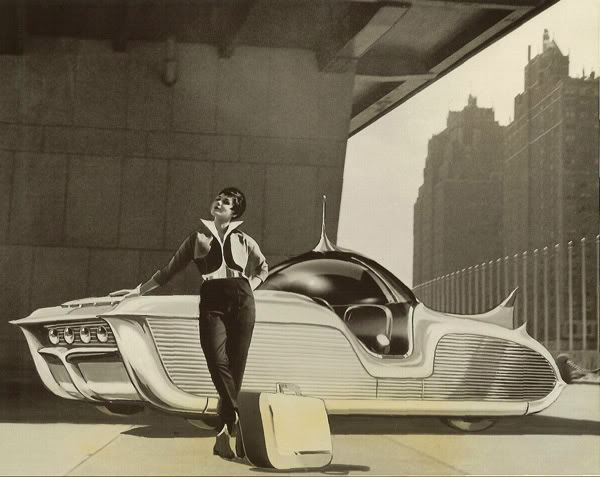 In doing research on this car, I located a brochure distributed by Arbib back at the time the car was built.  Let's take a look at what the brochure had to say: 
The Astra-Gnome "Time and Space Car" (1956)
Designed by Richard Arbib Company, IncCustom Body Work by Andrew Mazzara of New YorkTo the many people who will naturally ask "why build a 'time and space car' of such seemingly futuristic nature," we present some exceedingly logical reasons for this highly exciting project.  To qualify these reasons it is significant that while the prototype Astra-Gnome was constructed in a record breaking 4 months, its concept is the result of a continuous program of advanced automotive styling development by the Richard Arbib Company.
The "Time" element in the appearance of the Astra-Gnome in the year 1956 can be termed relative.  Its features are timeless as far as basic automotive design improvements are concerned.  Everyone has always wanted a smaller car that has plenty of luggage space!  The Astra-Gnome provides just this through its unique "integra-luggage" system with distributes suitcases into otherwise wasted space areas.  
Everyone has always wanted a full vision top without troubles of a convertible!  The Gnome's bubble canopy, plus air conditioning, gives this open feeling, but with no wind noise and "walk-in" entrance and exit ease.  Everyone has always wanted futuristic styling, but in a practical form that is functional – not just different!  The Gnome has an "out of this world" look, yet features interchangeable colored aluminum trim panels in place of gaudy paint schemes, functional big car bumpers in place of small car weaknesses, and admirably adapts to unit-body construction.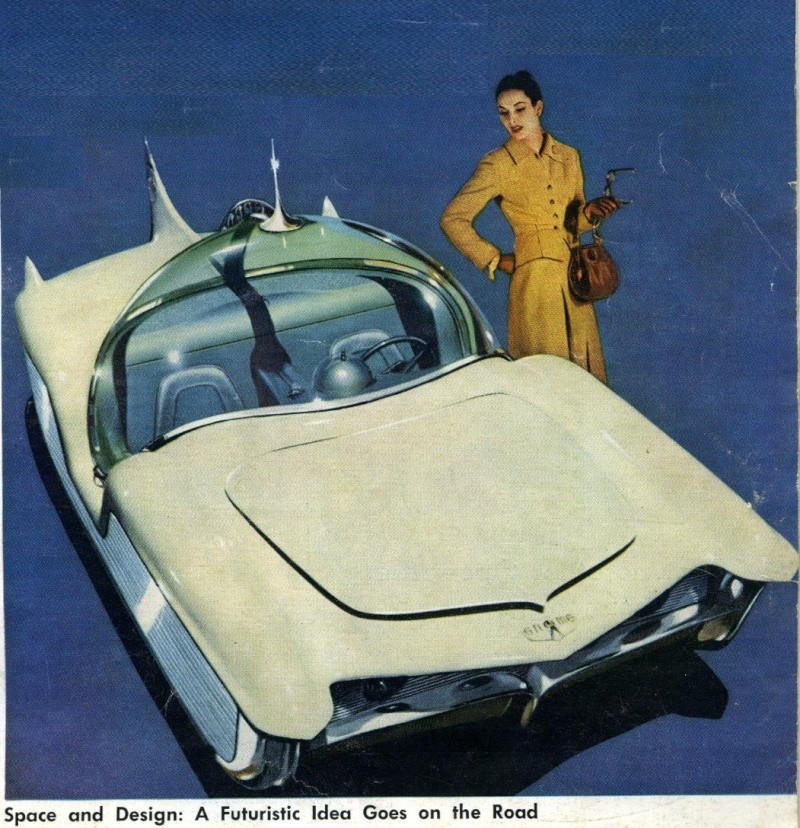 These, and a host of other features, are here and now in the Astra-Gnome, but it will only be a matter of time until in some form they appear in future production cars.  These features are not concerned with high horsepower or competition car performance, because as product stylists we do not believe the primary task of the appearance designer is a mechanical one.
We believe our job is to create new and exciting shapes, textures and colors in a functional car.  In the Gnome a totally new driving sensation akin to flying has resulted from this kind of esthetic exploration.  The "Space" element in the Astra-Gnome is almost self-explanatory, for the designer of the "personal" car is dealing with a space problem from the very beginning.  
The 6 foot wide Gnome, because it is wider than most cars of its length (13.5 feet), gives abundant interior room and allows for a phenomenal amount of storage and luggage area.  By careful workout, a production version of this car can carry no less than 6 pieces of matched integrated luggage, totaling as many cubic feet as found in the average full size sedan's trunk compartment.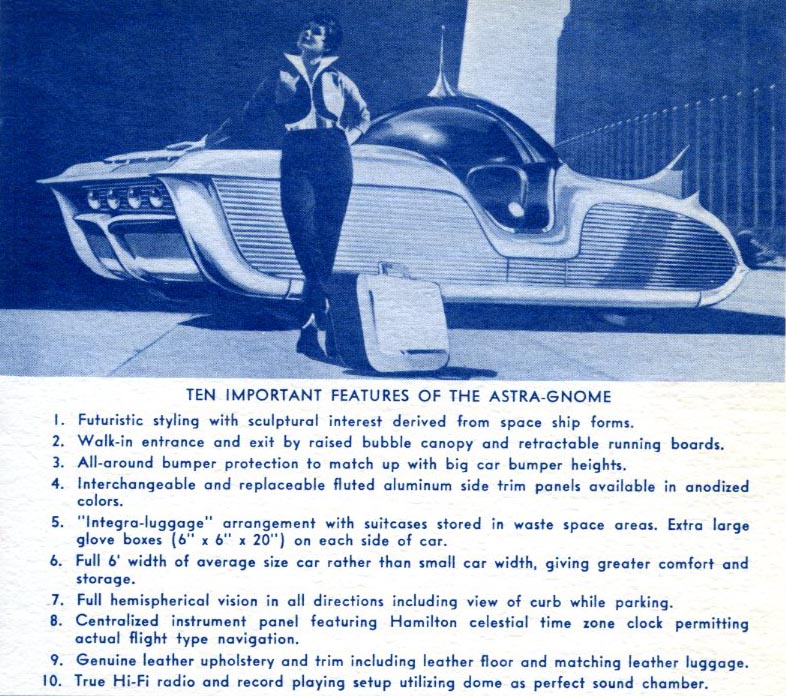 The proportions of the Astra-Gnome do not designate it as a "sports" car nor is its styling European in origin.  It was deliberately styled to be appealing in a pert, futuristic manner – not to mimic big car slab-sided trends.  It is sculptural and alive in its contours, borrowing heavily from jet aircraft, rocket and space ship forms, yet embodying much of the beautiful tailoring found in ancient steel armor.
Contrary to most cars, the wheels and tires of the Gnome have been de-emphasized.  This was done on purpose to achieve a floating special quality and to avoid the ungainly "over-wheeled" look of most small vehicles.  Thus, the appearance of the Gnome subtly captures the intangible look of the future with shapes that can be found in astronomy and in all of the aspects of form found in nature around us.
This is the kind of advanced thinking that went into the creation of the Astra-Gnome and that prompted the title "Time and Space Car."  We believe this brief explanation will help you ao appreciate our aims in this fascinating automotive project. 
Richard H. Arbib
Richard Arbib Company, Inc.
80 West 40th Street, New York 18, New York
LOngacre 4-1553, 1554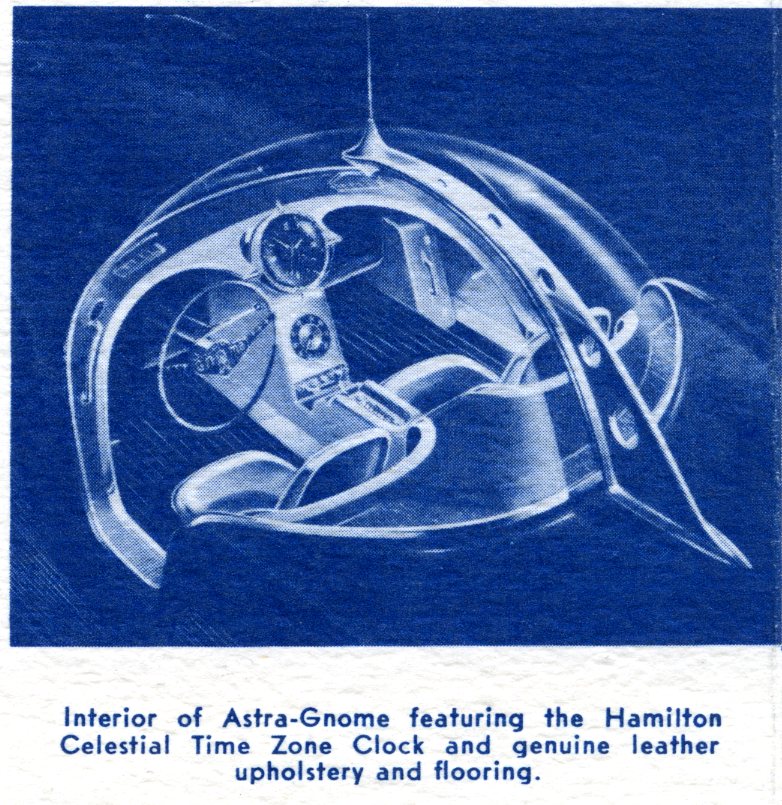 _________________
We don't care the People Says , Rock 'n' roll is here to stay - Danny & the Juniors - 1958

_________________
We don't care the People Says , Rock 'n' roll is here to stay - Danny & the Juniors - 1958
Sujets similaires
---
Permission de ce forum:
Vous
ne pouvez pas
répondre aux sujets dans ce forum