Although i photographed Dave Bennion's Joe Bailon-built '55 Pontiac Star Chief convertible, it was Frank Faraone's photos that appaered in the contempory features in Hot Rod and Custom Cars March 1959. I'm including it here because of it's rarity - few customizers talked the "Tin Indian" because of it's distinctive hood trim which, in this case, was replaced with reverse scoops, '58 Olds trim and 105 louvers. The paint was Aztec Red lacquer with black scallops fading a gray with white edging.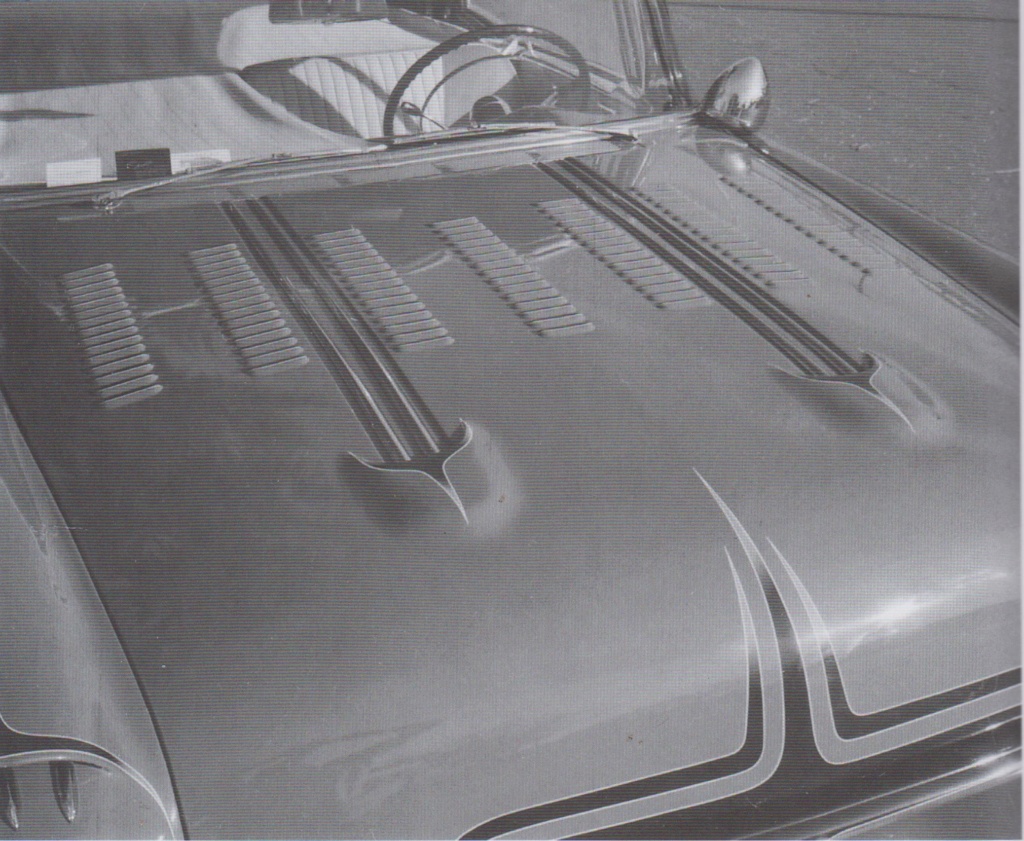 Joe, who was from San Fransisco, had Joe Bailon perform numerous modifications to his '55 Star Chief, which included extending the front fenders 3 inches to tunnel the headlights and installing Pontiac air scoops, fifted with three '57 Mercury teeth, on top of the fenders. The grille was left virtualy stock; however, much of the stock trim was removed and ascoop was added to the lower edge. The hood, as mentionned above, was punched with 7 rows of 15 louvers, the stock trim was replaced with that from a '58 Oldsmobile, and reverse scoops were fabricated. Also, the right front fender was fifted with a power antenna from a '56 Cadillac. Finally, in this shot, you can just make out the tonneau cover wich covered both rear and pasenger seats. Incidentally, those spotlights were Barris items and the scalloping was by Jerry Anolik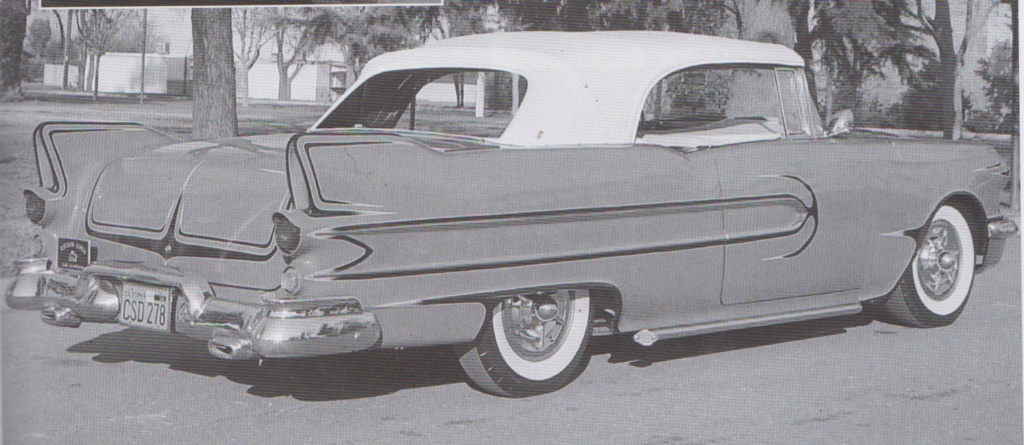 The rear fender's of Dave's Star chief were built up above the stock tailights, wich were hooded, using sheet metal in the style of a '57 Cadillac. The side trim was actually '55 Pontiac reshaped into a spear motif and decorated with gold Mylar. Although the car was lowered 4 inches with cut springs up front and blocks in the rear, full-length lakes pipes added to the effect. The wheel wells were painted gold as were the wheels fitted with custom-made hubcaps. Apparently, the total cost for the metalwork and paint was $ 1,100. The top Dave described a semi carson-made of Naugahyde.
Although mostly stock, the front end was subtly restyled by the removal of trim from the inner metal pannels and the addition of a scoop in the lower edge of the hood.
George Barris Photos and text - Barris kustom techniques of the 50's Old Skool Skills

_________________
We don't care the People Says , Rock 'n' roll is here to stay - Danny & the Juniors - 1958

_________________
We don't care the People Says , Rock 'n' roll is here to stay - Danny & the Juniors - 1958

_________________
We don't care the People Says , Rock 'n' roll is here to stay - Danny & the Juniors - 1958

_________________
We don't care the People Says , Rock 'n' roll is here to stay - Danny & the Juniors - 1958

_________________
We don't care the People Says , Rock 'n' roll is here to stay - Danny & the Juniors - 1958

_________________
We don't care the People Says , Rock 'n' roll is here to stay - Danny & the Juniors - 1958


Sujets similaires
---
Permission de ce forum:
Vous
ne pouvez pas
répondre aux sujets dans ce forum