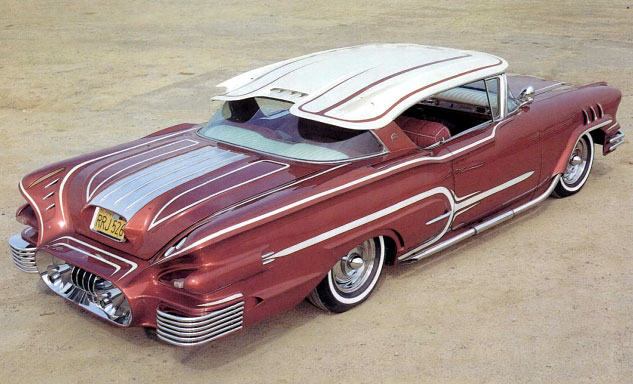 Joe Bailon (born March 18, 1923) is a car customizer credited with creating the paint color Candy Apple Red — which eventually led to a full spectrum of candy paint colors, each with a metallic base-coat, a transparent color coat and a final clear coat.[1]
Bailon has customized such cars as Zsa Zsa Gabor's Rolls-Royce, Danny Thomas' Continental, Dean Martin's Cadillac station wagon and Sammy Davis, Jr.'s, Chevrolet Vega wagon. Joe built the Olds Toronado-powered Pink Panther car of the eponymous films.[1] He is a member of National Rod & Custom Museum Hall of Fame.
The San Francisco Rod, Custom and Motorcycle Show annually gives the Joe Bailon Elegance Award for the visual appearance of the paint, interior, engine, design and suspension. The trophy, unique for the award, features a Candy Apple Red apple, painted by Bailon.
Bailon, who grew up in Newcastle, California, as the youngest of ten children, later worked in the Richmond Shipyards prior to fighting in World War II and later customizing cars.[1] He lives in Auburn, California.
https://en.wikipedia.org/wiki/Joe_Bailon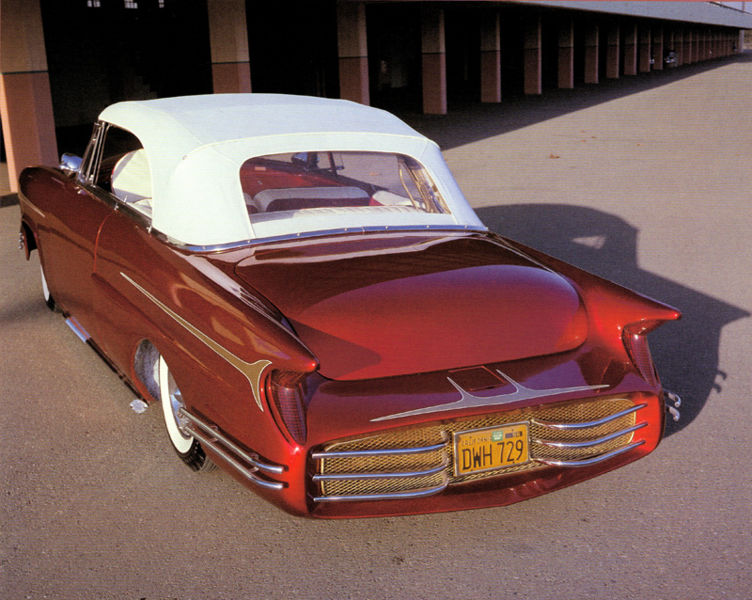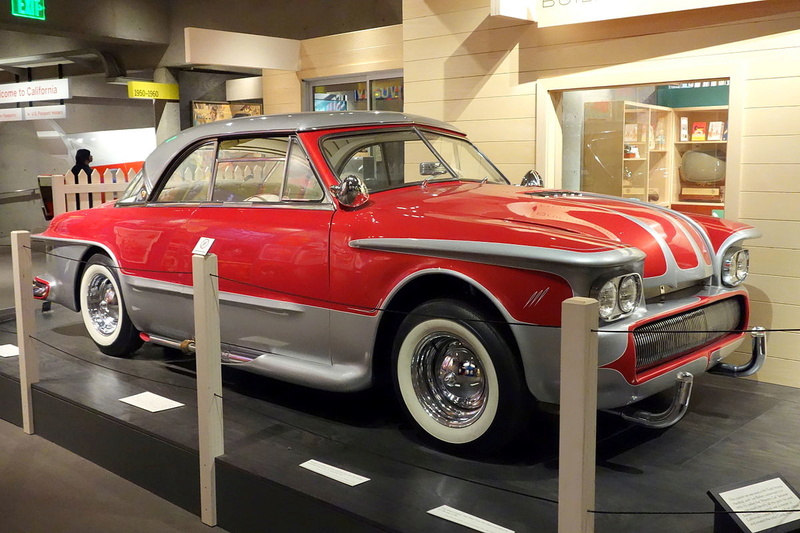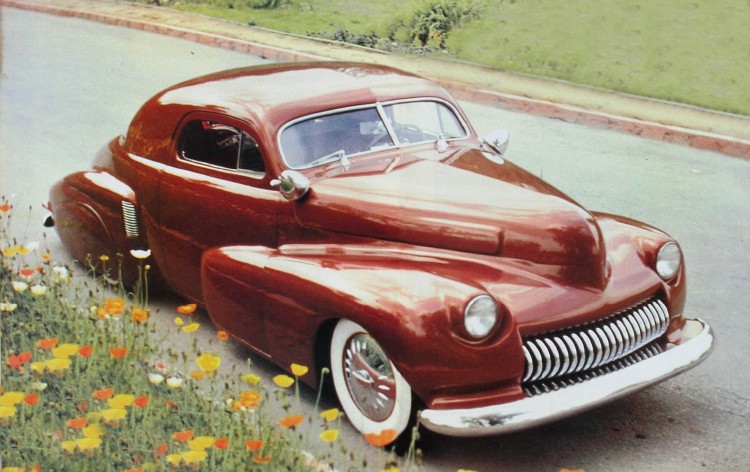 _________________
We don't care the People Says , Rock 'n' roll is here to stay - Danny & the Juniors - 1958



Messages

: 36162


Date d'inscription

: 09/11/2012



Joe Bailon of Hayward, California is a legendary custom car builder an painter. Joe, also known as "Candy Apple Joe", is the creator of the "Candy Apple" paint and a charter member of the National Rod & Custom Car Hall of Fame. When Joe came out of the service in 1937, he immediately bought his first real custom car, a 1936 Ford tudor. He brought the new car to Eureka, where his wife was living, and frenched in the license plate. One day Joe was parked downtown Eureka. When he returned to the car a gentleman was waiting for him, leaning on the car, curious about who did his license plate. Joe replied that he did, and the man asked Joe where he had gotten the idea from. Joe replied that he had seen Tommy the Greek do it on a 1940 Mercury way back. He fell in love with the concept, and the idea stuck with him. When he got the 1936 Ford the frenched in licenseplate was the first modification he did to the car. The man replied that he owned Pitt's Paint Shop, and that he would like to hire Joe. Joe agreed, and went to work for Pitt. Joe believes his name was Lynn. He told Lynn that in between he would like to paint the '36. Joe liked red, so he wanted to paint it red. They mixed some ruby maroon with a little silver. They painted it, and it came out really nice. Joe remembers that he paid 250 USD for the car. In addition to the frenched in license plate, it was lowered and fit with skirts and Appleton's. After it was completed, a friend of Joe that was a contractor told him he would pay 750 USD for the car, so off it went. After the '36, Joe bought a 1941 Chevrolet from Livermore, California. According to an interview Joe did with Jonnie King of Legends of the Rod & Custom Hall of Fame in 2012 the '41 had hit a navy tow truck in the rear, on the right side, and it was all demolished. Joe came down from Eureka to get it, and the owner told Joe that he wanted 50 bucks for it. The price was fair so Joe bought it. He pulled off the right fender, and he pulled the radiator from the fan belt, and the car ran, so Joe drove it back to Eureka. Joe bought a new fender and he got it back in shape before he started working on it.[1] According to the story Joe Bailon Custom Comeback by Spencer Murray, Joe found the car in a junkyard after it had been hit by a train and burned. According to that story it was also almost cut in half.[2]
While restyling the car, Joe moved to the Bay Area, where the car was completed. He got acquainted with a guy that owned a sheet metal shop in Richmond, California. The guy had Joe build him a new grille and a dashboard for his 1941 Chevrolet convertible. Joe got inspired during the process, and decided to build a new dashboard for his '41 as well. He started with a big piece of sheet metal over the top, and one from the bottom up. He welded the pieces across, and started making holes for the dials. He ended up with 14 holes. He went to Stewart-Warner and bought all of the dials. The dash took many months for Joe to complete. Once completed, Joe had a guy in San Francisco chrome it for 50 bucks. Joe put it all together at Sao Paul Avenue in Albany, California, at an upholstery shop. He worked day and nights, and wired everything himself. It was lights all over, Joe remembers, and he had no clue what he was doing. He kept working on the car, and it didn't take long before the top was chopped and 1941 Cadillac rear fenders were installed along with a custom made grille.[1] Joe used the car while he built it, and he won his first show while the car was still in grey primer.[2] He finished it all up, and entered it at the 1952 Oakland Roadster Show where he won the first National award for his Chevrolet, that was then known as "The Dashboard". Joe's 1941 Chevrolet, later known as Miss Elegance established Joe as a top-ranked customizer.[1]
After "Miss Elegance", Joe's next radical custom was Elton Kantor's 1950 Ford. The car was entered at the fourth annual National Roadster Show in Oakland in 1953 where it took the National award. Joe had his Chevy there too, but it was not eligible for judging since it had won the previous year. By now Joe was picking up jobs from all around the Bay Area, and he was busy doing hole filing, painting, lowering and more. He outgrew the garage at home, so he started building his own shop.[2] Joe sold Miss Elegance around 1953.[1]
When Joe Bailon didn't have anything to show at the National Roadster Show, chances were that he was too busy displaying furniture at the San Francisco Furniture Trade Show as he was also very active in the custom furniture trade. In order to keep up with the latest custom trends Joe followed all the customizers in magazines.[2]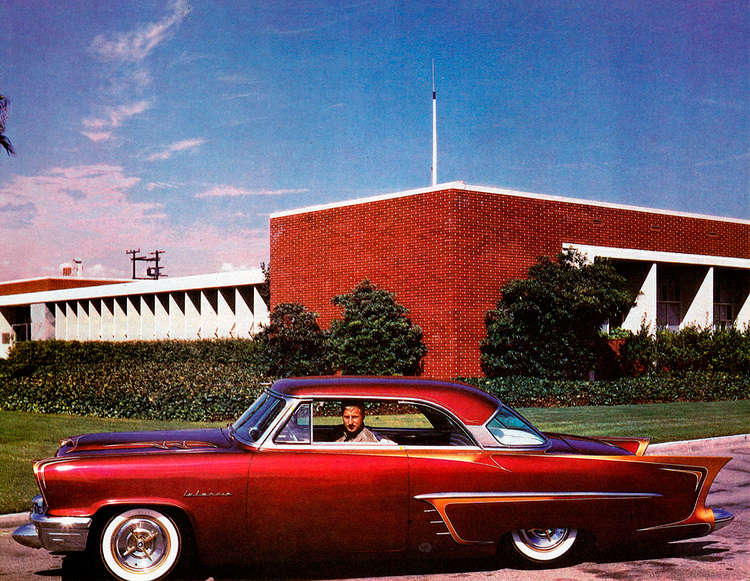 At young age, Joe was impressed with the golden maroon sunset over the San Francisco Bay. He was so impressed in fact that red became his favorite color. When he later began mixing paints, he tried to achieve a color that was similar to that of a car's taillight reflected on a rainy street; real brilliant, almost with a glow from deep within itself. He experimented with various ideas for a long time. His work lead into what became known as Candy Apple Colors. Candy Apple Red was ofcourse the first. What he wound up with after a lot of experimenting was a red-toned clear lacquer sprayed over a bright red dye, not a paint, which, in turn, had been put over a gold underbase. After inventing the paint Joe marketed the paint in several shades for a while. Candy Apple wasn't any tangible product, but a method of application, so once a shop had ordered Joe's paint and read the instructions for applying it they could go right ahead and paint hundreds of cars without buying a drop of paint from Joe. Before the Candy Apple came along Joe had tried to duplicate the coloring on the sides of a set of Slingerland or Ludwig drums. That rich, flaky, transparent color that is actually a sheeting of molded plastic. The sparkle in the stuff was given off by light rays reflecting from the facets of minute silvery particles. He tried to match this by mixing salt into certain paints, and got a fair result. The he hit upon adding the silver flakes that people sprinkle on Christmas trees. He had to rework a spray gun to get it through the nozzle. The car he used it on turned out real well. It was after this that he came up with Candy Apple. Candy Apple became such a success that he forgot about the flake-like paint. Then before he knew it someone else came along and "discovered" Metalflake.
http://www.kustomrama.com/index.php?title=Joe_Bailon

_________________
We don't care the People Says , Rock 'n' roll is here to stay - Danny & the Juniors - 1958



Messages

: 36162


Date d'inscription

: 09/11/2012




---
Permission de ce forum:
Vous
ne pouvez pas
répondre aux sujets dans ce forum