Page 33 sur 33 •

1 ... 18 ... 31, 32, 33


_________________
We don't care the People Says , Rock 'n' roll is here to stay - Danny & the Juniors - 1958

_________________
We don't care the People Says , Rock 'n' roll is here to stay - Danny & the Juniors - 1958

_________________
We don't care the People Says , Rock 'n' roll is here to stay - Danny & the Juniors - 1958

_________________
We don't care the People Says , Rock 'n' roll is here to stay - Danny & the Juniors - 1958

_________________
We don't care the People Says , Rock 'n' roll is here to stay - Danny & the Juniors - 1958
Here is a true 'iconic' 1950's cruising lead sled which uses a modern drive line for motivation and 'Air Ride' suspension for that 'lowered' look when parked. This 1949 Mercury has an unusual chopped top. The Merc started its life as a 2-door sedan and then had an approximate 4" chop performed. Instead of using the original top again, the builder designed a 'permanent' convertible style top. LIKE that of a removeable 'Carson' top.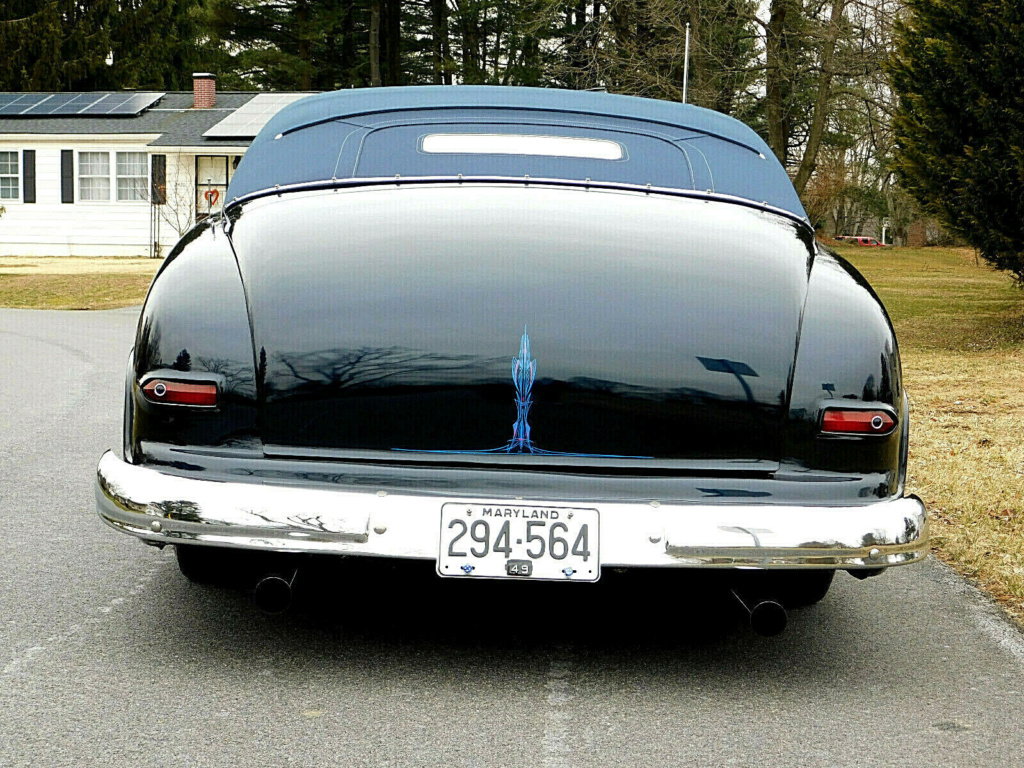 The build took place approximately 19 years ago at the hands of its prior owner and designer. All the custom bodywork looks good, but it is starting to show its age with small cracks and chips. Custom work includes; frenched head and tail lights, sunken antenna's, nosed, decked, shaved door handles and removal of the side trim. The current holder of this fine cruiser purchased it about 4 years ago and has logged only 3500 miles on the odometer attending car shows and cruise events in his home state. The electric door opener does not work so access is through the vent window.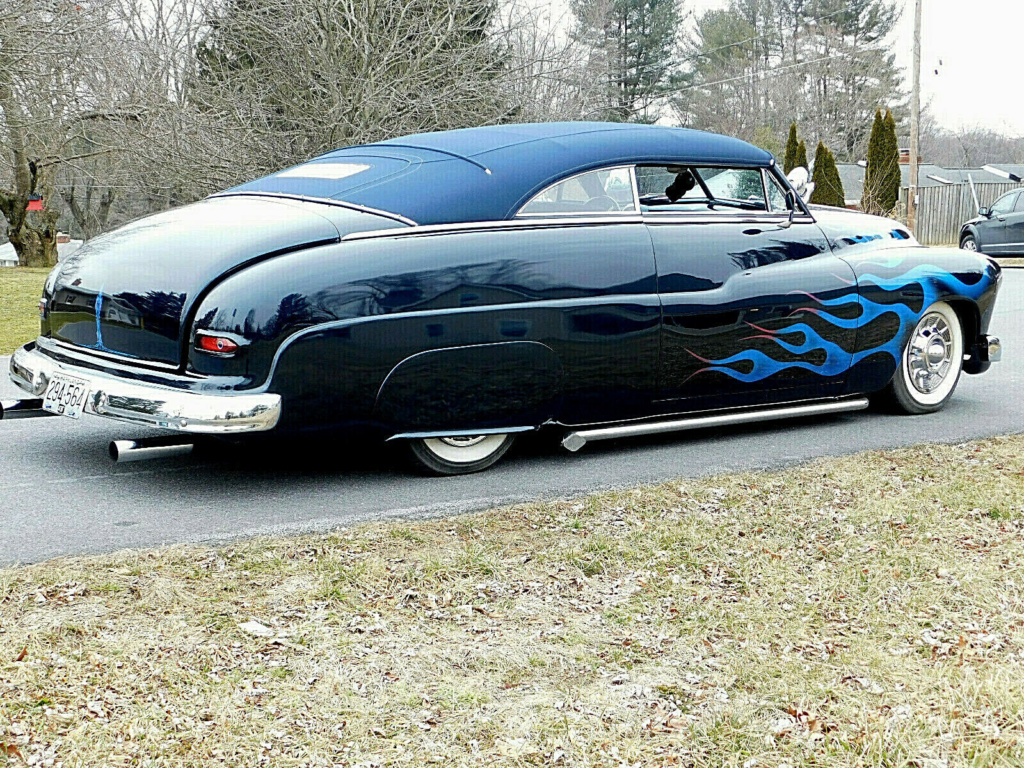 Power comes from a 'crate motor' 350 c.i./330 h.p. small block Chevrolet with an Edelbrock intake and carburetor. Behind the small Chevy is a 700R4 overdrive transmission which helps get 24mpg on the highway at 60 mph. The Merc runs cool year round with the use of an oversized radiator and electric thermostatically controlled fan.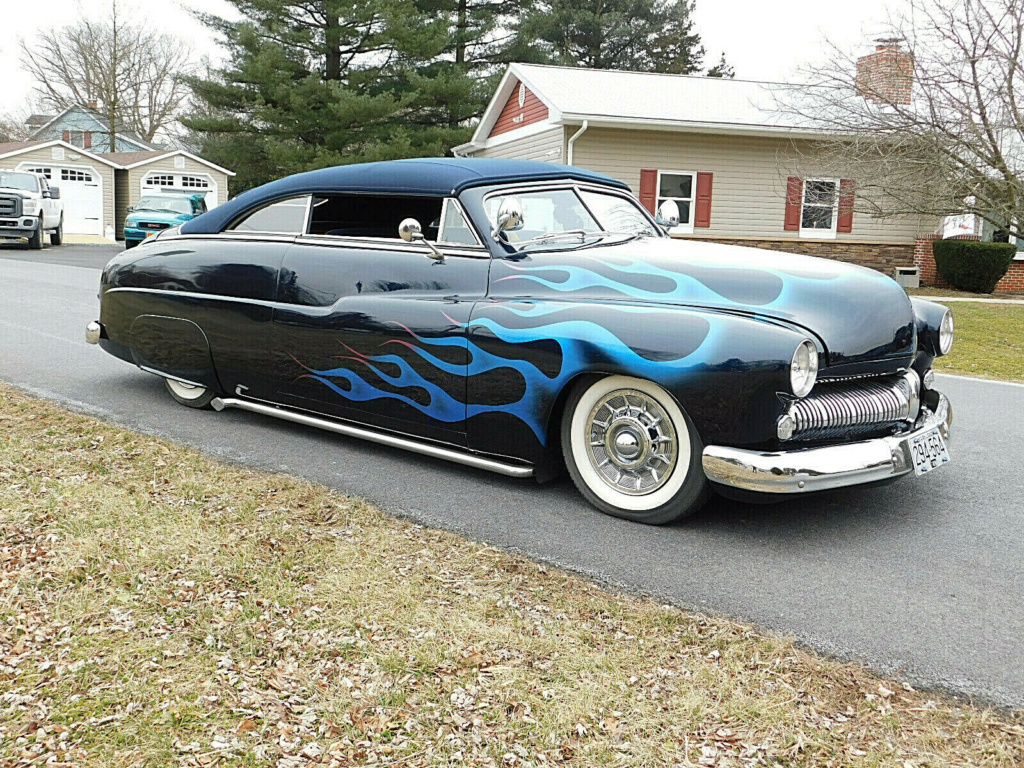 Additional comforts include; power steering and brakes (discs front, drums rear), Vintage A/C & heat (works), Ididit tilt steering column, power windows, Lecarra steering wheel, and a Kenwood AM/FM/CD player (which currently does not work). All of the 'Classic' gauges function normally except the fuel gauge is not working.
Suspension is the stock 1949 Mercury with 2" lowered spindles in the front and 'Air' bags out back. Tires are new Coker P205 x 75R x 15's all the way around and finished with vintage Cadillac hubcaps.

_________________
We don't care the People Says , Rock 'n' roll is here to stay - Danny & the Juniors - 1958

_________________
We don't care the People Says , Rock 'n' roll is here to stay - Danny & the Juniors - 1958

_________________
We don't care the People Says , Rock 'n' roll is here to stay - Danny & the Juniors - 1958
https://www.whichcar.com.au/tv/home-built-1949-mercury-lead-sled-video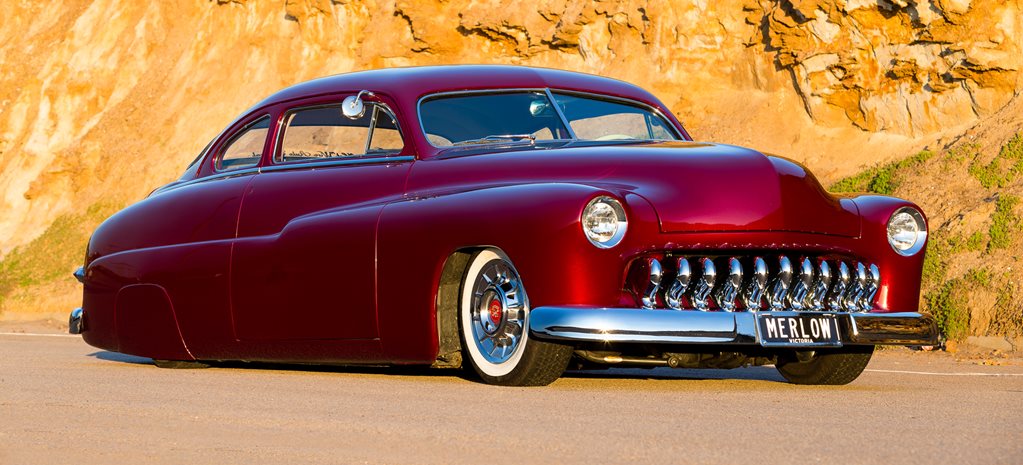 LOW and slow is the only way to roll as far as Ben Mahony is concerned. He spent just over two years creating his dream ride – this chopped 1949 Mercury coupe. "I've always wanted a '49 Merc," Ben says. "I like their nice, round bum."
Yep, this Mercury would give Sir Mix-a-lot a boner, but of course it didn't look anywhere near this good when Ben bought it. "Apparently the car had sat in a swamp for a long, long time," says Ben. "The bottom 12-16 inches of the car was missing – there were absolutely no floors." It was also sporting more than a few bullet holes.
Despite its poor condition Ben had the wreck shipped to Australia where he set about tackling the mammoth build. Originally he planned to get a workshop to handle the big jobs, but most shops took one look and ran for the hills. Others wanted a massive chunk of change to take on the job and Ben wasn't willing to drop a house deposit on the body work.
So he took on the job himself, at home. "It was measure four times and cut once," says Ben "I spent hundreds of hours, eyeballed everything countless times to make sure the roof sat level, the front and rear screens were straight and angled just right."

_________________
We don't care the People Says , Rock 'n' roll is here to stay - Danny & the Juniors - 1958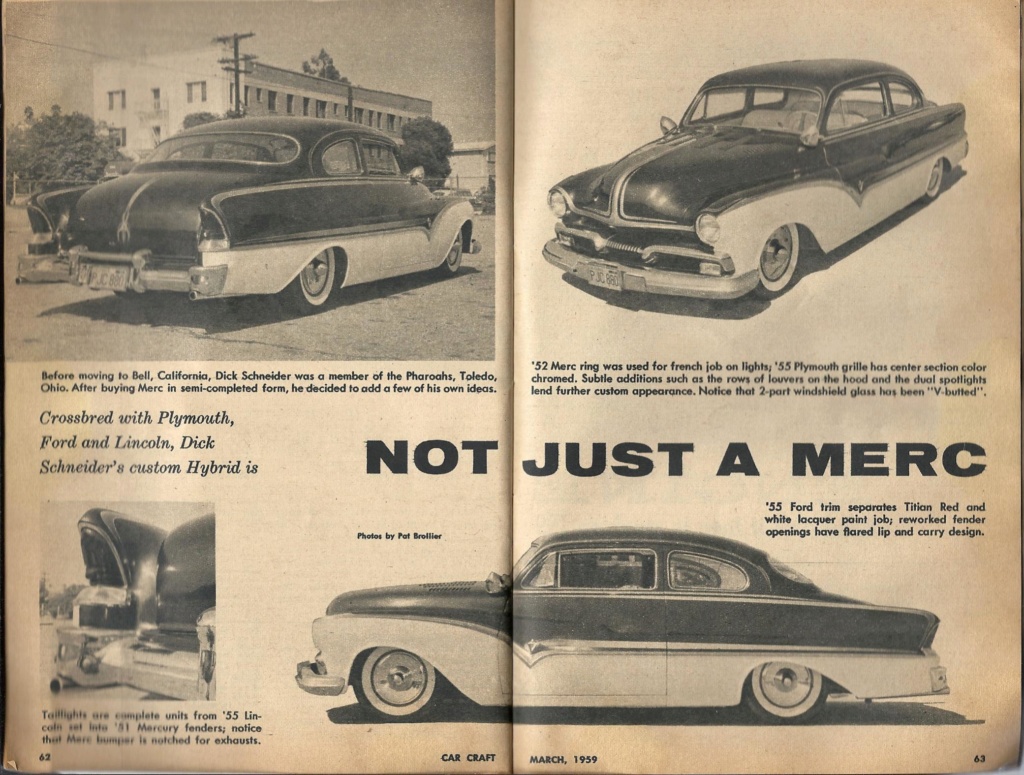 _________________
We don't care the People Says , Rock 'n' roll is here to stay - Danny & the Juniors - 1958
Page 33 sur 33 •

1 ... 18 ... 31, 32, 33


Sujets similaires
---
Permission de ce forum:
Vous
ne pouvez pas
répondre aux sujets dans ce forum