Nouveau travaille de MATT & THE PEABODY DUCKS devrais sortir dans quelques jours, pour pouvoir écouté les titres allez sur
www.kathrinarecords.es
après écoute,quelle est vôtres préféré, la mienne "I Remember".
Dj EddieCesc
Mon titre préféré est
Record Hop


_________________
We don't care the People Says , Rock 'n' roll is here to stay - Danny & the Juniors - 1958



Messages

: 40577


Date d'inscription

: 09/11/2012



C´est aussi un très bon titre aussi
Dj EddieCesc
Et bien voilà,la dernière référence de
www.kathrinabookingshows.com
est sortie, excellent disque de Matt and the Peabody Ducks, au total 10 titres, tous eux formidable, je ne peux que vous conseillé de l´acheté.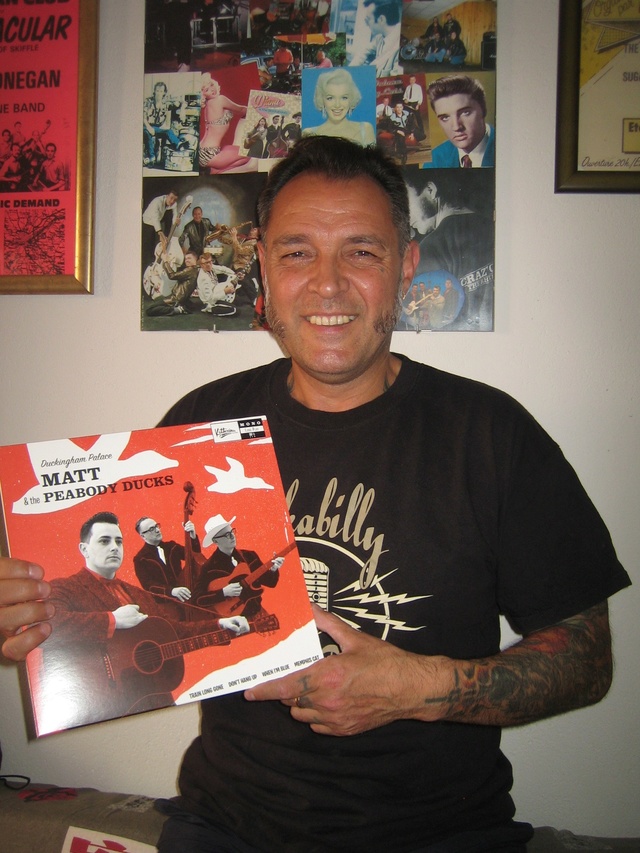 Dj EddieCesc
L´autre jours j´ai la chance de recevoir en main le dernier travaille discografique
www.slimsandy.com
un magnifique Ep sur CROW-MATIC RECORDS.
La face A a comme titre « DONE GONE », un titre signé par D.Helms/R.Taylor, plus connu surement comme GEORGE & EARL, voir le MERCURY 70852X45, dans se cas SLIM SANDY and the HILLBILLY BOPPERS en fons une très bonne version.
Le deuxième titre de cette face se trouve « CHICKEN SHACK STOMP » de P.SANDMARK/T.NELSON, un superbe morceau.
La face B commence avec « ROMP AND STOMP » de G.I.RHODES/P.RHODES, tous un classique des RECORDS HOPS des années 80s, titre publié sur le SUN RECORDS 238 en 1956.
Le deuxième titre de cette face a comme titre « I´VE GOT THE BOOGIE BLUES » de CHARLENE ARTHUR, voir BULLET 707 de 1950, très agréable a écouté.
La copie qui m´a été offerte est en réalité une TEST PRESSING, bientôt devrais sortir a la vente les première copies, mais pour le moment les première personne en festival avoir écouté deux des titres qui figure sur se 45 tours ont été les personne présente au
www.screaminfestival.com
SLIM SANDY and the HILLBILLY BOPPERS est un très bon groupe CANADIEN formé par des musiciens formidable et très gentil qui ne se prenne pas la grosse tète.
Dj Eddie-Cesc
Deux références de chez
www.foottappingrecords.co.uk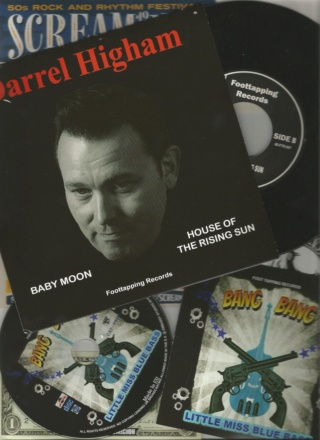 Le vinile Darrel Higham est comme toujours une merveille, comme tous c´est autre disques, a avoir sens aucun doute.
Le Cd de
www.littlemissbluebass.co.uk
est sincèrement pas mal du tous, celui si a comme référence CAT-FT186, au total 12 titre, entre eux "Crazy Dreams","Seven Lonely Days","Bang Bang"....
Dj Eddie-Cesc

---
Permission de ce forum:
Vous
ne pouvez pas
répondre aux sujets dans ce forum