Photography: Luke Ray.
Meet Clarissa. She's 21, she lives in Tamworth and manages a jewelry store. Oh.. and she drives one of the sweetest roadsters you've ever seen.
Growing up around hot rods and car shows, it was inevitable that Clarissa would catch the bug. Her partner Ben Love is also part of a hot rod family and has an enviable collection of cars. What's a girl to do?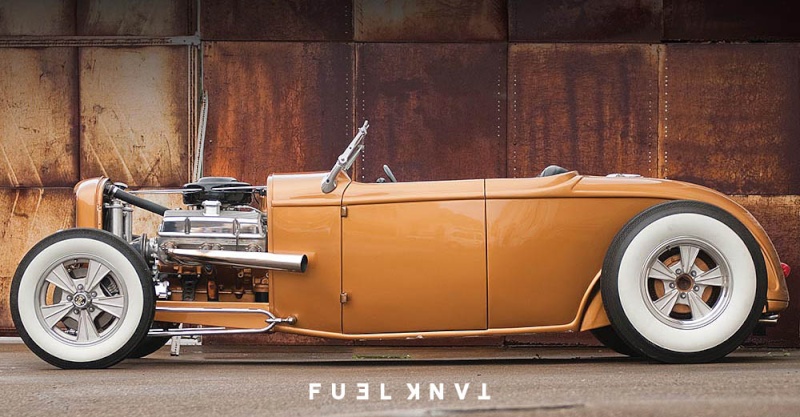 "When I got my Ls, my parents lent me one of their hot rods, which was a Fiat Topolino," Says Clarissa,  "but the roadster is MY first car. I just got sick of always being the passenger in Ben's Coupe so I thought it was time that I built my own hot rod, and Ben could be my passenger for a while."
The decision to build the '32 roadster was a tricky one. Clarissa loved the look of the A model coupes, but Ben had already beaten her to the punch. The cars built by Hollywood Hot Rods had always caught her eye and after a long deliberation period, the decision was made to build the '32. The project began slowly in early 2009, but between collecting parts, airbagging Ben's Apache and swapping the small block Chev for a Buick nailhead in Ben's Coupe, it wasn't until October that year that things really got underway.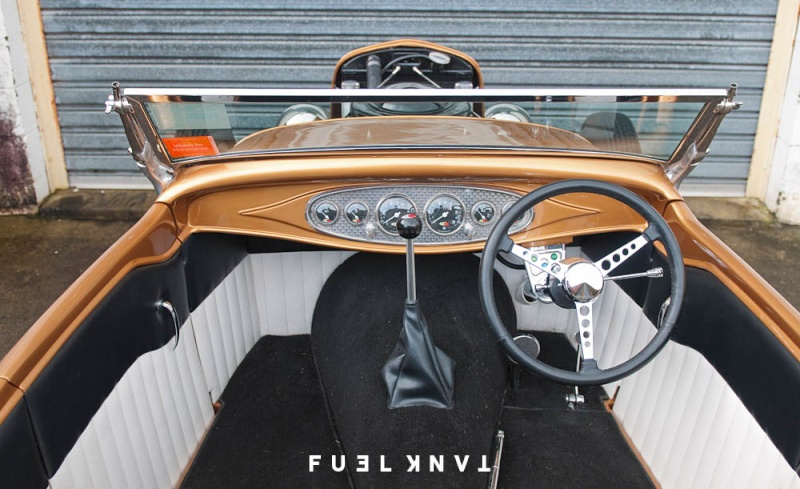 The fiberglass body came from Rod Bods Down Under and was purchased as a "floppy body" as Clarissa wanted to make numerous changes before putting it anywhere near the chassis. The rear quarters were pulled in to allow for the tyres and the floor was customized to allow for the 7" channel and 10" step in the chassis.

_________________
We don't care the People Says , Rock 'n' roll is here to stay - Danny & the Juniors - 1958
Having a family that live and breathe hot rods is a definite advantage when it comes to building one from scratch. Clarissa's dad just happened to have a 1932 ford chassis jig in the shed, which made everything a lot easier. Before making the trip to her dad's place, Clarissa and Ben began with a bare set of 32 Ford C-section rails and a 2" dropped A model cross member. Out came the plasma to fab up a set of boxing plates. Everything was then set up on the jig to original '32 dimensions and a centre cross member was added. After it was all welded together, the chassis was brought back to the couple's shed in Armadale for the next step.
Once they had it at home, the pair assembled the SO-CAL front end, complete with a drilled front axle and polished hairpins, which was then sat under the chassis, along with the diff.  The time had come for Clarissa to bolt on the Radir wheels on, which had been sitting in the shed for the past three months. Taking a break, the pair stood back and had a look at the progress and came to the conclusion that the car just wasn't going to sit right with the 3 inch step that it had, so out came the angle grinder and welder, resulting in a 10" step in the rear and a bobbed chassis at the rear for a cleaner look. Lucky Ben's a welder by trade.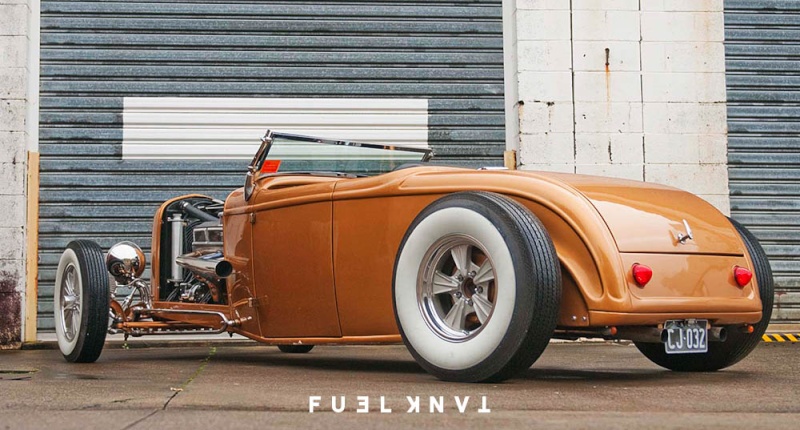 Progress continued. A stainless triangulated four bar kit and coil overs were set into position and now that the chassis was rolling, it was time to mount the motor and gearbox before they could begin work on the floor.  Clarissa explains: "With the engine being mounted high in the engine bay we needed something special for mounts as they were going to be in plain view, so to try to keep the theme going, we use the drilled front axle for inspiration and Ben went to work to building a set of drilled I beam engine mounts with nolathane bushes at the base to provide some cushioning. With the motor mounted and a gearbox cross member done it was time to start steeling out the body and putting in a full steel floor. We went and brought all the lengths of RHS and sheets of steel that we needed and it all began. Ben was much happier to be working with steel for a little while over the fibreglass body! We wanted to make the body as strong as possible, as well as wanting to make it fairly heavy so that it would ride better on the highway. All the rollers and folders at Ben's dad's shop came in handy while doing the floor and rolling the transmission and tail shaft tunnels, while we were doing this we also folded up a fuel tank to fit in neatly behind the seat." Talk about capable!

_________________
We don't care the People Says , Rock 'n' roll is here to stay - Danny & the Juniors - 1958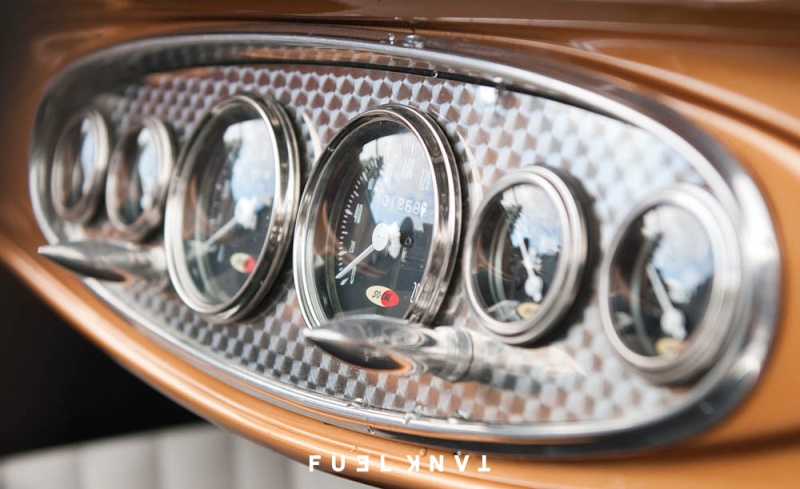 The doors and boot lid were the next major obstacle. Clarissa already had a set of brass exposed hinges for the doors and a '32 boot handle, and they had recently purchased a set of repro Triumph boot hinges out of the UK. The doors were mounted and steeled out and fitted a set of bear claw latches. The polished stainless steering column and Lokar pedals were mounted as it was all starting to fall into place.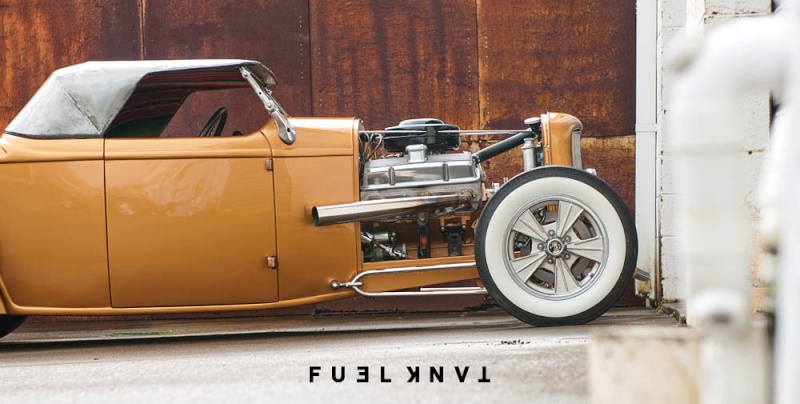 "Another 'stand back and change job' was the windscreen," says Clarissa. "After buying a 3" chopped windscreen from Toowoomba Hot Rod Shop, we thought it would look low enough, but being so channeled, it kind of looked dorky sitting up standard, so we unbolted it and kept laying it back until it looked right, which created the problem of making the frame fit the shape of the body and also making the bottom mounts fit the body as well. So the solution was to reshape the whole top of the cowl where the windscreen sat, as well as getting a set of unique lower mounts made to suit the shape of the body."
While Ben and Clarissa were working on the body, Clarissa's dad was working on the motor. He started with a 4 bolt 350 Chev block which then received a Procomp 383 stroker kit that was originally meant for Ben's EJ sedan. (The EJ was sold, luckily for Clarissa!) A set of AFR [air flow research] aluminum heads from Summit Racing in the US, The Edelbrock Performer manifold and carb leftover from Ben's coupe and the turbo 350 gearbox from the Ben's latest engine swap all found their way into the roadster.

_________________
We don't care the People Says , Rock 'n' roll is here to stay - Danny & the Juniors - 1958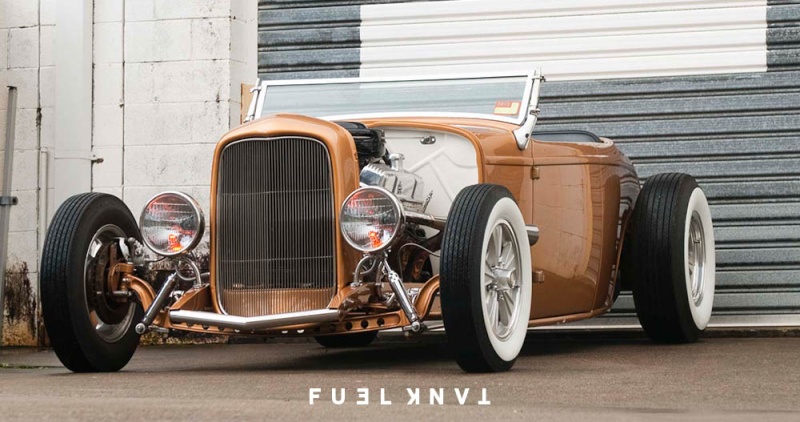 With all the major elements mocked up and positioned correctly, it was time to straighten out the body for painting. Again a family affair, this job was left up to Ben's dad and Clarissa's brother in law, Spot. With hours of bogging, sanding and rubbing the body was ready for primer. At this point the dash was fibre glassed into the body and the SO-CAL engine turned dash insert was installed.
The car's distinctive paint job was no easy decision. Purple, silver and dark blue were all possibilities, until Clarissa set her mind on gold. Once painted, it was ready for a picture perfect black and white vinyl interior, which Clarissa describes as "Fantastic - exactly as I had pictured it."
Clarissa's self set deadline of the Yamba Rod Run was looming closer each day, which meant some very late nights and early mornings. Timing concerns resulted in a set of block huggers being bolted on as the pair thought there was not enough time to build Lake pipes. Again, Clarissa's eye for detail intervened: "They just didn't do it justice, so they came back off and it was all up to Ben to build a set of stainless lake pipes, as we couldn't buy what we wanted off the shelf  - and where would the fun be in that?" Having never tackled a project of this nature, Ben rode a steep learning curve, building everything from scratch, including the tapered cones. The pipes would end up as one of the major jobs on the build, as Clarissa wanted them all built out of stainless and polished for the right look. The car was deemed ready at midnight, the night before the run.
As is the nature of building hot rods, the '32 has not been without incident. Clarissa recalls: "I was quite picky with the style of air cleaner I wanted on the '32, obviously you were going to be able to see it clearly as I have no bonnet. I actually found it in Greg's (my father-in-law's) garden, rusting away. It needed a few modifications, so Greg got to it. It was so close to being finished when the angle grinder grabbed, and went into Greg's finger. All he said to me was (calmly) "Riss, I think you need to take me to the hospital." I looked at his finger and it was not good. But before we went to the hospital, he had to walk back over and see if he'd finished cutting the bit he was doing! The finger is still healing."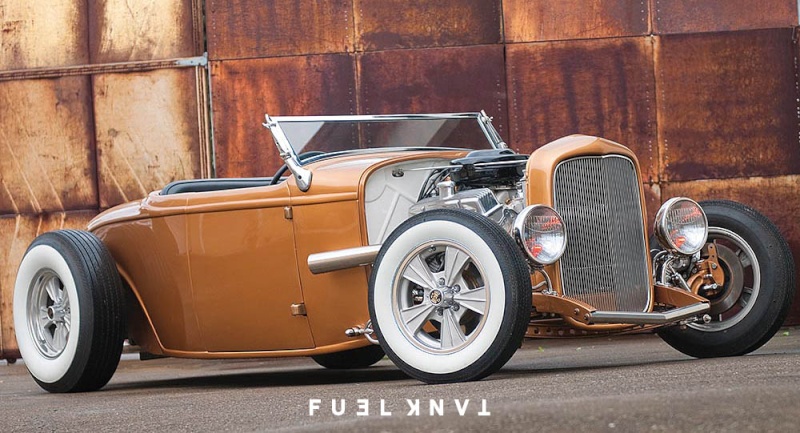 Driving hot rods is never hiccup free, but Clarissa and Ben had a particularly lucky escape. "On the way to Coolangatta for the Cooly Rocks On event [where this photoshoot was done], the back left hand wheel overtook us," Clarissa says. "We were on the highway, travelling by ourselves, we had only done 30kms of our 450km trip and suddenly, something didn't feel right. Next thing we know, it was noisy, rough and scraping and the wheel overtook us and went over a fence in the paddock! We were lucky enough to have some other car enthusiasts stop and help us jack it up, which was quite an effort as the left hand sill was actually sitting on the ground. We also got a mate to bring us some more wheel nuts, put it back on the car and drove the rest of the way to Coolangatta. Ain't no time like the present to get over the fear!  Although, I must say the Radir survived, which was great to see."
What about getting the car home? Clarissa reveals: "The drive back from Cooly was also interesting. It rained the whole way home - not just sprinkled  - but rained. The lower mount on the windscreen cracked, that was a bit worrying, and we broke two exhaust mounts. There was a lot of rattling on the way home and it was freezing, so you could say we had bad luck on the drive to and from Coolangatta, but that's all part of hot rodding. And we can say that we drove it there and back, all the way."
That's the spirit.
SPEC LIST:
Wheels – Satin Radirs 15x4 front wrapped in 5.60-15 cokers and 15x7 rear wrapped in L78 cokers.
Motor- 383 small block Chev with AFR heads, Edelbrock proformer manifold and 650 carb.
Gearbox- stolen Turbo 350 gearbox and B&M shifter out of Ben's Coupe.
Front end- Drilled SO-CAL axle, polished stainless hairpins, stainless steering arms, Falcon disc brakes, SO-CAL spring, stub axles and steering shafts.
Diff-Ford  9 inch with 3.5 gears and finned brake drums.
Exhaust- Ben Built Stainless lake pipes flowing into 2.25 inch pipe and stainless porter mufflers from SO-CAL speed shop in Sacremento CA.
Steering- Limeworks drilled three spoked wheel, polished column, polished flaming river steering joints and shaft, HQ Holden steering box.
Gauges- SO-CAL six gauge set in engine turned dash insert and bullet switches mounted insert.
THANK YOU:
A BIG thank you goes out to my partner Ben Love ,he had to put up with all my decision changes and didn't mind at all. And he put a lot off effort into the '32.
Greg Love, Mum and Dad ( Steve and Lisa Jones ) Spot Smith, Bob Corcoran, Johnny Mcdiamond and Phil (Painters ), McFarlens Upholstery, Ben from Antique Tyres.
This article first appeared in Fuel Magazine issue 11.
Follow Clarissa: @clarissajones32.

_________________
We don't care the People Says , Rock 'n' roll is here to stay - Danny & the Juniors - 1958
Sujets similaires
---
Permission de ce forum:
Vous
ne pouvez pas
répondre aux sujets dans ce forum