Le superbe et méconnu coupé Laudat sur base Dauphine est une voiture inédite présentée à la Foire de Bourges en juin 1960. Il s'agit d'un modèle unique, voulu et réalisé par Jean Laudat, carrossier situé sur le bord de la route courant de Bourges à la Charité.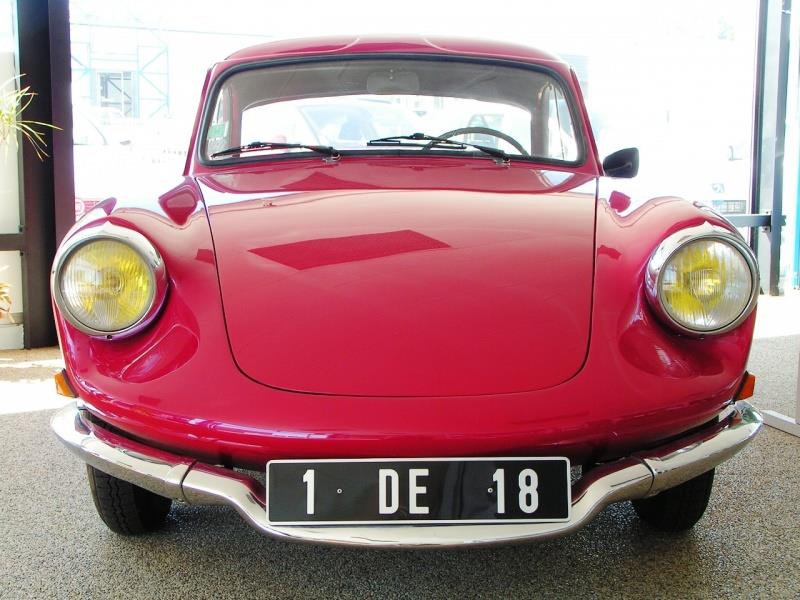 Chaudronnier de formation, Jean Laudat a poursuivi son apprentissage à la SNIAS, où il acquiert une solide expérience dans le travail de l' aluminium, notamment la soudure.Cette précieuse spécialisation lui permet de travailler pour le concessionnaire Panhard de Bourges. Les célébres Dyna faisaient en effet largement appel à l'aluminium dans leur structure et leur mécanique. Un beau jour de 1959, une Dauphine accidentée échoue dans son garage. La voiture n'est pas réparable, mais la base mécanique peut être récupérée, elle servira de plate-forme à la création inédite de Jean Laudat. Le carrossier fait quelques dessins, mais c'est sur le tas que la carrosserie trouve sa forme et ses volumes, à l'aide de fils de fer dont on tirera les gabarits en bois.
Entièrement réalisé à la main, le coupé Laudat reprend intégralement la base de la Dauphine et reçoit d'un moteur Dauphine Gordini. C'est un coupé quatre places qui avoue certaines sources d' inspiration : l'avant plongeant, aiguisé comme une gueule de requin rappelle le faciès de la DS, une voiture qui impressionne Jean Laudat. L'arrière effilé fait aussi penser au chef d'oeuvre de Citroën. En revanche, sur les flancs, on retrouve des détails de style qui sont propres à Renault : la prise d'air devant le passage de roues arrières, joliment intégrée dans une moulure, ou encore le décrochement de l'aile arrière qui marque un épaulement comme sur la Floride. Toutes les pièces sont formées à la main. Seul le vitrage est emprunté à une voiture existante, on reconnait le pare-brise et la lunette arrière d'une Aronde Grand Large. Certains composants sont détournés, comme le pare-chocs avant réalisé à partir d'un élément de Floride retourné.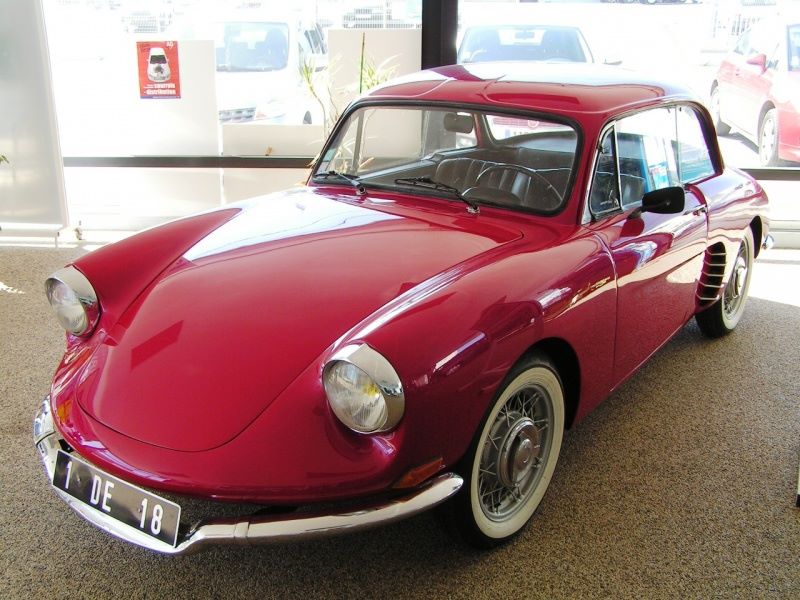 Il aura fallu 2000 heures, soit dix-huit mois de travail pour mener à bien la métamorphose de la Dauphine en coupé. Celui-ci est peint en rouge vif et équipé de roues à rayons et de pneus à flancs blancs. Après la fameuse exposition à la Foire de Bourges, où il fait sensation, l'élégant coupé rouge ne reste pas inactif. Colette Laudat se charge de l'utiliser, de le montrer, en parcourant les rues de Bourges, en sillonant les départementales du Berry où la tenue de route fait merveille. La voiture sans nom et sans marque est immatriculée "1 DE 18", et la préfecture lui a accordé le droit de circuler sans passer aux Mines.

_________________
We don't care the People Says , Rock 'n' roll is here to stay - Danny & the Juniors - 1958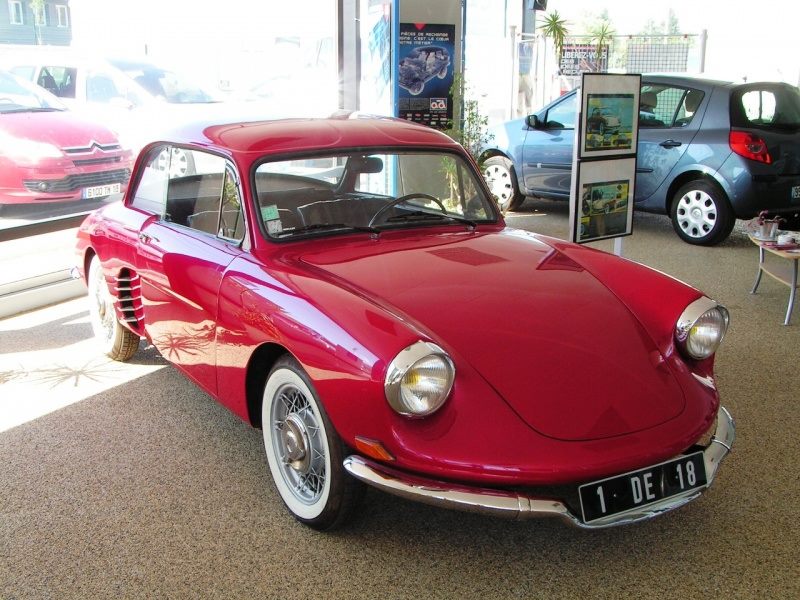 L'atelier de carrosserie de Jean Laudat acquiert une enviable notoriété, et son savoir-faire est désormais reconnu. Mais Renault ne manifeste semble-t-il pas le moindre intérêt pour cette création. Le coupé rouge finit par être remisé, délaissé, oublié. Il est repeint en blanc avant de revêtir une vilaine livrée bicolore vert et beige. Le vieux prototype n'intéresse plus personne. Jean Laudat songe même à s' en débarrasser. C'est sa fille aînée, Martine, qui décide de réhabiliter la malheureuse voiture. En 2000, elle entreprend de la faire restaurer, de lui donner son éclat d'antan, sa livrée rutilante et ses chromes.
C'est dans ce lustre retrouvé qu'elle fera enfin son entrée au département "Histoire et Collection" de Renault. Une sorte de reconnaissance tardive du losange pour la postérité ! La Dauphine Laudat est finalement revenue à Bourges, où elle trône actuellement, et depuis un bon moment dans la vitrine d' un garagiste, avenue de La Prospective. Sans doute un prêt longue durée de "Renault Histoire et Collection"...
https://www.facebook.com/reynald.marynus.7?fref=pb&hc_location=friends_tab&pnref=friends.all

_________________
We don't care the People Says , Rock 'n' roll is here to stay - Danny & the Juniors - 1958


Sujets similaires
---
Permission de ce forum:
Vous
ne pouvez pas
répondre aux sujets dans ce forum