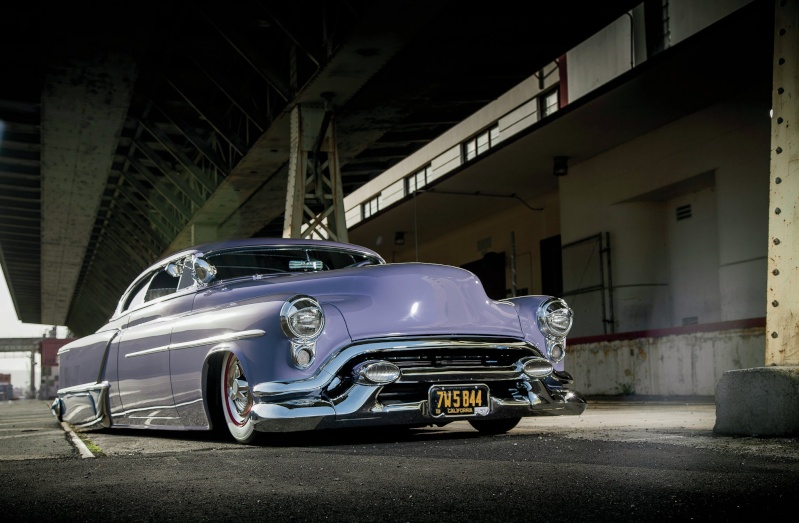 Rod & Custom Feature Car
Rob Struven
Napa, California
1953 Oldsmobile Rocket 88 Hardtop
Is there a particular formula for the average custom? Yes … and … no. Ultimately, yes if you consider "modification" in general as a formula; but at the same time, no when you consider that oftentimes that modification is based purely on personal taste.
The old standby of "chop this … french that … shave this" can be considered a formula, per se—but it all comes down to just exactly how the laundry list is played out, namely that first formulaic component: chopping the top.
1953 Oldsmobile Rocket 88 Hardtop Headlights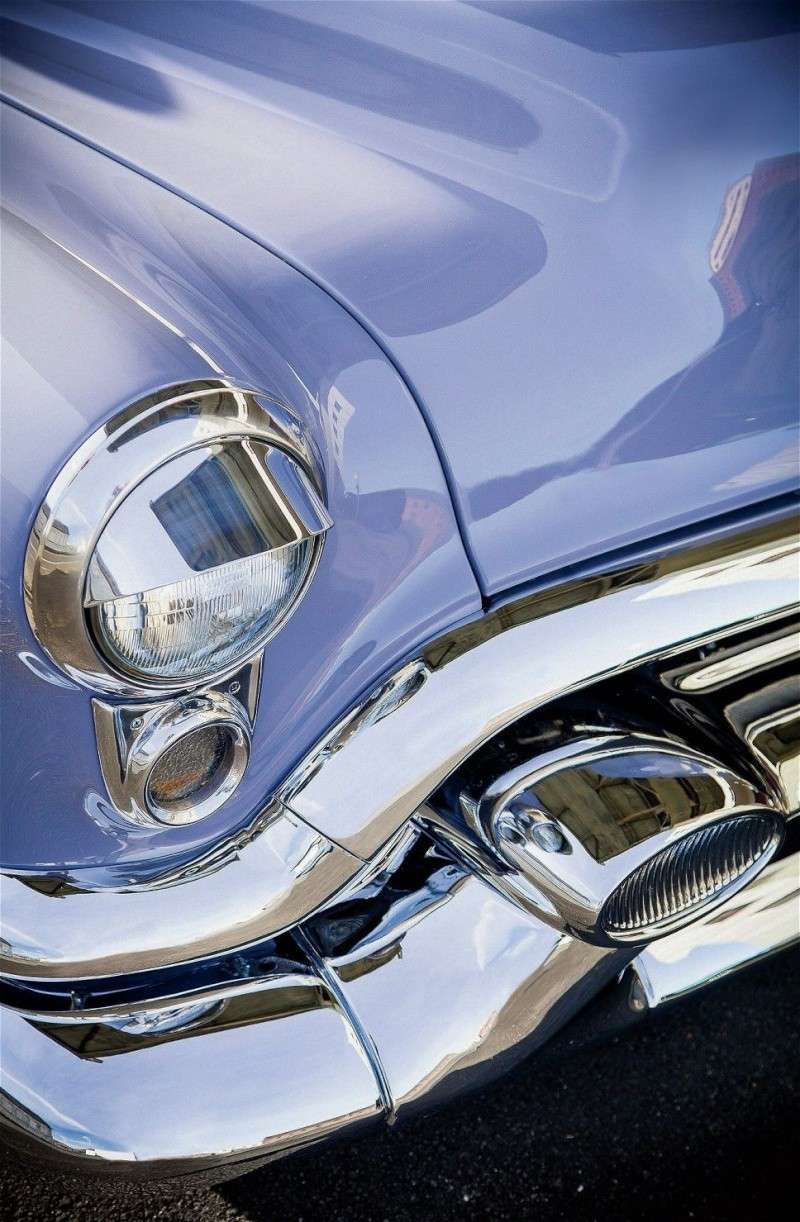 Many a custom has been ruined—absolutely ruined—simply with a poorly chopped top. And that doesn't just apply to one that was done so improperly, technically speaking, but also (and often more importantly) one done from a poor perspective viewpoint, literally. While practically every custom builder will tell you he's a natural at lowering lids, in reality, a portion truly know what they're really doing. Nailing the technical aspect is one thing; nailing the "flow" another. Put them both together, and you have the perfect chop.
Eric Limones, owner/proprietor of Gilroy Chop Shop in the very town it's partly named after (Northern Cal), has the eye and the hand to pull off the proper top chop, and thus the proper custom. Case in point, Rob Struven's stunning '53 Olds. Why do we exemplify this particular custom? For starters, it's a hardtop—not the easiest to handle, namely when it comes to side/rear glass treatments—in this case, accented by slide-in quarters by Robbie Azevedo. Secondly, it has that often hard-to-nail flow that some others fail to achieve. But above anything else, the chop simply makes Rob's car what it is … a fine-looking custom. (Note, if you will, the "absence" of frenched headlights/taillights, neither distracting from the overall "custom" feel.)
Of course, it doesn't hurt that Rob's color choices—two tones of non-metallic periwinkle—work in stark contrast to a flashy or possibly overdone pearl or heavy 'flake job (each in their own right having their places on customs, of course!). Applied by Brandon Penserini, the exterior works harmoniously with the interior, which was done in similar colored vinyl, narrowly tuck 'n' rolled (to match the lower dash), with vintage fabric inserts done in diamond button-tufted patterns by Guadalapan's.
Beneath the nosed and shaved hood, Rob's mill of choice? Not the Rocket V-8 that originally powered the 88, rather, a more potent (406 ci, to be exact) Chevy big-block, circa 1975. Machined and built by Joe Shwarze at Baily Brothers Machine Shop, it's backed by a same-era Turbo 400 and 12-bolt rearend. The chassis in which the drivetrain resides, however, is mostly stock—with the exception of hydraulic assist (front and rear) and dropped spindles with disc brakes.
1953 Oldsmobile Rocket 88 Hardtop Taillights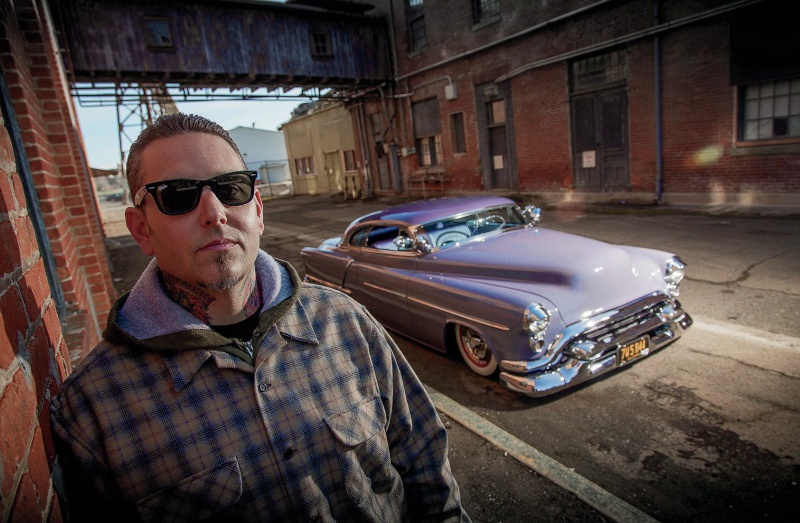 Ironically enough, it was a good friend of Rob's who originally bought the Olds—which he had to be persuaded to do in the first place. But after a few years had passed, which included Rob making sure the car was kept clean and well taken care of for a period of time, Rob got word that the '53 was sitting in a field, the victim of a blown motor. Long story short, the hardtop changed hands, and roughly five years later, the custom you see here finally came to be.
Chassis
The Olds sits atop its original frame—sometimes at ride height, others whilst resting close to earth. The adjustability is courtesy of Tonito Rodriguez at T&R Mobile in Napa, CA, who installed the two-pump hydraulic system (front/rear, with four bridged Optima batteries), dropped spindles/control arms, and front disc brakes added by Joe Shwarze. A late-model rearend is located with parallel leafs, Panhard bar, and tube shocks.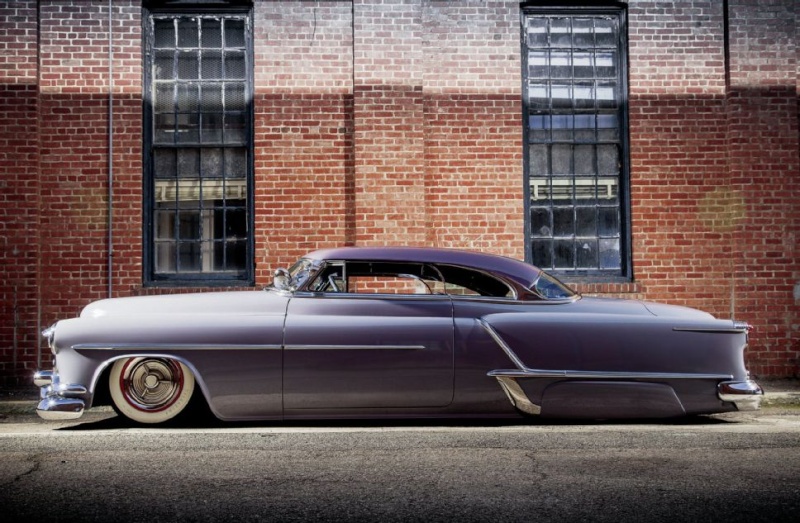 Drivetrain
Replacing the blown 303 Rocket V-8 and HydraMatic trans are a '70s-era Chevy big-block, machined by Baily Brothers (Napa, CA) and built by Joe Shwarze (American Canyon, CA) backed by a Turbo 400 auto (also built by Shwarze). The 406ci engine features forged Scat crank/rods, 10:1 forged pistons, Lunati custom-grind cam, Holley/Edelbrock induction, and a GM HEI ignition. The aforementioned rearend is a '70s 12-bolt.
Wheels & Tires
While the rears are hidden from view thanks to the use of fender skirts, 15x7 steel wheels are used on each end, with freshly polished Fiesta hubcaps and Firestone Champion 560-15 bias-ply whitewalls.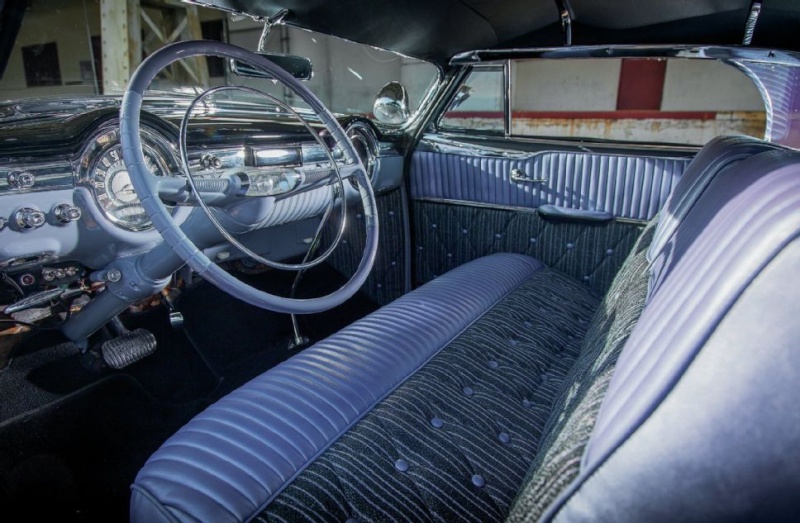 Body & Paint
As mentioned, Eric Limones (Gilroy Chop Shop, Gilroy, CA) deftly handled the roof modifications, which involved dropping the rear glass into the trunk, while Robbie Azevedo custom-made the slide-in quarter windows. Body mods include shaved handles/trunk/gas filler, nosed and filled hood, smoothed bumpers, and de-lettered grille. The bodywork, by Napa's Johnny Stoer, is covered in two shades of custom-mixed PPG periwinkle by Brandon Penserini, also in Napa, CA.
Interior
In keeping with tradition—both with the vertical dash accents and of the period—La Guadalapan's (Napa, CA) redid the Oldsmobile's interior in high fashion, using periwinkle-colored vinyl in 1-inch pleats complemented by vintage-patterned fabric stitched up in diamond/button tuck. With the exception of a hidden iPod-controlled audio system, the remainder of the interior is as-was.
Read more:
http://www.rodandcustommagazine.com/featuredvehicles/1410_1953_oldsmobile_rocket_88_hardtop_non_formulaic/
Dernière édition par Predicta le Lun 25 Mai - 5:30, édité 1 fois

_________________
We don't care the People Says , Rock 'n' roll is here to stay - Danny & the Juniors - 1958

_________________
We don't care the People Says , Rock 'n' roll is here to stay - Danny & the Juniors - 1958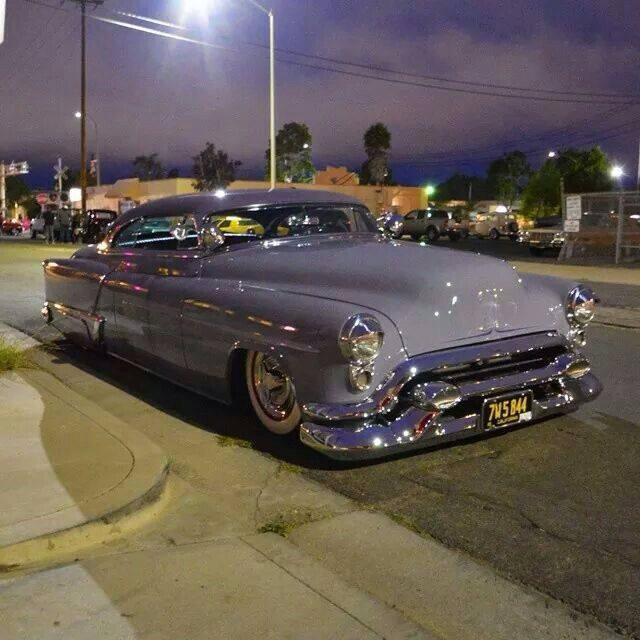 _________________
We don't care the People Says , Rock 'n' roll is here to stay - Danny & the Juniors - 1958

_________________
We don't care the People Says , Rock 'n' roll is here to stay - Danny & the Juniors - 1958

---
Permission de ce forum:
Vous
ne pouvez pas
répondre aux sujets dans ce forum