C''est un sujet de débats (toujours sympathique
) entre moi et JYB, bien comprendre ou essayer de comprendre les intercommunications entre les deux styles n'est pas inutiles mais pas toujours simple non plus.
Le Customs prend ses origines dans les années 1940's (donc que les voiture pré '49 sont toutes des hot rods est une imbécilité) il atteint son age d'or à la fin des années 1950's et sa consécration au début des sixties avec les show cars) jusqu'à disparaitre à la fin des sixties et le début 1970's, il faut attendre la fin de la décennie et surtout le début 1980's avec les Leadsled Spectacular du kkoa (Kustom Kemp of America) pour que les customs reviennent sur le devant de la scène jusqu'à nos jours avec la Kustom Kulture.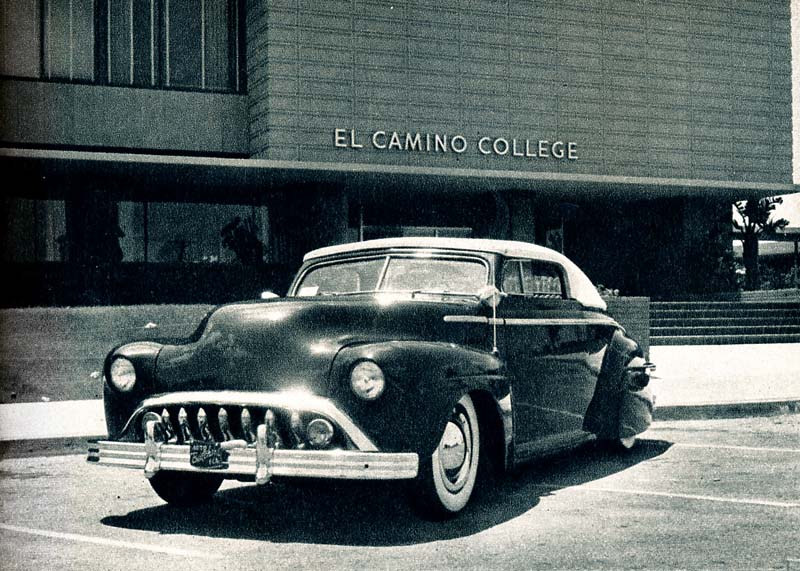 1946 Ford Convertible d' Al Garcia réalisé par Ayala custom, un custom typique du style fin 1940's et début 1950's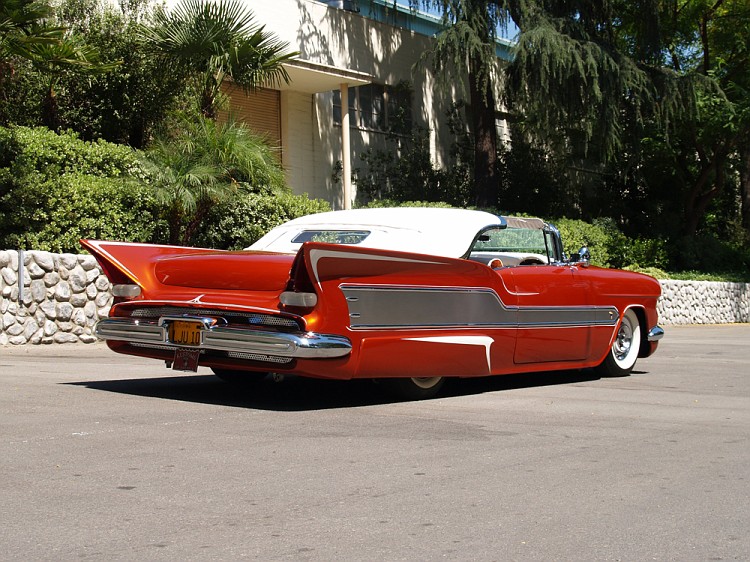 The Aztec - 1955 Chevrolet de Bill Carr réalisé par George & Sam Barris, un custom typique de l'age d'or du style fin 1950's
La Predicta - '56 Tbird réalisé par Darrill Starbird une des première show car du début sixties avec bubble top
Truly rare de Gene Howard un des exemple du style baroque des show car de la première moitier des sixties
Le Low Riding (en me basant sur Pat Ganahl) est intimement lié au custom car les premiers customizeurs Alaya brothers, Jesse Lopez, Eddie Martinez, Bill DeCarr Ortega, Joe Ortiz , Joe Perez sont des Chicanos.
Les Low riders proprement sont les descendant des customs (le plus souvent mild) qui sortent des ateliers du carrossier peintre Larry watson à la fin des années 1950's, c'est durant la seconde moitié des sixties avec la disparition progressive des customs les bases de prédilections sont dés cette époque les Chevy 61-64 et les jantes supremes qui équipe les mild custom/Low riders des début sont remplacées par des jantes à rayons et que le droppage classique (ressort courts et cales de pont cède la place aux suspensions hydrauliques.
Quelques exemples des premiers low riders:
la Chevrolet 1967 d'Howard Gribble
Et Gypsy Rose de Jesse Valadez le low rider de référence des début du style.
Dernière édition par Predicta le Mer 29 Mar - 10:42, édité 2 fois

_________________
We don't care the People Says , Rock 'n' roll is here to stay - Danny & the Juniors - 1958
Le Bellflower style même si on n'a tendance à le rapprocher des premiers low riders (soit des mild customs) fin sixties avec lace painting, jantes supremes, et pots chromées de type Bellflower (justement) le style remonte historiquement à la fin des fifties.
C'est au Sud de Los Angeles autour justement de Bellflower, Lakewood, Long Beach, Compton Lynwood que tout cela commence en rapport avec les premières caisses avec panneling réalisées par Larry Watson, et le terme vient semble t'il du crusin' que faisaient ces custom en cette fin des fifties et le début des sixties entre le Bellflower Clock Drive Inn à Bellflower, Spring Street à Long Beach, jusqu'à Hollywood pour revenir à Bellflower au Clock drive inn.
Et c'est sans aucun doute la Pontiac Bonneville 1958 de Floyd DeBore, la Ford 1957 de Jerry DeVito, la Thunderbird 1958 de Larry Watson et un grand nombre de seconde version (début sixties) de custom dont la première version est plus sobre qui sont à l'origine des schémas colorés que l'on retrouve sur les lowriders (les fresques en moins).
Pontiac 1958 Floyd DeBore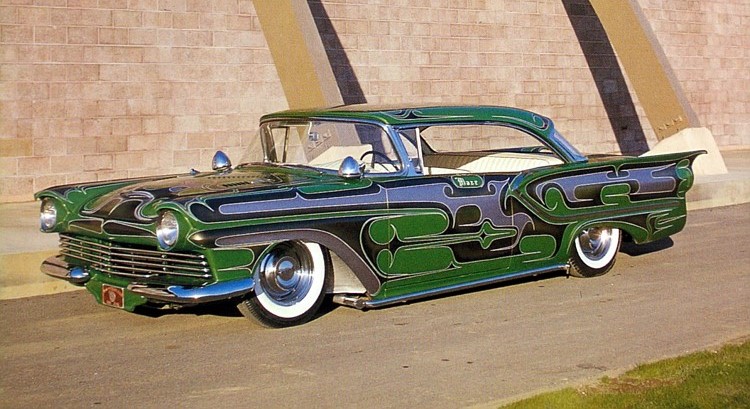 Ford 57 jerry DeVito


Thunderbird 1958 Larry Watson
Une Chevy 1963 Low Rider des 1970's on peut noter la similitude de schéma coloré .

_________________
We don't care the People Says , Rock 'n' roll is here to stay - Danny & the Juniors - 1958
Les chose se compliquent durant les 1970's.
En effet pour les magazines spécialisés le custom n'existe plus, laissant la place au low riders, au point que certains low riders seraient avant les seventies et depuis les années 1980 considérés comme des customs, mais sont quand même des low riders.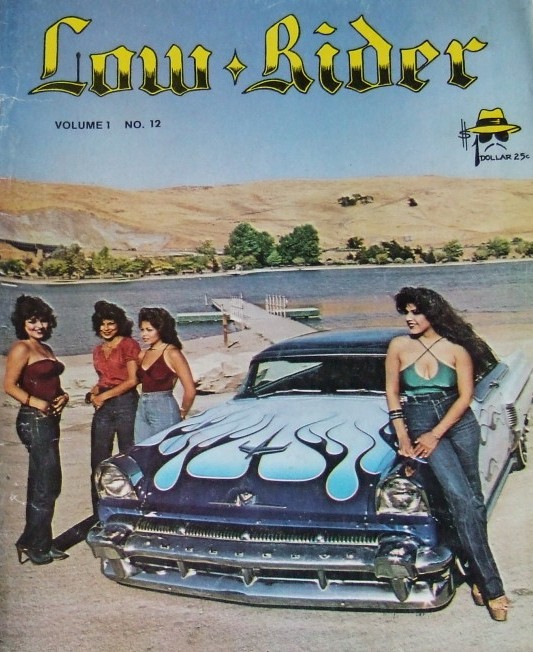 Couverture d'un mag de Low riders qui montre en couverture une mercury qui ressemble beaucoup à un leadsled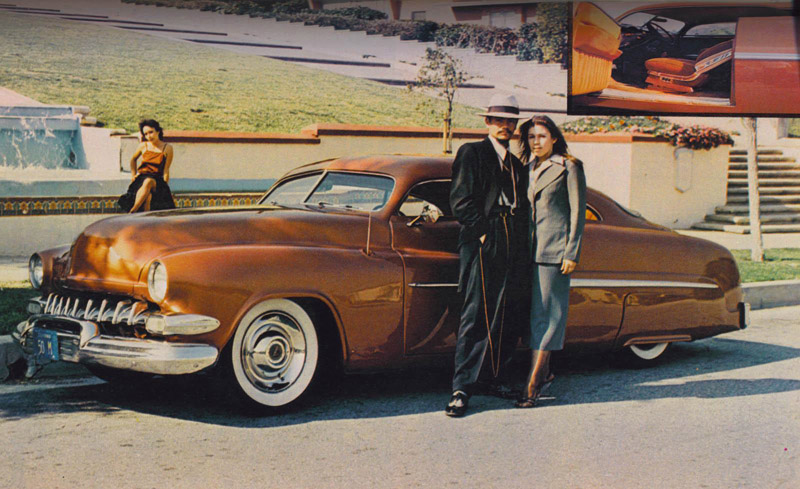 La Mercury 1950 de Steve Gonzalez qui est détaillé dans le Lowrider Magazine de Juin 1979.
La fameuse Mercury de Charlie Lopez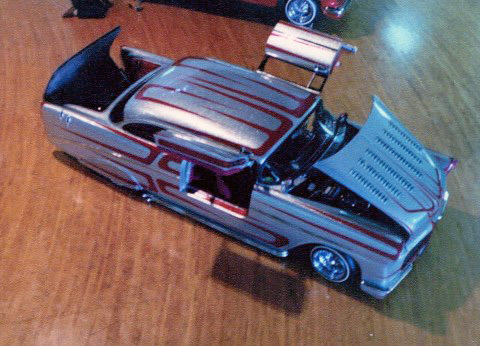 La Chevrolet 1956 de Ismael Robles.
Qui est plus nettement style Low Riders lorsqu'elle racheté par Garcia Conrad

_________________
We don't care the People Says , Rock 'n' roll is here to stay - Danny & the Juniors - 1958
Depuis les années 1980 le rapport de force s'est inversé et le custom revient en force. Depuis les années 2000 et ce que l'on nomme (de manière fashion) la Kustom Kulture avec une presque systématisation des suspensions air rides (donc de suspension réglable) et du Lace Painting pour le schéma coloré des customs cela complique un peu.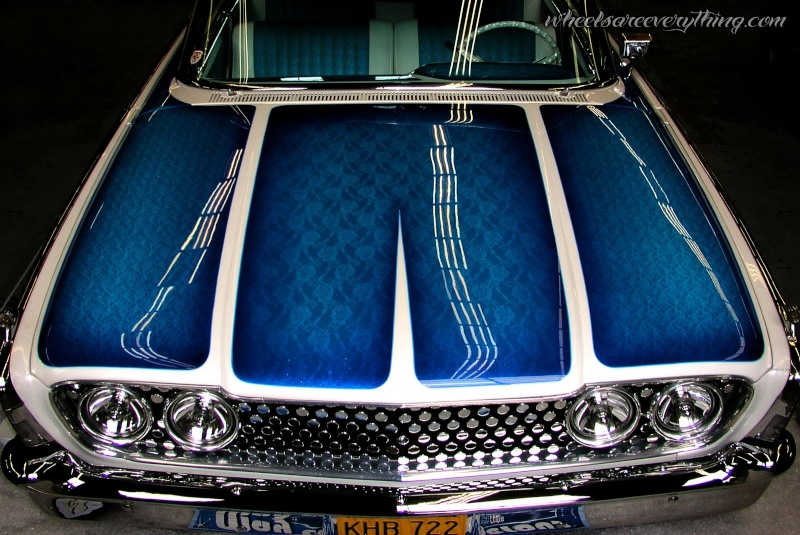 la Ford 1960 custom de Kirk Jones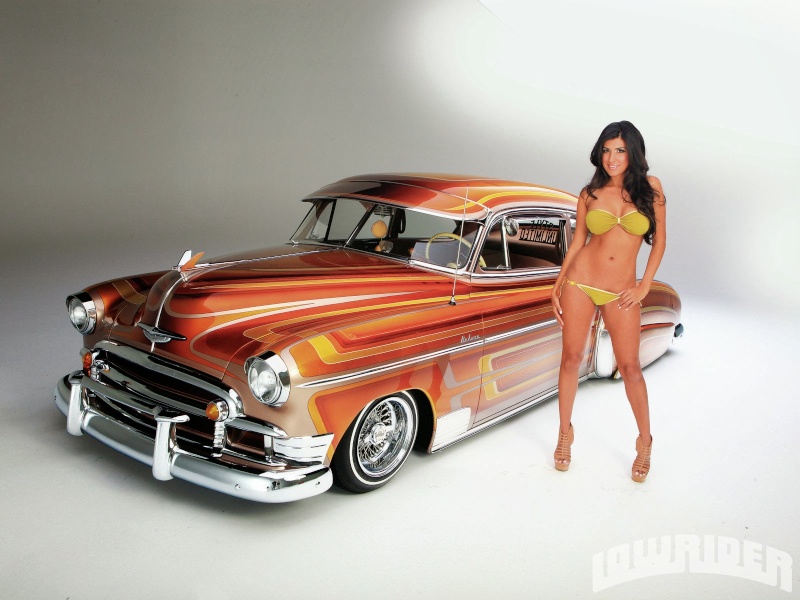 Un Low Rider Chevy 1950
Pour moi la grosse différence aujourd'hui entre les deux styles sont aujourd'hui d'un côté l'Hydraulique et les jantes à rayons et de l'autre l'Air Rides et les nosed, decked et shaved (quand il n'y a pas de modifications carrosserie custom plus importante comme le top chop par exemple)

_________________
We don't care the People Says , Rock 'n' roll is here to stay - Danny & the Juniors - 1958

---
Permission de ce forum:
Vous
ne pouvez pas
répondre aux sujets dans ce forum