Pour beaucoup de personnes, le rockabilly & le rock 'n'roll connais son age d'or dans les fifties, et un revival important dans les 1980's et de nouveau dans les 2010's. Mais durant les 1970's soit en pleine pèriode rock planant, funky, disco et Punk le rock 'n' roll est en fait toujours trés actifs particulièrement en Grande Bretagne. L'un des groupes légendaire de cette pèriode est Flying Saucers.
Formation qui se compose alors de  Sandy Ford (vocals), Nigel Owen (lead guitar), Pete Pritchard (bass) and John Barber (drums).
A leur début le groupe s'appelle   "Britain's Dixie Dance Kings". C'est grâce à des tournées dans toute l'Europe qu'ils se font connaître et obtiennent une énorme popularité et c'est sous le nom de Flying Saucers qu'ils enregistrent leur premier album
Planet of the Drapes
pour Nevis Records.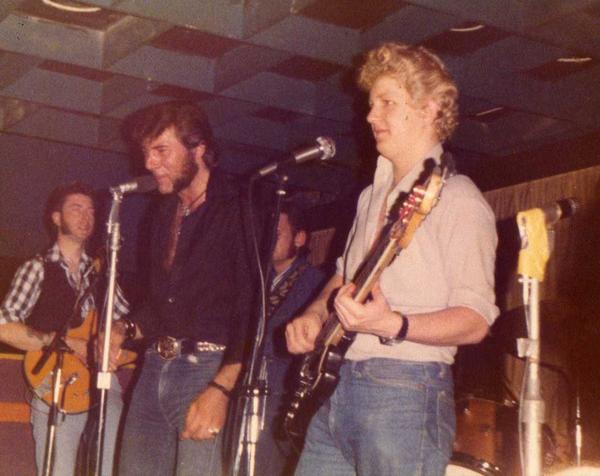 Le succés est tel que la major Emi leur fait enregisrtrer un second album
Some like it hot
, ils sont alors le groupe le plus populaire de l'époque avec Crazy Cavan & the Rhythm Rockers et Matchbox en plaisant à la fois aux jeunes fans de rockabilly, aux teddy Boys et aux rockers.
La formation continu par la suite à enregistrer d'autres album toujours réussi, puis à partir de 2007 Sandy Ford se fait accompagné à la contrebasse par sa femme Yvonne. 
A Londres le 15 Mai 1976 Flying Saucers joue lors d'une marche des fans de rock 'n' roll pour que la radio anglaise passe plus de rock 'n' roll fifties sur ses ondes.

_________________
We don't care the People Says , Rock 'n' roll is here to stay - Danny & the Juniors - 1958

_________________
We don't care the People Says , Rock 'n' roll is here to stay - Danny & the Juniors - 1958
Pour ceux et celles qui ne le savent pas,Sandy Ford était le parrain du Endless R&R Club 16/94,j´était un des tous premiers membres de se club Français des 80s.
Dj EddieCesc
Dans la lignée des deux 25 cm  d'enregistrement live de Crazy Cavan & the Rhythm Rockers au Picketts locks sports centre en Mai 1976, voici un 25 cm consacré à Flying Saucers.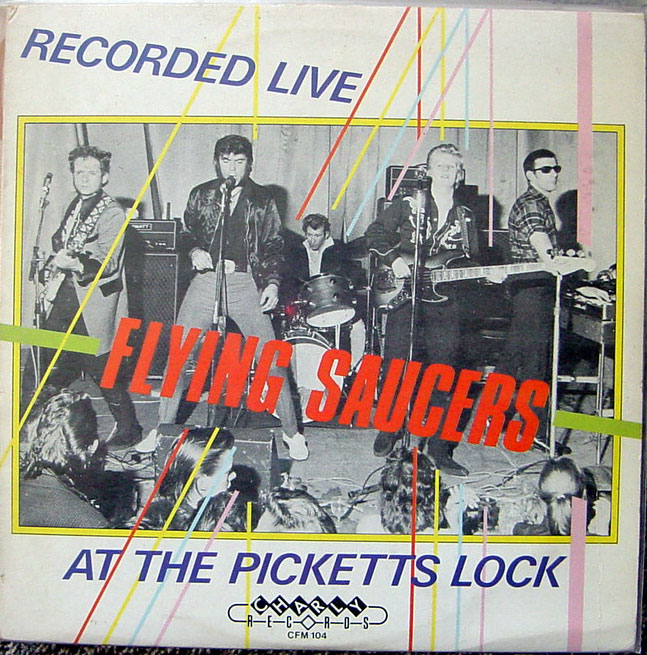 Ce groupe est une autre pointure de la scène Rock n'roll et rockabilly dans le royaume unis de la fin des seventies, la grande popularité du groupe auprés des plus purs et durs des teds et Rockers vient du talent de Sandy Ford (leadeur chanteur) et de son groupe Nigel Owen (guitare solo), Terry Earle (Batterie), Pete Pritchard (Basse) et Jack Buddin (saxophone et piano) qui on su associer Rock n'roll et rockabilly dans un style trés particulier et unique. En effet ce 25 cm Charly records
Recorded at the Picketts lock
de 1983 (CFM 104) met en évidence l'éclectisme du groupe qui interprete du jump de Bill Haley
R.O.C.K.
du black rock n'roll sauvage de Little Richard
Good Golley Miss Molley
au côté de rockabilly classique comme
Miss Froggie
de Warren Smith chez Sun, ou
Washing Mashine Boogie
de Bill browning tout cela en gardant un son et un style très particulier. Ils reprennent également
You're my sunshine
(un traditionnel archi repris par des rockers ou des chanteurs de folk),
Apron Strings
(petites perles du rock nroll rapide de la fin des fifties qui sera repris par Elvis et Cliff Richard),
I'm Goin' home
(qui sera transcendé par l'interprétation qu'en fit Gene Vincent ),
Rock n'roll boogie
un rock n'roll de Bobbie Poe(Big Al Downing),
Flea brain
un autre classique de Gene Vincent,  et
Hey bop a rebop
un excellent jump blues qui sera interpretté par Wynonie Harris.
Un disque qui ravira tout amateur de rock n'roll bien trempé.

_________________
We don't care the People Says , Rock 'n' roll is here to stay - Danny & the Juniors - 1958

---
Permission de ce forum:
Vous
ne pouvez pas
répondre aux sujets dans ce forum