Bon, je me permets de mettre la "chronique" d'Isabelle ici parce que je viens d'y faire un tour et il y a des illustrations et des photos en tout
genre que j'ai vu nulle part ailleurs :
https://www.facebook.com/RidingBettie?ref=hl
Donc voilà, comme je pense que je suis pas la seule à pas forcement aller voir les sites des membres, je me permets de poster le sien ici


Noisette




Messages

: 1221


Date d'inscription

: 19/01/2013


Age

: 25



Oui bonne idée, je l'ai rencontré à Allassac entre 2 passages de groupe, elle trés kool on s'est bien marré


_________________
We don't care the People Says , Rock 'n' roll is here to stay - Danny & the Juniors - 1958

 Merci vous êtes gentils...Je vous rappelle que dans moins de 3 semaines j'organise le festival Greasy Days à côté de chez moi.
Voici le lien de mon asso:
https://www.facebook.com/GreaseAndGasoline?ref=hl
Ainsi que la page de l'événement:
https://www.facebook.com/events/290024341117286/
D'ailleurs aujourd'hui il y a eu un article dans le journal Sud-Ouest à ce propos:
http://www.sudouest.fr/2013/05/28/un-rendez-vous-pour-les-fans-des-annees-50-1066101-4061.php
Dans la continuité de ma page Riding Betties, Charlie, le rédac-chef de Kustom mag m'a proposé de reprendre la rubrique "Hot-Rod Girl" qui était tenue par Nadine. Elle s'appelle désormais "Kustom Girl" et j'y parle de ce qui me tient particulièrement à cœur: les relations entre les femmes et l'auto ancienne.  En fait j'ai plus ou moins carte blanche, mais le plus simple est de traiter de ce que j'aime....
Dernière édition par Isabelle le Lun 6 Oct - 18:12, édité 1 fois
La page RIDING BETTIES a 3 ans maintenant, je l'ai donc nettoyée et remise à jour. Désormais elle est 100% féminine, les albums ne traitent plus que des femmes dans le milieu hot-rod/kustom mais aussi de l'ancienne en général, hier et aujourd'hui. J'en avais marre, c'était devenu un vrai foutoir.
J'ai aussi reclassé les albums de présentation. Vous y découvrirez donc des clubs féminins, des femmes aux bagnoles parfois sublimes. Je précise que la page n'est pas réservée aux ricaines, par contre je ne consacre des albums QUE aux propriétaires des voitures.
https://www.facebook.com/RidingBettie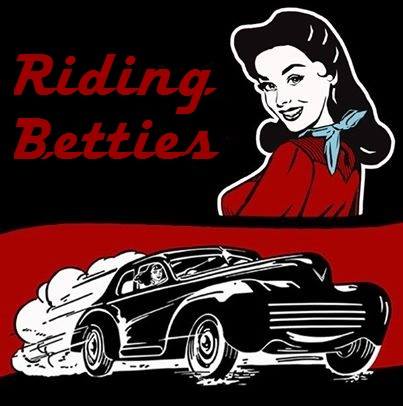 Sujets similaires
---
Permission de ce forum:
Vous
ne pouvez pas
répondre aux sujets dans ce forum