Page 3 sur 3 •

1, 2, 3

MOTOR
1955 / 331 Hemi built by Hot Heads of Carolina. It's brand new. It has never been on the Dyno so I don't know how the H/P.
The front factory timing cover has been replaced by a new billet cover from Hot Heads that incorporates a short small block Chevy water pump with matching Billet pulley's a custom a/c alternator bracket sits on top of that.
TRANS
It has an adapter plate on Trans from Transdapt.com to put a GM transmission a 350 behind this motor brand new. Also, shift kit installed and stock converter. Trans has an external fan under cab to keep the front for a clean look.
CARBS
Truck has 6 brand new Stromberg's with a custom intake and linkage. The truck runs off the center 2 cars set up on progressive linkage. Carbs have been flow benched and cad plated.
IGINITION
Mallory unilite dist. with through the firewall mount with coil located inside firewall for a clean look and red Taylor plug wires
HEADERS
A custom set of headers were built for this truck from Gear Venders. Then wrapped for an era correct look and style. The headers do have baffles inside.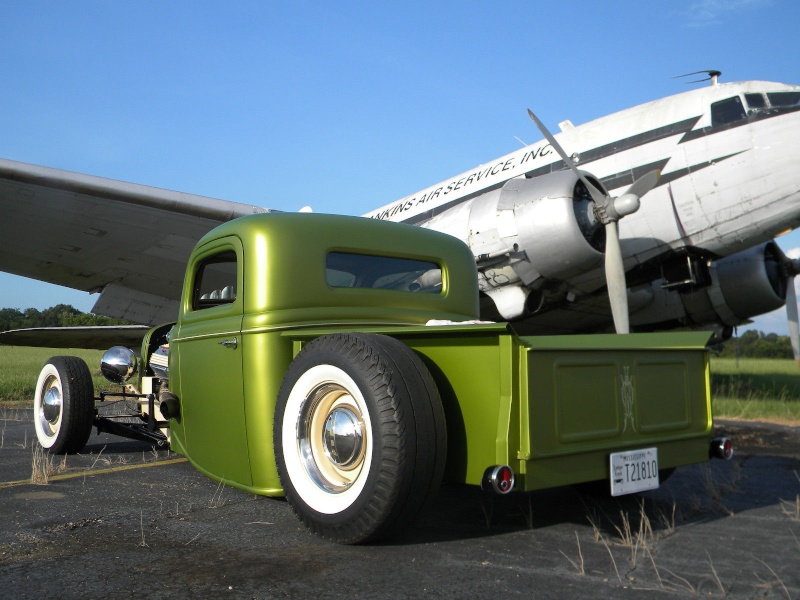 BODY
The cab of the truck and frame were custom built by Russnomore of Ruston, Louisiana and has a 3 " chop.
This truck has to be the nicest fiberglass I've ever seen. The floor alone is over ¼ inch thick and slick would have been an understatement. The doors use a one piece design on inside the tracks, glass, window runs, and latches are one component I've never seen anything like it. (see pics) The fiberglass inside the cab was just as nice all finished ready to paint.
We have Daphin gauges custom dash pad, custom console, upper & lower with cup holders, Lokar 32" shifter, custom Hot Rod seats, a custom fold down fuse box under the dash for easy access to fuse block if needed. Quick Wires wiring harness. Ididit tilt column with Billet speciality steering banjo wheel, matching window cranks & door handles. Underdash lights & over head light. From the inside view we just had to do the Pop Out Windshield. It has all the effect of just kool riding down the road or just sitting still what an awesome view looking over those 6 stacks.
The wiring on this truck is a work of art itself. All (every) wire is sautered & shrink wrapped. No butt connectors here anywhere. The truck has a new Hypercool A/C unit complete with chrome dryer & polished compressor.
We tried to keep the dash as clean as possible by putting switches & ignition overhead. Cell phone charger hidden under dash.
REAR END
A completely rebuild 9" Ford 342 gear with wish bone rear suspension with a set of Firestone Airbag on lower control arms.
FRONT SUSPENSION
Superbell II front dropped axle with Disc brakes, Vega Steering box from Flaming River. A custom set of Shockwaves Handles the ride height & shocks up front. A Vair 444 compressor & a 3 gal tank does the air ride & paddle valves on dash control ride height front & rear. This truck lays rockers.
FRAME
Please check out pics. The frame is a custom one off work of art thanks to Russnomore. All welds were ground smooth & the custom water rails is absolutely awesome.
COOLING
Radiator is a custom 4 core Transverse mounted in rear. No hose clamps here. All connections are done with a shrink tubing for a clean look. One electric fan on radiator & one on A/C condenser up front.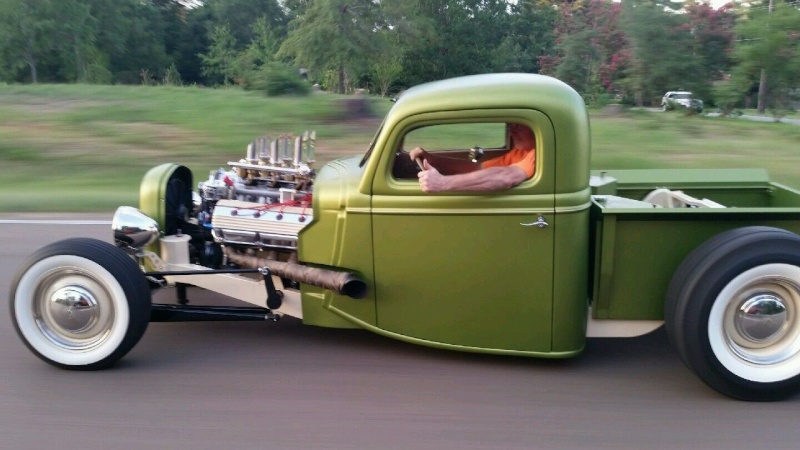 PAINT
The paint is Sikkens base coast (easily repaired) with a satin clear. All body panels were epoxied, sealed, and base cleared. The frame & firewall are a single stage urethane also every inch epoxied before color.
WHEELS AND TIRES
The wheels are brand new old school Steelies the rear tire are Firestone 800/20 cheater pie crust slicks the front are Coker bias ply era correct white walls

_________________
We don't care the People Says , Rock 'n' roll is here to stay - Danny & the Juniors - 1958
1936 Ford Five Window Coupe
You are viewing a very cool 36 coupe with slight patina. Old school Hot Rod that runs and drives excellent. Built in 2002 the car was always in California and was purchased there. The car was in the same family all these years until purchase. Dry car with original floor and trunk pans. Purchased in 2008 with the current transmission and rear end installed shortly after purchase. About 15K miles on the car since finished. Engine has 15K miles with the trans and rear end driven 10K miles since purchase. 50K has been invested into the car.
Please read on for more particulars of the car:
Body/Paint: The body is in very good condition with no dents. A little surface rust in a few spots, but no rust rot. The paint is a sky/baby blue base/clear in good condition with some chips in a few areas. Very presentable and old skool patina looking. Perfect for the guy who wants a cool hot rod without the show car look. The car get a lot of attention. Running board rubber is in really nice condition. Cowl vent works and electric wipers.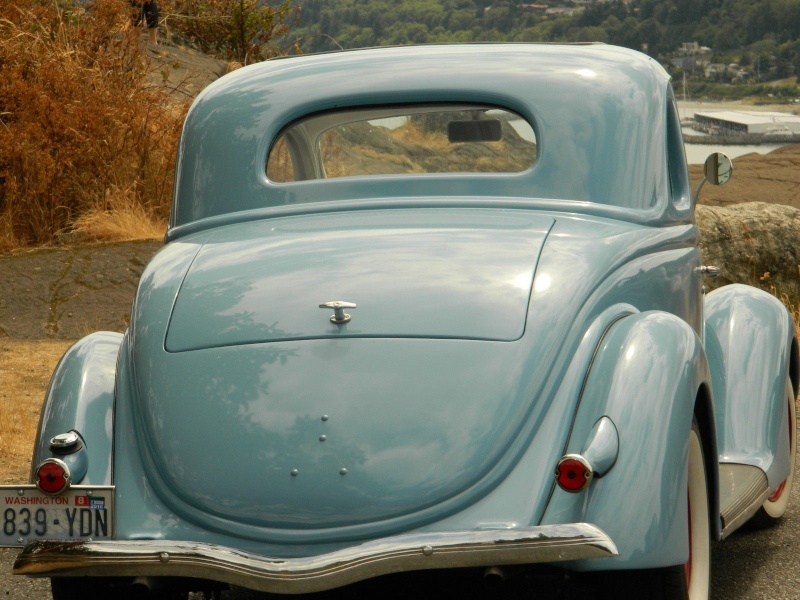 Interior: The interior is very nice with white tuck and roll in very good condition. Nice carpet, dash and garnish moldings painted silver as the dash. Carpet is gray. Rear and front window work as they should. Dolphin gauge package with temp, volt, oil pressure, tach, speedo and fuel. Lokar shifter with 8 ball. No horn. Seat belts.
Running Gear: 48 Merc flathead, hi performance cam and new 97s that don't leak. Offy heads and intake. Fenton headers. Pusher electric fan, Walker radiator, electronic ignition in stock distributor with extra set as spare, elect fuel pump, Vega steering box. New water pumps recently installed, New 15 gall gas tank. 12 volt alternator, hi torque starter, S10 5 speed gearbox with Offy adaptor, new clutch. Ford 8 inch rear end rebuilt with driveline.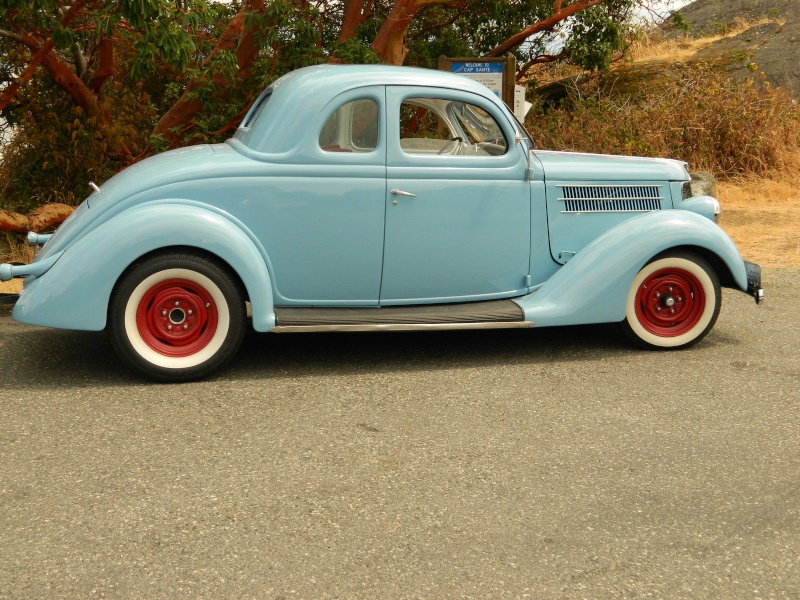 Suspension: Dropped front axle with disc brakes, TCI rear springs with gas shocks all the way around.
Bright work: Very presentable with slight patina. The patina flows throughout the car. Very cool.
Glass: All glass is in very good condition
Exhaust: Fenton headers with Smithys mufflers.
Brakes: No power disc front brake with rear drum. Master cylinder is mounted to frame.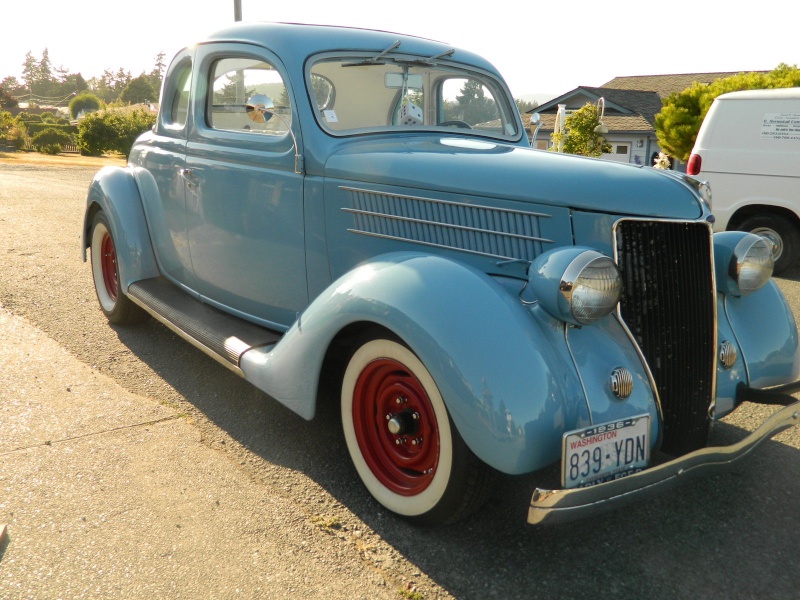 Wheels/Tires: Coker Silvertown BFG whitewall. Fronts are 165 R 15 and rears are 255/70-15 with lots of rubber. Wheels are regular Ford steelies. The car has a great traditional stance.

_________________
We don't care the People Says , Rock 'n' roll is here to stay - Danny & the Juniors - 1958

_________________
We don't care the People Says , Rock 'n' roll is here to stay - Danny & the Juniors - 1958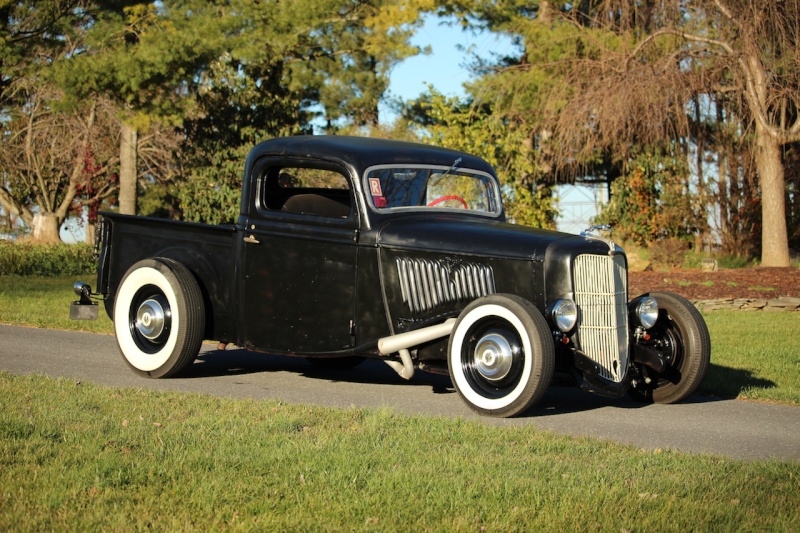 1934 frame, 1936 grille, 1935-1936 cab chopped 4" channeled 5"
Rebuilt 1965 425 cui Olds engine and TH400 transmission
Offenhauser 360° intake and valve covers
Aluminum Radiator, Gennie Shifter
New 4bbl Holley 750 carb
Capped lake style headers, under car bypass with glass packs,
Rebuilt 1971 F100 rear axle, coil over rear suspension with panhard rod
SoCal forged 4in dropped front axle, F1 brake hardware, split bones
Firestone whitewalls 5.00/5.25 x16 front 7.00 x16 back
Mustang dual reservoir master cylinder, all new brake lines
F100 steering box and F100/1955 Olds steering column, 1955 Olds Steering wheel
Black powder coated 1940 Steel wheels with 1955 Olds Dog Dish caps
Handmade aluminum gas tank that holds around 16 gal
Last Refuge truck box, original tailgate
Wooden Tool Box and Bed Insert
Custom build seat bench with black/ivory vinyl upholstery
EZ-wire wiring harness, Vintage America gauges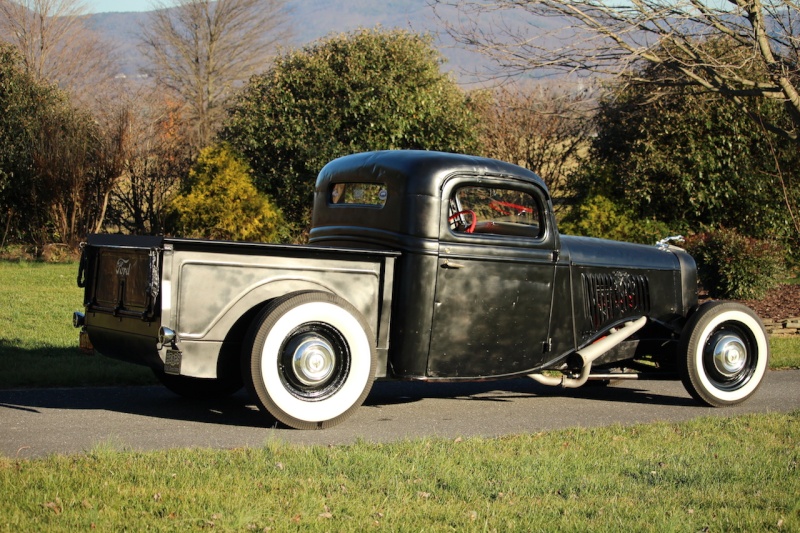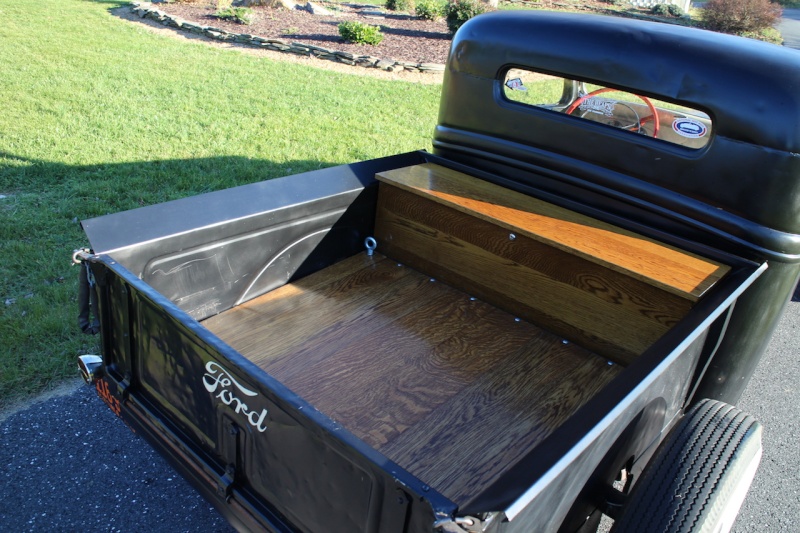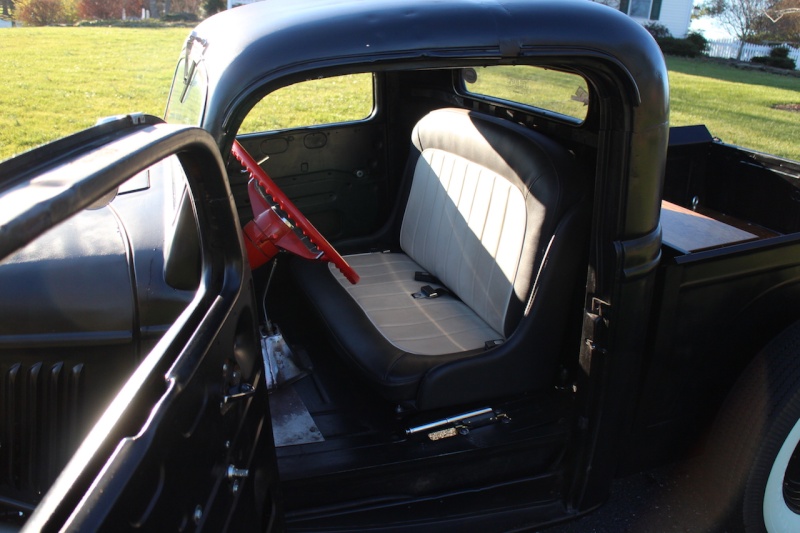 _________________
We don't care the People Says , Rock 'n' roll is here to stay - Danny & the Juniors - 1958

_________________
We don't care the People Says , Rock 'n' roll is here to stay - Danny & the Juniors - 1958

_________________
We don't care the People Says , Rock 'n' roll is here to stay - Danny & the Juniors - 1958

_________________
We don't care the People Says , Rock 'n' roll is here to stay - Danny & the Juniors - 1958

_________________
We don't care the People Says , Rock 'n' roll is here to stay - Danny & the Juniors - 1958

_________________
We don't care the People Says , Rock 'n' roll is here to stay - Danny & the Juniors - 1958

_________________
We don't care the People Says , Rock 'n' roll is here to stay - Danny & the Juniors - 1958
Page 3 sur 3 •

1, 2, 3


Sujets similaires
---
Permission de ce forum:
Vous
ne pouvez pas
répondre aux sujets dans ce forum